Sorry for not posting yesterday. The last 5 days have been such a blur.
We brought Parker home yesterday. He has lymphoma in his liver, lymph node & possibly spinal cord. The vet called & told me while I was in the toy aisle at Target, needless to say we came home with way more princess paraphernalia than I ever would've gone for.
I don't know how to write about this yet. Normally when I'm carrying an emotional burden the words practically type themselves. It just flows & I feel somewhat relieved but this sadness is too heavy. Yes, heavy. Like a weight on your chest that pulls on you all day until you finally give in to it & just sit down.
I'd stick to just giving the facts but I don't even know what those are at this point.
One phone call it's, "Hey, looks like he's got kidney disease, probably only a few weeks to live."
Then the next morning it's a different Dr. & she thinks, "Well, he actually has a raging UTI, maybe this could be causing all of his problems and a stiff round of antibiotics will get him back on track."
Then the next day, "Actually I think he probably has cancer, we should do a biopsy."
Later that afternoon, "You know, a bunch of us talked and we're thinking maybe not cancer at all, looks like liver disease. Which we can treat"
Then yesterday's Target call of "Nope, it's definitely Lymphoma. So sorry."
At that point Peter & I had the hard conversation about whether or not to put our 10 year dog through canine chemo. We had almost definitely decided 'no' when I got a phone call from our friend who's been an amazing support through all of this, (He's a veterinary surgeon) & he gave us some really encouraging information about Lymphoma & why he thinks Parker has a really good shot at regaining his previous quality of life for a year, maybe even two, if we do a round of chemotherapy. We quickly decided yes, we can make a few sacrifices of things we wanted to do & instead would put our dog through chemo. I went to bed somewhat at peace knowing we had reason to keep trying but if it didn't work we had done what we could.
I called the vet last night & then a few more times this morning trying to get Parker in for his first round of chemo today. No return calls. Finally at 1pm a very pissed off Natasha called again & left a bit firmer of a voicemail for the vet. She called back & explained that she was a bit surprised we had changed our minds about treating Parker because the odds of a dog with cancer in his liver recuperating from chemotherapy were slim. She said maybe 3 months tops.
Seriously?
I mean, SERIOUSLY!?
I have had the "Ok, you're dog's going to die" phone call THREE times in the last 5 days only to have it almost immediately replaced with an "Actually I think we can help him" phone call not even 24 hours later. I am so sick & tired of getting my hopes up only to have them come crashing down again & again.
I don't know what to do. He's my little buddy. My man. Parker is my dog who's gone with me from shitty college apartment to slightly better first job condo to living with boyfriends & then back on our own. He was there when I got married & there when we brought Sam & then Sophie home from the hospital. We brought home the baby hats so he could become familiar with the new little person coming into our family but P & I knew we didn't have to worry about him. He's a sheepdog & without hesitation has always regarded all of us as his flock.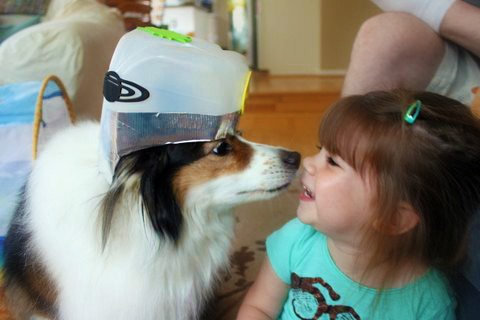 He protects us from the UPS man & single handedly monitors the squirrel population in our backyard.
He laid next to me through post pardom depression & without a shred of resentment took his place as a second class citizen in our home when we become too busy for our dogs.
A wagging tail & a sheltie spin can always be expected when I walk in the door.
If I'm feeling lonely or down a little whistle & he's right there, more than happy to break the rules & cuddle with me on the couch.
And now it's my responsibility to do what's best for him.
How do I ever begin to decide what's worth trying & what's too much for him. If chemo doesn't work do I have him put too sleep while he's still relatively happy or do I wait until the cancer takes over his body organ by organ? He can't tell me when he's too tired or has had enough. I try to judge by how much or little his eyes light up when I call his name but I'm still not sure. How do I know it's not just a bad day & he'll be happy tomorrow that he's still alive? These are God decisions. Not me decisions. And yet I have no choice.
I guess this is being a grown-up huh?
Last night Sam, completely on her own, lay down next to Parker & asked me to get the camera & take a picture of the two of them. Could she somehow know something I don't?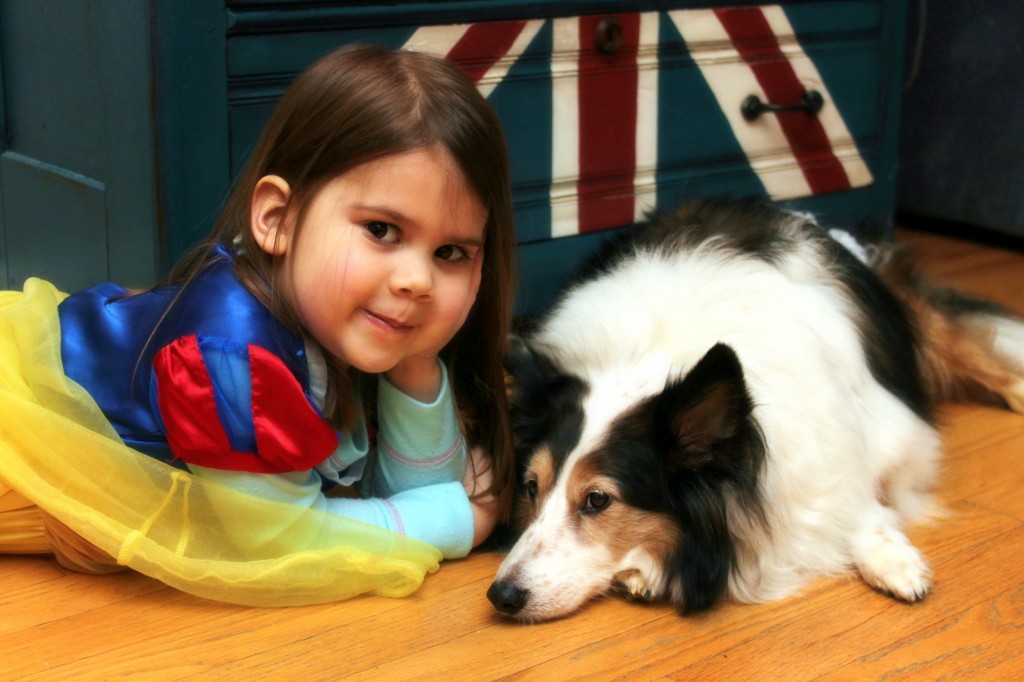 Then I caught Sophie last night taking off her one sock & sticking her bare foot in Parker's face because she knows he'll always lick her toes. Just like he's been doing since she was a little baby.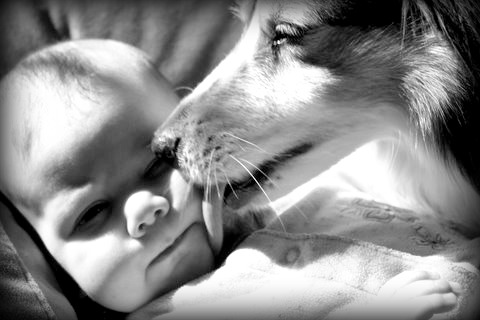 So for now I'm changing his diaper every few hours since he has no bladder or anal control. I'm wiping his butt when it leaks & feeding him his food by hand. He's basically become the 3rd baby in the house.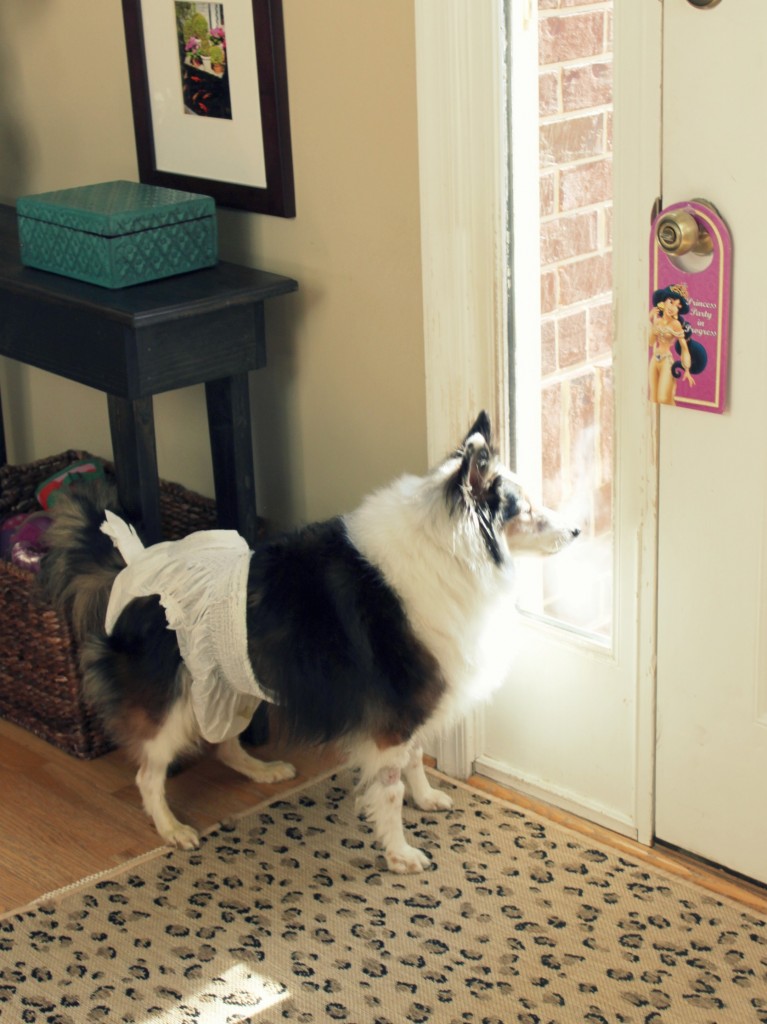 I'm rubbing him till he falls asleep & find myself torn whether I hope Jesus will take him while he's comfortable in my arms or keep him breathing just one more day.
I didn't think I'd feel this way when our dogs were going to die. Don't get my wrong, I love them desperately but with two little kids to care for the dogs often have become yet another creature to care for. Another mouth to feed & responsibility to remember despite an overly filled brain. I've even found myself angry when they've thrown up on the carpet when I'm trying to get the kids out the door, or barked & woken Sophie out of a much needed nap. I've thought, "STUPID STUPID DOG! I WISH WE COULD JUST GET RID OF YOU!" I don't mean it of course…mostly. Now however all I feel is an enormous amount of guilt for not appreciating what a blessing he's been in my life & how desperately I'm going to miss him. Stupid dog.