I don't know why but I always think of organs as speaking in Olde English.
Ar, but thoust did not know her toil & troubles were caused by the speck of an organ in the brewing of ye young lasses' belly.
Ok, an Old English pirate. Who might be drunk & have Scottish witch tendencies but whatever, ye gets me point.
With my health I had gotten to the point where it was time to have a general surgeon poke around & see if he could find the source of my abdominal pain laparoscopically. During our consultation however he noticed that I had yet to have a gallbladder functionality scan. So this past Friday off I went to be injected with radioactive dye & within an hour I was anxiously watching my little day-glo gallbladder on the screen. ::Pump Pump Glug Glug::: The little sucker was working it's arse off but none of the dye seemed to be emptying into my bowels as it should. After about an hour & a half we called it quits because 1-my poor little gallbladder was looking like a sad hamster stuck in an eternal wheel & 2- the CCK hormone they gave me to make my gallbladder contract had brought on one of my attacks. The same attacks that had landed me in the hospital twice in the last last six months.
This meant of course that I FINALLY had a conclusive test! (Cue choir) It also meant surgery…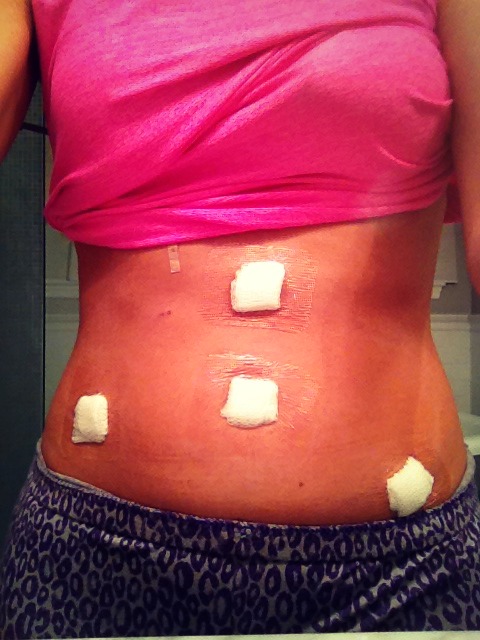 And you'll never believe what they found when they were relieving lil' miss gallbladder of her duties. My appendix was one foot out the door too! (I'm going for a record in how many analogies I can put in this post, I betcha it's highly correlating to the number of pain meds I've requested today)
He said it was 'Chronic Appendicitis' & basically the appendix flares up just enough to cause mild to moderate pain & fevers without enlarging enough to be detected on a CTscan. Sneaky little buggers my organs are.
I came home from the hospital today & have spent the last few hours being on high alert as to Sophie Monster's proximity to my healing stomach. Fast as lightning that one is.
I'm very cautiously optimistic that this may be a huge piece of my medical puzzle, but we'll just have to wait and see…
Thank you so much for all of your prayers, well wishes & happy juju that's been coming my way. You make me feel very loved.