You guys seemed to like it last week so here it is again, some quickie details from our week in Instagram…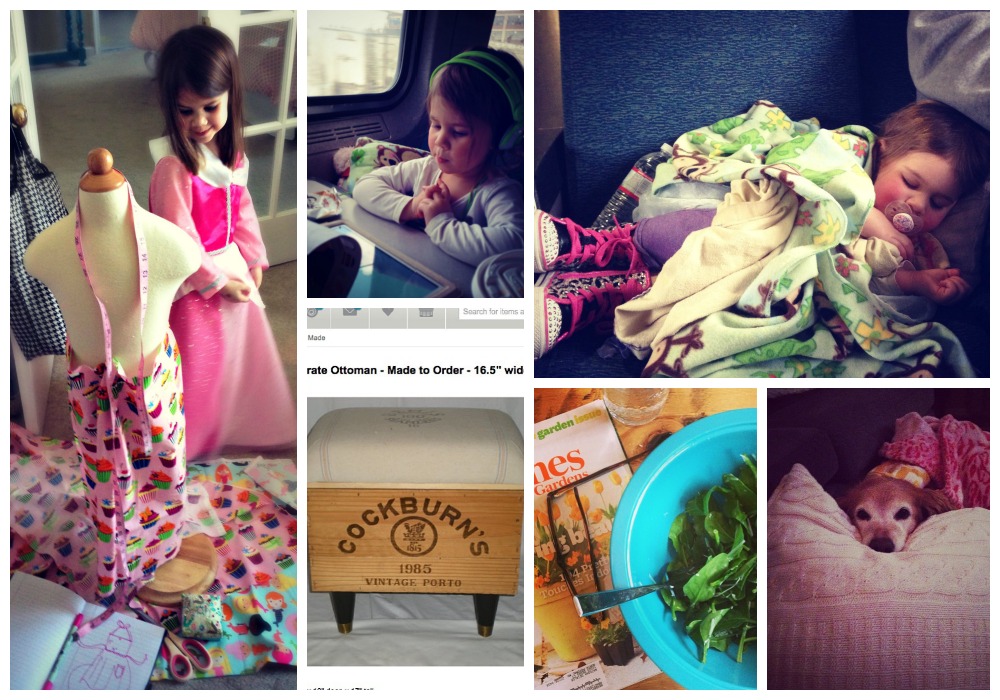 *On Monday Sam & I got to work on making some aprons for the girls to wear when we have Monday homemade pizza night. Sewing mommy daughter aprons for family pizza night is teetering dangerously close to becoming Mrs Suzy Homemaker. I might just lose my street cred. Oh well, when I put a soccer ball decal with my kid's name on my van than you can stage an intervention.
*We took the train this weekend to Connecticut to see the girl's Mei Nai. That's P's mom by the way, she's not Chinese but P's stepfather is from Hong Kong so since he's Ye-Ye (Grandpa in Chinese) she made up a term for step-grandma for his grandchildren, Mei Nai. It stuck for my girls too. I think it's absolutely fantastic that my girls have a Ye-Ye, Mei Nai, Grandma, Grandpa, Nana, Pop Pop & Abuela all in their family. What a lovely little melting pot. Oh! And a word on the train…it's FREAKING FANTASTIC. Seriously, it's just a 4 hr ride from DC to NYC, the girls can walk around, eat in the cafe car, sleep or watch a movie. And wi-fi for me. My kind of travel.
*Sophie's shoes in that sweet sleeping pic of her curled up in a ball are these Skecher's from Nordstrom. She adores them & they are pretty darn cute but the shaft is a bit narrow. (hehehe. I know, I knowwww) I much prefer Sam's pink glitter high tops with a zipper for easy on/off. They're these by Launch  & are actually much cheaper.
*Speaking of adolescent humor…can you believe that ottoman made from a wine crate?! That's a real listing from Etsy. I about peed my pants & immediately sent it to P because his humor is that of a 13 year old boy.
*Baby spinach with this lemon garlic dressing & a sprinkling of shredded parmesan is my new favorite lunch, or snack I have to relieve the guilt from giving in to Chick-fila's wafffle fries yet again. That salad and a brand new BH&G is a little slice of 10 minute heaven.
*And finally Fat Lu. Our beautiful big girl. She snores, farts & has a bad hip that is coincidentally going to cost us an arm & a leg but man do we love that dog. Have you ever looked at a big grizzly bear on TV romping around, or soundly sleeping in a meadow & they look like they'd be so snuggly, fuzzy & completely warm if only you could hug them. Lu's like that. Except she won't eat your face off. Pillow is this one from Pottery Barn by the way.
Alright friends, that's it. It's time yet again to start a new week. It's a fresh start & who knows, it could be the most amazing week you've had in months! Or maybe not, but whatever, let's pretend we're super positive. (;