Are we Instagram friends? I'm MsPinkMonster…you?
If you wanted any more details on any of the randomness from the week here it is my dear…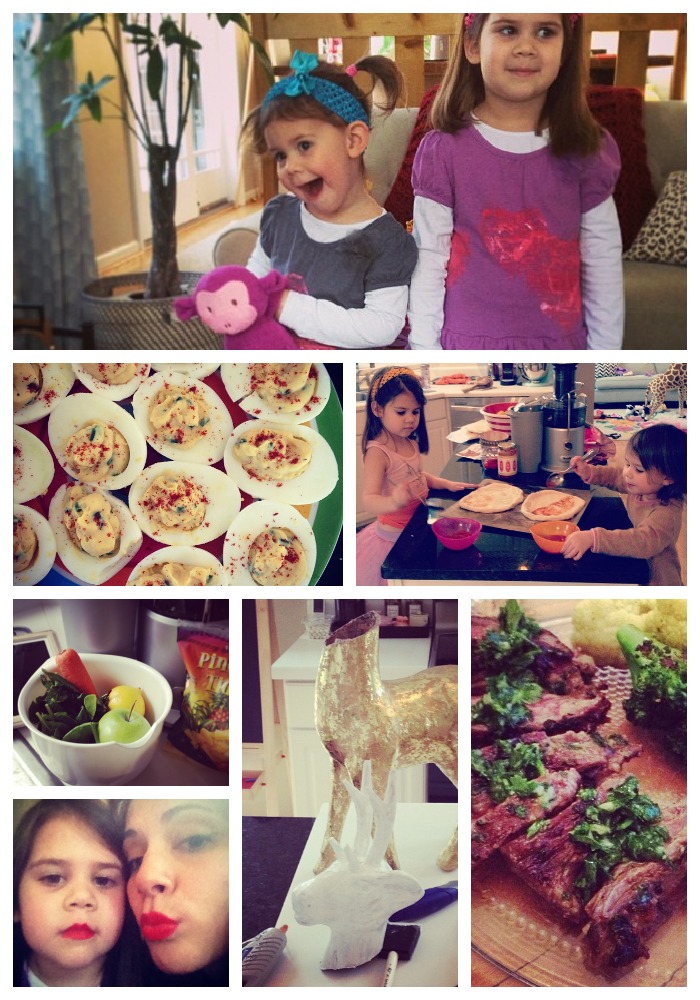 *Valentine's morning with their heart dresses from this tutorial. Their looks sum up the entire existence in my house by the way…
*My sudden deviled eggs cravings…I used this recipe but substituted chives for the diced onion & left out the Tabasco.
*Homemade pizza night. I'm trying to spend more quality time with the girls, normally I would not have let the girls do their own because I was worried about the mess but honestly, what does a little sauce on the counter matter if the girls are making memories that will be their childhood traditions?
*My attempt at juicing. Some of you asked what kind of juicer I bought, it's a Breville Juice Fountain & it worked well but truth is it's going back to Macy's. That was wayyy to much work for a glass of juice. It's just not me.
*The beginning of the deer beheading, tutorial for head mounts here.
*Impromptu Chimmichurri. This was AH-MAZING. It was all on a whim because I happened to have everything on hand & didn't know what to do with the skirt steak I bought for dinner. Basically, I combined a few handfuls of fresh parsley, a handful of chives, 2 minced garlic cloves, a squeeze of fresh lemon juice & a dash of salt & pepper into my food processor. I added a stream of extra virgin olive oil while it was mixing until a paste formed. Then I rubbed half of the paste onto the meat before I grilled & reserved the other half to use as a garnish.
*Ruby Red Lips. A little, how do I say this, weird, to see my 4 year with bright lipstick. It always seems like a cute idea but then just looks odd. Like a baby hooker. (My favorite lipstick, it's not quite that dramatic without the Instagram filter, Tarte Glamazon lipstick in 'Fierce')
What a week, whew. I'm so glad it's Friday, all I want to do is sleep! A girl can dream right?