A few months ago I was at my nail salon when I noticed one the techs who walked by had a whopper of a shiner on her right eye. Immediately I thought, Oh poor girl! Who is this man in her life that could do such a thing. Why is she ok with it? Is she scared to leave? Perhaps she doesn't believe she deserves better? At this point she noticed my pitiful stares, shot me a what are you looking at bee-otch look & left the room. This just made me feel even worse for her, how embarrassed she must be. I started to wonder what she did that set him off. Was dinner not hot enough? Perhaps her greeting to the UPS man a bit too friendly? Jerk. I hope he gets a flesh eating bacteria on his penis.
It never even occurred to me that this girl who mind you I know nothing about could have never experienced any sort of physical abuse ever in her life…not until this past Saturday when Sam stood up right as I was bending down & her solid noggin collided with my eye socket. We were at the Baltimore Aquarium & right in the middle of everyone Sam & I were both crying. It was memorable to say the least.
3 days later & I still have this….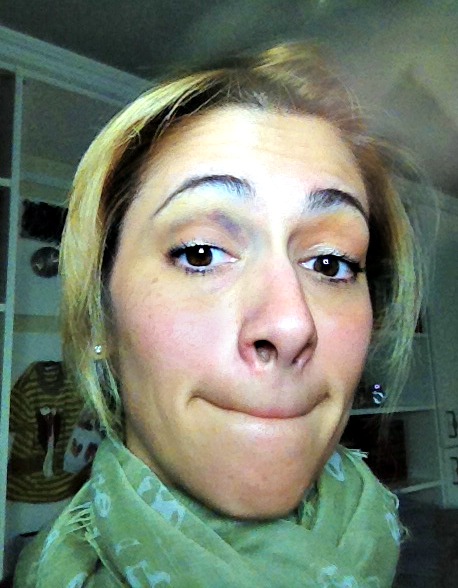 I've piled on a pound of concealer, have worn my glasses constantly & have never been so grateful for bangs. Although I still can't help but wonder if people are noticing. Maybe even judging. I certainly judged the nail lady.
So my lesson is this, even if your intentions come from a loving place judging others is still just that, judgement. I'm going to try and re-wire my brain to stop assuming things about other people. Unless you're in their home with them 24/7 you just never really know what might be going on in their lives.
I'm also going to keep a 3 ft distance rule when it comes to children in motion. Yeah, right.