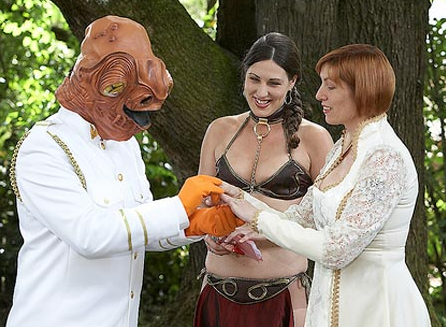 img via the gloss
A girlfriend & I were doing our normal quick cup of coffee after dropping the kid's off at school & were doing the usual gripe about our husbands. Her husband & mine both have the workaholic gene in common & we were complaining about how it's always a battle for their time. Shouldn't they want to spend time with their families? Couldn't they just stop checking that stupid blackberry for 10 minutes & seriously, why do they NEED to take on that extra project at work that we know is going to take up some valuable weekend time?! Enough is enough.
A few days later I was listening to a different girlfriend complain about how her husband still loves to go out & party with his boys even though they now have two small children. It drives her crazy that he repeatedly asks for boys' nights out & leaves her home with the kids not to mention his compulsive need to drag her to any & every party for which they're invited. Then she said something that got my attention. "Well, how can I really complain. What I loved about him when we were dating was that he was the life of the party." He was Mr. Charming who always wanted to show her a good time, how could she now expect him to completely change & want to be a homebody. This is right about when the 'oh crap' lightbulb went off for me. Could I be equally at fault for complaining about how much my husband works? When we were dating it was his drive for his career & success that I found completely sexy. What made me assume that now that the ring is on my finger & the kids are here that he'd slow down & be happy with settling with where he's at on the corporate ladder? It's actually a bit unfair of me if I really think about it.
I have to wonder, how many of us willingly looked the other way when it came to our significant other's traits so we could continue our sprint down the aisle? When there's engagement in the air how many of us really sit down & think through what life would be like with our mates 10 years down the line? I know I didn't really think twice about it. For some reason I just assumed that he'd be different after we had a family. But really, why should he? If his career always made him happy than how presumptuous of me to think that he should be more than willing to put that aside after we were married. Same with my friend, if you marry the party boy then why on earth are you surprised when he's darting out the door every Friday night?
Of course there is something to be said for the fact that like it or not all of us must make some sacrifices after we have children. So where is the line between expecting someone to adapt to a new life & forcing them to change who they really are & what makes them that wonderful person you fell in love with? Is it even our position to ask?