Thanks for being patient while I took a little vacay. I'm downloading pics & will fill you in tomorrow…a few things changed over the past week & I have to fill you in.
On another note however…
I love Sophia Grace & Rosie, as does every other American who possesses a soul. If you don't know who they are then a big hello to you, welcome from under your rock. Get yourself a glass of water, I'm sure you're parched & go watch this. You're in love, right?
There is one video (which for the life of me I cannot find it) where Rosie (aka Sophia's flygirl) is sporting the most adorable hot pink converse. The laces have been replaced with satin ribbon & the toes were covered in crystals. They were some pretty sick little kicks & I knew a certain someone in my house who'd go bananas for them…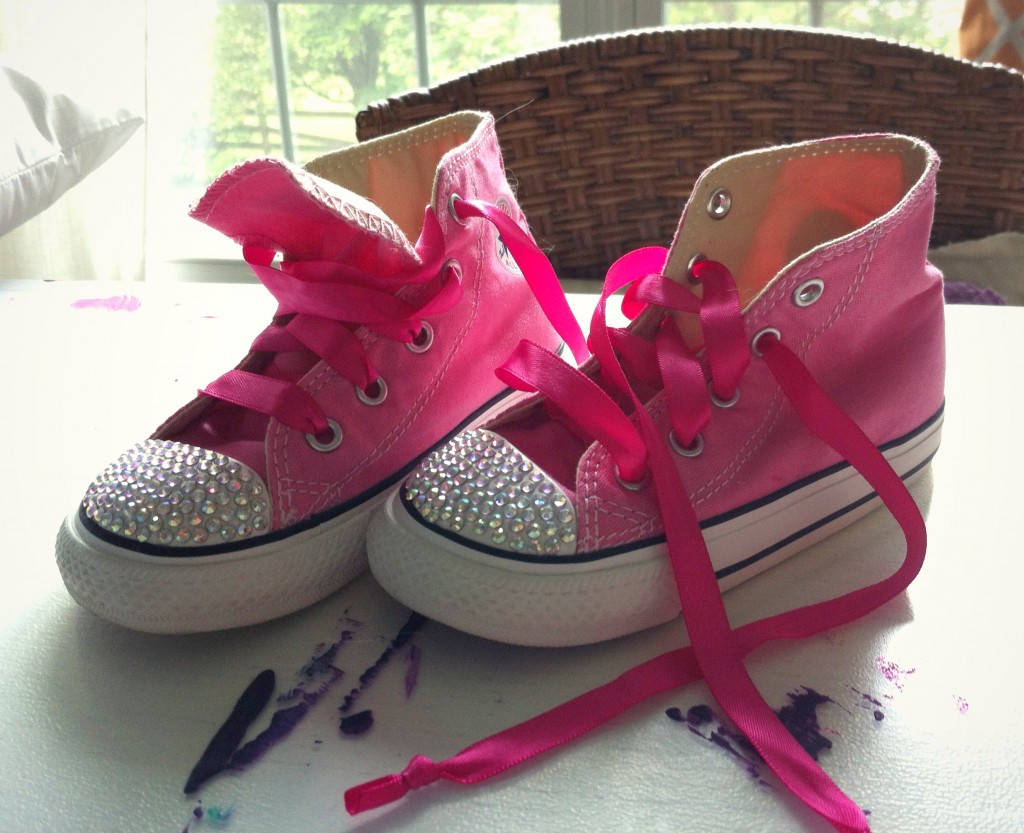 I spent about an hour or so making these in front of the tv one night. It might be a little tedious to some but I actually like mindless repetitive crafting sometimes, it's oddly relaxing.
I found the best technique to be dabbing a glob of superglue gel onto a piece of cardboard & then using a piece of playdoh shaped into a point to pick up the crystals. I then dabbed them lightly in the superglue & placed them one by one on the shoes. The glue sets up pretty quickly but you have a quick second or two to adjust the placement. Just hop to it. Working in horizontal lines I kept dabbing & placing, dabbing & placing until my bling was complete. When they were 100% dry I wiped off the crystals with a baby wipe to remove any playdoh residue which might hold back the sparkle. The hightops also come in a beautiful aqua that I think would look AH-MAZING, aqua ribbons with sparkly toes…that might just be in Sophie Monster's future.

*I bought my high-tops from Zappos, keep in mind that kid's converse almost always run a full size larger than expected. The crystals were on sale at Michael's which is also where I picked up the glue. (my favorite day to day superglue by the way)