Actually no, it's quite the opposite. I blinged out the dress instead of attending a pity party for one. So the title should have been "Blinged out Party Dress Acts as a Cancellation for Pity Party for One" But who the heck would've known what that meant, right?
I'll explain more about the pity party details in a minute, I didn't get the diagnosis I wanted at my Dr's appointment but the good news is I'm working very hard on having patience & a healthy outlook on the situation. Before I get into that whole shenanigan though let me go ahead and share with you the project I did when I got home from the Dr's. I wanted something sparkly to lift my spirits & while glue on crystals didn't solve all my problems they certainly gave me something pretty to look at.
Pretty but plain Thanksgiving dress for Sam purchased at Target for $20: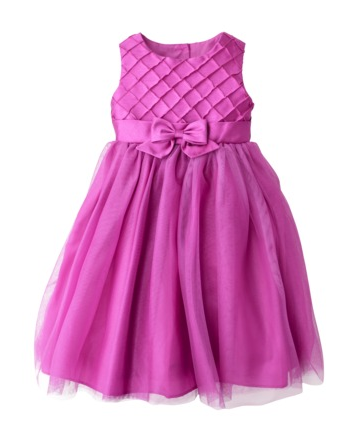 Blinged out Little Pink Monster version: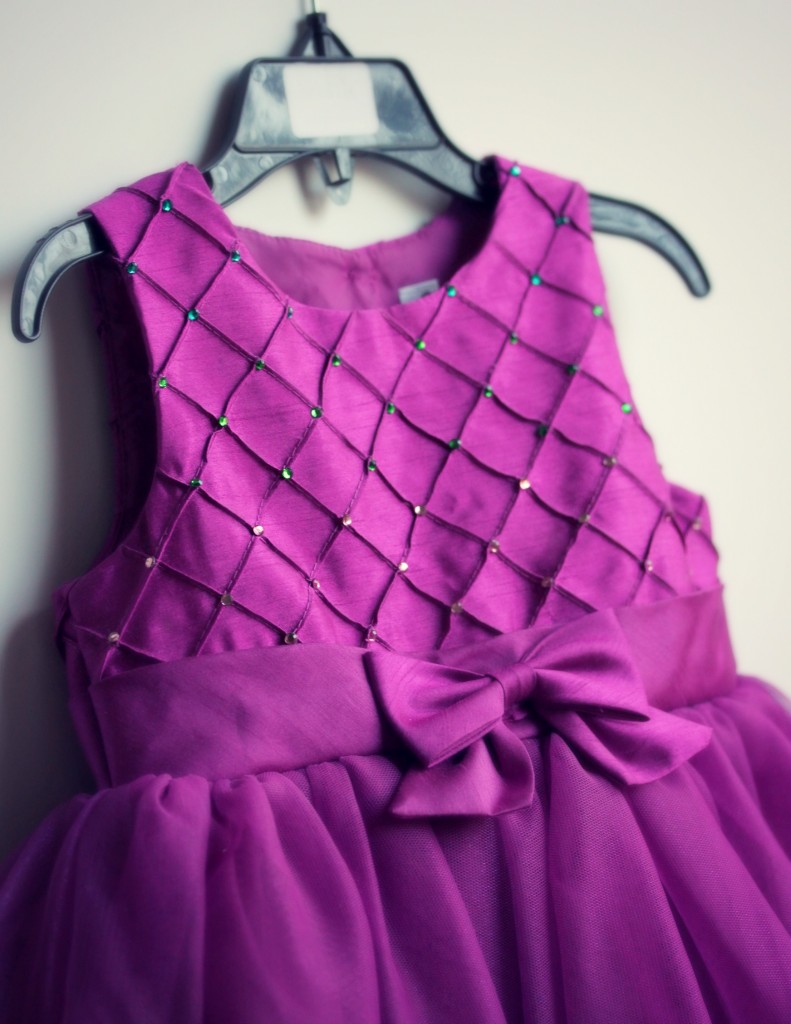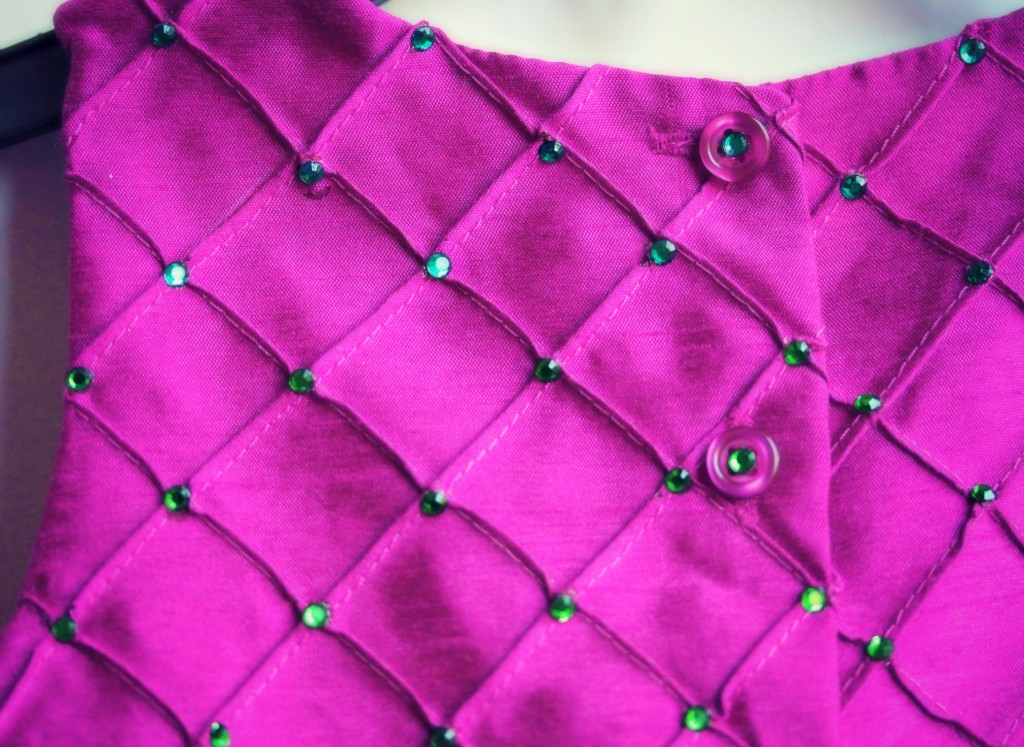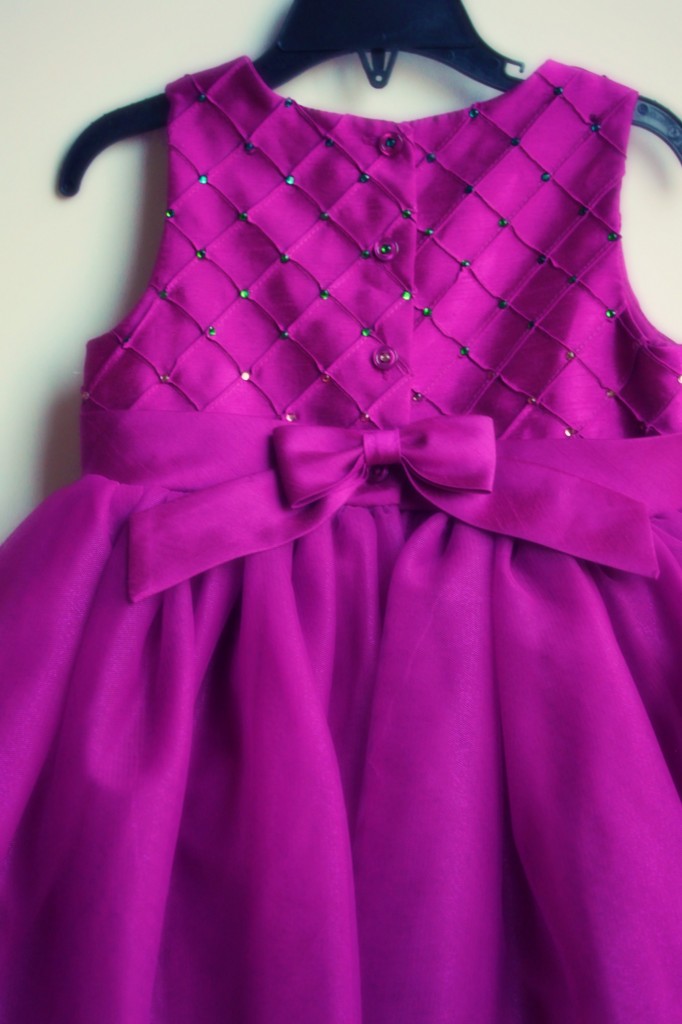 The crystals change from peacock blue to emerald green & then a soft rose pink. Yeah, I know, pink is not the typical color to throw in that mix but her majesty would not have been happy if I hadn't put in a bit of pink.
I used this Tulip Heat Setting Tool
to apply the crystals
& bought everything from JoAnn's with a 40% off coupon on my iphone. LOVE that app. PS- I suggest using a little tool like some tweezers to hold the crystals in place while you set them with the heat tool so you don't burn yourself. Learned that lesson pretty quick.

This was a fun little project, I'll definitely iron on crystals to some other random clothing but maybe not ones that have as pronounced seams as this dress does, it was a big pain in the butt to balance the crystals while I waited for them to set.
Oh! I just have to show you Sophie Monster's Thanksgiving dress right quick. It's also from Target. It's black velvet with the sweetest little tuxedo bib detail, Gwen Stefani's Harajuku Mini of course, so cute, and $25! Mad Target love.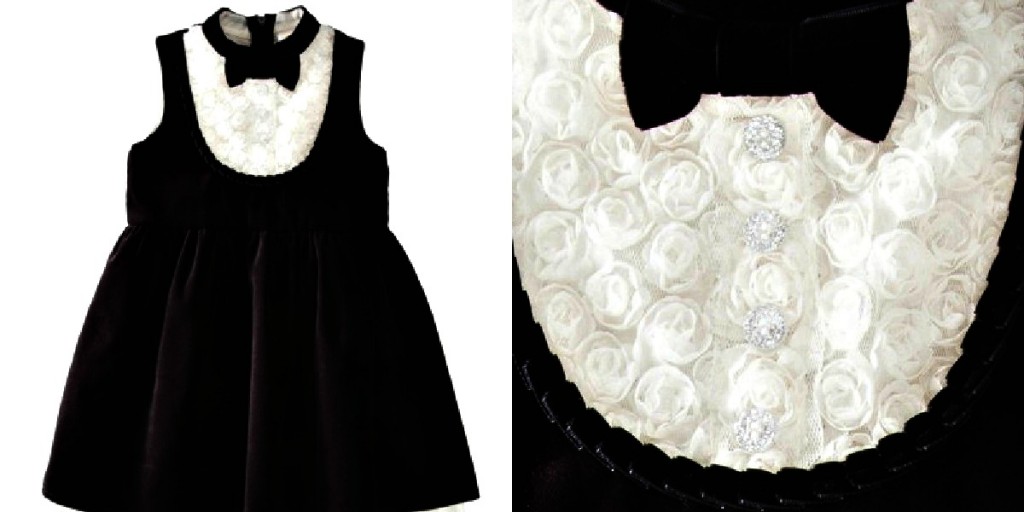 Ok, so here's what's going on with me personally…
For the last year you guys know I've been bouncing back & forth from healthy & picking up new activities like running to down & out sick as a dog. In the last year I've been to 3 primary care doctors, 3 infectious disease doctors, 1 endocrinologist, 1 urologist, 1 neurologist, 2 rheumatologists & even 1 psychiatrist. I've had MRI's of my head, neck, abdomen & ankle. There have been x-rays, catscans & countless blood tests. I tell you all this not so you'll feel bad for me but to give you an idea of what it's really like to try and get a diagnosis when something is wrong with you that's not as concrete as a strep test or broken bone. I sure didn't know it would be like this.
Perhaps the biggest lesson I've learned throughout this experience is that medicine is grey, not black & white. Doctors have all the infallible qualities of humans, one of which being the capability of being wrong. They do not know everything & unfortunately many of them think they do. Some of the best advice I have ever read was "if you aren't feeling well & a doctor tells you it's just stress or just in your head then politely say, 'thank you', walk out of their office & find another doctor."
The rheumatoligist I'm seeing now is AH-MAZING. I know this because at my last visit when she told me that my bloodwork still didn't show any conclusive results I told her that my fear was that the lab tests were never going to show anything. My fear is that no one can tell me what is wrong with me & without a diagnosis there is no treatment, without treatment you probably won't feel better. She looked at me and said "You deserve a diagnosis." Having a doctor say that almost brought me to tears, it was a huge relief to say the least.
Here's the short of what I do know…
My rheumatalogist believes that my Lyme test last year was a false positive. Yep, she thinks I never had Lyme.
They usually do two tests to confirm Lyme, the first is a standard blood screening & the second is called a Western Blot test. Both of mine have always been positive but that's actually the red flag that perhaps it wasn't Lyme. With true Lyme after you go through treatment your Western Blot results should change. Yes, in the initial screening you will always test positive for having the Lyme antibody however after treatment the second test should change to negative. Mine has never changed. My Dr. says she has treated countless patients with my exact situation, they thought they had Lyme but never got better. Turns out the antibodies your body makes for auto-immune diseases often show up as positive Lyme antibodies. If all that makes your headspin then here's the nutshell, she thinks I have Rheumatoid Arthritis and/or Sjogren's Syndrome. RA is a systemic disease that can affect all of your systems, this would explain why I have such random symptoms as continuous low grade fevers, fatigue, bi-lateral joint pain, morning stiffness, headaches & GI "issues". Unfortunately 30% of RA patients tests negative for the RA factor, a test used to diagnose RA. My tests are negative.
The treatment for RA is not something you want to put your body through if you don't have the disease so my understanding is that my doctor needs to build an overall case to make the conclusion that I have the disease in spite of the negative blood test. On Friday I had an MRI done on my left ankle to look for arthritic evidence. Remember when I fell & sprained my ankle last year? Well, I've done it twice since then & it just never seems to get better. We decided that would the best place to find some joint damage evidence. Since this upcoming week is Thanksgiving everyone is off & I won't get the results until the following Monday. RA causes permanent joint damage so if all looks good & healthy on the MRI I'm not sure where that will leave me with getting a diagnosis but that's where the attitude change comes in…
I know God is trying to teach me something great right now.
I don't speak a lot about my faith on here which is a shame because it's such a massive part of the way I lead my life. I think I've always been afraid of scaring off non-Christians so I kind of brush over the whole spiritual thing so as not to offend anyone. Also so many people try to smother others with their religious beliefs & I just can't stand that so I've probably swung too far in the opposite direction of tip-toeing around & basically saying nothing. There's also so many assumptions made about a person the minute they say they're of one particular religion…but let's not get into that now, just know things aren't always what you assume.
Wow, that was a tangent. Where I was going with the God thing is that I know this is all for a reason. I just don't know what that is yet. In the meantime I'm working on two things that apparently don't come too easily for me, Faith & Patience. Faith that all things will happen when they are supposed to, faith to believe even though it doesn't make sense in my little head & faith that it is all in my best interest if I can just hang in there. That's where the patience comes in…
This is the part in the blog post where I'm babbling & it's time to hit publish & go shove my mouth with the bagel bites which my nose is now telling me are starting to burn around the edges of those awkwarkdly square mini cubes o' cheese. I'll catch you on the flip side my peeps. Have a lovely Sunday.