At the bottom of this post we'll do the 'blog & tell' & share all of our recipes. First, here are a few I tried out for you Pinbuster style
Did you see the little instagram tease I put up last night?
Well that…turned into this!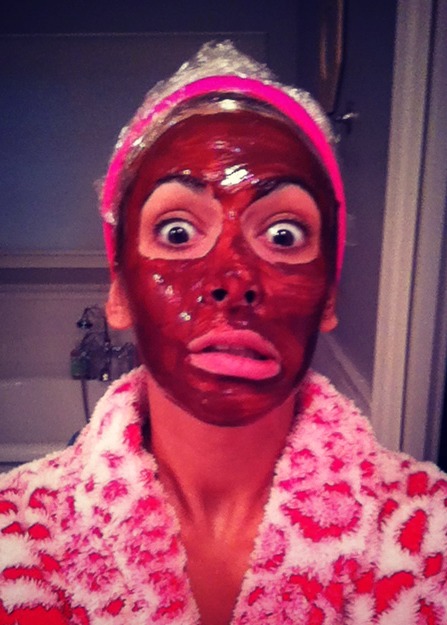 ACK! Good morning!! You're awake now, aren't you?? Sorry. Last night I came downstairs with this on & P was looking out the window at the rain, I stood next to him while he continued to tell me how it wasn't good that the clouds were moving in a different direction than the tree tops. (he's a meteorologist in his fantasy life) I was just nodding & uh-huh-ing until finally he looked over at me & I swear HE JUMPED 3 FT BACKWARDS! I guess a plastic wrapped head & chocolate face just doesn't do it for him…go figure.
I picked the Mayonaisse, Egg White & Yogurt Deep Hair Conditioner & the Chocolate Honey & Yogurt Face Mask as my two DIY beauty experiements. I had every single ingredient for both of these in my kitchen already, which was nice, & they whipped up pretty quickly & easily, so far so good.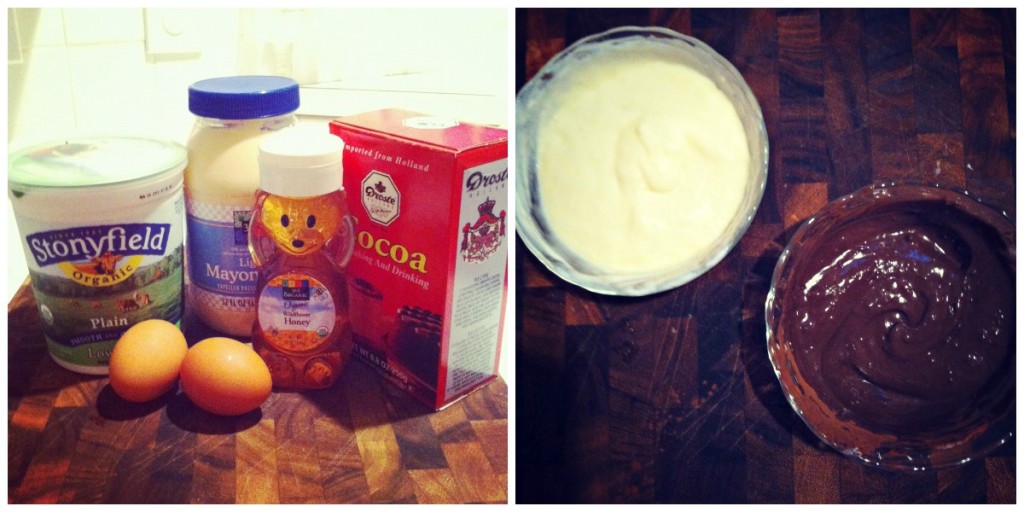 I'd say the only tricky part was applying the hair treatment. Smearing mayo all over your head takes a bit of a strong stomach, I smelled like a giant walking egg salad sandwich the entire time. Since I had to let both sit for around 30 minutes I wrapped my hair in cling wrap so I wouldn't spread my mayo-ey goodness all over the house.
Applying the chocolate mask on the other hand was relaxing in itself. It's cool, creamy, smooth & smells like dessert. I used a basting brush to apply a thick layer all over, just that process made my shoulders relax.
And the results?
My skin felt much softer & tighter after the mask. In fact, it still feels soft today. I'll be chocolate masking it up again, that's a good one.
My hair I'm torn about…it's absolutely, positively shinier. Without a doubt. BUT I thought it would also be softer and it's not. It almost feels a little heavy…maybe even dirty. This could be because I either used too much of the mask (I absolutely slopped it on) or my hair is just too far gone from bleaching it. The shine I can't dispute though so maybe I'll try this one again…
It's hard to capture hair shine in a picture, I also just blew dry the front part of my hair because I pulled my back carrying Sam up the stairs this morning. Yep, I was carrying my 35lb 4 year old up the stairs. She said her belly hurt & I'm a sucker. Now I'm a sucker with a heating pad…and shiny hair.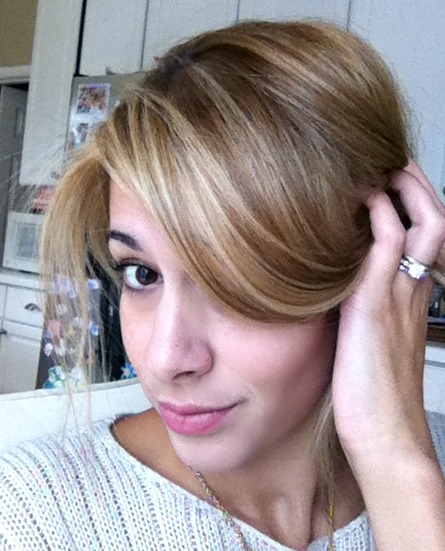 Chocolate, Honey & Yogurt Face Mask: Mix equal parts (I used 1 tbs) cocoa powder, honey & yogurt in a small bowl until creamy & smooth. Paint all over face excluding eyes & lip area. Let sit for 20-30 minutes or until dry & firm. Rinse off with warm water.
Mayonnaise, Yogurt & Egg White Deep Conditioner: In a small bowl mix 1/2 cup plain yogurt, 1/2 cup mayonnaise & the egg white from 1 egg in a small bowl until smooth. Apply all over dry hair paying special attention to damaged, dry areas such as bangs & tips. Leave on for 30 minutes & then rinse extremely well with warm water. Shampoo if desired or leave just rinsed overnight & wash out completely in the morning.
Now it's time for the fun part! I'm so excited!! In the comments below please share your tried & true at home beauty treatment!
This should be a gold mine people. I'm SO SO excited to hear all your favorites!
Remember too, the goal is at least 50 responses & to help entice you I'm going to give away a $25 Sephora gift card to one commenter chosen at random. If you write a blog feel free to link up too so we all know where to find eachother!