Want to make a nice date night dinner for you & your honey but have less energy than a sloth competing in a watching paint dry contest? Here's a little backdoor trick I pulled last night… (apparently I'm also still tired today because after staring at my screen for 10 minutes that was the best analogy I could come up with)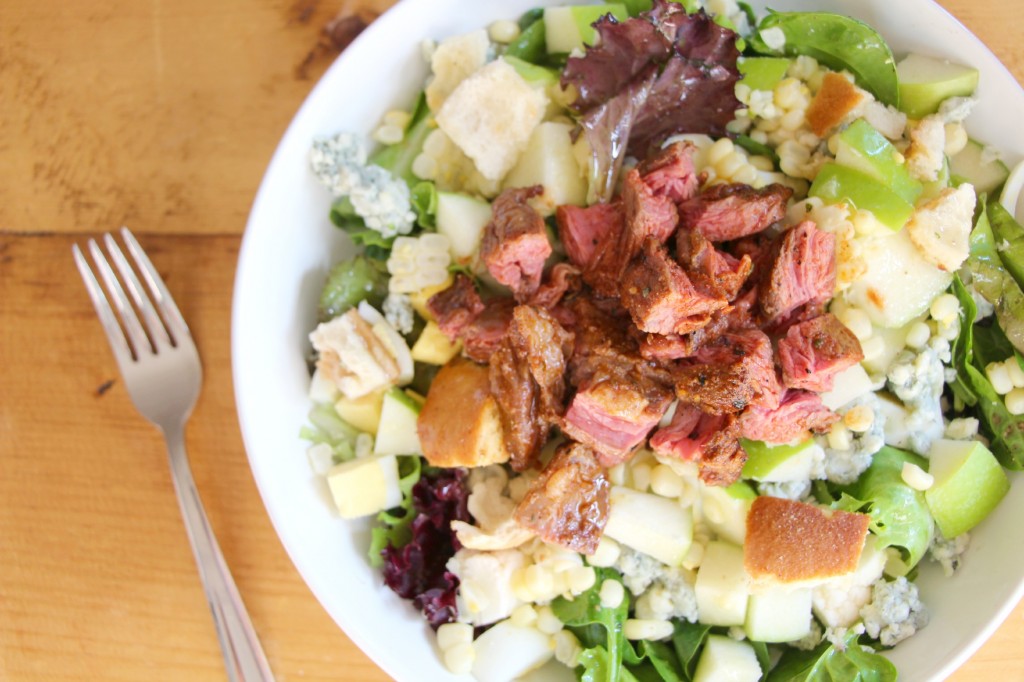 Usually a really good homemade salad, at least my favorites, require lots of mini steps to assemble them. You have to cook some ingredients but not others or maybe there's lots of tedious chopping involved. Typically they aren't as easy as you'd think considering it's a SALAD. So here's my shortcut, if your grocery store has a salad bar (usually it's somewhere near the deli area where people can pick up quick lunches) then just raid that for your toppings. I chose some big fat croutons, perfectly hard boiled eggs, sweet corn & some raw cauliflower. (I had the apple at home already) I also bought a skirt steak, some salad mix, dressing & blue cheese crumbles. The other nice benefit is you can only buy as much as you need. Two adults really don't use an entire bag of croutons for one salad, unless it's a really bad day, then you might truly need them.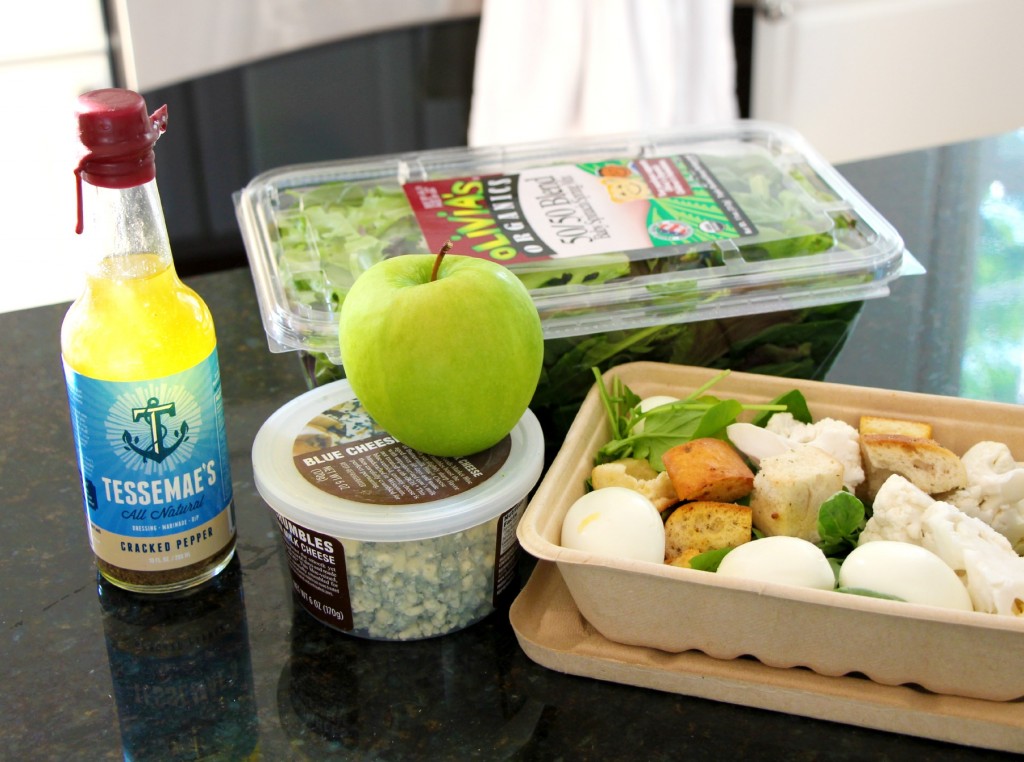 When I got home all I had to do was throw the steak on the grill (a frying pan would've been fine too, I also seasoned it first with salt, pepper, garlic powder & smoked paprika) & seared it on high heat for 3 minutes each side. Skirt steaks are FABULOUS, dirt cheap, cook quickly & with the right seasoning or marinade they're one of the tastiest steaks out there. While the steak was resting on a plate (always let your meat rest for a minute or two so the juices can redistribute) I quickly chopped up my salad bar goodies. Also for the kids I heated up some of the corn & steamed the broccoli in the microwave.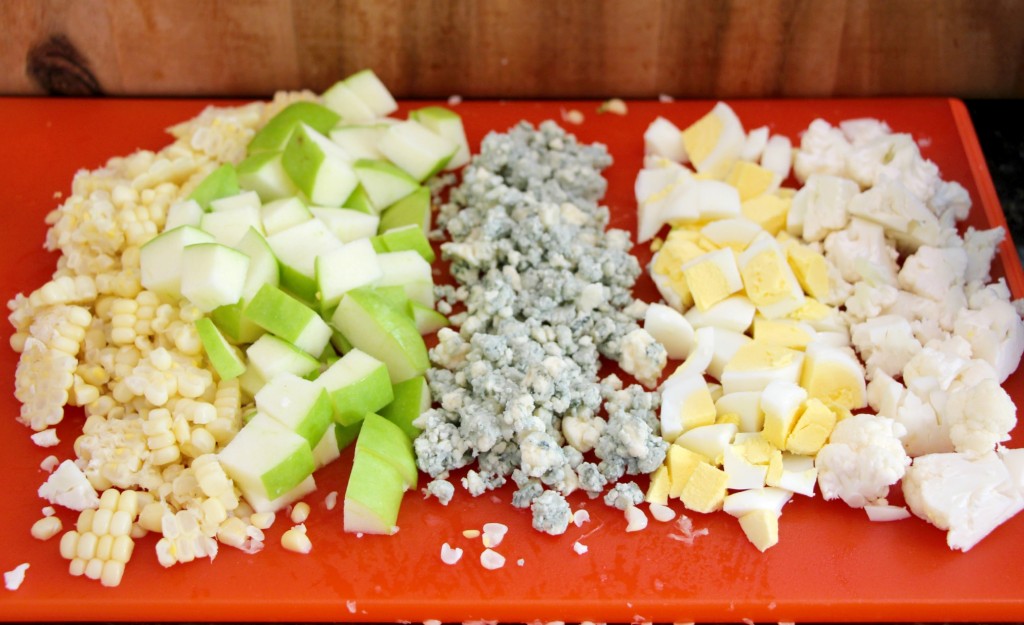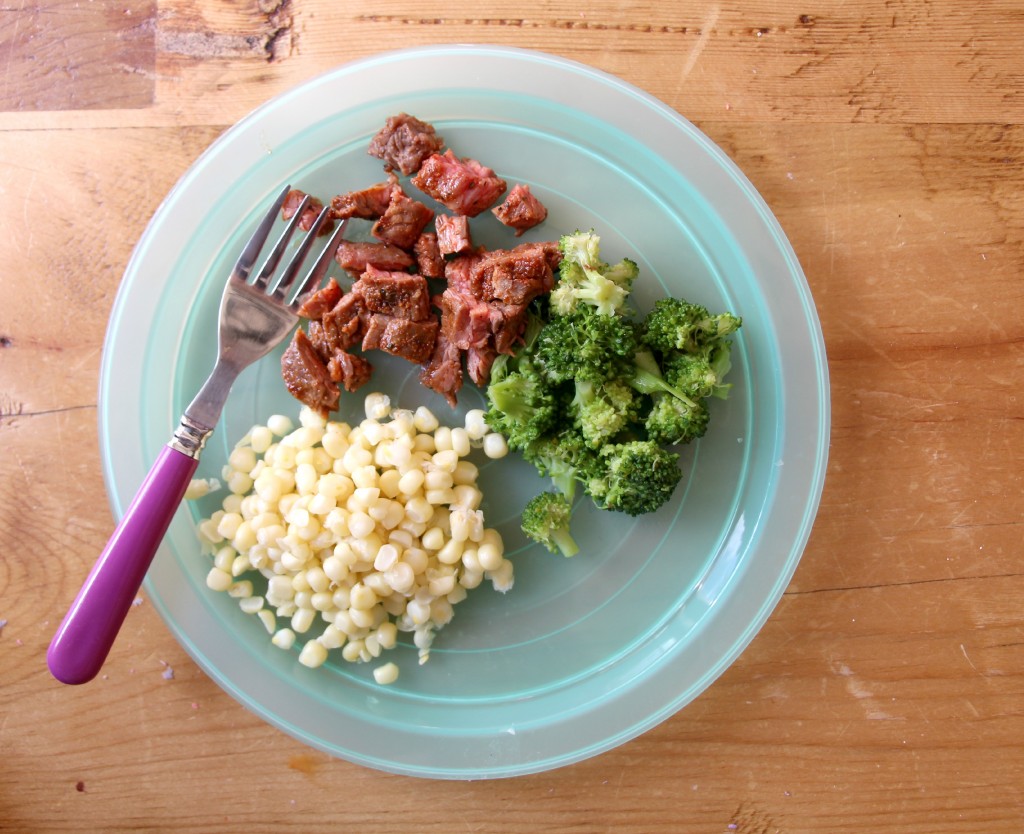 (kid's version: If I'm making a grown up meal the girls won't eat like a salad I try to at least use ingredients that can be easily made into a meal for them like the one above)
To assemble the salad I first tossed the greens (the type I bought was half spinach half spring mix) with the dressing & then filled our salad bowls. Next I topped the salads with all the goodies including the steak in the middle, I gave the toppings an easy drizzle of more dressing & that's it! (I don't toss everything together at once because all of the heavy ingredients will sink to the bottom & I find it's a lot harder to get a nice even distribution of toppings.) Perhaps that's giving my salad just a bit too much thought but whatever, it tasted darn good that way so I don't even care!