Were you here a week or so ago when I wrote about "Cleaning your plate"? One of the things I told you I was going to try & change was dedicating one hour, a "sweet spot", of time every day to spending quality time with my girls. I'm at a point in my life where my plate is really overflowing with what's happening, good and bad, & I found I was going to bed with guilt every day that my girls were just being dragged around my busy-ness & weren't getting enough of my full attention. So the one hour each day sounded like a completely doable great idea, right? And it went that way for a few days, it was really wonderful but then I missed one, which then turned into two, which continued until here we are two weeks later & it's totally not happening anymore. At my followup appointment with my therapist I answered honestly about this & told her I felt so guilty & moreso really frustrated & even hopeless that I couldn't make my new commitment happen for even 2 weeks. My therapist's answer however was awesome & has really changed the way I look at frustrating situations in my life. Instead of saying, ok, well you're a terrible mother who's priorities are out of whack & now you're a failure (which is initially how I felt) or that this idea was obviously unattainable & should be scratched completely she took a different approach. She asked me, "Why do you think you didn't spend that hour with the girls? What kept you from it?" I thought for a minute, thinking back to all the busy afternoons we'd had & what the heck I was so busy doing, & decided there were really three things that were repeatedly keeping me from spending that committed quality time with Sam & Sophie. They were:
Forgetting, Fatigue & what I like to call "The Afternoon Crunch"
We then went through each, one by one, & tried to find a way to make them a non-issue in the future.
Forgetting: There were days where I truly would flat out forget that after school we were going to be doing things differently. I would come home, put away the backpacks, let the dogs out, get the kid's a snack, open the mail…and before I knew it I was back in the motions of the afternoon scramble. To prevent this I needed to make it a commitment, same as if it were any other appointment. It's now in my daily calendar as a blocked off time which means just like my other events I'll get a reminder every day & also in the morning when I check to see what's on the schedule.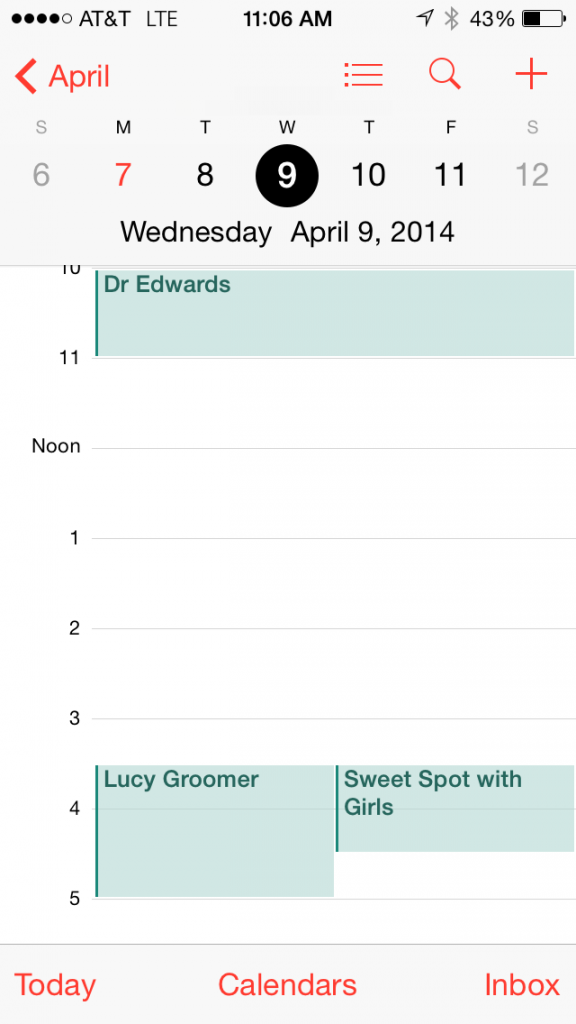 Fatigue: This is a tough one. Sometimes because of my health limitations I'm just totally spent by 3:30 & truly need to just lay on the couch for an hour or so. We talked about this for awhile & decided (much to my relief to hear someone else say) that on those days IT'S OK to set the girls up with a coloring project or put a movie on & just be "with them" even though I'm not able to be physically interacting.
"The Afternoon Crunch": That's what I'm calling all of those end of the day things that you just haven't done yet. For example, the doctor's office closes at 5 so you have to call them before they close, or you need to run to the grocery store because you didn't go earlier & there's nothing for dinner…I could come up with a hundred things that come up during that closing of the day crunch time. This is probably the hardest one to overcome & my therapist had a great explanation as to why that is.
Kid's don't have deadlines.
Spending time with your children is not something that if you don't do that day you'll get a late fee. It's such a slippery slope too because it's easy to think to yourself I can always spend time reading to my kids (or whatever your chosen quality time activity is) the next day & then sometimes, that next day can turn into another day & all too quickly it's months that your kids have missed out on your quality time good intentions that never came to be. The only solution to this is it has to be a conscious choice that you make & then stick to. It's about making a mental decision that this is important to you, to your values, & you're going to do it. It will take planning around it just as if it were a meeting on your calendar that you couldn't cancel.
And here's the thing it won't be easy. Another point my therapist made that was really helpful was to admit something that none of us parents want to say. "It is not fun to play with my kids" I know, I said it, & I'm slightly worried you might throw rocks at me through my computer screen but I'm afraid it's true & I don't think I'm the only one who feels this way. I HATE playing Barbies, I can do it for around 10 minutes before I find that I'm creating a scenario where Barbie takes a terribly suspicious plunge from the 3rd floor of her pink dream house. Here's the good thing about admitting this, you're a lot less likely to continuously make yourself do something you don't enjoy, instead you can create a list of ideas which you can pull from that will be enjoyable for both you & your little one. It's just like finding a way to exercise that you also like, you'll be much more likely to commit to it. In the end, everyone wins. Except Barbie, which kind of makes me happy, that girl has everything.
Here are a few activity examples that we came up with which both the girls & myself can enjoy, keep in mind your list could be completely different than mine, whatever works for you & your kids is the goal.
Craft Projects are big for us. (duh) This would be anything from making homemade play-doh together to using a craft kit like the seasonal foam sticker ones from Michael's or one of those cute sets Melissa & Doug make.
Art Work: If I'm not feeling great this is good one, I google whatever each of my kids are into that day & include the term "coloring pages", (i.e. "monster high coloring pages" "fireman sam coloring pages" "butterfly coloring pages") you'll be amazed at how many free coloring pages are out there! All you have to do is print them out & you've got some new images (rather than that half colored coloring book you have that they're tired of) that you can all sit down & color together. You'll be surprised how therapeutic coloring as an adult can be!
Gardening: This is a bigger one but one I'm dedicated to making it happen. As soon as we're in the clear from more freezes the girls & I are going to plant a cutting garden (strictly flowers) & I think it'll be good for us to spend a little time outside everyday tending to our plant babies. This is my first garden so you better believe I'll be on here blogging about the process & asking for your help!
Other quickies that I don't mind are puzzles, using the play kitchen to play 'restaurant', hide & go seek, pretend cooking together or doing hair & nails. (I'd be clueless with a boy so if you have great boy ideas please leave them in the comments for the other boy mommies!)
So starting this week I'm starting again. It's funny, I have been very gradually learning to look at my life & react to it a little differently than I have in the past. A few years ago in this situation I would have felt the same guilt but it would have stayed with me which often sabotages your efforts in the future, which creates more guilt, which puts you in a bad place to change anything, which creates more guilt…you see where that's going. This time however when what I was trying didn't work & I felt the guilt, instead of just focusing on that I had failed, my therapist showed me how to concentrate on figuring out why I failed & then breaking it down so I could see how to remedy it. I believe you could call that making a plan. And you know what, sometimes you have to change the plan mid-game, & that's ok.
So many of you chimed in, even my close friends that I had no idea felt the same way, after the "clean your plate" post that I wanted to make sure I kept things honest & let you know how things were actually turning out, we're in this together right? I like to think so. (: