I've tried running probably three or four times in my life. Each time I quit after about 4 minutes. On a treadmill once I think I made it to 8.
I even was a member of my high school's cross country team, but it was only because they needed one more girl on the team to qualify. I never finished a race. SAD painful memories those are…
It's always just plain hurt to run. My knees hurt, my side cramps, I'm panting & hurting & panting & miserable. But for a reason I do not know I still want to be a runner. I think I'm curious as to why some people love it soo much, they talk about this runner's high you get & being 'one with the road'…there's got to be something to it.
My girlfriend Brooke was telling me about this new marathon she's doing & I was like, "geez, that's so awesome! I wish I could run, really I do, but I can't" She suggested I try 'Couch to 5k'. So I took a look, & it actually made a lot of sense.
"Too many people have been turned off of running simply by trying to start off too fast. Their bodies rebel, and they wind up miserable, wondering why anyone would possibly want to do this to themselves.
You should ease into your running program gradually. In fact, the beginners' program we outline here is less of a running regimen than a walking and jogging program. The idea is to transform you from couch potato to runner, getting you running three miles (or 5K) on a regular basis in just two months."
-from Couch to 5K
I swear that guy somehow wrote that just for me. And it sounds totally doable right? And guess what, today was Day 1 of the program & I. DID. IT. Woohoo! And I didn't hate it! Woohoo woohoo! For week 1 you're doing 5 minutes of walking warm-up, & then intervals of 60 sec running, 90 seconds walking for 20 minutes. Then a 5 min cool-down. I'm not gonna lie to you, my brain started trying to sabotage my run at around the 14min mark but I put on a good song & pushed through it, it was rough for maybe 2 minutes. Which brings me to my next point, if you're still with me, there are 3 things today that made me feel like I could really embrace Couch to 5k…
1) Cute new shoes. Ridiculous sounding, I know, but hear me out. My old sneakers were 9 years old which is ridiculous in itself & speaks to my lack of cardio activity. That in itself is enough reason to buy some new ones but also they make these new feather-weight tennis shoes that were SO much easier to run in than my old, clunky, beasts of a sneaker. And yes, they're very very pretty. And this matters to me. It motivates me, & I'm ok with that.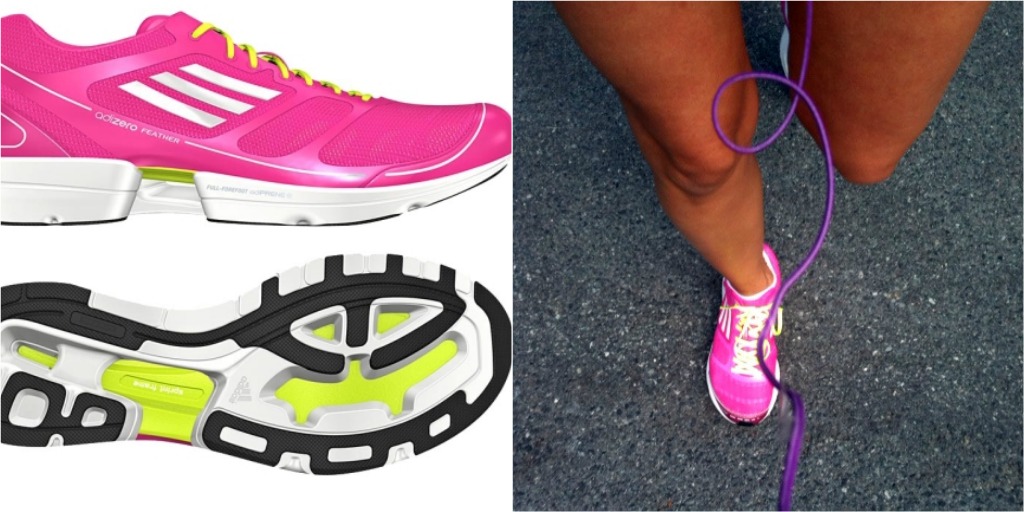 Adidas AdiZero Feather Running Shoe
2) The C25K app. I was wondering long & hard about how to keep track of my intervals, count in my head? No. Buy a cute new running watch? Tempting! And then I got a tweet from Angela telling me about this app that times it for you & lets you know when to switch AND you can listen to your itunes AT THE SAME TIME. $1.99 Perfection.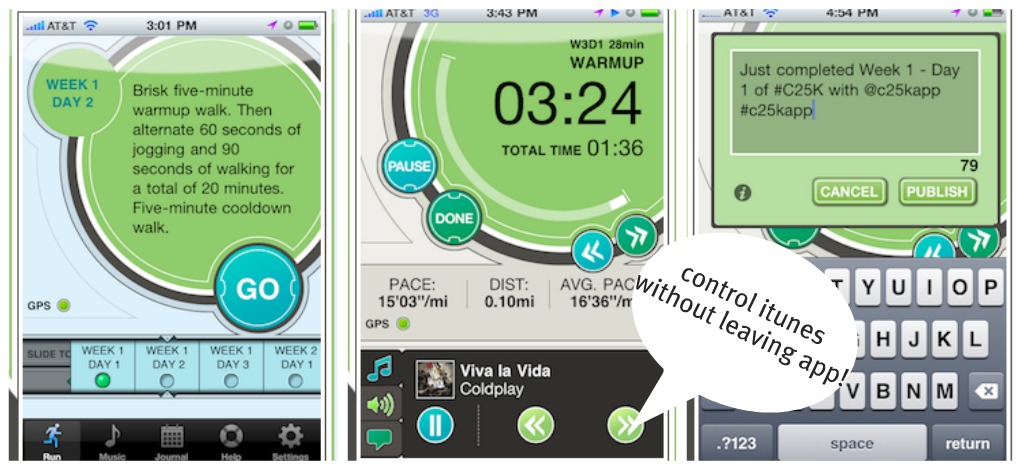 3) A good playlist. I've got to work on this one because today I just had it on general shuffle & I went from P. Diddy to Baby Genius 'Alphabet Song'. I did find a few good ones though…
Warm-up Gorillaz: Clint Eastwood
La Rissa: I do both Jay & Jane
Diddy: Come to Me
Jerimih: Birthday Sex (remix)
Britney Spears: I Wanna Go
Cool Down Jars of Clay: Love Song for a Savior
(And yes, I'm quite aware I just put Jars of Clay & Birthday Sex in the same playlist)
So to conclude this marathon of a post (haha, see, 1 run & I'm already cleverer) I want to know 2 things from you…
Are you gonna do it with me & what's your best workout song??