Sophie has pneumonia. Can you believe that ridiculousness??
It was almost exactly one month ago that Sam came down with pneumonia (after 5 consecutive weeks of a horrible cough) & it was around 20 days ago that we found out Parker had cancer followed by him passing away 13 days ago. 
Last night when I was driving to the ER with Sophie I was thinking 3 things…
1- Why the heck won't her 103 fever break, could my thermometer be broken? It does go in her ear right?
2- It's amazing, I don't even have to think about how to get here. It's like my car has autopilot.
3- Am I doing something wrong?
Why is my life so bumpy lately? I feel like I barely get my head above water & am somehow getting back on track when ::BAM:: another hitch.
Am I somehow bringing this on myself? You know, that whole idea that if you put too much negativity out there you'll bring it back on yourself? At least I think that's how it goes. Could I have some sort of hidden mommy mental disease that I'm sub-consciously bringing hardships on my family for attention?! Well no, because 1- I don't think anyone knows how to inflict Lymphoma on others & 2- I'm not exactly getting a pity party thrown for me around here. If attention was my goal then my plan is seriously flawed.
That's when I remembered this quote…
"LIFE IS NOT HARD BECAUSE YOU'RE DOING SOMETHING WRONG. LIFE IS JUST HARD"
Ain't that the truth? ::sigh::
Combine that with almost every single one of my daily devotionals for the last week having something to do with the theme of "trust" & "give all your cares to God" & I'm thinking that someone is trying to teach me something.
In the past I did notice at some point that when times were hard it was often when I grew the most. I suppose "growing pains" would be pretty accurate. When I think in those terms I can almost rally up a bit of excitement, with all these bumps (although it feels like more like massive heaps of elephant poop) I must be about to learn something pretty darn good. Maybe God is preparing me for some amazing next phase in our life? Maybe something big is on the horizon & I need some toughening up to be able to handle it?
Or maybe it's just that I need to learn that life is messy. Raising mini humans & managing a family is hard work. Period. People are going to get sick. Pets are going to need your help. Dishwashers will break & some sort of nasty bug will make it's home in your house. And sometimes, like now, it all happens simultaneously.
This is the part where P would tell me that I should be appreciative that we are very blessed & things could be much much worse. At least our problems are manageable. And while I wholeheartedly agree with this notion I have to say it's still ok to say my problems are hard. So are yours. Just because it's not grand-scale, horribly tragic hard doesn't mean it isn't still taxing, painful & utterly exhausting. It's ok to own that, to give your feelings that affirmation.
So here's what I'm going to do…
1- Blog about it because that always makes me feel better.
2- Give myself a little double tap under the chin. I can do this. "You will survive" (;
3- Bump up the acceptable dinner cocktail hour to 4pm. Shhh, I won't tell anyone if you won't.
Oh, and one more, I'm going to share this insane video from the hospital last night with you so we can end this with a little chuckle.
A little backstory first though…Sophie had been panting & wheezing, the pediatrician wasn't sure if it was from her high fever or from a breathing problem so she said to go ahead and try Sam's nebulizer to see if it helped. (it didn't hence the trip to the ER) Although it's not a steroid those inhaled medications make my kids NUTS. We call it 'fairy air' but I'm thinking 'baby crack' might be more appropriate. This was Sophie in our room several hours later. (and several hours past her bedtime)
After she took her sunglasses out of my purse and started parading down the hall with her blankie on her head the Dr. gave her a dose of Benedryl. I was so happy to see that sleepy pink goodness.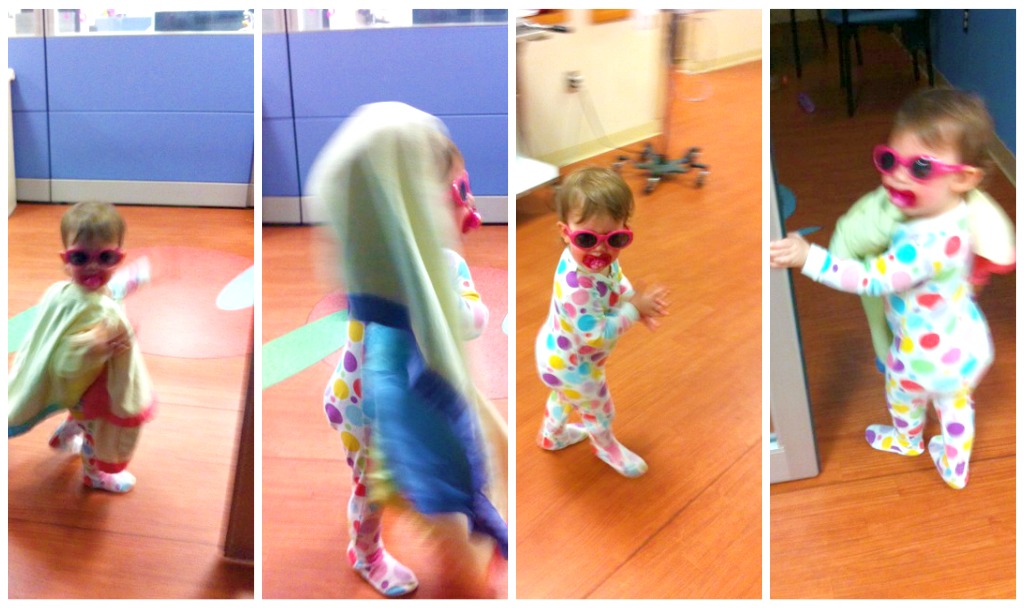 So wish me luck my friend, last night Sophie was up, literally, between every 15-45 minutes for the entire night. From 10p-8a. It was awful. If you don't hear from me for a few days it's because my brain is so tired it's shut off typing abilities & vocabulary function for the sake breathing, eating & Grey's Anatomy.
By the way, before I let you go can I ask you a personal question? For those of you who are stay at home mom's and your husband's work…
Do your husbands get up at all with the kids at night? I just told P he could sleep in the guest room tonight so he could get a good's nights sleep. I did it because I was feeling generous & thought it would be sweet of me. No sense in both of us being up all night with Sophie & then being useless tomorrow, right? Well when he didn't just flood me with kisses over my generosity I pushed the issue, asking why he wasn't thankful. He finally fessed up that "it's your responsibility to get up with the kids".
Um, what?
Even in the middle of the night it's still my job? He says yes, because he has to go to work in the morning. Of course that's when the top of my head burst open with flames shooting out because I'm sorry, do I not have to get up and work too? I'm pretty sure my alarm clock of two children needing to be fed is going to go off bright and early. I guess I can see his point but I'm still amazed that we could feel so differently about this. If this is the case then when would my responsibility ever end? When is my job over? Do all husbands/wives have this understanding & I somehow was just off by thinking that at night & on the weekends we were 50/50?
I'm curious, how do other couples divvy it up?