We spend Thanksgiving with P's family & one of the day of traditions I love is that everyone has their signature dish that they contribute. Courtney makes her amazing creamed onions, Jill makes the most beautiful roasted veggies, the men take great man pride in frying the turkeys. Yes, there are three of them. Turkeys that is, not men. Well…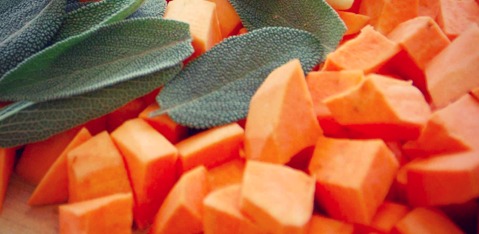 The point is everyone chips in & there's something nice about when you look down at your Thanksgiving plate there's a little representation of the different family members. I haven't really found my dish yet, when I was a kid my favorite was my mom's broccoli casserole but I just can't pull it off like she does. This year I thought I'd try recreating a dish I accidently made in my own kitchen a few weeks ago, I'm terribly about not writing down recipes so last night I decided I'd better give them a test run before the big day…lucky for me they came out just as good the second time & I think there's a good chance they could be 'my dish'.
Another great feature of this recipes is that it's so stinkin' simple. Three ingredients…sweet potatoes, fresh sage & BUTTER. Lots & lots of butter. Mmmm, it is Thanksgiving after all.
If you need a last minute contribution for your Thanksgiving meal I highly recommend you give these a shot, & please let me know if you do!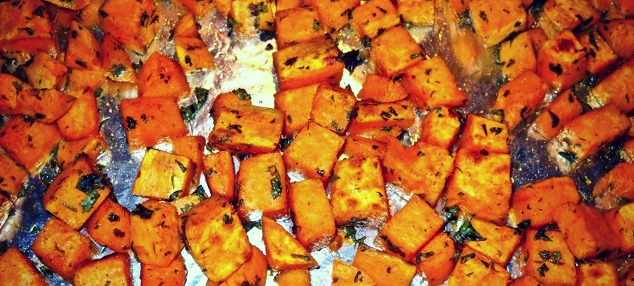 Roasted Sweet Potatoes with a Sage Brown Butter Glaze:
Feeds 6-8 as a side dish
4-5 medium/large sweet potatoes
1 bunch fresh sage leaves (must be fresh, trust me, dried just won't work here)
1 & 1/2 sticks salted butter (Kerrygold irish butter is my new favorite, it's UH-MAZING)
Salt & Pepper to taste
Preheat oven to 400 degrees. Cut sweet potatoes into 1-2″ cubes & layer on a baking sheet. (I cover mine in aluminum foil for easy cleanup) Drizzle liberally with olive oil & season lightly with salt & pepper. (Have you tried the new pink Himalayan salt?? I'm kind of in love with it) Take half of your sage bunch & finely chop the leaves, sprinkle over potatoes. Toss gently with your hands to make sure every is coated evenly. Bake for around 15-20 minutes, stopping halfway through to re-toss with a spatula. Add more oil if they're sticking to the pan.
When the potatoes are close to being done begin your butter sauce. In a medium skillet melt your butter over medium/medium low heat. After around 4 minutes the butter should start to foam & bubble a bit. Add the rest of your sage leaves to the butter, place them in whole so you'll have nice crispy fried leaves in the end. They're the best…
Here's the deal with brown butter, you have to watch it like a hawk because it can go from a wonderfuly, nutty, caramel colored goodness to bitter & burnt in the blink of an eye. As the water evaporates, the butter will start to turn brown, this should only take 2 – 3 minutes, after it browns turn the heat to low. The butter will slowly turn a deeper brown over the next several minutes, keep the heat low, if it looks like it's turning dark brown, take it off the heat asap so the butter doesn't burn. If it starts to smell, anything like "bad", the butter's likely burned and you might have to start over. You'll know it's done when the sage leaves are crispy fried & the butter is a beautiful light brown with yummy speckled bits forming at the bottom. Stir it well to incorporate all those yummy bits.
Once the sweet potatoes are fork tender with a crispy crust take them out from the oven & drizzle the butter sauce over them. Toss well & serve immediately!
These really are sooo amazing, & they're my favorite kind of recipe, one that makes you look like a rock star but in reality is actually pretty darn easy. But shhh, it'll be our little secret. (;