Let me just say this, upfront & honest, this project took me MONTHS to finish. First the frame was sitting around empty, then the chair was half painted in the garage, the buffet sat with no hardware…it's been a work in progress to say the least. Sometimes when I see before and afters I automatically assume the person accomplished it all at once. And I'm a blogger! You'd think I'd know better that the way things appear online is not necessarily how they manifest in real life. So just don't go thinking that other people manage to do these makeovers in reasonable amounts of time, ok, actually they probably totally do, just don't assume I'm one of them.
Now that we've cleared up all expectations here's the entryway to my house before: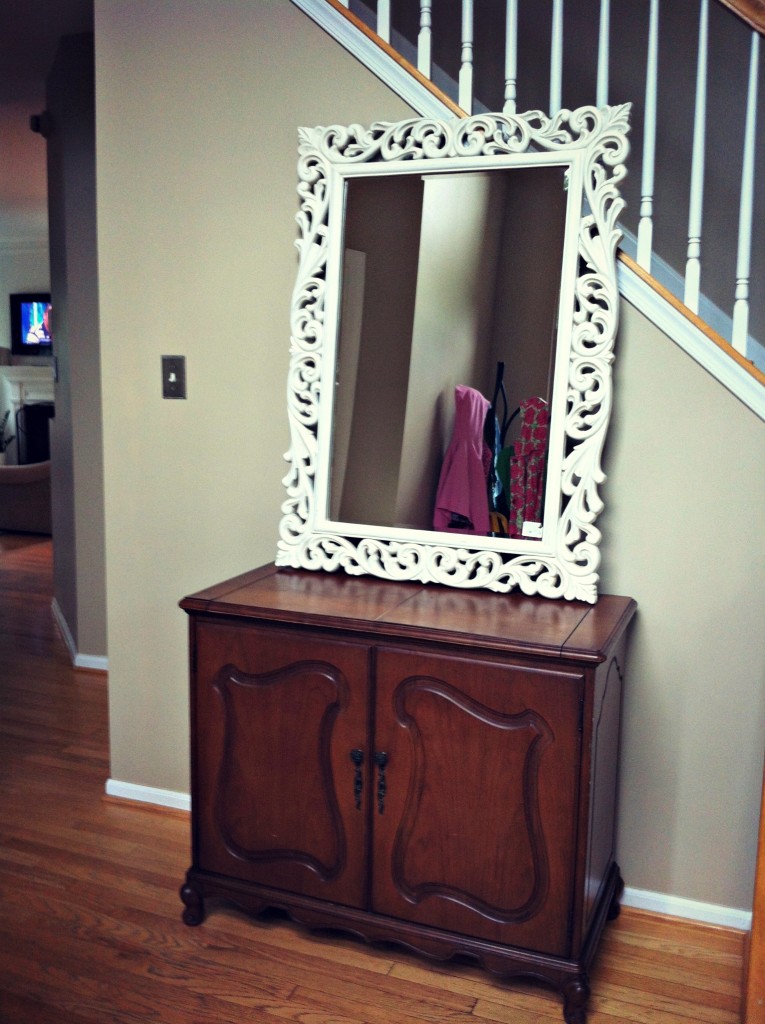 Yikes! Outdated & beat up antique buffet with an extremely oversized mirror dangerously balanced on top. That sure was dumb.
And now…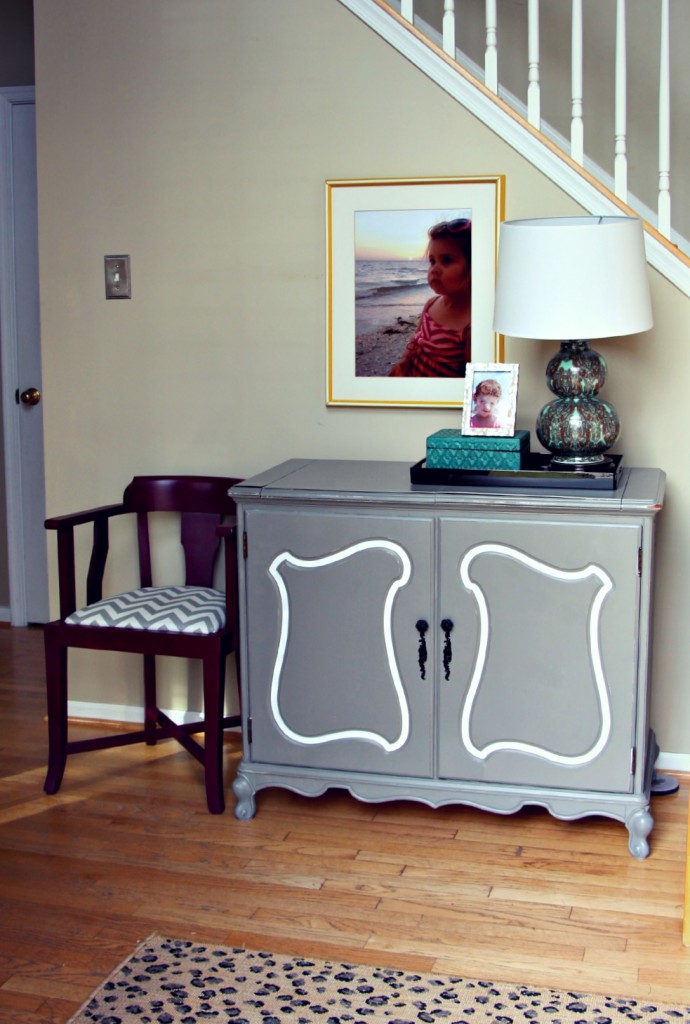 Hooray! SO. MUCH. BETTER. And highly less likely to maim small children & animals.
Sources: Rug, (Ballard: No longer available but this & this are super cute too) Buffet (family), Buffet Paint, (Martha Stewart Chinchilla) Chair (thrift store), Chair Fabric, (Grey ZigZag from Fabric.com) Chair Paint, (Krylon in Rich Plum) Frame (thrift store), Photo printed through iphoto , Laquer Tray,(Teavana: Similar to this one) Lamp, Small shell frame & Wooden Box (Home Goods)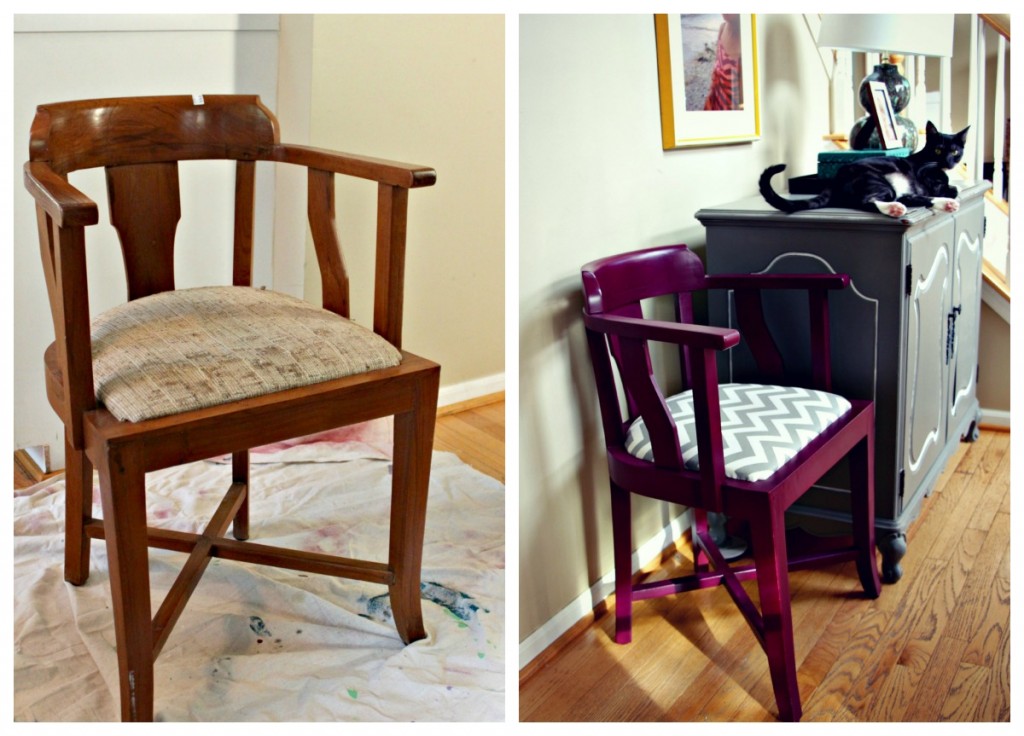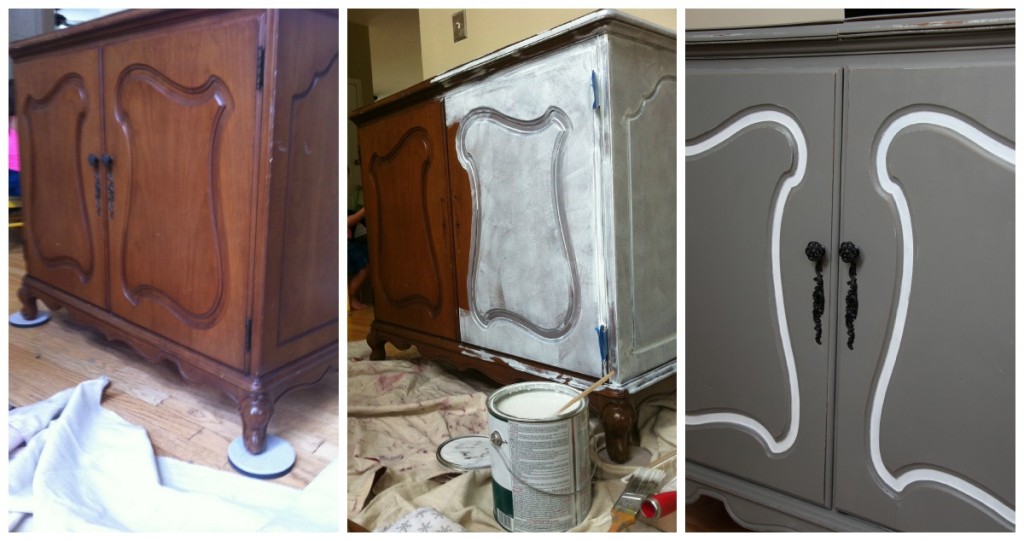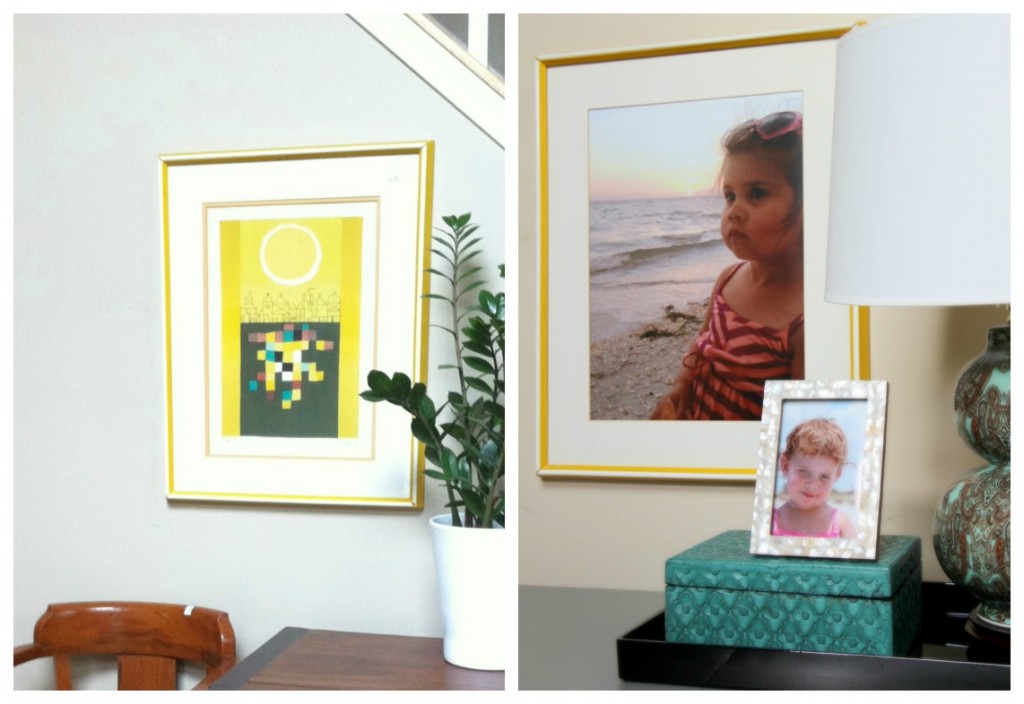 First I worked on the buffet. Tip- Use those furniture moving pad/discs to elevate the feet on your piece. This makes painting the bottom of the feet far easier & also protects your floor from paint mishaps. I started off by giving it a once over with a basic primer. (Ziln I think?) Next I used a small roller to cover the majority of the buffet with Martha's Chinchilla grey paint. (LOVE this color, my bathroom is this color, I'm obsessed with this color, it's the perfect mix of clean grey with soft warm tones) I used a small brush to get in the detailed spots & then the next day gave it another coat. For the white detail I used plain white acrylic paint & a small rounded tip paintbrush. I also unscrewed the hardware & spray painted it with a black spray paint. Tip- when spray painting small items place them in a cardboard box. This will keep the paint mist from getting everywhere & will also give your items a safe place to dry. Finally I gave the whole piece some ruffing up with a block of fine sandpaper. When you're distressing it's good to think about where the piece would naturally be worn off. Corners, edges, the feet… I absolutely should give this a final seal with a wipe on poly but alas I haven't done it yet. Which is really stupid of me because nothing sucks more than working hard on something and then having all of your worked sabotaged by cleaning products or rings from someone's drink.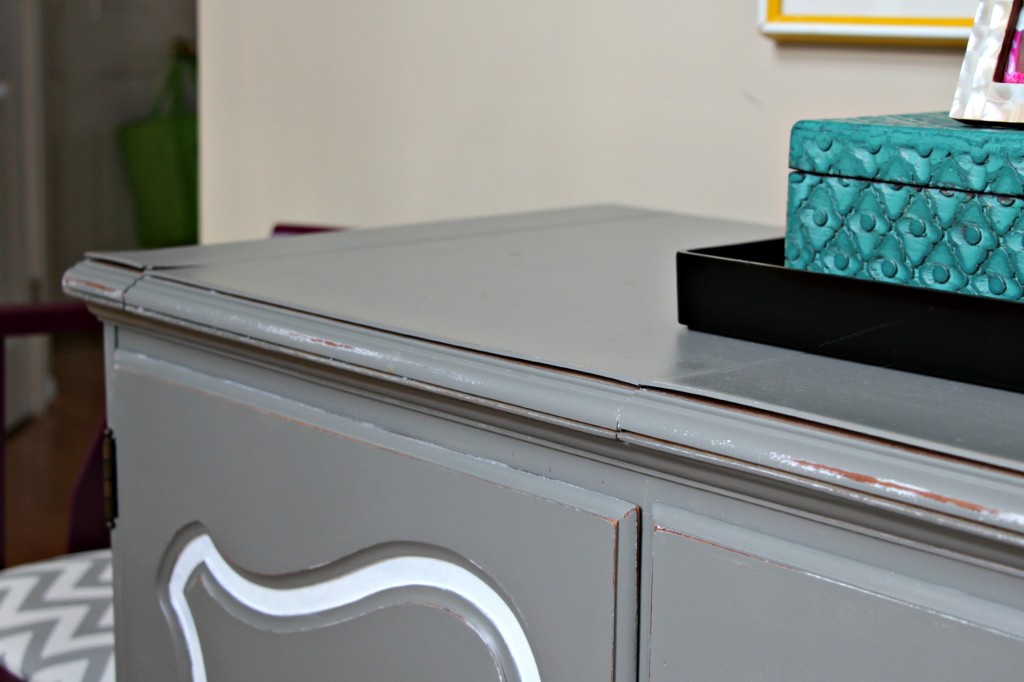 The chair was a bit less intense. First I tried painting it a poppy orange with a sample can of paint & a brush and that just did NOT work. (I swear that cat is photo bombing me)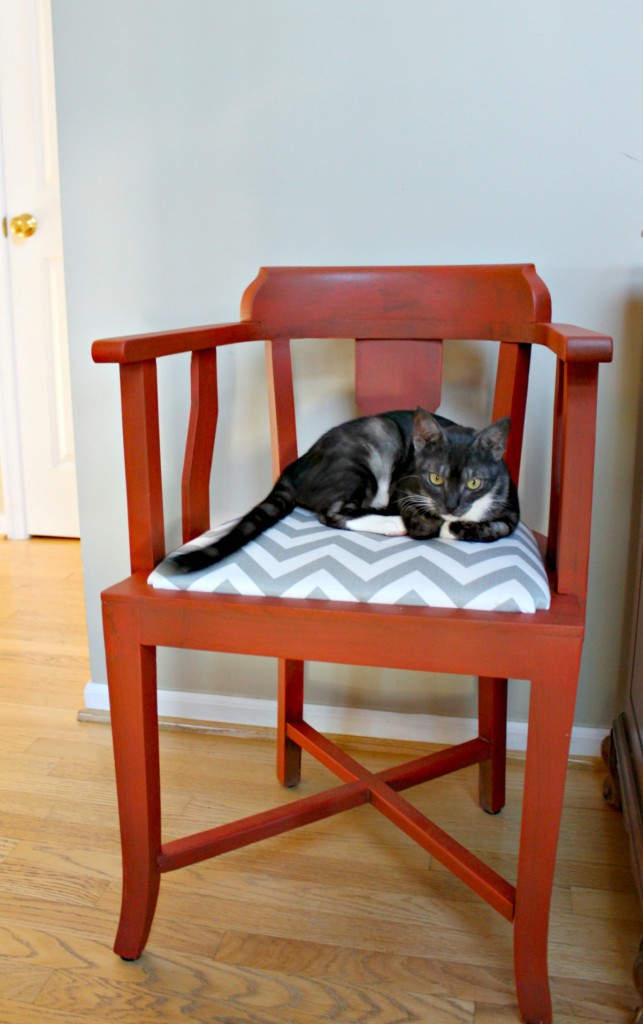 I suppose if I would've sanded it first or primed it the paint would've showed better but I was feeling lazy. In the end my laziness somehow paid off because I just love the aubergine purple of the finished chair. It was a Krylon Spray Paint with a flat finish from Kmart. I believe I used 2 cans. The cushion was stupid easy. I trimmed my fabric to have about a 3″ overlap around the cushion and then staple gunned away. The key is to work from opposite corners while pulling taughtly. Like do one staple at the center top, then one at the center bottom, center right, center left & around again. This way you can be sure to get a nice even finish.
The final piece of my entryway is that nice giant picture of Her Majesty. Can you believe that's actually a CELL PHONE PICTURE?! I know, right? Who knew. P took it of Sam at our beach trip & then because I use iphoto it was as simple as importing the photo from his cell phone, clicking print picture and that connects you to the apple store where you can order large prints of your photos. The quality was fantastic & it came within a week. I purchased the frame from a thrift shop and tore open the back to remove the so not my taste print. I just fell in love with the yellow wooden frame though, isn't it a nice pop of color? I added some accesories, including a picture of Sophie Monster because I have this fear that the girls are going to count how many times their pictures are in what rooms & then validate themselves based on that number. What? Could such an obsessive idiosyncrisy be from personal experience?? NO. Maybe.
That's it! It's been forever since I've done a furniture post so I'm super excited to put this one out there. If you like it too then feel free to put it on your Pinterest page, I mean, I wouldn't object or anything.