I'll make this a quick update because I'm sure a few of you are starting to get sick of the bunny posts & I have a fantastic furniture remodel I want to show you today…
We've got a slick little mother scratcher on our hands. The biggest of the bunnies, crazy Tim I call him, has escaped…again. Yesterday he chewed his way through where the plastic base of the cage & the wire bars meet. He slipped out during the night & at some point two other bunnies followed his lead. The next morning we found one right away in the girl's playhouse on the deck but the other two were no where to be seen. I had just changed into my grubby clothes, grabbed a flashlight & prepared myself that I was going to have to conquer my fear of what icky, gooey creatures must live under our deck & crawl under there to look for the bunnies. (just the thought gives me the willies, I know I'd come out with spiders in my hair!) I was literally on my hands & knees going in when Lucy started digging & squeaking up a storm on the other side of the deck, I ran over to her & she was pawing at an old deflated baby pool that was piled up under the deck. I dug through the water soaked pool, prayed for no snakes to pop out & sure enough the runt bunny, Rudy, was soaking wet, stuck in a fold in the pool. I dried him off & returned him to the cage with his siblings. We were still missing crazy Tim though. My babysitter Amy & I were just starting the search again when Lucy ran over to one of our basement windows & started squeaking again ::SQUEAK SQUEAK SQUEEEAAKK!!!:: Down in the 2 ft deep, aluminum sided hole that goes down to the basement windows was crazy ass Tim. He never would've made it out of there, stupid rabbit would've roasted by the time the sun came over that side of the house. Lassie, I mean, Lucy had found both bunnies. I'm furious with myself for not videotaping the whole ordeal! We've always said that what Lucy lacks in smarts she makes up for in heart. Perhaps she's not quite as mentally inept as we thought.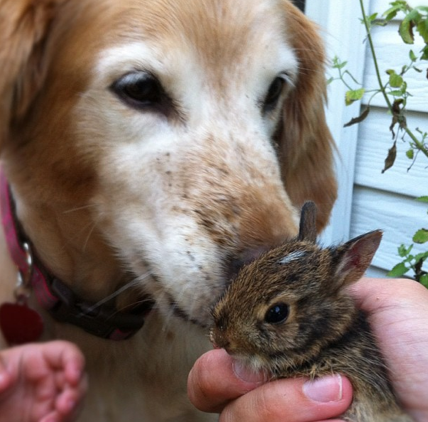 Sadly crazy Tim got out again last night despite my attempts to patch up his hole. That rabbit is determined to be out in the wild, which of course is what's best, just not quite yet. I've just started offering them some hay, clover & other bunny friendly grasses from around our yard in between their bottle feedings. I estimate them to be just shy of 3 weeks old, most bunnies don't leave the nest until 5 weeks.
I took Lucy out this morning & told her to find the bunny! She just cocked her head to the side & gave me that look of "I hear noise coming out of your mouth but it doesn't make any sense. Maybe you're gonna pet me?! Yes, pet me!!" Tail goes ::WAP WAP WAP::
Apparently her Lassie moment was fleeting & Timmy's going to stay in the well.
UPDATE: At 11am this morning I was just about to leave the house when I had a nagging feeling to go check on the buns. I went outside & all looked good so I started to go back in. Just then I looked to my left & I couldn't believe it, crazy Slick Tim was wedged between the grill & the wall!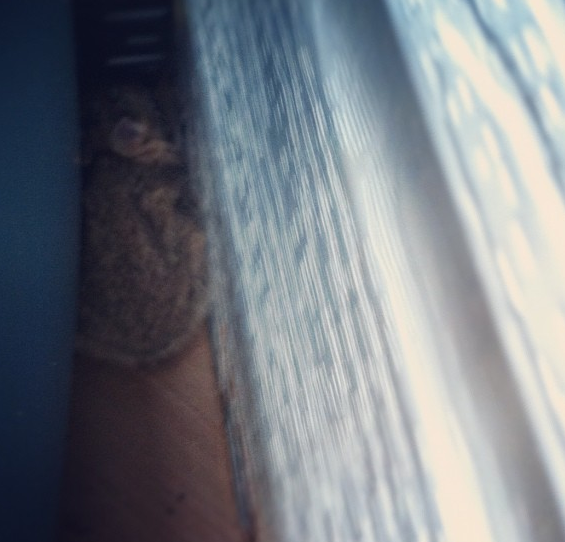 I scooped him up, gave him a bottle, (lil bugger was starving) & put him back in the cage with his siblings. I ran some errands for a few hours including a trip to Petsmart to buy hay for the buns. At around 1pm I went outside to offer them the hay & couldn't believe it, SLICK TIM WAS GONE AGAIN! This rabbit is freaking Houdini reincarnated. I have NO CLUE how he's getting out. I kind of shrugged my shoulders & kept on with the hay when, HoP! HoP! Slick Tim ran right across my lap! I tried to catch him but he bolted, jumped off the deck & sprinted into the yard. That rabbit has a deathwish. Whatever little dude, best of luck to you my friend!