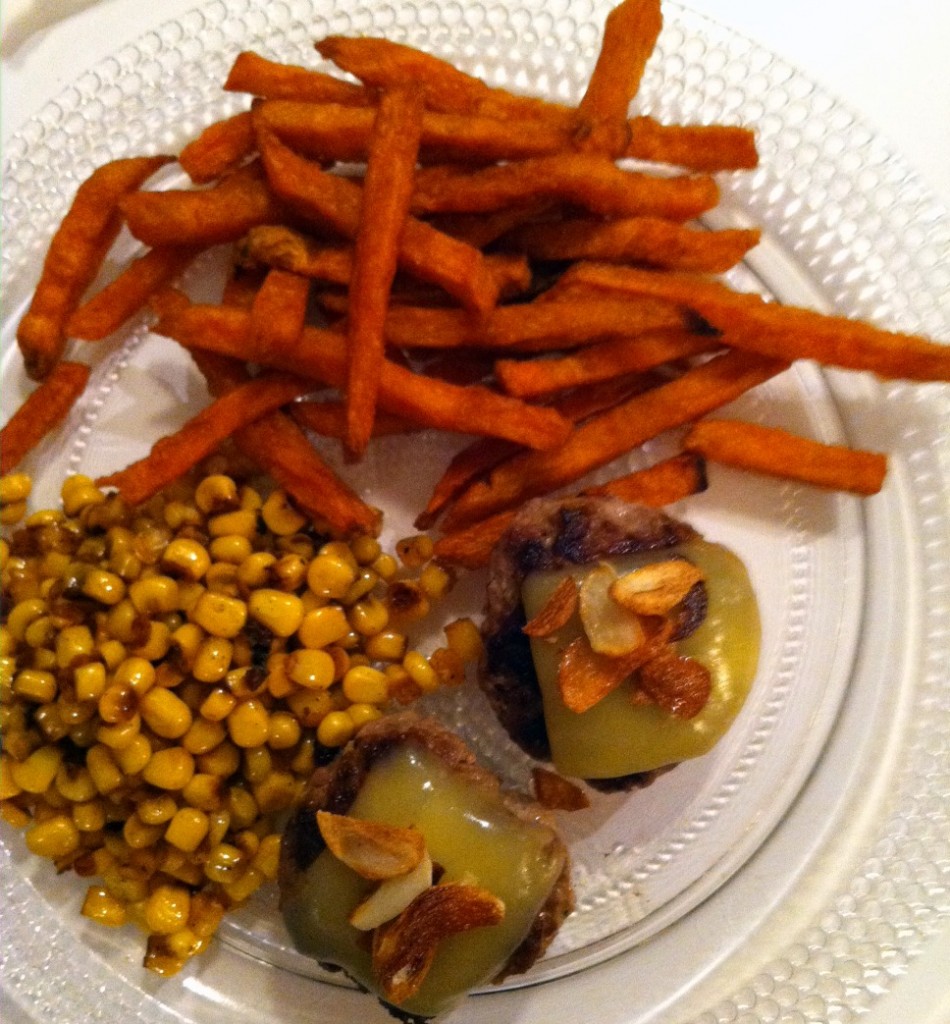 Sorry for the craptastic cell phone photos, the whole family was starving & I worried that if I went hunting for our camera they might attack.
Regardless of the photos you'll just have to trust me that these were DELICIOUS. I served them with my new favorite way of making frozen (yep, frozen) corn, along with sweet potato fries. (also frozen, we're all about the quick & easy here people) The burgers themselves are topped with crispy fried garlic slivers & white cheddar. If we didn't have young mouths in our house I would've used gorganzola crumbles…mmm, that would've been good. We also don't eat buns in our house. I'm not sure why, I guess we're just really into our meat, but I suspect a nice toasty bun would be lovely.
Ginger & Garlic Turkey Sliders with corn & sweet potato fries (serves 4)
1 bag frozen sweet potato fries
1 bag frozen sweet yellow corn
1-1.5 lbs of ground turkey (I used ground thigh, ground breast is VERY lean & I find to be dry in burgers)
3 garlic cloves
1 tsp dried thyme
1 tsp fresh grated or minced ginger
1 tbs worstershire sauce
butter & evoo
Preheat oven & begin cooking sweet potato fries according to directions. They usually take around 20 minutes which is how long it will take to make the burgers & corn. In a large bowl combine turkey, thyme, 1 garlic clove finely grated or minced, ginger, worstershire & a decent sprinkle of salt & pepper.
*Tip*I like to use my microplane zester
for the ginger & garlic, the fine texture incorporates throughout the meat nicely & it also seems to release a lot of the juices. This is one of my favorite kitchen tools!
Use a large spoon to make 8 or so even patties & cook them in a skillet with extra virgin olive oil over med-high heat for 3 or so minutes on each side. Set patties aside on a plate, place a thin slice of cheese on each & cover with foil to keep warm & allow the cheese to melt.
In the skillet where you cooked the burgers turn the heat down to medium low & add about a tbs of butter. Swirl the butter around & scrape up all the yummy brown bits with a wooden spoon. Add the entire bag of corn, a splash of water & cover with a lid. Cook for around 5 minutes stirring periodically. Season with salt, pepper & more butter. The flavors from the skillet season the corn beautifully & brown it to give that lovely grilled flavor.
While the corn is cooking, in a separate small skillet add thinly sliced garlic pieces to extra virgin olive oil & fry over medium heat. Keep an eye on these, they won't take long to be golden & they burn quickly. Remove with tongs & place on a paper towel. When you're ready to serve place them on top of the burgers.
*Tip* If your burgers have gotten cold or the cheese isn't completely melted…place the corn in a bowl & use that skillet over medium heat to re-heat the burgers. If you place the lid over top the cheese will melt quickly, just don't burn or dry out your burgers. You only need a minute.
For more quick & easy LPM recipes click here!