Did you do anything fun last night for the Superbowl? I can't remember the last time we spent it with friends, Superbowl had become a lot like New Year's Eve…it was just way more enticing to stay home with the kids & relax. Not this year however, well, we did stay home but we had everyone come to us! (;
I did lots of easy appetizers (they can all be found on my Pinterest board here) & now that today is such a gross, cold, rainy day I came up with a yummy way to reuse some of the leftovers.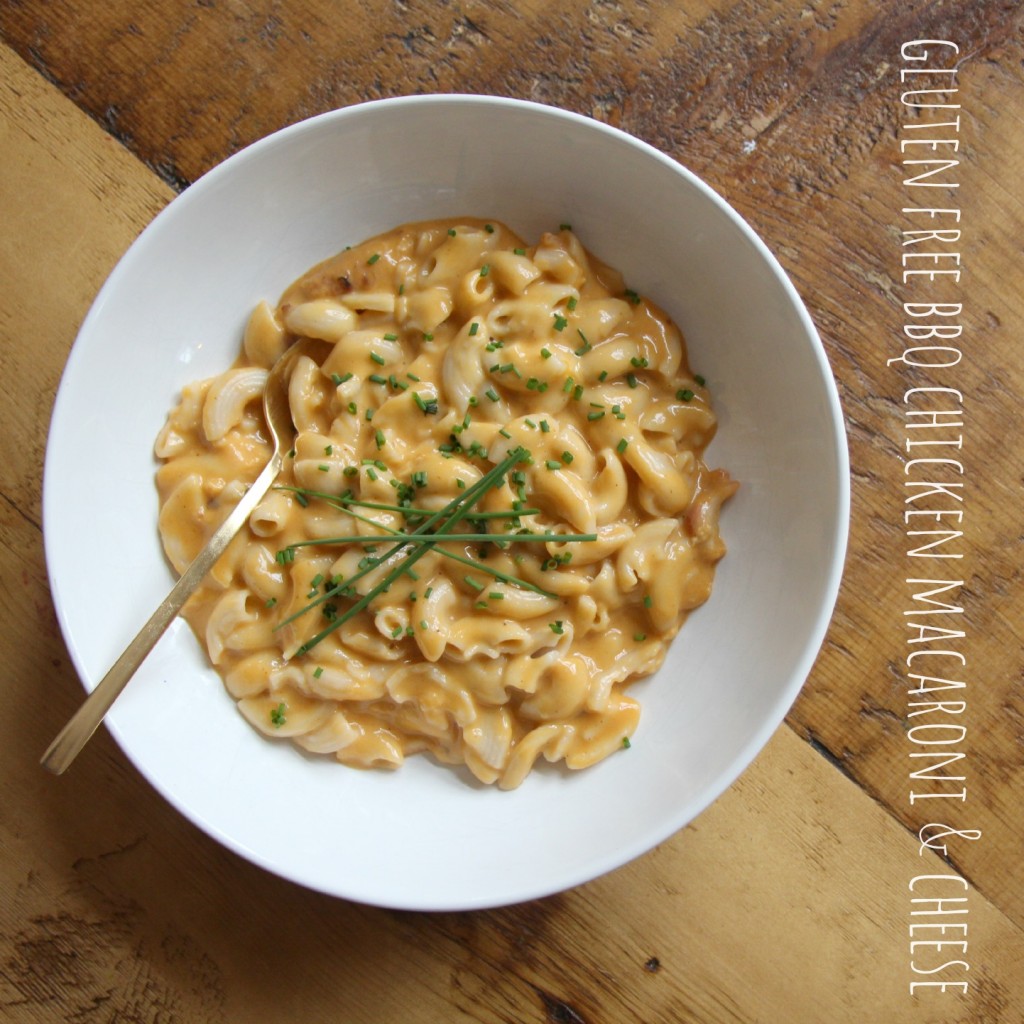 One of these days I'm going to write a post telling you what my experiences have been trying out different diets to help my body heal but for now I'll just say that I'm still gluten free (well, more 'gluten low' as my dr call it) & I think I always will be. My stomach is so much happier with me, I have less headaches & joint pain but if I'm honest the biggest incentive for keeping gluten out of my diet? My pooch belly vanished! Even when I was running regularly I still always had a little pooch, I figured it was just an inevitable consequence of growing two babies in there but now I know it was bloat & it was from gluten. It truly just disappeared. Pretty quickly too. So yes, it's nice to be healthier & have less pain but never having a tshirt bulge again? I'm in.
All that to say…I've gotten pretty good at making my favorite foods in gluten free forms. One that is really easy & tastes so much like the original is homemade macaroni & cheese. I made a ton of my garlic lemon chicken wings for the party & decided to shred up the leftovers & make the girls & myself some amazing Gluten Free BBQ Chicken Macaroni & Cheese. If you're intimidated at the thought of making a cheese sauce from scratch you need to put your big girl panties on & give it a shot, I promise you'll be like, "Whaaa? That was so easy & oh.my.cheesy.goodness does it taste good!"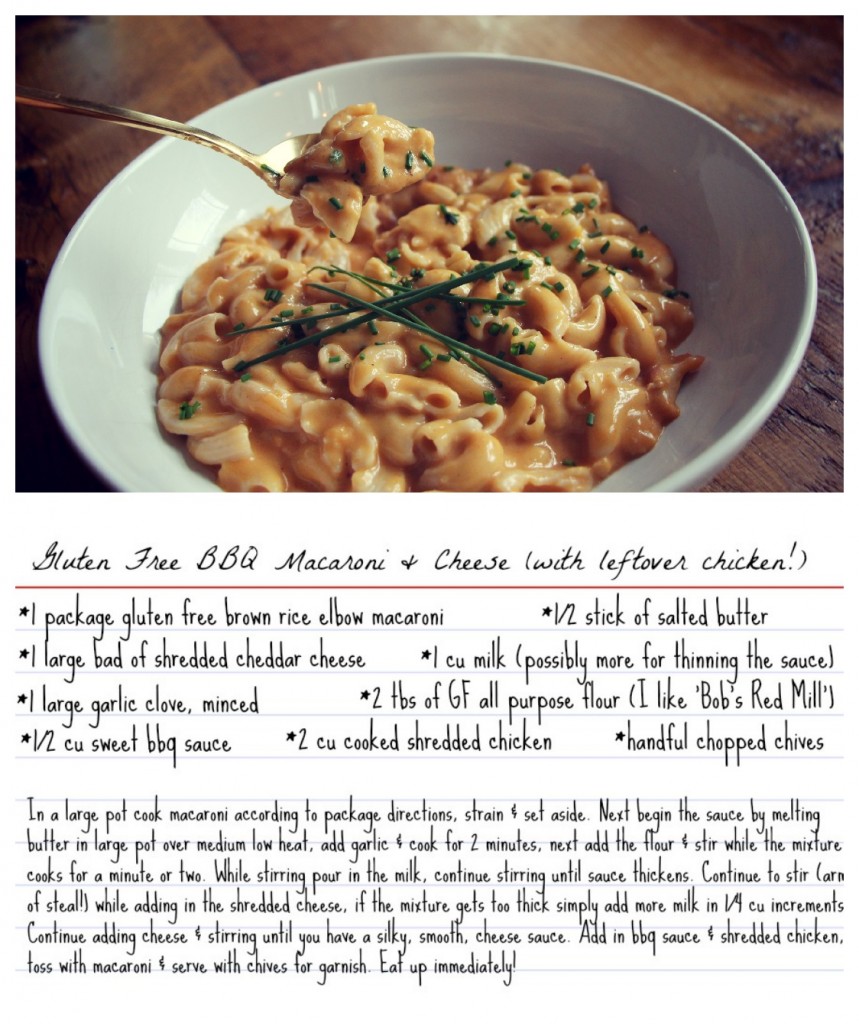 (click on image to enlarge recipe)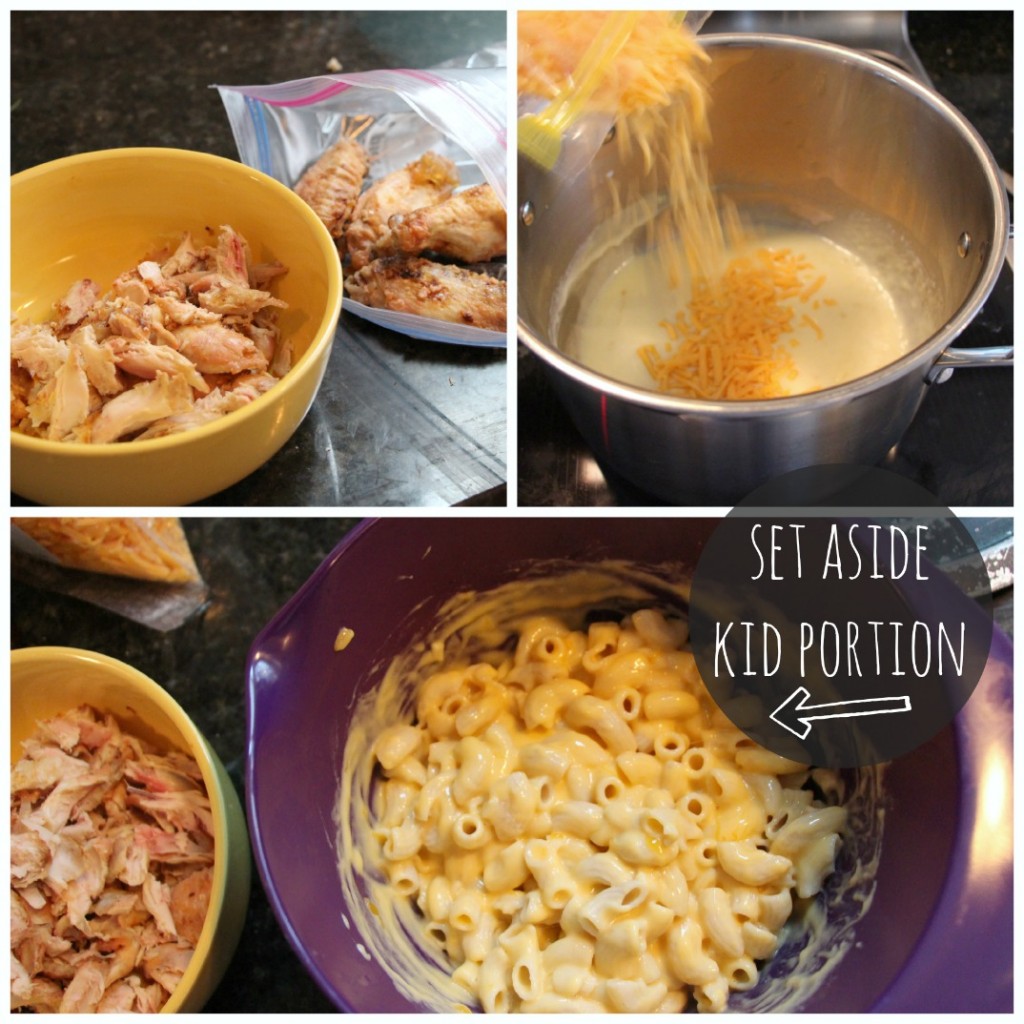 A few things to note…
Depending on your gluten tolerance level you might need to find a special gluten free BBQ sauce, for me just leaving out the noodles is enough & a bit in the sauce doesn't bother me but be aware.
Also if you don't have chicken wings think about using any leftover meat you can shred, a rotisserie chicken from the grocery store would work or how good would a package of bbq shredded pork be?? Just make sure it's seasoned on it's own so you don't bland down the dish. Also if your kids are like mine they're professional macaroni & cheese investigators. If it's shaped differently or the color is too orange or yellow than they throw up the 'imposter mac cheese flag' & boycott. I knew they'd never go for the bbq flavor (even though I know darn well they'd like it if they tried it, garrr! so frustrating those little palettes are!) so during the cheese sauce creation process I paused before adding the chicken & bbq sauce & tossed together the girl's portions with the plain cheese sauce. Everyone's happy. To the rest of the sauce I added the chicken & bbq sauce & then tossed it with the remaining noodles. Nomnomnom!