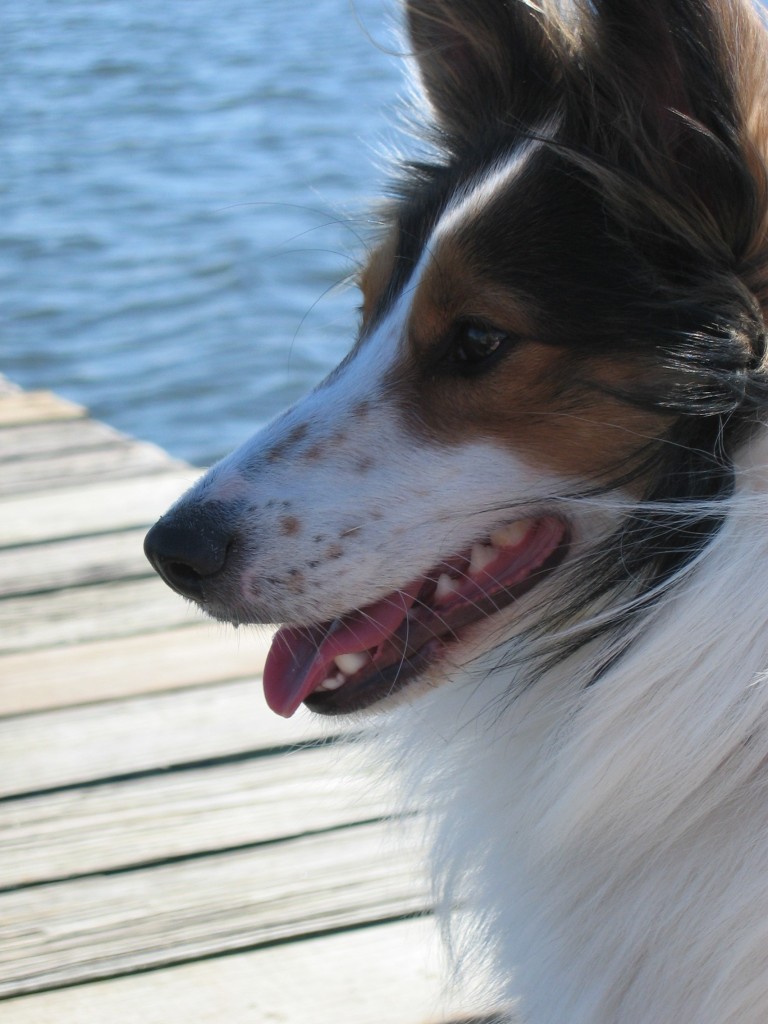 Parker C. Sheltie 2002-2012
Parker passed away on Saturday night. It's very hard to talk about (but also feels strangely comforting to talk about) but I did want to share this, because I truly believe it is a blessing….
We did one shot of chemo this past Wednesday. Within a day we noticed Parker was getting some feeling back in his hindquarters. By Friday he was completely using the bathroom outside again which we thought was such a good sign. And I'm sure made him happy not to wear that stupid diaper anymore. By Friday night his appetite started decreasing some & his belly seemed a little swollen but he was overall in such better spirits that we wrote it off as the chemo making him nauseous. On Saturday we took the girls to the aquarium & then came home & grilled steaks in afternoon. Parker gladly ate a good bit, we even got a few sheltie spins out of him. After dinner we took the girls to get ice-cream & when we pulled in the driveway we saw Parker run to the door & start barking at us through the window. I commented to P on how nice it was to see him acting like an a-hole again.
Later that night I gave him his meds but then couldn't get him to eat any food with them. It's really important with his medications to take them with food or they'll make him sick. Since his stomach had already been such a wreck I started getting nervous that the medicine on an empty stomach could make him get sick all night. I turned to Facebook for suggestions from you guys & finally sent P out to get the dog a hamburger & fries. He took a couple of nibbles & refused anymore. I don't remember exactly why but P & I got in an argument. I started crying, acting like an emotional wreck & finally just cried that the last several months have been too much. It's too much pressure, too much responsibility…my whole world felt so out of control & I couldn't take it anymore. The "fight" (more like my meltdown & P just taking it & apologizing for what, he probably had no idea) ended because we were both too tired to keep at it. Not 15 minutes later Parker started doing the doggie gagging thing. I guided him off the livingroom rug & onto the wood floor where the hamburger made it's re-appearance. I kept my hands on him rubbing his back until he seemed to be done. I asked P to keep an eye on him while I grabbed the paper towels because for whatever reason our dogs tend to throw up again, and do so on the carpet, while we're cleaning up the first mess. I came back to the livingroom, stepped over our sleeping golden retriever, & started to clean up the throw-up when Parker took a few steps across the livingroom towards P who was sitting in an armchair on the other end of the room. We both watched to see if he was going to gag again but instead he just fell over in mid-step. One of us gasped, I'm not sure who. I leapt over to him & put my hands on him. He was clearly having a seizure. I remember yelling to Peter, "He's having a seizure! What do we do?! What do we do?!" I cried for Peter to call the vet but somehow he knew this wasn't going to be something Parker would recover from so he sat there. I cried out "he's dying!" & within what felt like one second, he was gone. He died right there, in my hands. I swear I saw the second in his eyes where the life left. I stood up, took a few steps backwards & turned my back towards Parker. I never wanted to see what my sweet dog looked like again now that I knew he was gone. Peter came over & grabbed me & I sobbed in his arms. I ran to the bathroom & threw up. I cried a while longer & then got a grip enough to call the vet hospital to ask what we should do next, they said to bring him & they could return his ashes to us.
What happened over the next hour was actually quite beautiful in a terrible way.
I desperately did not want anything to do with the things that needed to be done next & without any words my wonderfully strong, amazing husband took care of it all. He found a blanket for Parker (it was actually a pink sheet which made me laugh a bit because we always joked about what a pretty man Parker was) wrapped him in it & placed him in the back of the car. All the while I stayed in the bathroom with Lucy, our golden retriever, & the door shut. He came back in, let me know he was leaving & told me to go upstairs, he would take care of it all. And he did. After what must have been a horrible car ride (he later told me he had no idea what music to play, I think he settled on a random 70's show) he took care of all of the arrangements for Parker's body. He then came home, cleaned up the mess that things leave when they die, rolled up the livingroom room rug & took it outside. (I had said in my hysteria that we had to get rid of the rug, I couldn't stand to ever see the place he died on again)
While he was gone I thought to myself, "My gosh Natasha, what more could you ever want in a partner? When times are terrible THIS is what you need. HE is what I need. What a wonderful, selfless, loving man you have. Who the hell cares that he throws his dirty clothes on the floor or forgets to do the things you ask. Someone has to do the horrible things like take care of the dead family dog's body & he did it. He volunteered. The rest doesn't matter. THIS is what a marriage is. " This is a good, strong man. One who I also know is very upset about what just happened to a piece of our family but with his quiet strength I realized that yes, I may lead by taking care of the everyday family responsibilities but this man is our true rock. When I was shaken to my core he held me up. He is our foundation and I am very very lucky.
The days that followed have been harder than I prepared myself to be. Yesterday I found myself randomly feeling like I was sucker punched in the gut & would just start sobbing. I think the most I went without crying was an hour. I didn't expect to feel so heart-broken. To actually grieve. I kept thinking, "My goodness, he was just a dog! People's children are dying of cancer & you can't keep from breaking into tears when you look out the window & see his favorite bush to pee on?! Get a grip!" I shared this with P at one point & he told me "No, it's ok to be sad. It's ok to be devastated. You loved him & he was a part of our family. Let yourself be ok with how sad you really are."
So I did.
I bawled my eyes out all day yesterday & today, today I actually woke up feeling a little less wounded. No more tears. (Until I had to dig up the picture for this post. But I love that picture, it signifies a great memory between he & I) Yesterday & today have been some of the sunniest, most beautiful weather days we've had this year & today I woke up feeling like for the first time in a long time it was all going to be ok. I woke up feeling relief. I took the girls to the zoo & we looked at all the amazing animals God has placed on this Earth. I had the thought that Parker was no different, he was a beautiful creation of God's that I like to think he made just for me. A true gift, for 10 great years.
When I reflect on what happened this weekend I know that it really was a merciful act of God. He knew our little family & our little dog could not bear this weight anymore. He truly does not give you more than you can bear. Remember last week how I was saying I was so struggling with the decision as to when to put Parker to sleep? I really didn't think I could ever make that choice & I believe God knew that, & showed me mercy. He took Parker so quickly & I believe, painlessly. My beautiful, wonderful dog left this world with grace & surrounded by everyone who loved him. His mom, his dad & his sister Lucy. All right there with him. And for us there were no drawn out decisions & our girls knew nothing of it. I can't ask for more than that.
We told Sam in the morning that Parker had died last night & she said "Ok." She had far more questions about where the rug went. I guess 3 is too young to know which once again, I see as a blessing. If chemo had worked & he had lived another year I'm sure this would've been harder for her.
Thank you all for your loving comments & emails. If you want to leave a positive note than by all means do so but please no more apologies for our grief or messages of sadness. I read them all & truly appreciated hearing your stories, at the time they helped greatly but now I want to heal & move on. I don't want to dwell on the sadness. I just want to focus on my new found respect & appreciation for my family & move on with the lessons I've learned.