Urban Outfitters is one of those stores that's hit or miss for me. Sometimes I walk through it & think "Ohmygosh this stuff is so hoochie mama-hipster-man, oh man am I getting old!" & other times, like this last trip, I strike gold!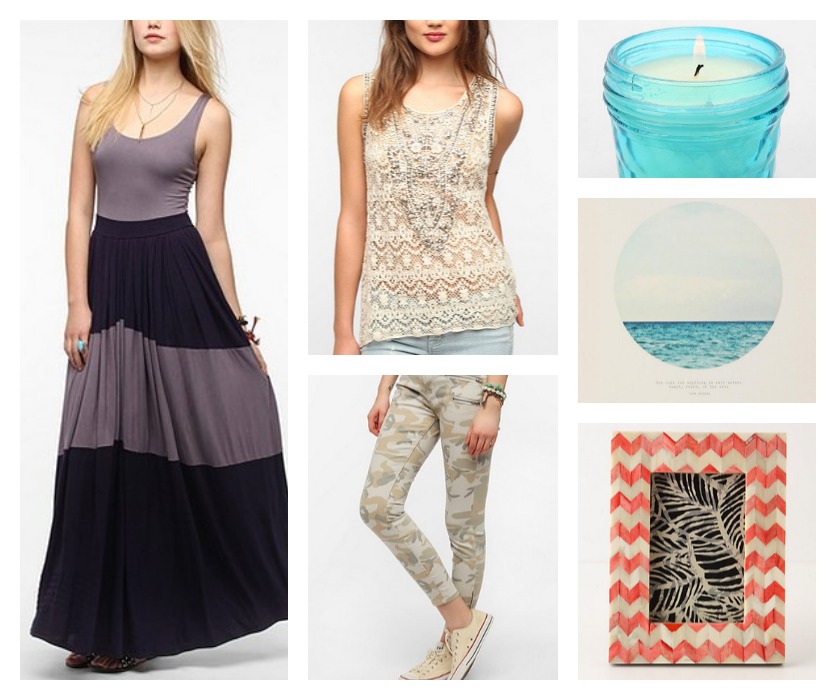 Silence & Noise Maxi Dress, Desert Camo Zipper Pant, Ecote Studded Tank, Chevron Faux Bone Frame (in stores), Ocean Tide & Sea Salt Candle, Salt Water Cure Print
That dress is absolutely amazing, perfect for Easter. It's the softest lightweight jersey & the skirt has a ton of movement. In fact I had the girls with me when I tried it on & they both oo'd & aw'd when I spun around. It's that kind of dress. The studded crochet top & camo pants look adorable together & I was pleasantly surprised that a pair of pants from there actually fit me. Usually they don't cater to the 'I've given birth & actually have hips now' type of figure. The sea salt scented candle & salt water print are perfect finds for my bedroom & that chevron frame was just such steal I couldn't resist!
I thought I'd throw this up in case you find yourself aimlessly wandering the mall with your very bored spring break children, I'm sure we'll be there at least once this week!