Does this ever happen to you? You read or see a recipe that just somehow connects to you on a spiritual gastroenterological level & for days YOU CANNOT STOP THINKING ABOUT IT. That happened to me, our sitter Amy was telling me how she had whipped up a macaroni & cheese dish with brussel sprouts & onions & bacon, OH MY! It sounded like the epitomy of an amazing comfort food dish.
I just had to make it.
So I did.
And IT.WAS.GOOD.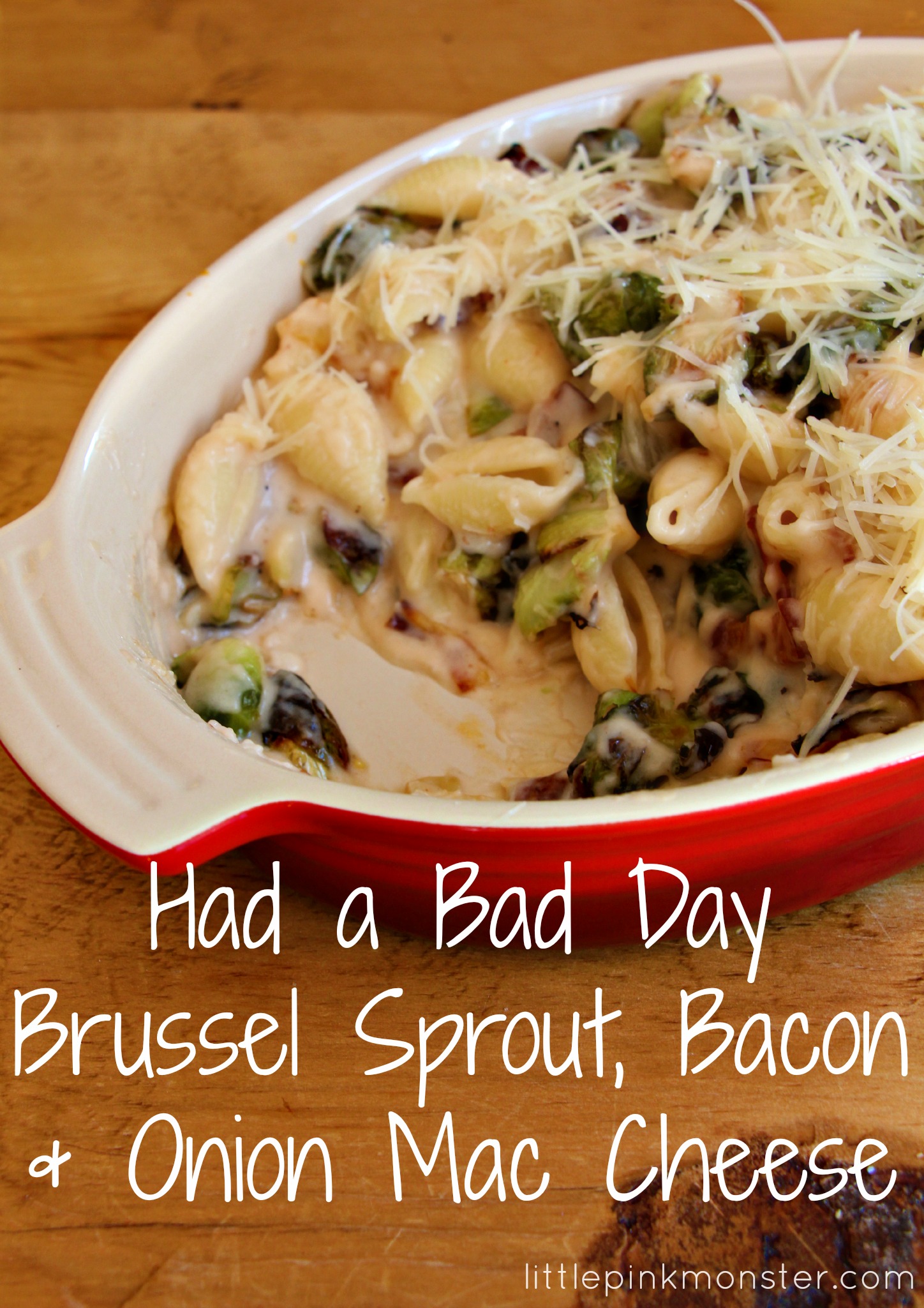 Brussel Sprout, Onion & Bacon Mac Cheese
1 pint brussel sprouts, halved if small, quarterd & stems trimmed if large
4-5 slices of thick bacon, cut into 1″ pieces
1/2 sweet onion, chopped
1 & 1/2 cups white cheddar cheese
6 slices swiss or white american cheese, cut up small
1 tbs dijon mustard
a few dashes of hot sauce
1 tsp salt
1/2 cu flour
1/4 cu butter
2 & 1/2 cu 2% milk
1 package (16oz) pasta shells
Preheat oven to 425. Arrange bacon on a large baking sheet & cook for 10 minutes. After that add brussel sprouts & onion to the bacon, toss all the ingredients well so everything is coated with some bacon fat. (mmm, bacon fat) Season with salt & pepper & continue to roast for another 10 minutes or until onions are translucent & brussel sprouts are fork tender.
Meanwhile bring a large pot of water to boil on the stovetop, add a good dash of salt to the water & cook pasta shells according to package directions.
While the sprouts are roasting & the pasta is cooking you're going to make the cheese sauce. In a large saucepan melt butter over medium heat, next add the flour & continue to cook while whisking constantly for 1 minute. Gradually whisk in the milk & cook over medium heat, while whisking, until the mixture thickens and bubbles. Remove from heat. Add cheeses, mustard, salt & and hot sauce, stirring until cheese melts and sauce is smooth.
Drain pasta shells & return to pot. Pour cheese sauce over shells & gently combine. At this point if you're serving picky little ones that will freak at the thought of a veggie in their macaroni & cheese then go ahead & set aside their servings. Add everything that's on your baking sheet to the pasta cheese mixture & gently toss. Pour into an oven proof baking dish & sprinkle with a nice tangy shredded cheese like Parmesan or Asiago. Bake for 10 minutes or until the top is golden & bubbly. Serve immediately & ignore all thoughts of bathingsuit season, just enjoy yourself. (: