We all hope that the first day of school is full of fun & excitement for our little ones. We picture them finding new friends & catching up with old ones. They'll finally get to use that perfectly anticipated new backpack & they'll hang it in their brand new cubby that's just waiting for a year's worth of memories & learning experiences to begin! Unfortunately whether it's pre-k or elementary the first day of school doesn't always get off to such a happy go lucky start. The tears & clinging to mommy's pantleg can be absolute torture, & I'm sure they're not exactly peachy for the kids either.
When Michaels asked me to create a project for their "Back to School Adventure" I knew I wanted to make a little token my girls could keep with them during that first nervous day which could bring a bit of comfort & remind them that mommy loves them & she'll be back very soon. Hopefully that snuggle reminder will help distract them long enough to break the sobfest & get them closer to jumping into all the new & exciting things that by the end of the day they'll be dying to tell me about!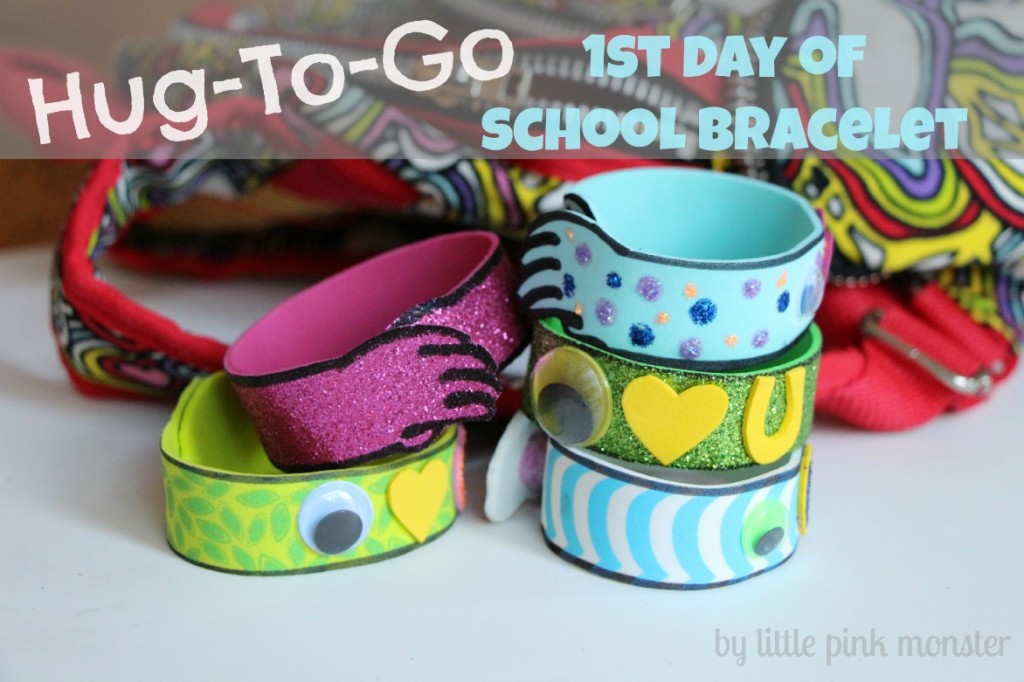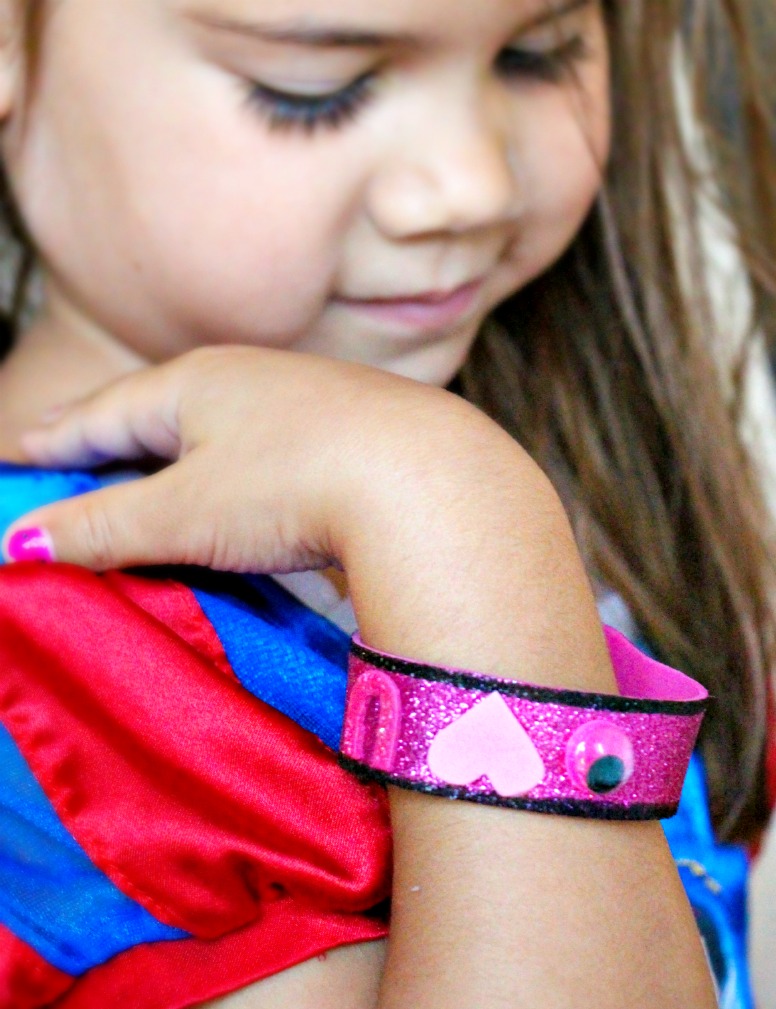 This is a super easy craft project that you can either surprise you're little one with or use it as an opportunity to talk with them about how this bracelet can help them feel better while you're making it together.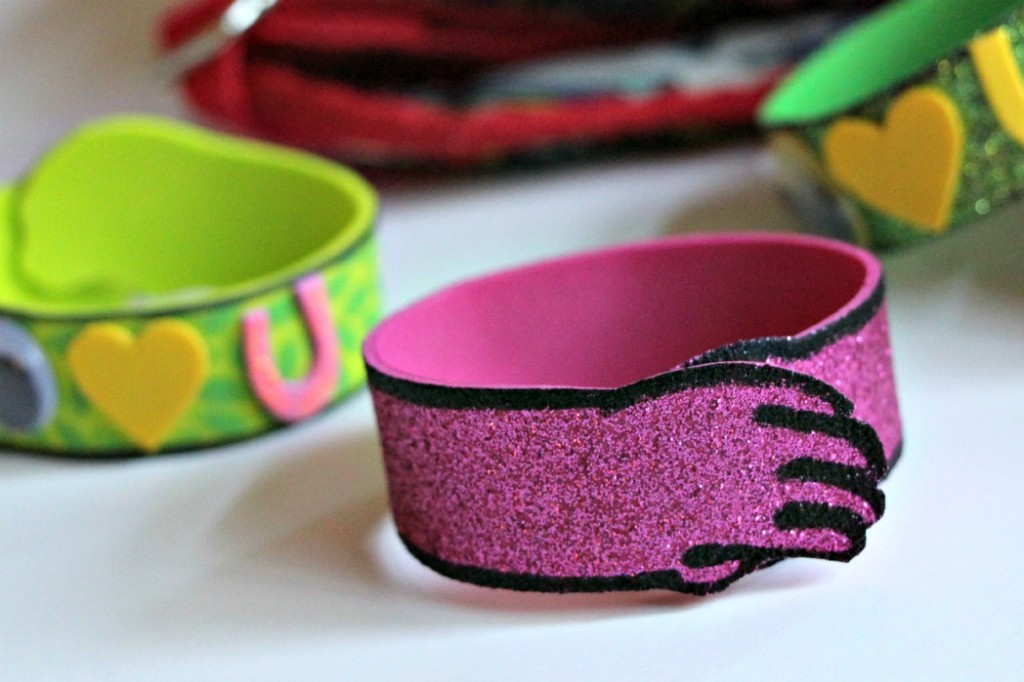 You'll find everything you'll need for this project at your local Michael's:
Assorted foam sheets, you'll need one non-adhesive sheet for your bracelet & 1+ adhesive sheets for the heart & "U"
Googly Eyes (I just love saying 'googly eyes', heck just saying 'googly' makes me happy, maybe I should rename this project!)
Superglue
Velcro Dots (or if you aleady have velcro at home you can cut it into small circles yourself)
Sharpie Marker
Glitter Glue, Markers, or anything else you'd like to use to personalize your bracelet
Step 1: Print out the template below by right clicking on the image, saving it, & then printing it full size ("fit to page")
Step 2: Cut out the bracelet template & trace it onto the piece of foam that will be your bracelet, use your sharpie to outline the edging & therefore giving you a clear cutline. You can also use the sharpie to fill in the finger outlines on each hand. Cut out the bracelet.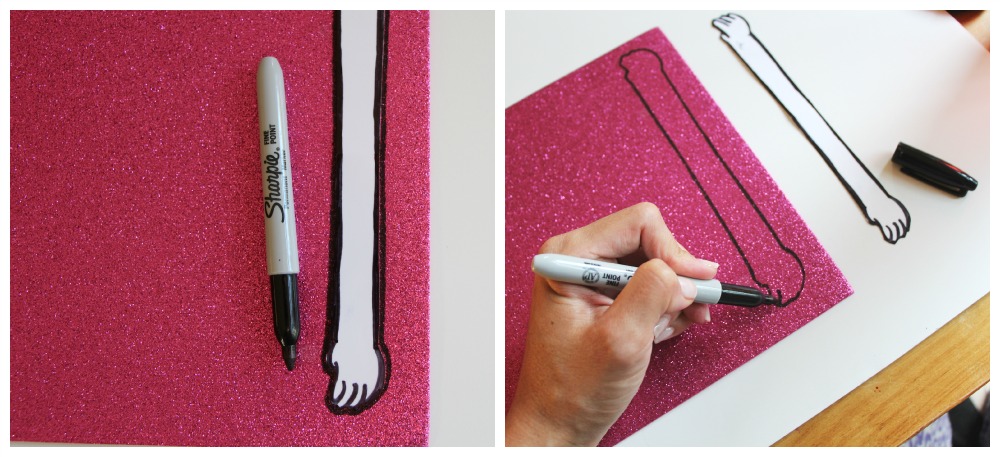 Step 3: Using a piece of adhesive foam cut out a small heart & stick in the center. To the left to of the heart use superglue (mom's only step!) to attach one googly eye & to the right of the heart attach a letter "U" that you either can cut out yourself from adhesive foam or you can purchase a pack of adhesive foam letters in the same section.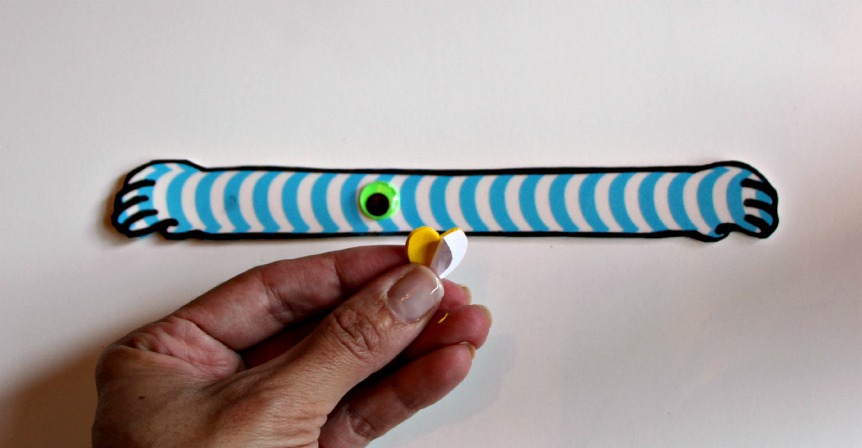 Step 4: If you don't have velcro dots then you'll have to cut them out yourself. I suggest sticking both sides of the velcro together & then cutting out a small circle of both at the same time. You'll need to glue one half of the velcro dot to the outside of one hand & then the other attaching dot will need to be glued to inside of the opposite hand. This way, when the bracelet is closed shut the hands overlap eachother completing the hug.

The superglue can take a bit to really get a good seal between the foam & the attached pieces to be sure to give them a firm push before letting them dry for a few hours.
Make sure when you present this bracelet to your little one you also give them a good tight hug, then tell them to remember how safe & warm that hug felt & to think of it everytime they look at their bracelet. (: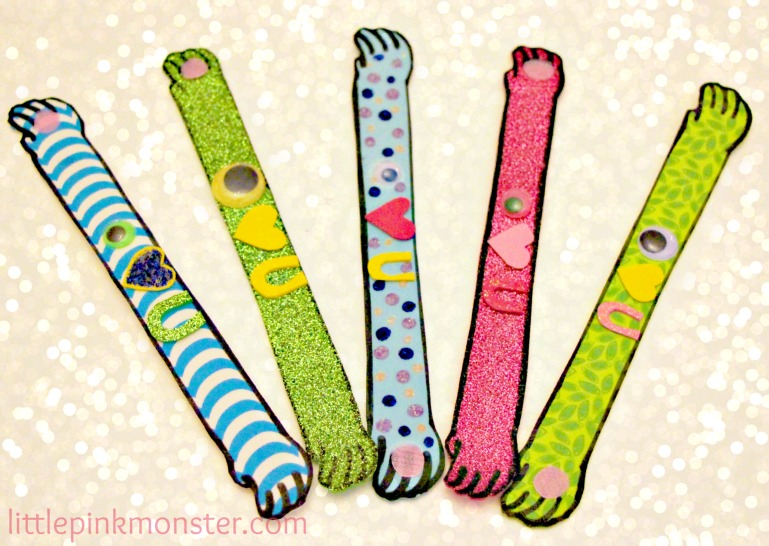 A few things maybe you didn't know about Michaels…
*Teachers receive a 15% discount EVERY DAY! So cool, just ask a sales associate for more info next time you're in.
**Need a large quantity of one back to school item but don't see enough on the shelves? Michaels offers a bulk ordering program where you can order as many supplies as you need and save up to 20 percent.
***Don't forget to download the Michaels app so that you will always have the latest deals and coupons at your fingertips! I have to say I use this one all the time since I never can remember to bring my 40% coupon with me!