Before you tell me it's sad that I need a reminder that I love my husband let me tell you something. Bite me.
Seriously, bite my bootie right now.
Sometimes we forget how much we truly love those closest to us & I see nothing wrong with wearing a little trinket to bring it back to the forefront of my mind. This way when I'm bending over to pick up his shoes from the middle of the livingroom floor AGAIN I'll get a little glimpse of these adorable charms & remember that those small stupid things don't matter. What matters is I have a great husband who's as dedicated as I am to getting through the crappy times.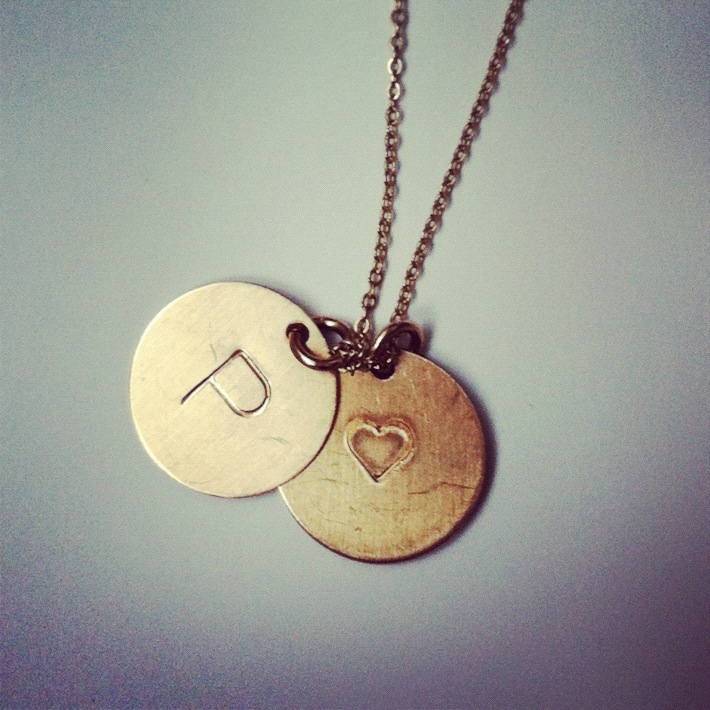 I'm sure you've seen necklaces like these all over the place (mine is from South Moon Under, in the store they have various letters but the online generic one is cute too) but people usually get their kid's initials. Why not your husband's? It's very high school wear your sweetie's pin on your letter jacket. If I went to high school in the 1950's. But you get my point.
We've been doing a lot of soul-searching around here since my transparent people post.
We've decided to try something new…
We are both going to try and put everything through the filter of thinking of the other person. When I want to get mad at him for being late I'll try to think about what I would want if I were late. I'd want a patient & understanding spouse. That doesn't mean I can't say I'm annoyed but it does put a new spin on things. It's funny, when I first got married my Aunt (who's marriage I've always greatly admired) told me that what works for her and my Uncle is that they both always try to think of the other. If you're each trying to keep the other's best interest in mind then everyone's taken care. Makes sense.
Of course it's easier said then done. Hence why I'm just now truly 'getting' what my Aunt said even though I've been married for 5 years…
The fear is being vulnerable. If you truly act out of selflessness and are putting your mate's feelings before your own then you're no longer protecting your own. There is a chance you could be left out on that branch alone. Which would suck. However, if you always hold back a little by watching out for yourself then you aren't truly, 100%, dedicating yourself to the other. It's a leap of faith. I certainly don't know how well this will work or how realistic it is but I'm totally willing to take that chance. What other choice do we have? Who knows, maybe with time it will just become second nature and perhaps that's how you become that cute old couple on the side of the Smucker's jar who's been married for 70 years.