This sucks.
I feel like dog crap & have been wallowing a bit which really isn't helping things. It makes me depressed to think about how much I've been missing out on my blog the last few weeks. I realize that may sound shallow to some people but you have to understand LPM is my outlet, it makes me feel good about myself & proud. It's my own little "job" that I created from nothing & after 3 years it was finally starting to turn into something a little more. Keeping up a website however with 2 small children requires a pretty strict schedule. A lot of organization & dedication to fit everything in & keep it all running. I was in that groove though. And I liked it. But when you're functioning at a maxed out pace throw in a curveball like getting sick & it all goes down in a handbasket pretty darn quick.
The fatigue is terrible, I've never been tired like this before. It's the kind of tired where lifting your arms takes some psyching yourself up. I've been able to nap every day & still go to bed at 9.
This past Thursday I was also really struggling with the mental cloud I'd been in. I was calling people the wrong names, forgetting how to back my car up in the Whole Foods parking lot, not processing the thought to stop when the light turns red until a few seconds after it happens & inevitably running through it. It was scaring me. I went to see my primary care Dr who orginally diagnosed me with Lyme & before I was even 2 seconds into my explanation of my mental disconnect he interuppted me & explained that the bloodwork shows my Lyme is not that bad, I've probably only had it for a few weeks & there's no way it could be causing neurological symptoms yet. This is a case of anxiety & I need to calm down. At this point I started to sob in his office which didn't help my case of not just being a basketcase at all. I just knew that it was more than that & was at the end of my rope. And scared. To be written off with "anxiety" when I knew something else was wrong was heartbreaking. I called P crying after the appointment & he said, "Natasha, you go to three different stores when you want to be buy a stroller. Why would you just take one Dr's opinion when it comes to your health?" Wow. He was so right. So I made another appointment with a different Dr. I'd never seen. I gave her the same bloodwork with the same symptom description (minus the tears) & guess what, a completely different diagnosis. She consulted with the other Dr's in her practice & they agreed to send me to the ER for IV antibiotics & more testing.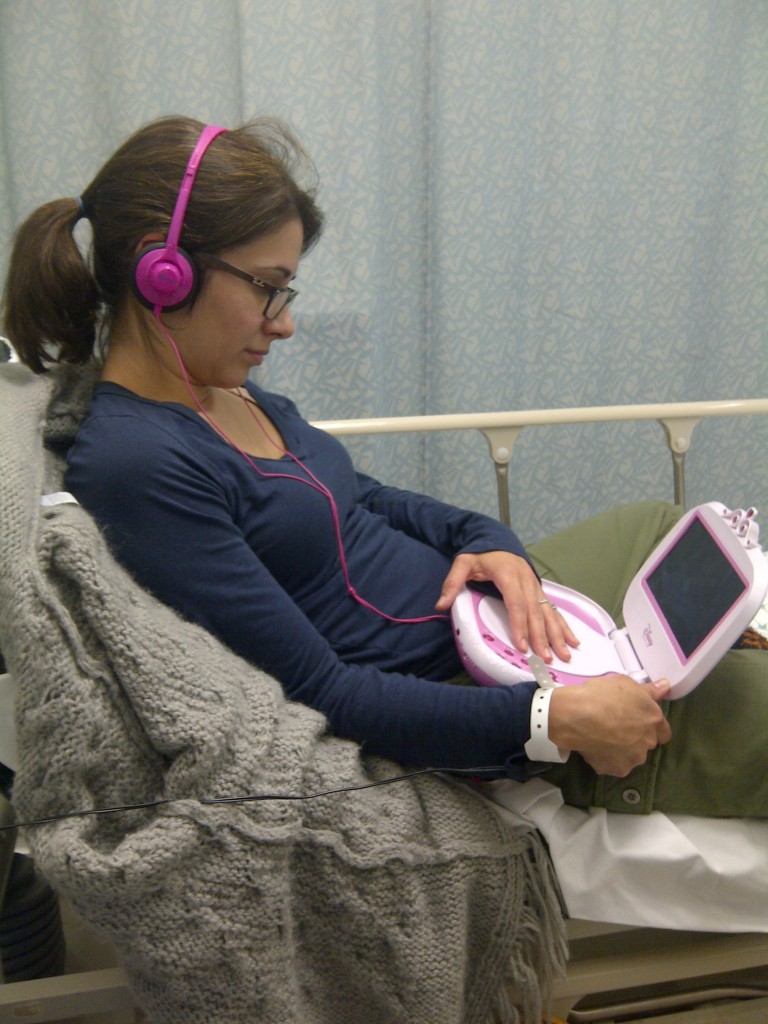 (watching Sex & the City DVDs on my 3 yr old's princess DVD player. Don't judge.)
I ended up with a spinal tap (they're lying if they tell you it's just like an epidural & you won't feel a thing), lots of bloodwork, a new course of antibiotics & an appointment with an infectious disease specialist who I saw today. He said from the results of all the testing he believes I've had Lyme since around July & would do well with extended antibiotics & some additional bloodwork this Friday since a few things were off in my lab results. He was very sweet & assured me I'd be just fine, I just needed to mentally get myself back in the game & believe that a few more weeks of medicine & I WILL FEEL BETTER.
His advice really got me thinking that I need to snap out of my funk & really try some positive thinking. Then I caught up on Ashley's blog & really got a reality check. That poor girl is actually really sick & yet she's so stinking positive. I should be grateful that things aren't worse. This is a little blip, I'll be stronger in the long run & everything does happen for a reason so I need to just keep on trucking one day at a time.
Now I just need to remind myself of that in 10 minutes when I get bummed out that I'm too tired to get out of bed.
My Dad is here for the next two days to help take care of the girls & the house & P & I are going to talk tonight about what to do after that. I definitely need some help. Maybe a trip to Florida to stay with family…I don't know. I just need to rest & have some faith that it will be ok. That's why I named this post "I'm feeling good", when people ask me how I'm feeling I'm going to try & say "I'm feeling good", maybe if I say it enough I'll actually feel it.
Thank you all for your sweet thoughts & well wishes. Even though I haven't responded I read every one of your comments & emails & love all the links to your friend's blogs who also have Lyme, they've been so encouraging!
FAITH. FAITH. FAITH. That's what I'm going to focus one. Er, & spelling "on". Faith & spelling.