You guys, this is CRAZY.
I've been trying to take it easy since my last post. Well, it's never easy, we both know that, but I've been sitting well with the mentality that it's ok to take some time to just let myself be. It's been bittersweet to be honest. The break is nice, focusing on the girls is wonderful, but I've missed the reward that comes from talking with you. From sharing. Whether it's crafts, a new recipe or just the randomness of our crazy life, it's nice to share it with friends.
Sometimes even if you have the desire it isn't enough to get you to jump back in. Sometimes you need a good push.
Be careful what you ask for!
This morning I was saying my prayers while I showered because hello, it's seriously the only quiet time I have to myself & I asked God to give me a way out, a path back if you will. I remember a verse that says something along the lines, "He'll always provide a way out so that you can stand up under it." I know I've got that a bit wrong but bear with me. That was around 8am. At 9:30am my phone rang, it was a producer from a local TV station asking if I was available to do a crafting segment with them tomorrow, on Christmas Eve! WHAAAA???! I know I've mentioned on here that having the credibility to actually teach my projects on television is a dream of mine, I honestly had put it out of my mind & was completely content with blogging for the sake of conversation with you. To have it just handed to me, just like that, out of nowhere & at a time when I needed something to push me back into work. All I can say is, 'WOW." It's crazy right? I really need to have more FAITH.
So that's all I can say for now, I just had to get on & share the good news! If you're a DC peep than please watch my segment tomorrow, it'll be around noon on "Let's Talk Live" on Channel 8. This is all so last minute I'm seriously going bonkers trying to get a few projects together & figure out how I'm going to make myself look somewhat presentable. What the heck does one wear to do a craft project on TV on Christmas Eve? I'd steal P's ugly Christmas sweater but he gave it to Miley Cyrus. Doggonit Miley!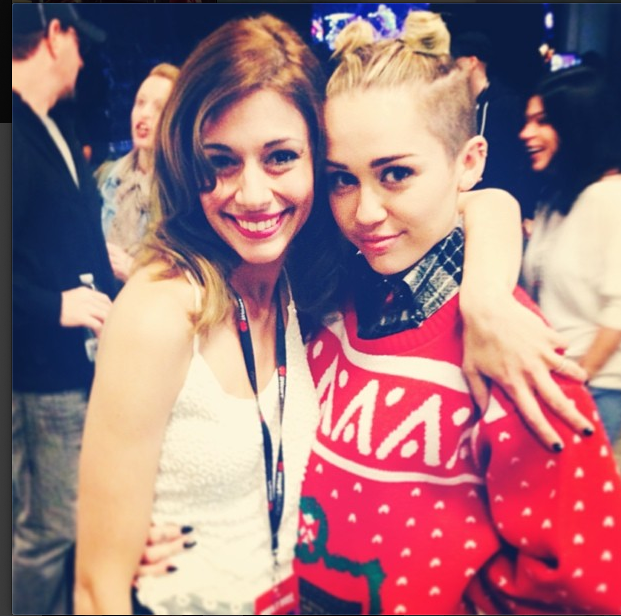 (btw, nicest girl EVER. With P's job we meet a lot of artists & it's usually a quick hi, handshake, bye but Miley was a down to Earth, polite, sweet girl, who knew right?)
If you want to craft along tomorrow I'll be making these pom pom pomander ornaments as well as will share Baby's First Christmas Reindeer Footprint Ornaments, Christmas Memory Globes & Stuffed Ornaments!
Now I just have to remember, 'don't say poop, don't say poop, don't say poop' You have no idea how often that word finds it's way into my conversations.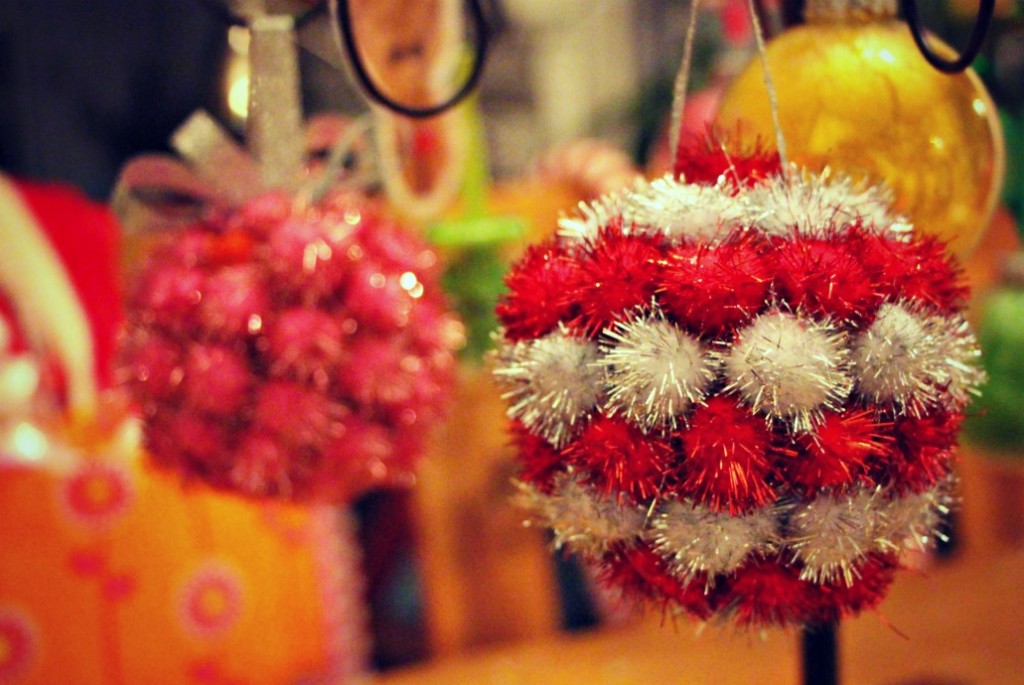 Oh! And thank you so so much to Susan from Crafterhours for getting pregnant, moving & not being able to do the segment herself. And you know,  for recommending me. That's a true bloggy bestie. (: