Before I tell you what the heck a 'Buffaloaf' is let me give you a quickie personal update since last I mentioned I was having voodoo doll problems…
I've been doing a lot better this week, thank you so much for all of your sweet well wishes! I still have some pain & stomach problems but after taking B12 supplements daily the neurological symptoms, numbness & weakness, have almost completely gone away. I really think this was just a case of me being so nutrient deprived from the GI stuff that it starts to wreak havoc on other parts of the body. I haven't blogged this past week because I've had an obscene amount of doctor appointments & tests but now that it's behind me here's where I'm at. The MRI of my back showed two degenerative disks & a herniated disc in my lower back, apparently this can cause the leg pain that I thought was just muscle pain from my auto immune randomness. My Dr recommended a series of steroid epidural injections to bring down the inflammation so hopefully it can heal itself. I'm always a bit weary of steroids, I worry I could wake up in the morning with chest hair, but if it means relief I gotta say, I'm in. I had my first one yesterday & it wasn't too bad at all, sore today, but if it works, totally worth it.
Second thing is my new, 2nd opinion rheumotologist gave me her final diagnosis.
I have a moderate case of ________.
She doesn't know.
Shocker, right? She said I have the symptoms but not the bloodwork for a diagnosis of one inparticular disease. That's frustrating but not a surprise but you know what was BEYOND frustrating?? She said my previous GI workup I had done last year wasn't done correctly. I guess before they take a biopsy of your stomach to test for Celiac Disease you're supposed to load up on wheat for a week or so. My Dr had me actually doing a test gluten FAST for the 3 weeks before the biopsy! I CANNOT TELL YOU HOW MAD THIS MAKES ME. The GI workup was one of the first places I started a year ago & he told me it was absolutely not a GI autoimmune disease, (Chron's, Ulcertative Colitis, Celiac's…) so I moved on to other specialists. If I go back to another GI doc (which my dr wants me to do next) & he/she finds that was the problem all along I'm gonna LOSE.MY.MIND. When I think of all the pain, wasted time, impact on family & friends that this sickness has costs me….if that could've been avoided if my last GI Dr had done his job correctly, ooooooooo boy, I'm gonna be googling anger management courses asap. So we'll see. She does want me to still keep up the 6mth trial of the Lupus medication just in case, it'll be interesting to see if it helps. My mom & sisters are here with me & that is just about my favorite thing ever so I'm just gonna take life one day at a time. Right now I hear my kids screaming running around the house with their aunties, my mom is cooking my favorite meals & I'm sitting here, finally typing up a blog post with lovely bag of peas on my back. Life is getting better.
On to the BUFFALOAF!
A month or so ago I received an email that made me literally squeal out loud when I read it. The folks who made "Cloudy with a Chance of Meatballs" were working on the release of the sequel & they wanted me to create a recipe for the stars of the sequel, the "Foodimals"!
My girls are HUGE fans of the first movie so I was all over this opportunity, SO COOL right?
Here's the concept, in the new movie the food has come to life!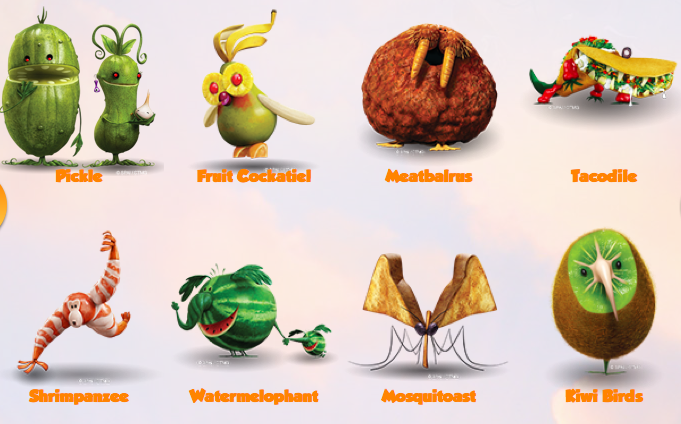 For my recipes I chose to make the Buffaloaf & the Fruit Cockatiel, I still am so giddy that my creations are on the Cloudy with a Chance of Meatballs 2 Facebook Page! You have no idea how much street cred I've picked up with the local kindergartners from doing this, I'm officially cool. For now.
In the movie Mr Buffaloaf has onion ring horns, a thick ketchup coat & a tussle of parsley hair. I've actually been working on nailing down my own recipe for a great meatloaf & with this guy I really think I've got it! Despite his name he is not actually made of Buffalo. In fact my recipe includes a mix of ground pork & ground beef along with grated onion & apples for a sweet & savory meal that everyone in the house will love! You can find my entire recipe here, I'm so happy with the final product, once you got past taking a bite of something so cute it was really yummy!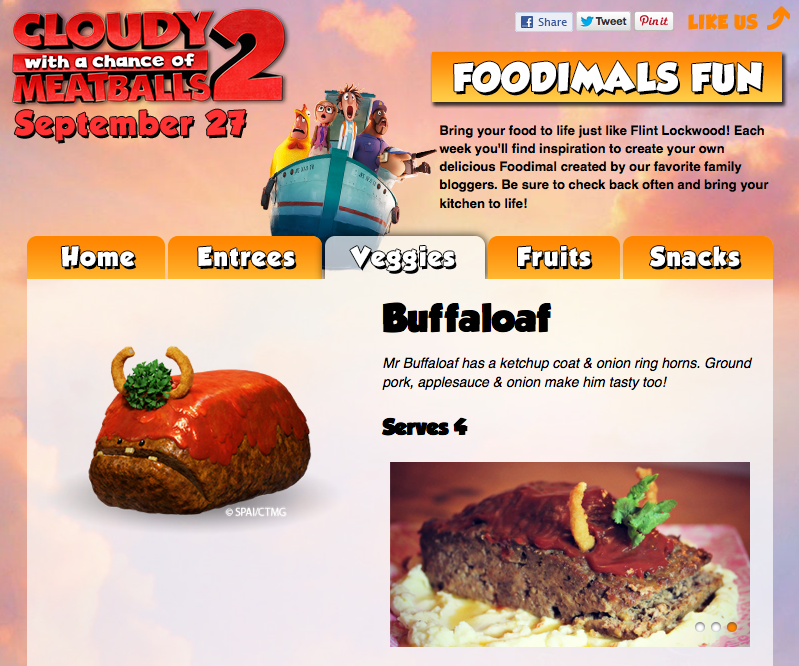 The second Foodimal I made was the super cute Fruit Cockatiel, while he isn't a complete meal he's a great way to get your kids interested in fruit, my girls saw nothing wrong with popping off those tasty cherry eyes! More details on how I made the Cockatiel here.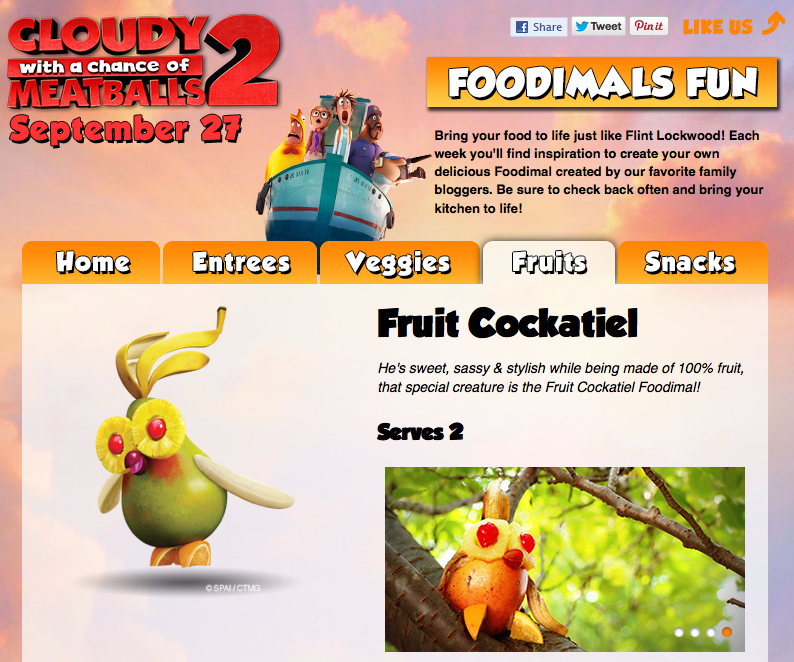 Now here's the really exciting part! The awesome peeps at Cloudy with a Chance of Meatballs are celebrating the new movie by giving away Sony Readers & a copy of the original Cloudy with Chance of Meatballs! All you have to do is leave a comment with your name & which Foodimal you'd like to eat! Haha, gruesome, I know. (; You can find all of the Foodimals from the movie here.
The contest ends Monday evening, September 30th, at 9pm EST. I'll choose a winner at random & ship your reader & movie to you next week! Good luck!!