I'm usually perfectly fine with taking both girls to the mall by myself.  I have the double stroller, I bribe them with chick-fil-a, I've got a plan. But today, today went south quick. I had just gotten to the shoe department at Nordstrom to try and find Sam some back to school shoes (great sale btw, 50% off some nice shoes) & decided I'd let Soph out of the stroller since she had met her restrained time limit. I thought, quite foolishly, that she & Sam would just look at the fish tank or maybe the sparkly shoes & just be good little girls while I shopped. WRONG. Sophie quickly decided it was hilarious to crawl off as quickly as possible while Sam chose to model every single pink glittered shoe in the entire department. Of which there are far more than you'd think.
Between grabbing Sophie out from underneath shopper's feet (who gave me the death stare of HOW COULD YOU LET YOUR BABY CRAWL ON THIS DIRTY FLOOR & counting to 3 more times than I care to admit to get Samantha to stop taking out all the shoes, I was already putting myself in the middle of the 'look at that crazy woman, she can't get control of her kids' spotlight. Then on top of it all the smell of fresh poop began the weave it's way into the air. The source, of course, was my kid.
A few minutes before I had splurged & bought myself a chocolate shake from chick-fil-a because whenever I get a sore throat that is my go-to comfort. After I realized that I was going to have to drop everything, pack the kids up & truck off to find a changing room I decided to take one last slurp of my shake. Somehow my thumb went right through the styrofoam cup, the top popped off & the shake exploded EVERYWHERE. All over me, all over Sophie & the best part, all over the shoe display. I was frozen in shock. I mean, SERIOUSLY?! REALLY!?? But you know what the worst part was? The disgusted looks the other two moms gave me. Oh, I'm sorry, you've never had a bad day? You're kids have never tag-teamed in trying to drive YOU crazy?!! I doubt that. The little red-headed one looks pretty darn malicious to me.
What I want to know is why do moms judge eachother so harshly? You'd think if anyone was going to be sympathetic it'd be another mother but in reality they're the worst critics of them all.
I'm quite certain that if I'm honest with myself I've rolled my eyes at a kid who was acting like a nutjob or maybe a mom who was dropping things everyhwere because she had one kid tucked under her arm football style & was dragging another behind her. Is it because we don't want to face that what we're actually witnessing is a reflection of us on our bad days? Perhaps denial at it's finest? Or maybe it's the grade school antic of making others feel bad so you can feel better about yourself. Whatever the case, if we as women who have been through the same journey of motherhood can't take care of eachother then who the heck will?
After I realized everyone was staring at me & I was dripping in chocolate shake I looked at my surroundings & thought, what the hell. If they're already going to condemn me then why not give them something good to judge. So I took out my cell phone & began photographing the whole thing.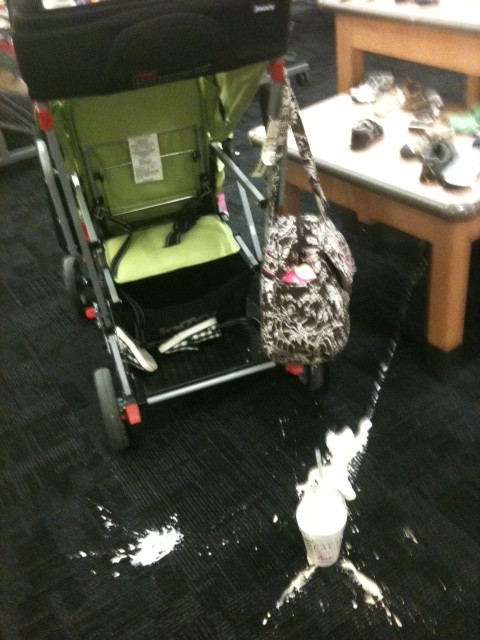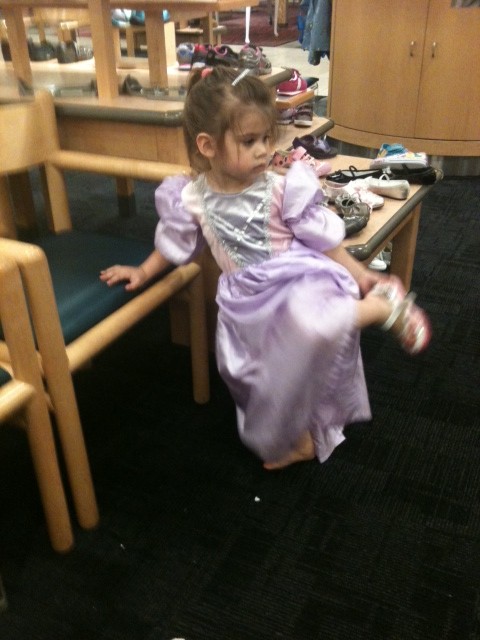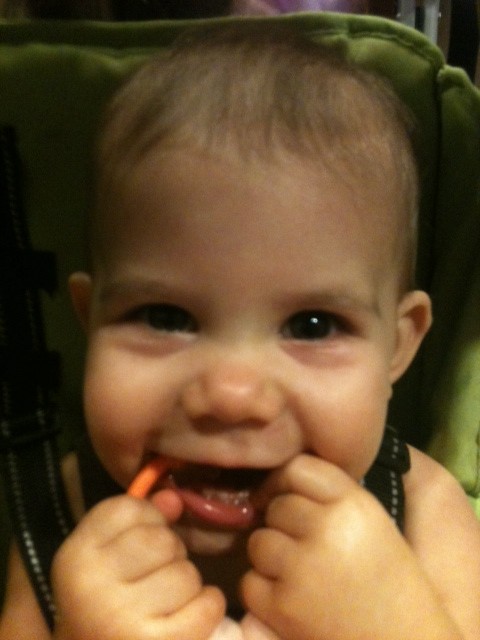 If nothing else might as well get a blog post out of it, right? I was going to put up a DIY for making a super cute neon bracelet out of hardware supplies but instead I'm going to try & forget my morning by wasting my brain cells away on Pinterest.
So we know misery loves company, when was the last time your kids embarrassed you?