Well it's here. I made the appointment what seemed like an eternity ago but those darn holidays, they just made the last three months of the year fly by.
I haven't talked about my health in awhile because of two reasons…there really isn't anything new to share & I'm trying not to think about it so much. After my last hospital stay my second rheumotologist gave me the same advice the first one did…it's time to let the big boys handle things, make an appointment at either John Hopkins or Mayo Clinic.
So I did, and now it's here. Now I'm here.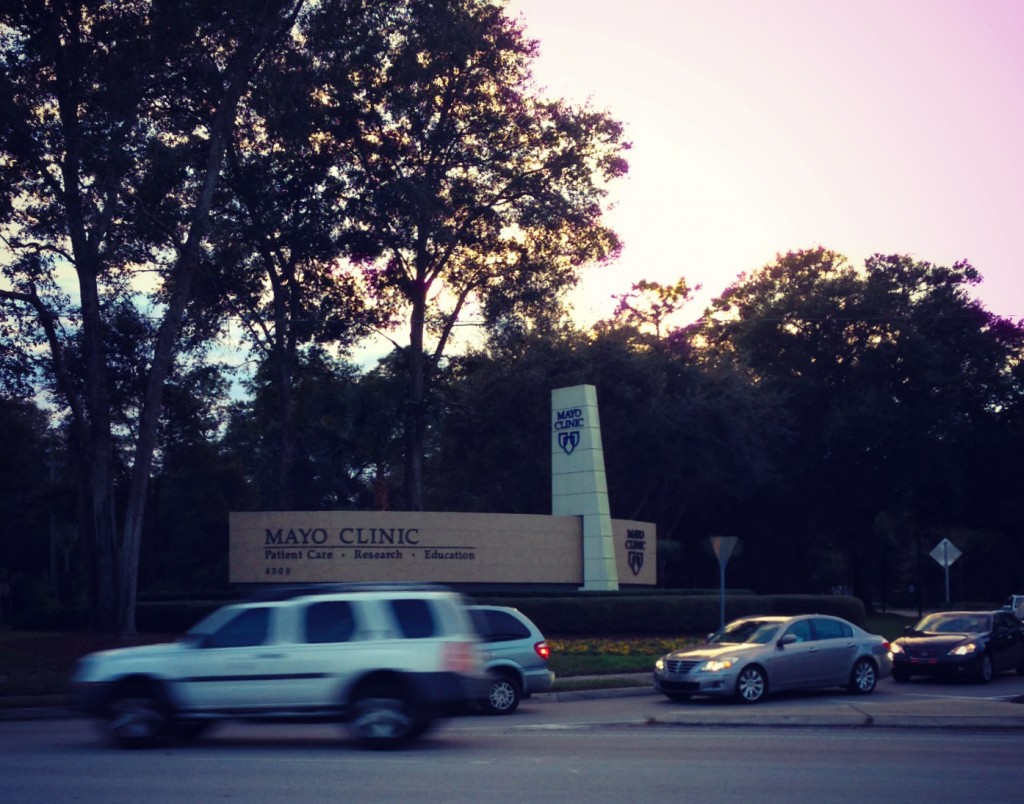 My dad is here with me which I'm very grateful for, he & P are going to switch off coming to my appointments. This place is crazy you guys. I'm sitting in the third waiting room since I arrived an hour ago, my first impression is they do not mess around here. This is not a place where they get your appointment wrong or misplace your file. They know who you are & why you're here before you do…a well oiled machine to say the least.
Mayo is pretty much the place to go when no one else seems to be able to help you or when you need the best. The tough cases come here, the otherwise hopeless cases come here or in my case, the 'I don't know what is wrong you' come here. Hopefully, for answers.
I have had the worst anxiety the last few days about this trip. my worst fear has been, "What if they don't find anything? What if once again I go through lots of awful tests only to show up as 'normal', what if this all ends with yet another doctor shrugging his shoulders & saying, maybe it's stress?" Somehow I've resolved that I just need to have faith that whatever the outcome, it's meant to be this way. Whatever they say, it's for a bigger reason & I must believe that good will come of it. (Just because I know that & can regurgitate it to you does NOT mean I always remember that, I'm learning that faith is an ongoing decision, & sometimes, often, I still make the wrong one.)
So far today I've gone through patient registration. I proved I am who I say I am, I gave them all of my films & labs, which they promptly scan & enter into your 'patient portal' online, & I've met with my primary care dcotor. Your primary care doctor is kind of like your team captain. Mine is a sweet, young, very pretty blonde woman. I felt like she was caring & eager to help me find some answers. After a good review of the last two years with her she then decided what she'd like to see on my schedule. That's not where the magic happens however, the magic comes from Ruth.
Ruth was my assigned scheduler. She takes all of the doctors's requests (a visit to gynocology, neurology, rheumatology, physical motion, xrays, ultrasound & of course labwork) & MAKES IT HAPPEN. Girlfriend is better than match.com
While I was getting my blood drawn she was working the phones calling all of the different departments, trying to get me into to see them in the next 72 hours. It took her a little while but somehow her magical headset pulled through & I received my schedule for the rest of my visit. Except for neurology. Those buggers play hard to get & I can't get in to to see them until February 19th. And that was because I got lucky & slipped into a canceled spot, normally I would be waiting until May!
So the schedule looks like this…
Hip Xray now, Gynocology this afternoon & Ultrasound this evening.
Doctor of physical motion (your guess is as good as mine!) tomorrow & Rheumatology the next day.
Autonomic testing on Monday with my final meeting back with my primary care doctor that afternoon.
I'm finding that I'm oddly excited about this, I've never experienced any sort of medical organization that comes even remotely close to this place. If I'm going to find answers anywhere it's got to be here. It's just got to.