When someone mentions 'tie-dye' what's the first thing that comes to mind?
Clothing & accessories right?
That's what I immediately thought of when I was trying to decide what to do with the awesome box of tie-dye goodness I received from Tulip. Then I thought, hm, what would be an unconventional way of using tie-dye? What about as part of your livingroom decor for summertime?? Yep. LOVE that. Hence after only 5 minutes of dyeing the 'paintbrush pillow' was born…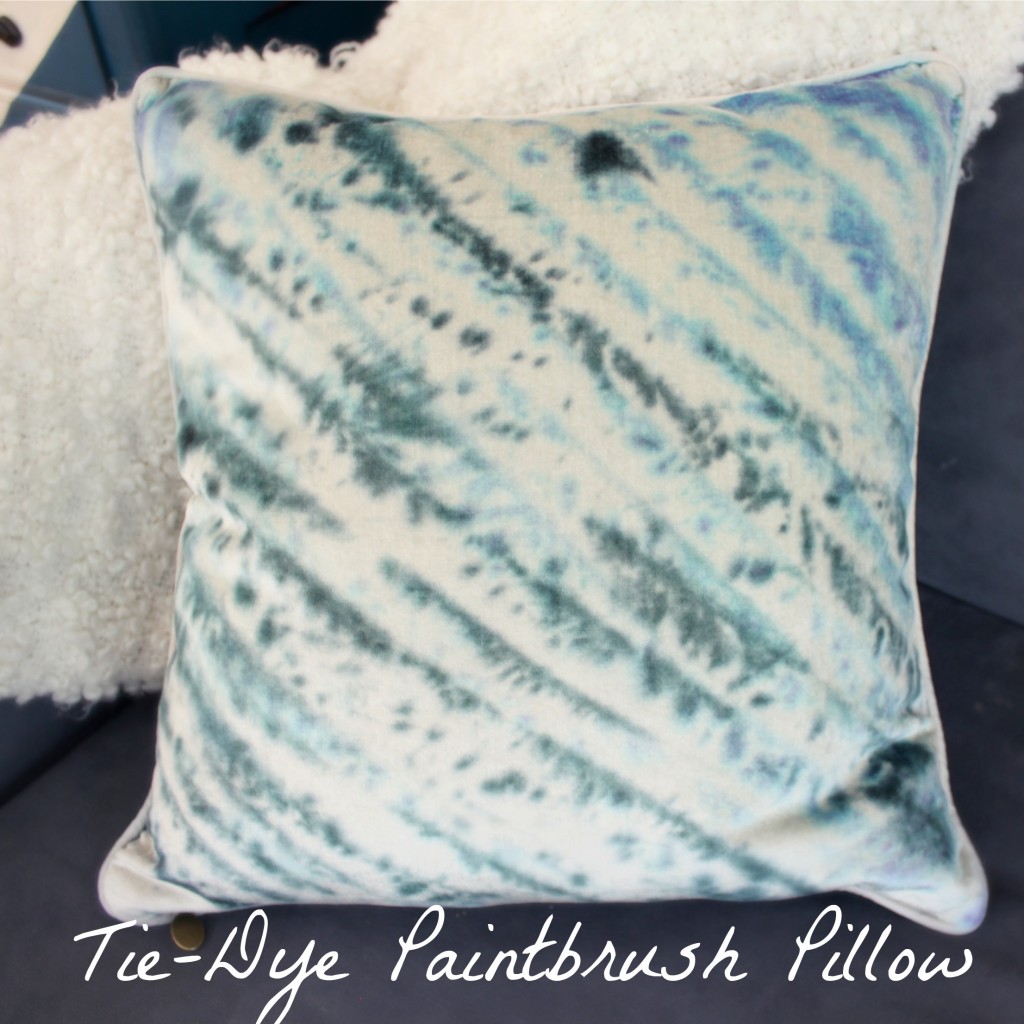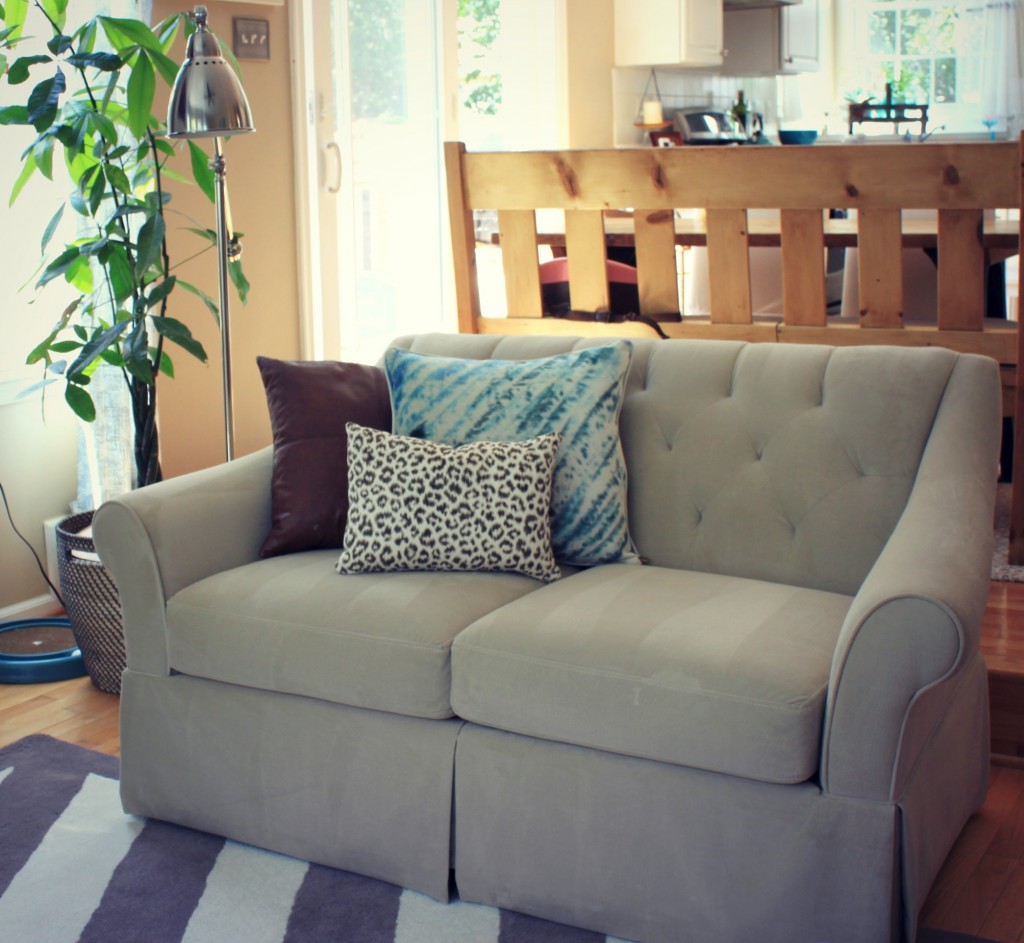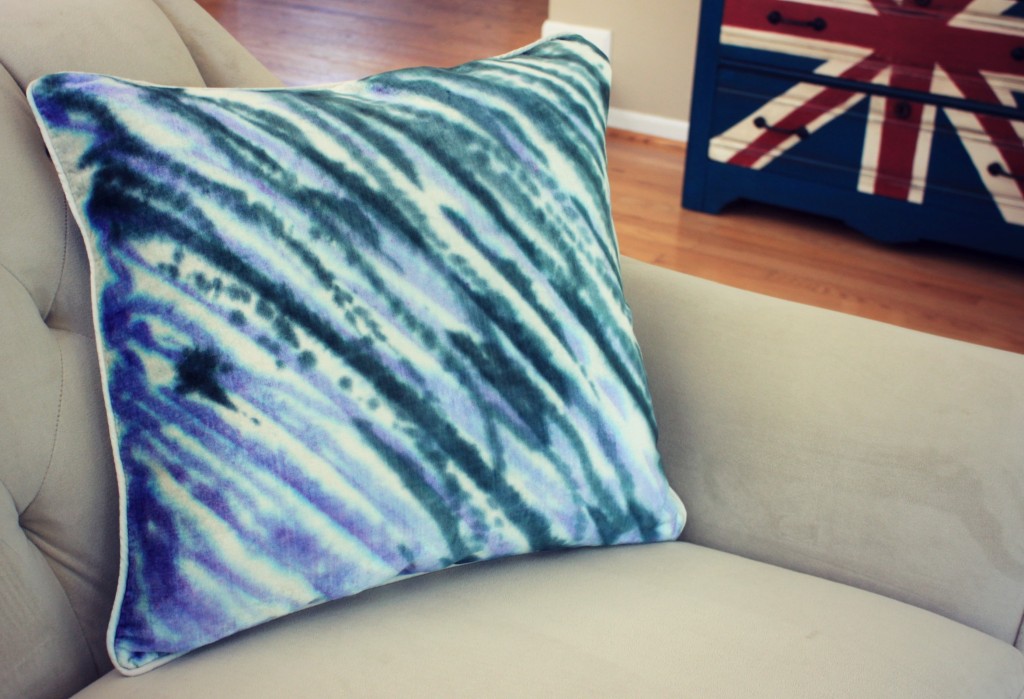 I learned the 'painting' technique from this tutorial on the neat website ilovetocreate.com
Crazy, stupid easy my friend. If you can squirt a bottle you can make this.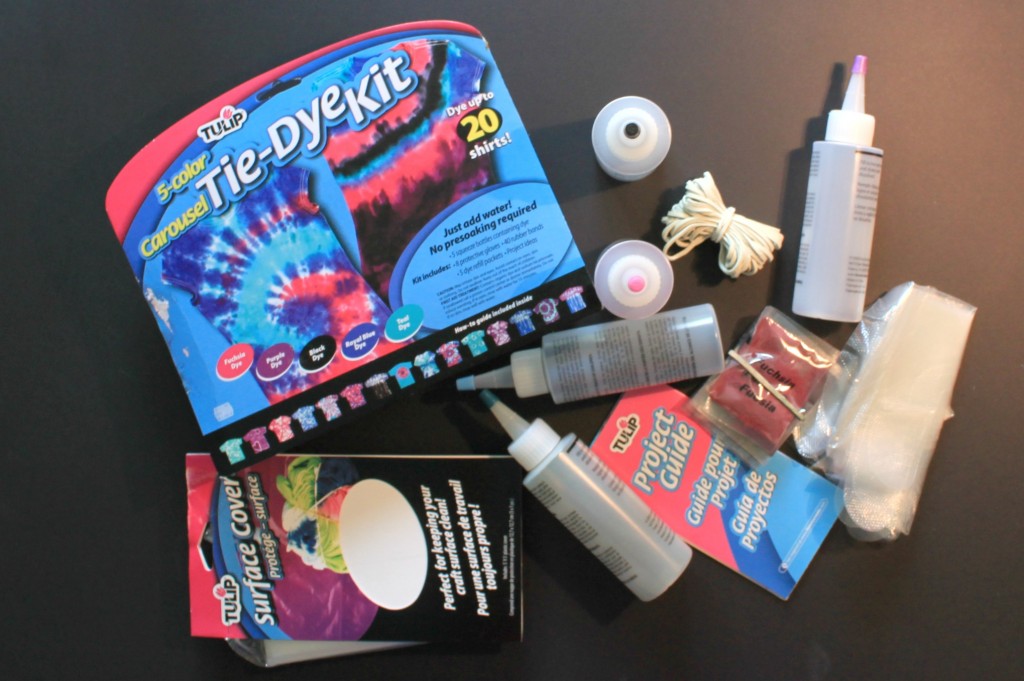 Tulip 5 color Tie-Dye Kit:includes dyes, bottles, gloves, rubberbands & refill dye powders, Tulip Surface Cover (sold separately)

First, I laid out the plastic dropcloth Tulip also sent me (Hm, wonder if my husband called & requested this) & then evened out my dampened pillowcase on top. (silk throw pillow from Pier 1, on sale now!)
I have to say, Tulip really did a good job with their ready to dye kits. The dye powder comes in a ready to use plastic bottle, (tops are color coordinated, helps to prevent not being able to tell apart navy vs. black…smart.) all you have to do is fill it to the line with water, shake it good & it's ready to go. For this project I took my black first & squirted a zig-zag pattern from the top left of the pillow & continued over 2/3 of the pillow. Next from the opposite end I squirted teal. The two should overlap in the middle, this is what gives it a bit of a ombre effect.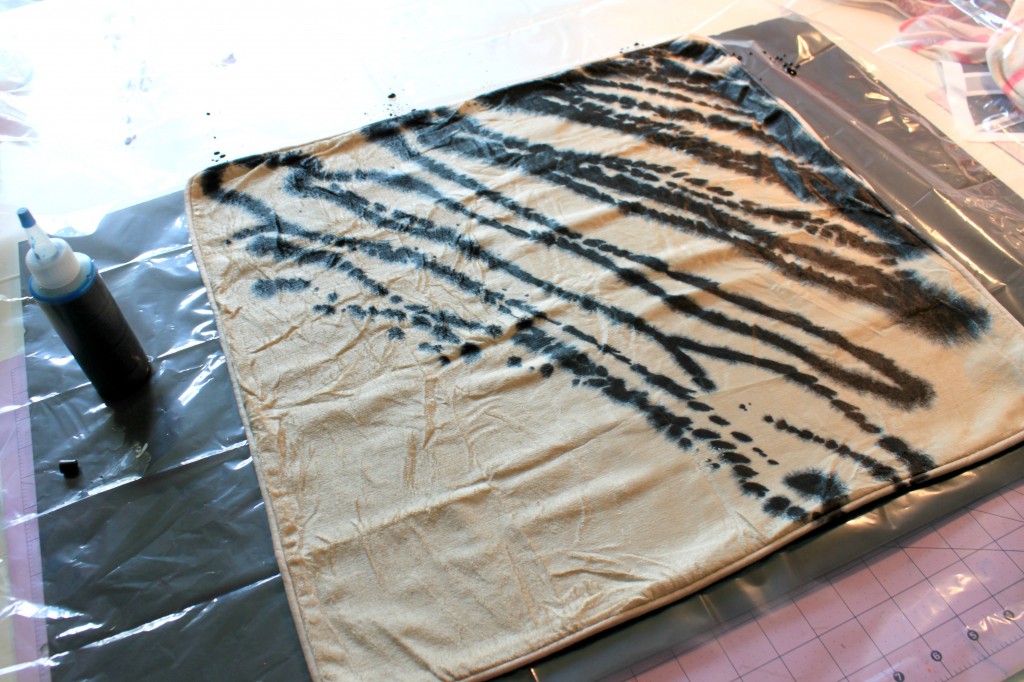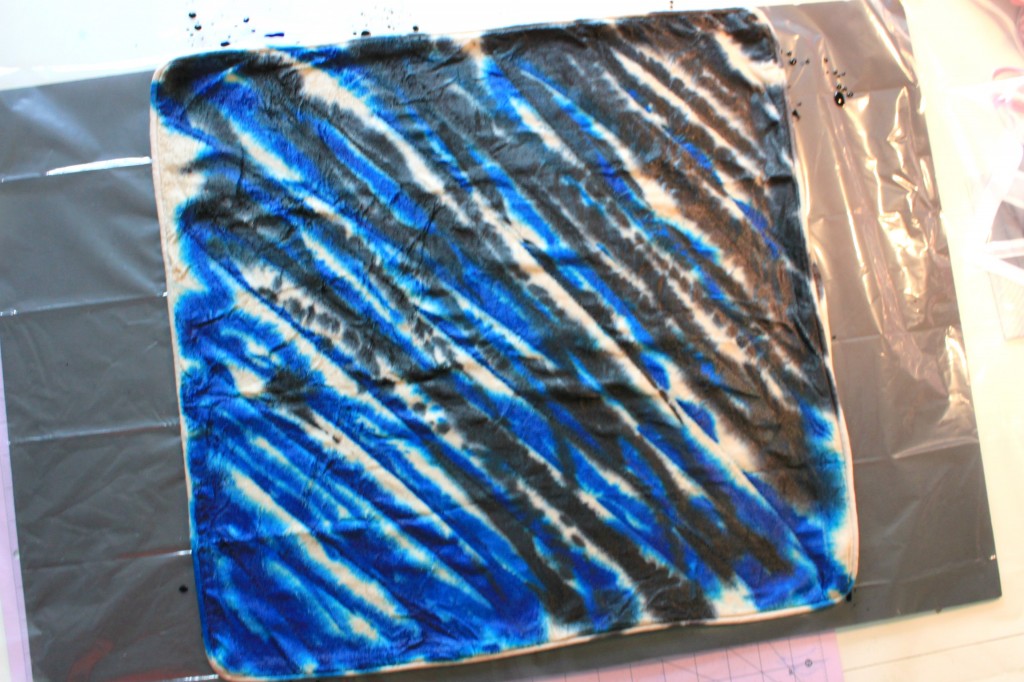 I actually had the foresight (for once) to place my plastic over a piece of foamboard that way when the case was done I just had to fold the plastic over it & I'd have a stable, easy way to carry the project to my basement where it could sit undisturbed for 6-8 hrs.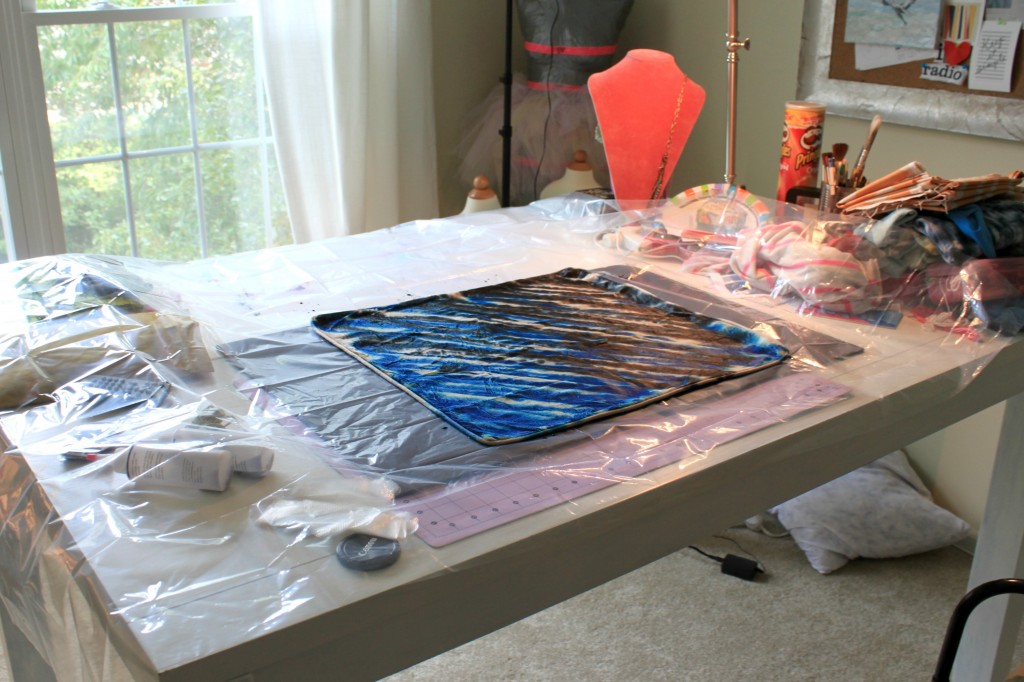 Yes, there is a can of Pringles on my desk. But it's because we were out of tofu.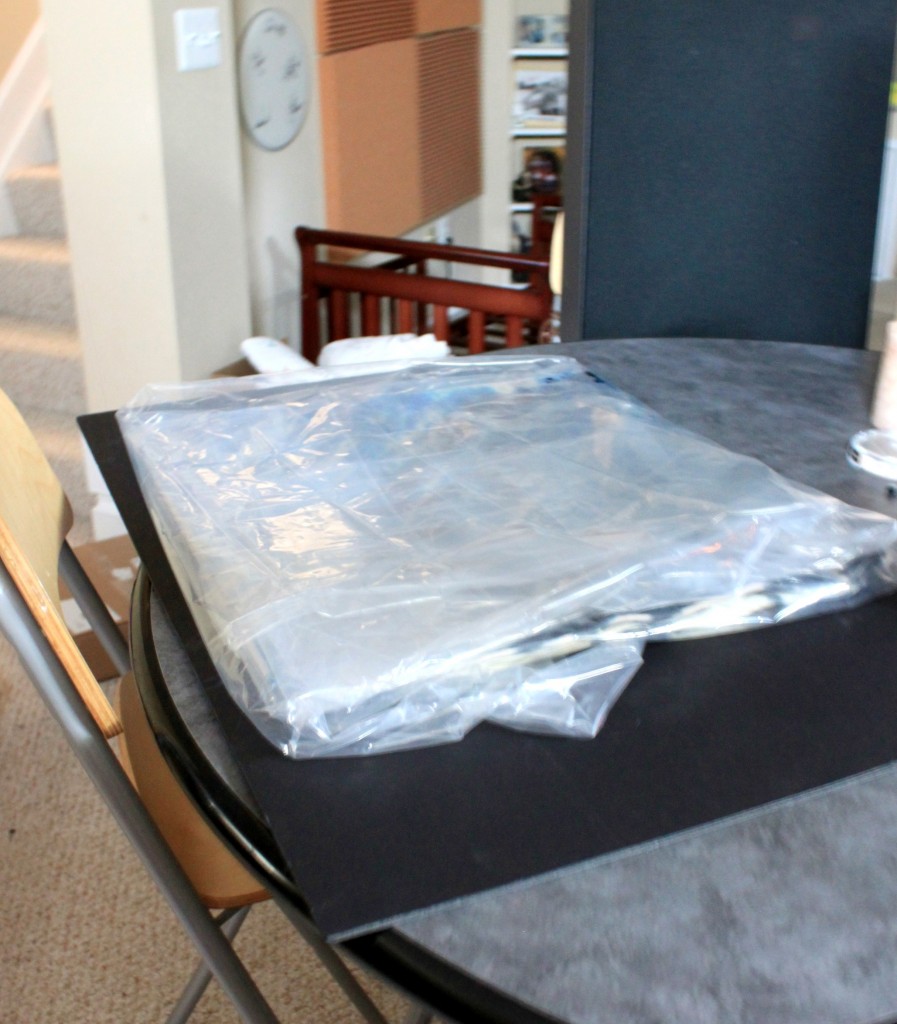 Fast forward 4 hours (directions say 6-8 but I lack patience) & I unwrapped my beautiful pillowcase present! I rinsed the case with warm water until the water ran clear & then threw it in the wash with some similarly colored towels for a quick wash. After drying on low the pillow was complete & ready for it's new home on my couch. I was actually torn between whether I liked the dyed side or back side that the dye just seeped onto better. The back almost has an animal print to it! Bonus! Wish I could take credit for planning that one.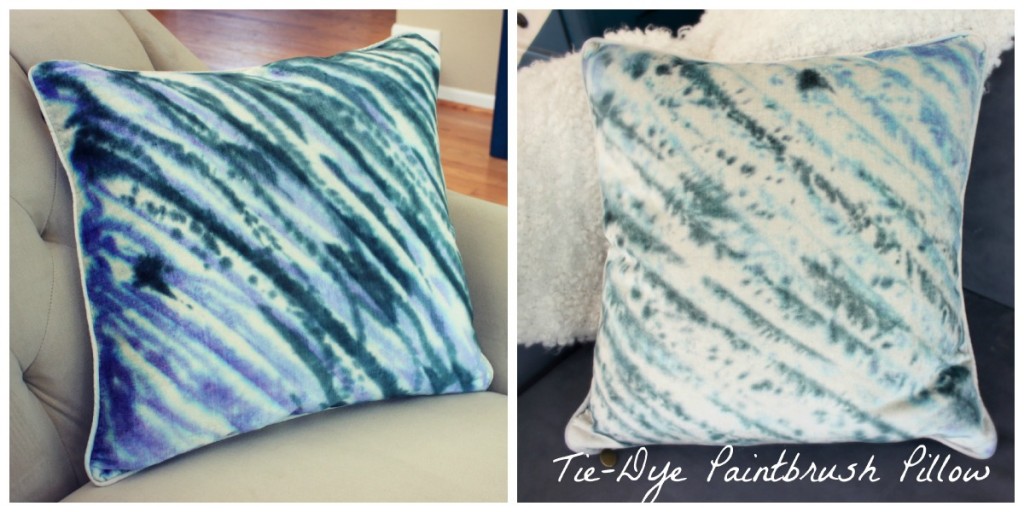 Le sigh. I love when a project works out.
With the leftover dye I whipped up some super easy sundresses using a heart tie-dye technique & some men's undershirts. Thanks Daddy. You won't even miss them.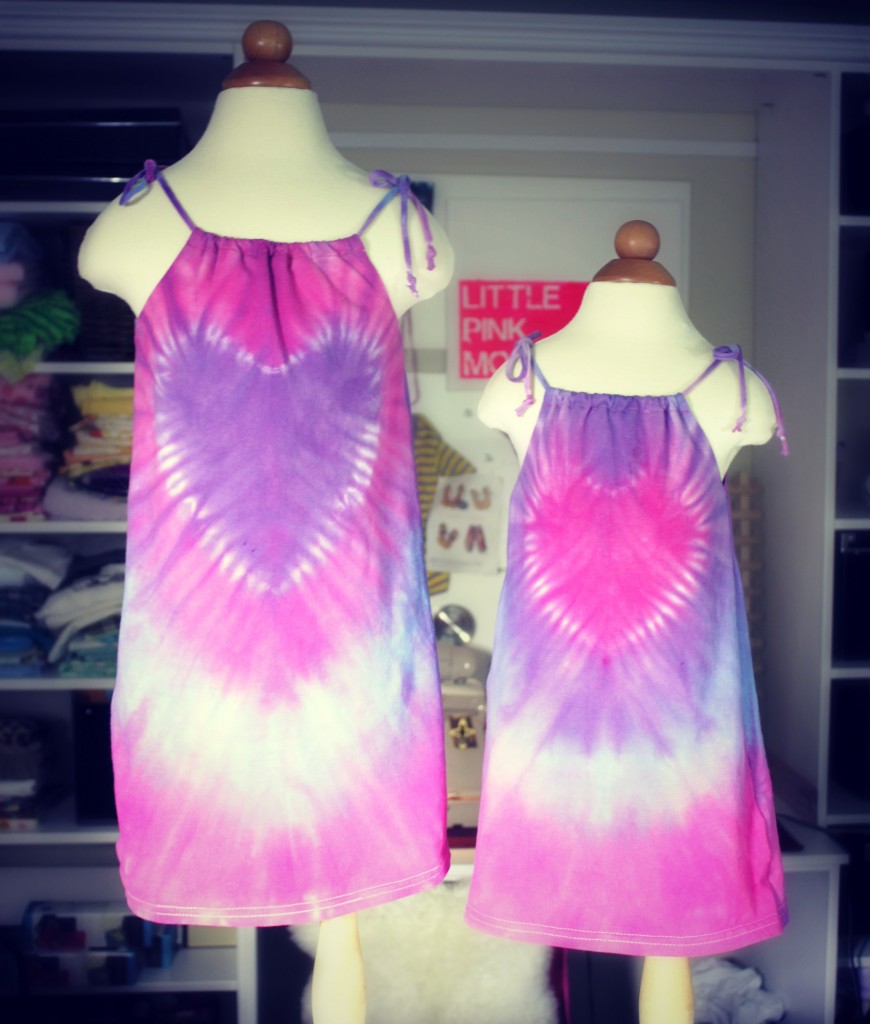 I'm going to have a video tutorial showing how to make them early next week!
Full Disclosure: Tulip is a paid sponsor of Little Pink Monster, however, as you well know, all opinions & reviews are strictly my own!
Tulip Tie Dye Kits are available at Walmart, Walmart Canada, Michaels, JoAnn, A.C. Moore, Hobby Lobby, Hancock Fabrics, Meijer. Tie dye kit contents and colors may vary by store. Find more Tulip projects with their Twitter, Facebook, FB I love Tulip Fashion Art & on Pinterest