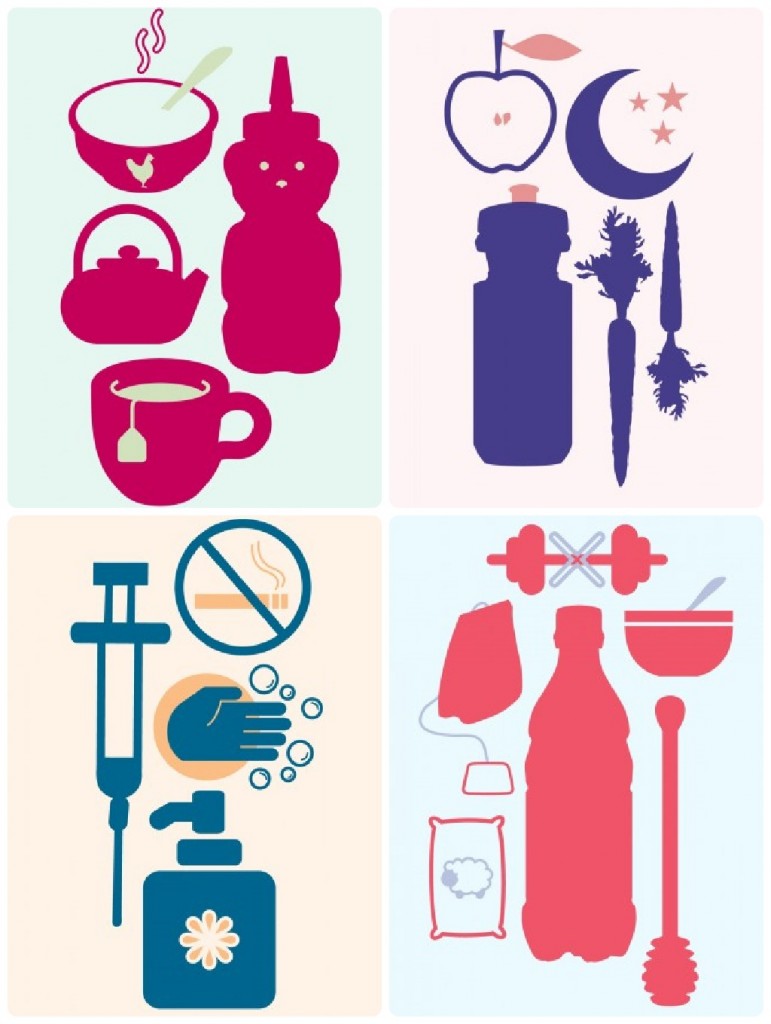 img via Refinery 29's get well guide!
This past week was like some sort of roofied timewarp ya'll.
On Tuesday the school called to say Sam had a low fever, an hour later it was almost 102 then by bedtime 103 and overnight 105! 104 temps stayed with us for two days after that. Headaches, Nausea, Body Aches & Brutal Chills, poor little lamb had it all! We made three different trips to our heaven sent pediatrician's office over the course of the week. All of the flu tests kept coming back negative, chest x ray was clear & we were just about out of guesses when miraculously she woke up Friday with no signs of fever or illness AT ALL! It seemed to have left as quickly as it came. Go figure! Prior to her divine recovery I was quite willingly tied to Sam 24 hours a day all week long. It was exhausting but also mommy need at it's finest. Here's the part however that I wasn't expecting to feel…
Disappointment.
It had been the first week after my big 'A-HA!' & things were already delayed. So quickly back to paused. Let me explain…
I had a bit of a revelation a week ago. I actually had a night to myself which gave me some time to think. Like really think. Not the fleeting idea of a thought which is promptly interrupted by someone needing to have their butt wiped & then just as promptly forgotten. This was soul searching thinking. I thought about why I wasn't happy. Now this may sound confusing but I'm actually not UN-happy, I'm just not totally fulfilled & content with my life happy. I'm something's missing unhappy. To be honest, I'm not sure if I will ever get to a point where I go, "Whew, you know what, there is nothing more for me to do, I'm completely & utterly content with my life." Maybe that's just a fault, or perk, of my personality. Regardless, I've somehow found myself, right here & now, in a part of my life where I feel 'paused'. I think it had been under the surface for awhile but getting sick made it all halt full force. I was too tired to have any goals much less achieve them. It was all about getting through one day at a time. Which, to be honest, wasn't a bad thing for me to do. It's a good thing to slow down & appreciate each day for what it is. It is not a good thing however to find an excuse to put the things you really want in your life on hold. After awhile you'll notice a void whether you had a good excuse for pausing them or not.
So while I was having this zen moment of self reflection I realized the only thing that can take my life off of pause is me. The surgery didn't solve my health issues, it certainly helped some things but the rheumatoligist & I haven't found a diagnosis yet for my other symptoms, & from some of the personal stories you've shared with me that day may not be anytime soon. I realized I was waiting to get better to do what I enjoy and that is a dumb way to live life. There will always be *blank* to get done first. Whether it's waiting for the kids to be in school full time, waiting for the money to take classes, waiting for an illness to pass or waiting for the sky to turn purple it doesn't matter. They're all excuses. And I realized that for me, they were are all a product of fear. I have a massive, colossal, beast of a fear of disappointment. I'm terrified that if I really go for it, like completely & utterly throw myself into doing what would be 'success' for me what happens if it fails. What if I try my best & I fail. That fear is precisely why I clung on to having the excuse of being sick. I was stalling.
Perhaps a carefully drafted visual demonstration would help to accurately portray my thought process: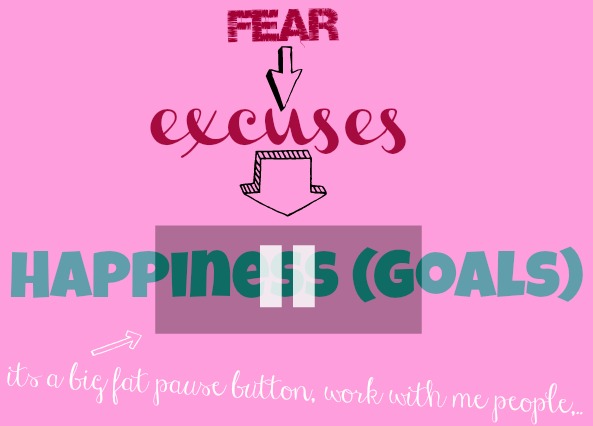 It's epic, I know.
You know what though, recognizing what was keeping me 'paused' was a huge relief. It is the worst feeling to not be content & have no idea why. Now that I know, there's only one thing to do, conquer that fear. I'm inspired by a great work in American cinema. A beautiful film of determination, loyalty & unconditional support. It's An AMERICAN GIRL: McKENNA SHOOTS FOR THE STARS.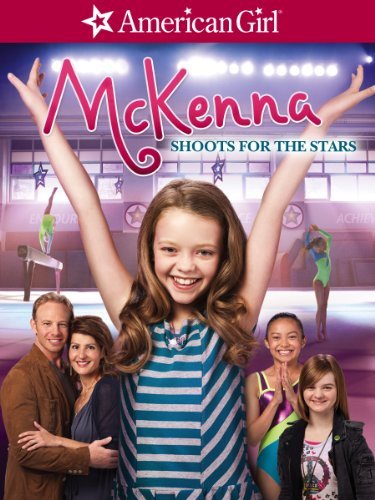 Here's the thing though, & if you bring this up in public I'll totally deny it, that movie was good ya'll. I put it on for Sam while I started writing this & found my eyes repeatedly drifting to the TV. I'm also a sucker for anything with Nia Vardalos. Long story short this adorable, perfect haired little girl is a great gymnast. She's fiesty, she's fearless, girly goes for it in a major way. Until she disobeys her coach & attempts a back handspring dismount from the beam. Predictably she breaks her ankle. I know. The next hour is all about her making friends with her wheelchair bound tutor & the lessons she learns about what's important in life & the true meaning of friendship. Whatever. I learned absolutely nothing from that part. What did give me an 'ah-ha' moment however is when her cast comes off & she has one last chance to do great in this ultimate competition she's been training for her entire life. She's on the beam & suddenly realizes she can't attack things like she used to, now she has fear in her. Her foot is healed but mentally she's still bruised. How do you find the strength to really truly throw all you have into something when the fear wants to hold you back? If you just play it safe & go for it half-hearted you won't win. It's basically a waste of time. Of course she looks deep into the eyes of wheelchair girl & finds the strength to go for the gold! And wins. Of course.
My point is that it doesn't matter that this movie is for 8 year old girls the lesson is still the same. You can't let fear hold you back from your goals. I also think, and you may not want to hear this, that you can't let your kids hold you back from them either. I want my girls to follow their passions, to be the type of women who see what they want & make it happen. Who don't settle because it got hard. Because they were tired. Because they're 'paused' in the world of diapers, carseats & Dora. And the best way to teach them that is by example. I could tell them until I'm blue in the face but how much better will they learn if they see their mother doing what makes her happy.
So let's take a little visit back to where we started, a sick child who needed her mommy. That will never stop being my number one job. I committed to these girls when I brought them into this Earth & that will always, always come first. But the truth is Soph is in pre-school a few mornings every week & beginning this Fall my sweet babygirl Samster will be in Kindergarten! ((slow tear))
No more excuses, I have some time now to at least start laying the pavement. There will be blips, & set backs because I already have a very demanding full time job that I adore but I want more now & you know what? I'm officially un-pausing my reasons not to.
Have any of you had some luck taking online business courses? Do tell!