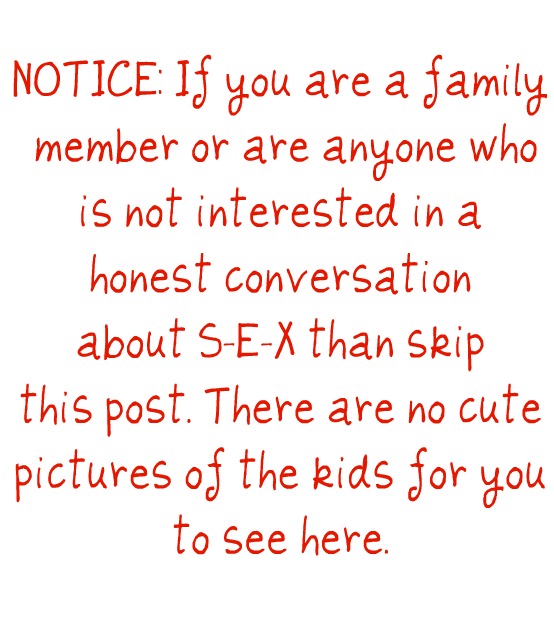 One of the most valuable lessons I've learned since starting this blog is that if I'm having a problem with something chances are you might be too. If I can be honest & just put it out there the reward is hearing from you that you feel the same way too. So here's what I'm battling. I've lost my inner sex kitten. She's been missing for about a year (or two) & I really need to get her back. I used to be so proud & confident, I had no problem prancing around in lingerie or a pretty bra & panties. Shoot, I actually wore pretty bras & panties. In fact I prided myself on being a passionate, sexual woman. I don't know where it happened but at some point during motherhood my attitude about my sexuality changed. (I wrote a little about it in my "Do moms go to Brazil" post)
I've realized lately however that I'm not ok with it. I've been using the excuse of "I'm too tired to be sexy", "I have to chase kids all day, it sucks the sexy right out of me", "I don't like my body" or "Sweatpants are just so darn comfortable!" for too long. It's time for a change.
Someone once gave me the advice "Treat your husband like a mistress would & he'll never have the need for one". Do I want to spice up my sex life because I'm afraid if I don't my husband will go find someone who will? Absolutely not. I do think however that he deserves to have a fun, sexy wife. That's who he married after all. I've got to find a way to get my sexy back. To feel comfortable in my own skin again, if you had it once you can get it back, right? Right??
That's why when one of my best friends told me about the book she made her husband for Valentine's Day I tried to think past my first reaction of "No way, I could never do that!" to "Maybe I can."
Maybe, just maybe, I'd even like it? I certainly know he would.
She told me I could share it with you as long as I promised to leave her anonymous. I was telling her that maybe this could be the start of a new little series, "Leaving mommy at the door & bringing sexy back". (it's still a working title)
She used her Silhouette
machine (hahaha, I should send this tutorial to the Silhouette people, think they'll include it on their site??) to make a vinyl cutout saying "peek-a-boob" for the cover. The book is actually a blank board book from this company. Obviously I'm not going to show you her actual board book because then LPM would be banned from your office but I did put together this very realistic replication to give you an idea in case you want to make your own…
On every page of the book is a different set of pictures. One pic is of you in some sexy bra or top & then you lift the picture (it's attached with tape along the top) to reveal yourself sans top! On the very last page she did a full body lingerie shot with a little sweet note to her hubby. The best part is she did the whole thing in the privacy of her own home during her son's naptime! All you need is a tripod, a camera with a timer & perhaps a quick swig of mommy's special juice.
Do you have any idea how ridiculously excited my husband would be if I surprised him with this?? I'd be wife of the year. It would take a heck of a pep talk but man, it just might be worth it.
You have to tell me, could you do it? Should you do it? Or maybe you already have already??