Remember when Jessica Seinfeld went on Oprah with her super cute cookbook about how to sneak vegetables into your kid's diet by using purees? For some reason I actually bought it even though I didn't have kids yet. The artwork was super cute & the food sounded really good I guess. Well, in my laundry room this book has sat on a shelf for 3+ years collecting dust.
Up until this week, when Sam couldn't poop.
TMI, I know, but I need to get across the severity of the situation. My former "good eater" has given up her title & given in to the typical picky toddler diet of chicken nuggets, french fries, macaroni & cheese, grilled cheese & pizza. Which is why not only is she constipated but her poop is yellow as well. TMI! I know! I know! But I want you to understand why it was worth it to me to take the time to make these crazy recipes…I had to get some vegetables into my daughter asap.
The premise of the book is that once a week you take an hour in your kitchen to puree a variety of vegetables so you can sneak them into your kid's favorite food's throughout the week. For me, getting my girls their weekly servings of veggies without a battle sounded totally worth giving this a try.
Jessica has really nice, detailed instructions for how to puree each fruit or veggie. (There's also a handy little nutrition guide for what's in each fruit/vegetable) I chose to do frozen cauliflower & butternut squash along with fresh baby spinach & sweet potatoes…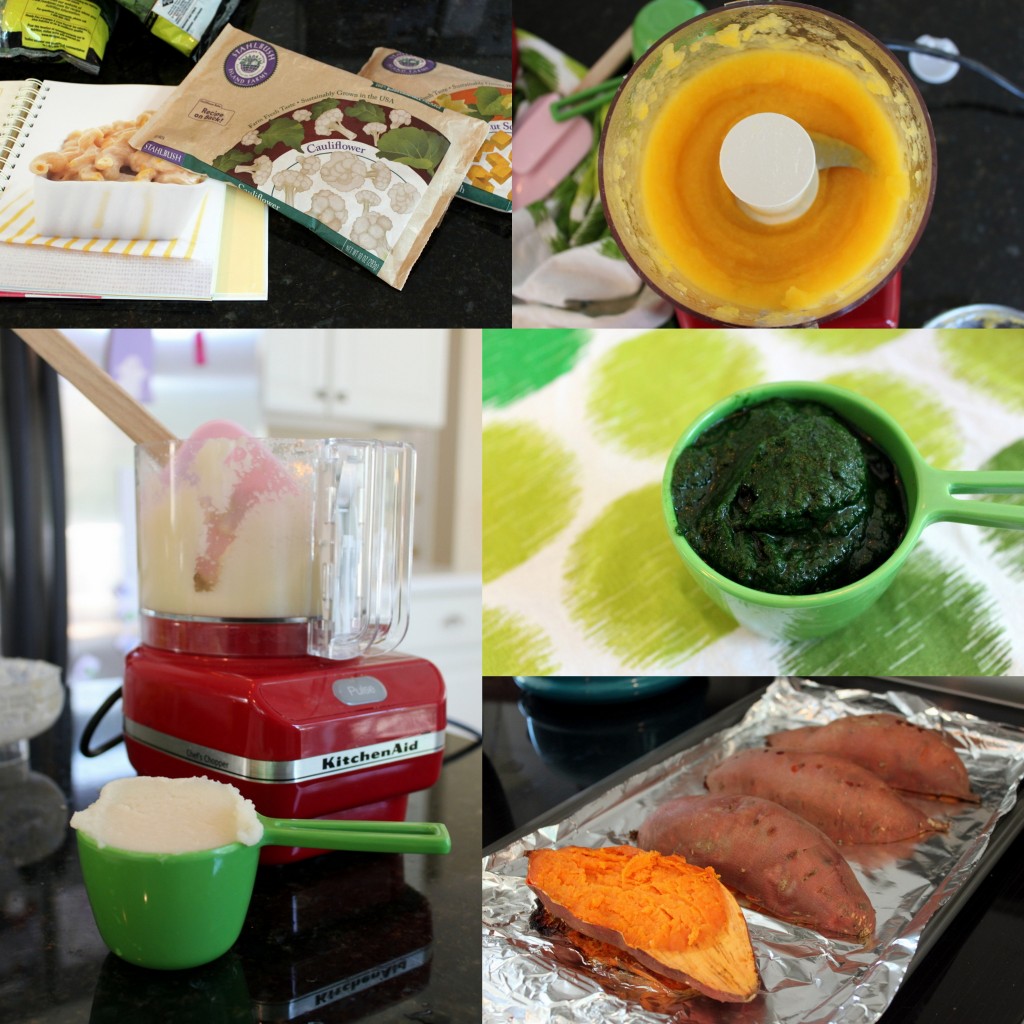 Most of her recipes call for a 1/2 cu puree so that's how I divided up the purees. I also used her tip of keeping all the baggies in a tupperware for organized easy access. (extras can go right in the freezer)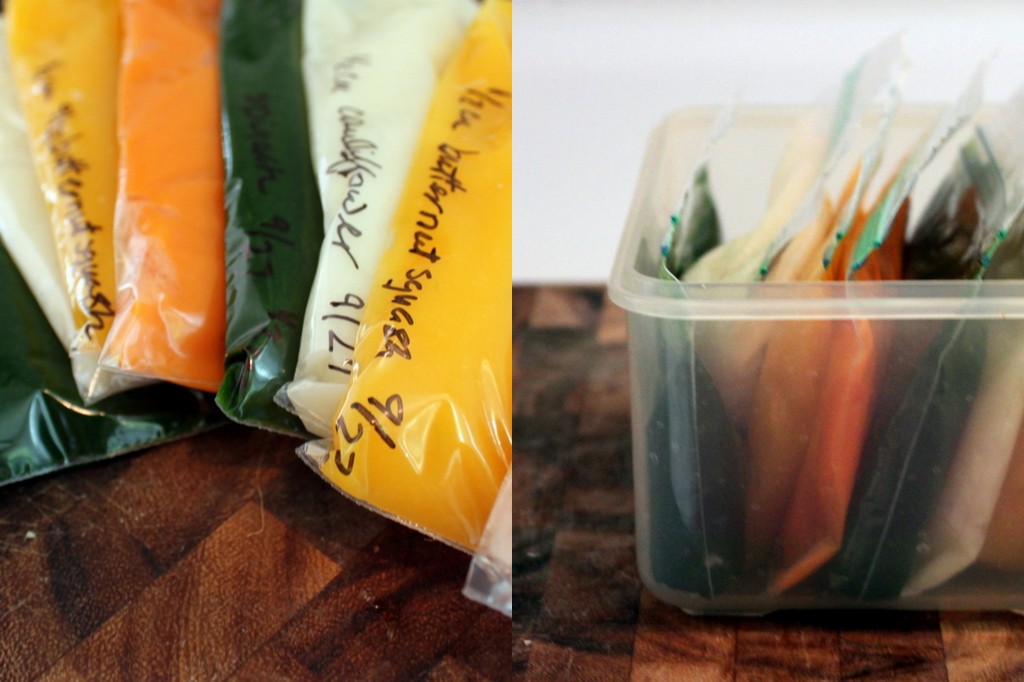 I gotta say, making the purees was a lot easier than I thought. Of course using pre-chopped frozen vegetable makes it even faster. I was able to make enough purees for a week's worth of dinners (with extras that I froze) & clean-up during Sophie's afternoon 1 & 1/2 hr nap. Not bad if you only have to do it once a week…
Now onto the recipes. I made purees for Jessica's pita pizzas (spinach puree), creamy mac n cheese (cauliflower puree) & chicken nuggets (sweet potato or butternut squash). Last night we had the mac n cheese with chicken nuggets.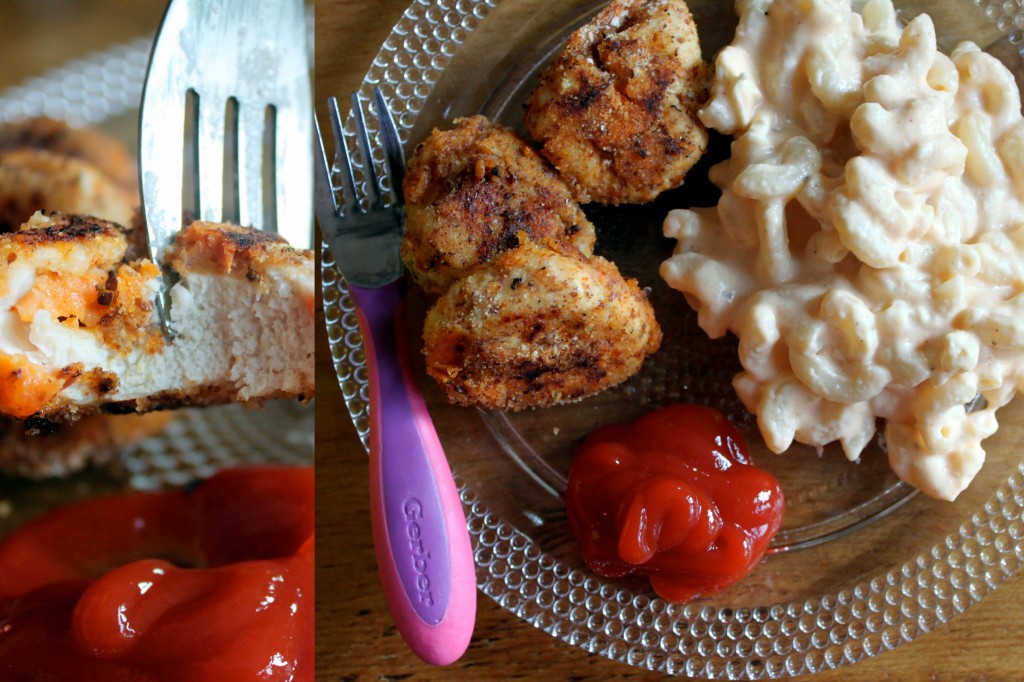 Macaroni & cheese: P & I thought this was really good. Very creamy & you absolutely CANNOT taste the cauliflower whatsoever. My only complaint is it was a little plain, next time I'll add my own seasonings & I'm sure it'll be great. Sophie devoured it. Sam on the other hand wanted nothing to do with it. It wasn't yellow like her usual easy mac so she thought it was gross. That kid. Maybe if I try it with butternut squash instead of cauliflower she'll buy it…
Chicken nuggets: A little more labor inducing to make but I have to say, these are the best nuggets I've ever made. Absolutely delicious. You coat them in sweet potato puree & egg mixture & then dip them into a whole wheat bread crumb, parmesan & flaxseed meal mixture. Cook them in a skillet for 3 minutes on each side. I can't believe I got flaxseed into my families bellies. It's completely undetectable! The sweet potato you could see however so it took some convincing but after Sam tried one bite she was hooked. Those little nugs were a homerun my friend. My only tip would be to keep that skillet well greased (cooking spray or olive oil) because the potato/breadcrumb mixture sticks & burns easily if it isn't.
All in all I'd say an A+for Deceptively Delicious
. I'm looking forward to making her desserts with fruit purees & am going to try and keep up with working the vegetable purees into our weekly diets, it's either that or battle Sam every night to get her to eat her veggies. I choose the food processor.