If you've never made homemade pesto trust me when I say you're missing out. It's summertime in your mouth. Fresh basil, toasted pine nuts & sharp parmesan cheese. Mmmmm…
This stuff is so good I could easily eat it by the spoonful. In fact I might just have done that, & then gotten a belly-ache, & then did it again. Glutton for punishment but it's just that good. Try it on pasta, dolloped on a toasted crostini or even as a spread on a tomato mozzarella panini, you really can't go wrong.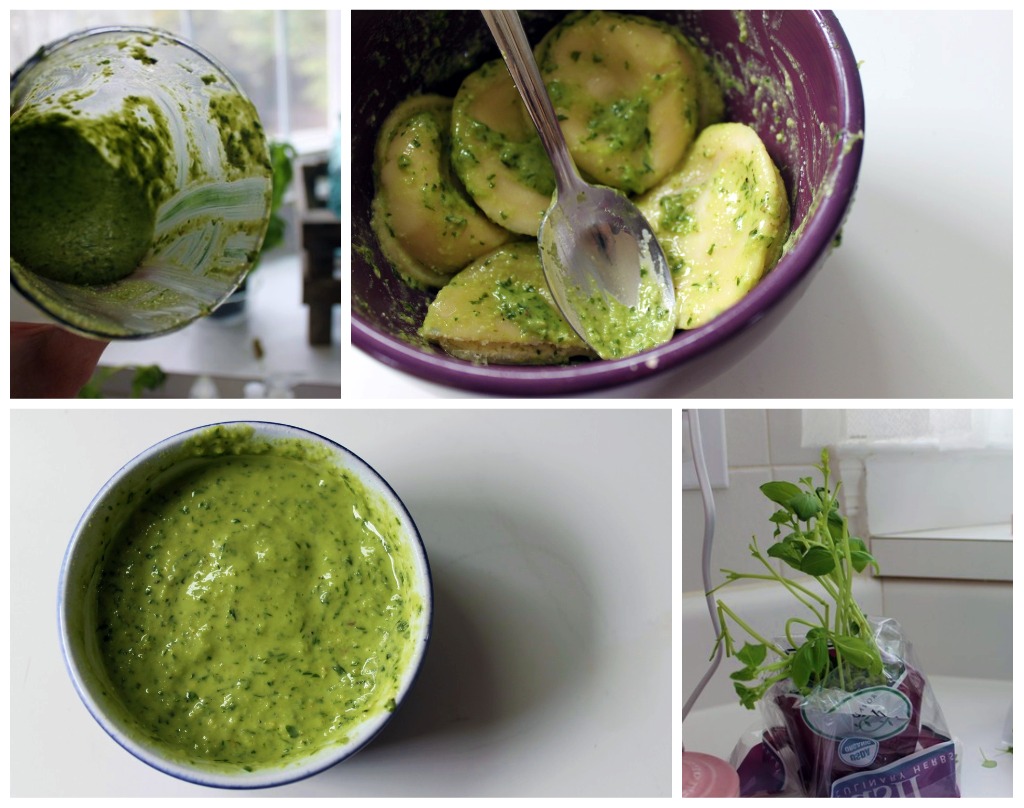 I've tried a few pesto recipes & while they're all pretty similar Giada's is my favorite. You can always make extra & freeze it but honestly, we've never had extra. One thing I do freeze however are pine nuts, those little suckers are expensive, I never use the whole bag & if you leave them in the pantry they'll turn rancid. I tossed the extras (untoasted) in a tupperware & stuck them in the freezer for the next time I get the pesto itch.
Basil Pesto
salt and freshly ground black pepper
1 garlic clove, chopped
2 cups fresh basil leaves
1/4 cup toasted pine nuts (toast briefly in a hot ungreased skillet or on a baking sheet, just be careful, they burn quick!)
Salt and freshly ground black pepper
1/2 cup – 3/4 cup extra-virgin olive oil
1/2 cup grated Parmesan
Into the bowl of a food processor, add the garlic, basil leaves, pine nuts, salt, and pepper. Pulse until finely chopped. With the blender still running, slowly pour 1/2 cup of olive oil. Check for a thick, yet smooth consistency, adding more oil if necessary. Transfer to a bowl and stir in 1/2 cup Parmesan. (I use this hand mixer for my purees, soups & other random blendings)