Weird name, I know. Trust me when I tell you though, IT'S SO GOOD. If sweet & savory describes your taste, & not just your personality (teehee), then add this to your 'must try' list.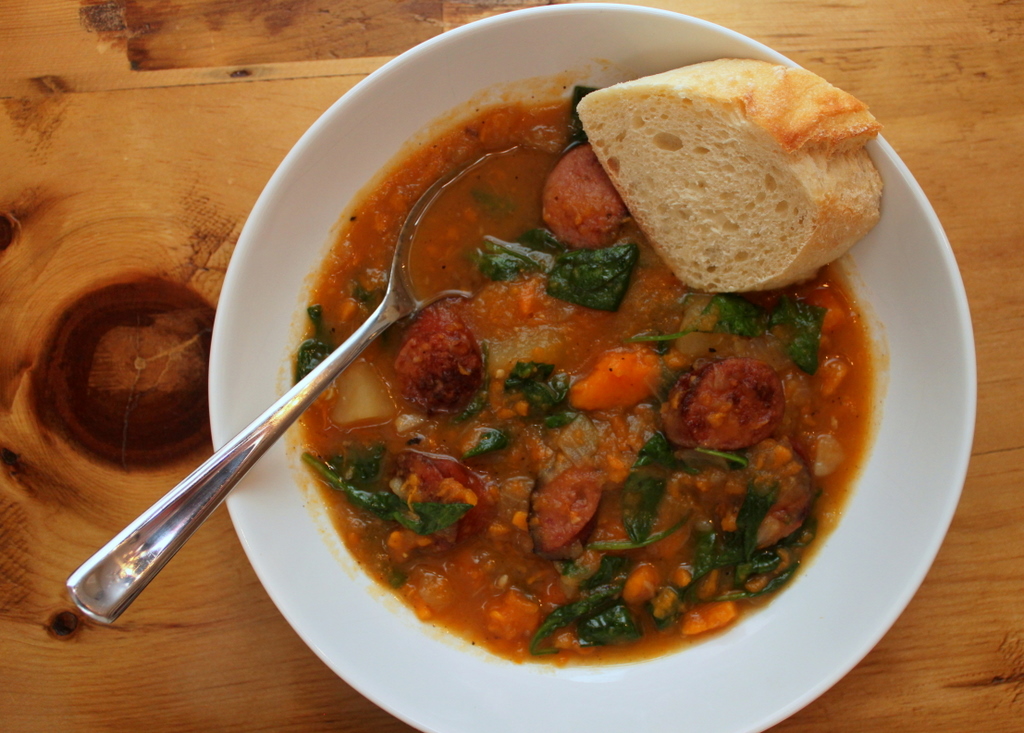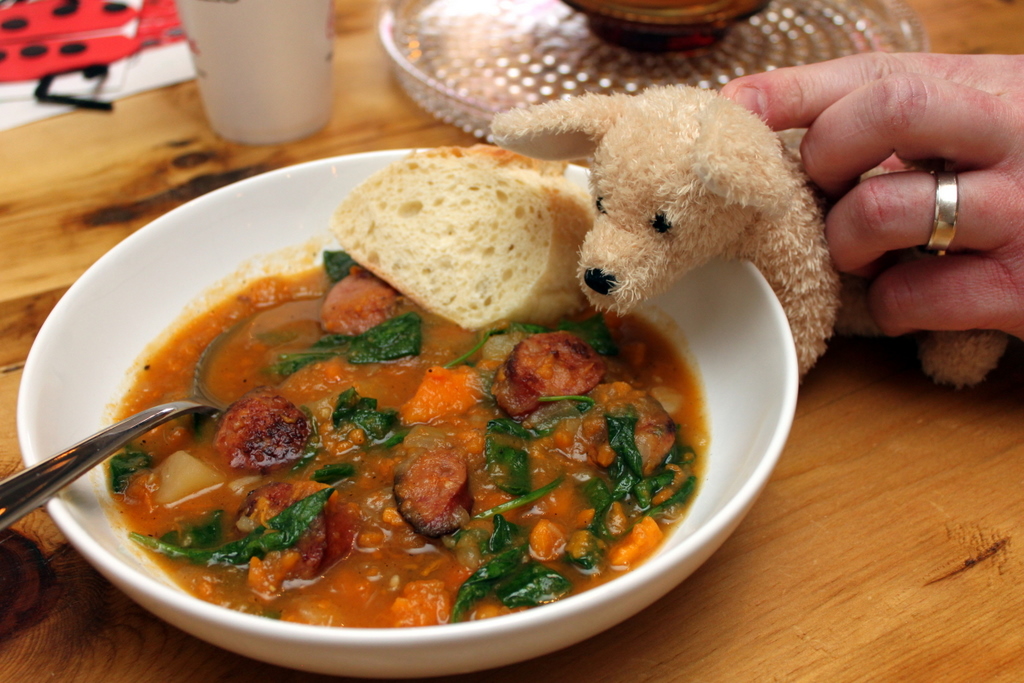 P, Sophie, my girlfriend Megan who just happened to be stopping by during dinnertime & myself finished all of ours & had seconds. Sam "doesn't like soup" so I fished her out the sausage & sweet potato pieces which she happily gobbled up. This was as easy as it was delicious. How can you argue with that?
The original recipe is from Epicurious but I found it via Smitten Kitchen (Makes 8 servings)
1 10- to 11-ounce fully cooked smoked sausage (you could also use chorizo if you wanted a little kick)
2 medium onions, chopped
2 large garlic cloves, minced
2 lbs sweet potatoes (about 2 large), peeled, quartered lengthwise, cut crosswise into 1/4-inch-thick slices
1/2 lb white potatoes, peeled, halved lengthwise, cut crosswise into 1/4-inch-thick slices
6 cups low-salt chicken broth
1 9-ounce bag fresh spinach
Butter, EVOO & Salt/Pepper
Heat 2 tablespoons of evoo in heavy large pot over medium-high heat. Add sausage; cook until brown, stirring often, about 8 minutes. Transfer sausage to a paper towel lined plate. Add onions and garlic to pot and cook until translucent, about 5 minutes. Add all potatoes and cook until beginning to soften, about 10 minutes. Add broth. Bring to a boil, scraping up browned bits on the bottom of the pot. Reduce heat to medium-low, cover, and simmer until potatoes are soft, stirring occasionally, about 20 minutes. Using a potato masher (or in my case a fork) mash some of the potatoes in the pot. This will thicken the soup a bit. Add browned sausage to soup. Stir in spinach and simmer just until wilted, about 2 minutes. Stir in 1 tablespoon butter. Season with salt and pepper. Serve with crusty bread. Mmm.
For more easy recipes I've reviewed click here