I always thought that if my no inhibitions, crazy, 20-something alter ego ever took over she might just go to the bunny ranch…this however is not the bunny ranch I had in mind…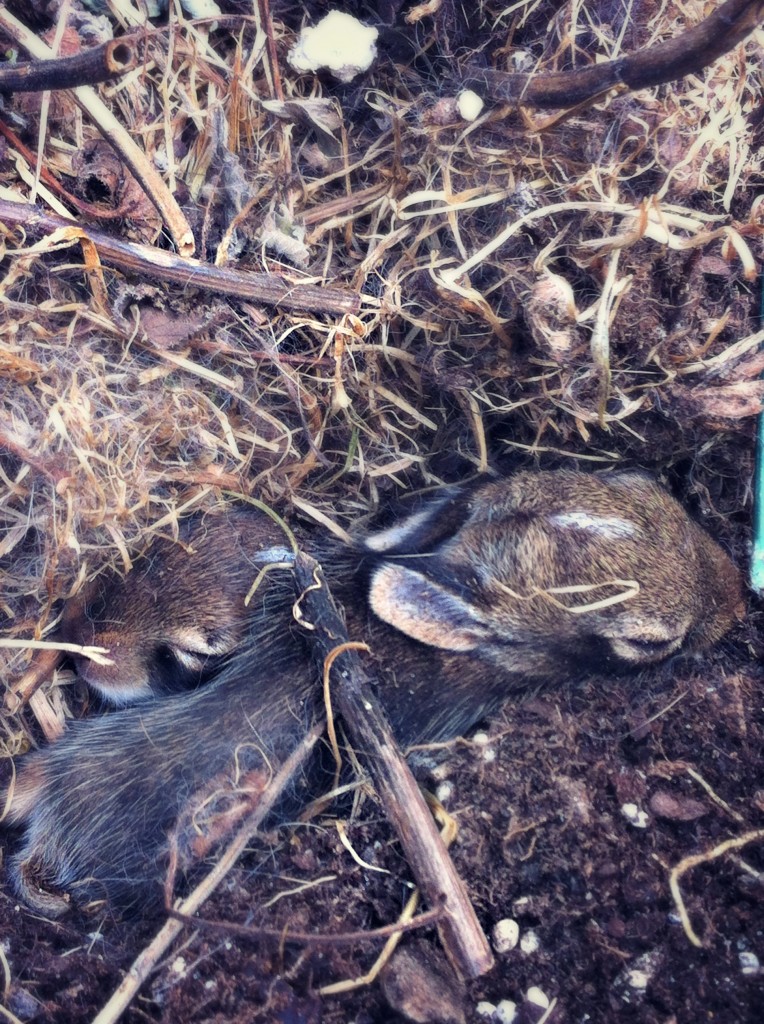 STUPID CUTE!
My mosquito planter had some casualties from the heat wave last week & as I was pruning up the dead pieces & digging around, getting ready to plant some new citronella plants, I heard a loud "SQUEAK!". WTF?! I threw down the Dora shovel & jumped back. I honestly thought Lucy had buried a squeaker toy in my pot. On closer inspection however I noticed a little twitching nose…and then two noses! At this point I hurried Sophie inside & ran to get P. He gave me the look of "What now, I'm kind of in the middle of working…" to which I said "Oh trust me buddy, you're gonna want to see this!"
Here's what happened next…
Of course being the intelligent adults we are we knew where to turn for answers…twitter. And yes, you guys confirmed P's hunch, they were absolutely, positively baby bunnies. About a week old we're guessing. Google told us to cover the nest back up & lay some strings in a pattern on top, this way if the mother comes back to nurse them (she only nurses once every 24hrs) we'll know by the strings being moved. No moved strings & you've got yourself some orphans. Is it terrible that part of me was wishing, "Please be orphans, please be orphans, I want to buy a tiny baby bottle, please, please please!"
The string test just didn't seem full proof enough so we also decided to set up our motion sensor nanny cam & at around 1:44 am it captured this video. Sorry, it's really grainy like a crappy convenient store surveillance video because, well, it is a crappy surveillance video.

That beady eyed blur in the top right is big mama bunny. She popped in, nursed the young-ins & was on her way 5 minutes later. What a life huh? Maybe someone should write a new baby book, "Bunny Mom: In & Out Parenting"
Of course I just can't stay away from the nest, it's right by my back door for Pete's sake, it's like cute little animal torture. I poked around in it once earlier today & quickly got a phone call from P,
"Stay away from the bunnies."
Me: "Whaaaaa? What are you talking about??"
P: "The nanny cam emailed me that there was motion."
Me: "Oh. But they neeeeed me!"
P: "Nope, they don't."
Me: "Hmph."
Once they get a little older we do have the predicament of how will they get in & out of a flower pot that's 2 feet off the ground? We read that they start exploring around the nest in the next week or two. Last thing I want is to have to fashion a tiny little bunny cast on a teeny tiny hind leg.
Ok, that's a lie.
I would love make a teeny bunny cast & nurture it back to health. We'll have an unspoken bond & every Spring she'll come back to see me & give birth to future little grandchildren bunnies. Sigh.
All that to say Bunny Watch 2012 has officially begun! If you know anything about finding bunny nests please leave a comment below and let me know what to do!!