My kid has some nasty ass funk. Not like a B.O. funk, like a horrible virus that will NEVER. GO. AWAY. funk.
I think I've mentioned it on here & I know I've talked about it so much on my Facebook…
Sam has had the worst cough for 4 weeks now. We've been to the Dr. four times & she had been on amoxicillan for 9 days when yesterday around 11a she all of sudden spiked a 102.3 fever. Long story short the Dr. finally sent her for chest x-rays at the hospital & she has pneumonia. They changed her antibiotic to z-pack & I started her on it last night. So far she's had a 103 fever last night & then again this morning. It goes down pretty well with Advil but my goodness, isn't it just the worst helpless feeling in the world when your baby is all red-cheeked, clammy, watery eyed & miserable? I hate it so much.
She's been coughing even worse today but I was told to expect that. The worry is the worst. I try not to let her know I'm worried (she's a bit of a drama queen & will totally buy into it if she knows I suspect something is wrong…she gets it from me) but really I'm listening to every coughing spell intently. Peering to see if her lips are still pink. Are her ribs pulling? Is her breathing labored? Twenty four hours a day I'm the one who's responsible for keeping this kid alive. It's exhausting.
I just snapped this pic of her in bed next to me while I type…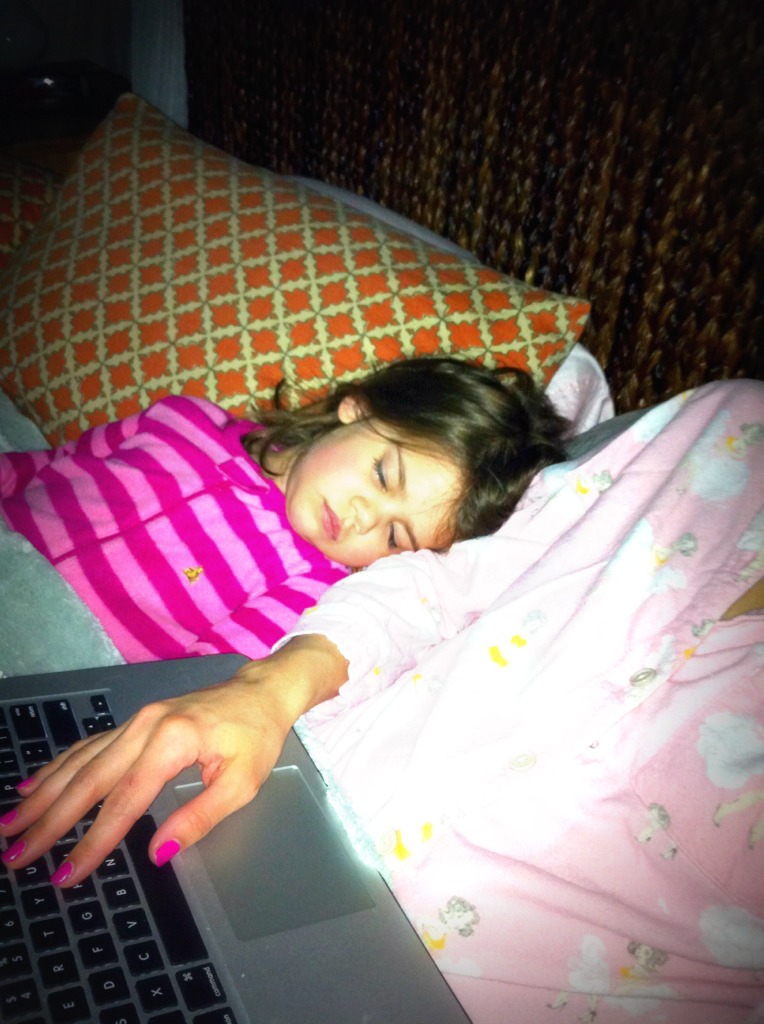 Such a little angel.
She's moved into our bed since this all began because she wakes up at least 3 times a night coughing, needing water & soothing.
Today I fear Sophie monster might be showing the first signs of getting it too. No coughing but she's had a runny nose & starting today, a low-grade fever.
The real tell tale sign Soph is sick however is that she actually sits still.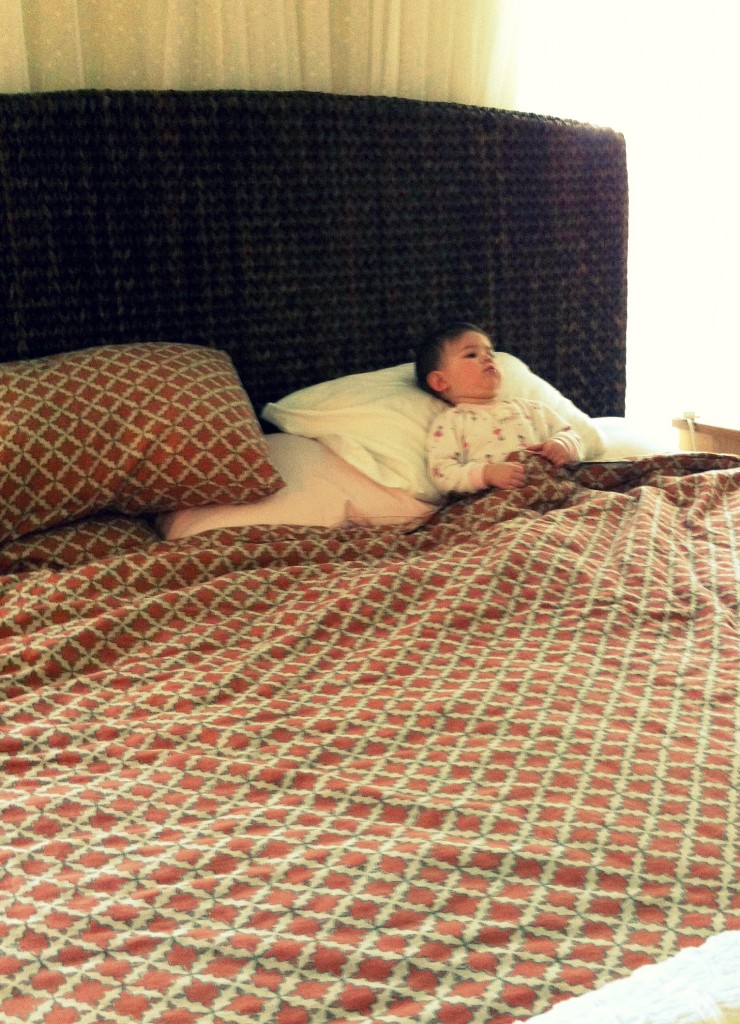 As you can tell we've been spending a lot of time in my bed.
I am so running on fumes at this point guys I don't even know how I would get it together to go through this whole thing again with Sophie. I know I would, I have to, but my goodness the thought just kills.
Obviously blogging has taken a backseat, as it should. I've read your peek-a-boob comments & I'm just dying to comment back because there are so many that I could not have said better myself. They are EXACTLY how I feel! I love you guys, you're totally my BFFs.
I had a ton of great posts planned for LPM & the Kaneshow blog this week but I have to just let it roll off my back that they're going to have to wait. Writing is my second job, right now my first job needs 100% of my attention AND THAT'S OK.
I've got to find a way to rally.
Do you ever feel like as a mom you spend your whole day thinking of everyone else's needs, especially with a sick kid(s), you go-go-go until bedtime & then you keep going tending to them all night long only to get up bright & early and start the whole process over. But you feel like no one notices…because it's my job maybe they don't feel the need to say "hey, you sure look like you're working your butt off, how are you holding up?" Sometimes I think it would take my body completely giving up on me & passing out on the floor before someone noticed that I haven't had 2 seconds to eat or haven't slept through the night in a month. I want to be selfless & all strong mommy who can handle it but the truth is I'm running out of steam…fast.
My husband is usually absolutely amazing at helping me out. We have no family locally & although we have some awesome babysitters it's really just he & I 95% of the time. This week however he's been so overwhelmed at work. He gets up early, works late & just like me, starts the whole day over without anyone offering to help him. Basically he couldn't help me anymore if he tried. That well is off limits right now. Man is stretched to max capacity & it will do no good to either one of us to have him fall apart on me.
I think I'm babbling. I don't even know what I'm saying anymore. Just typing, & tired, with a beautiful little brunette snoring on my arm. I think that's how I'll make it through tomorrow & the next day & the next…how can I not, these two beautiful creatures need me. And I need to take care of them. I'm mommy.