*I started this post one week ago. One week people! No, there are no crazy intriquisies, no complicated photo editing, I didn't even include step by steps in my DIY for the dress, I went for the lazy blogger collage. It's just been that kind of week people. Strep, sinus infections, exhaustion…and that was just the girls. My goal used to be to post 3 times a week, now it's more like once a week that makes me feel good but sometimes you just have to take your goals and say SCREW IT.
In fact that's going to be the title of my wildly popular self help seminar
"Achieving True Happiness by Taking Your Goals & Shoving 'Em!"
So I give you, two weeks after the fact, our trip to Euphoria…aka Magic Kingdom.
First off, thank you guys so much for all your well wishes & personal stories last week. Someone commented about how lovely it was that I put it all out there in hopes that it will help others & then you guys put it all right back with your comments & those greatly help me. It's like a circle of helpfulness. Lovely.
If you follow my facebook, instagram or twitter then you saw how I was scrambling to finish Sam's Belle dress for our Thanksgiving Disney trip. I'm happy to inform you that I eventually finished the bottom half and she was not the inappropriate princess.
This was my first time sewing something by solely draping & pinning the fabric on a mannequin first. It made life much easier for constructing the bodice but the skirt still screwed me up multiple times.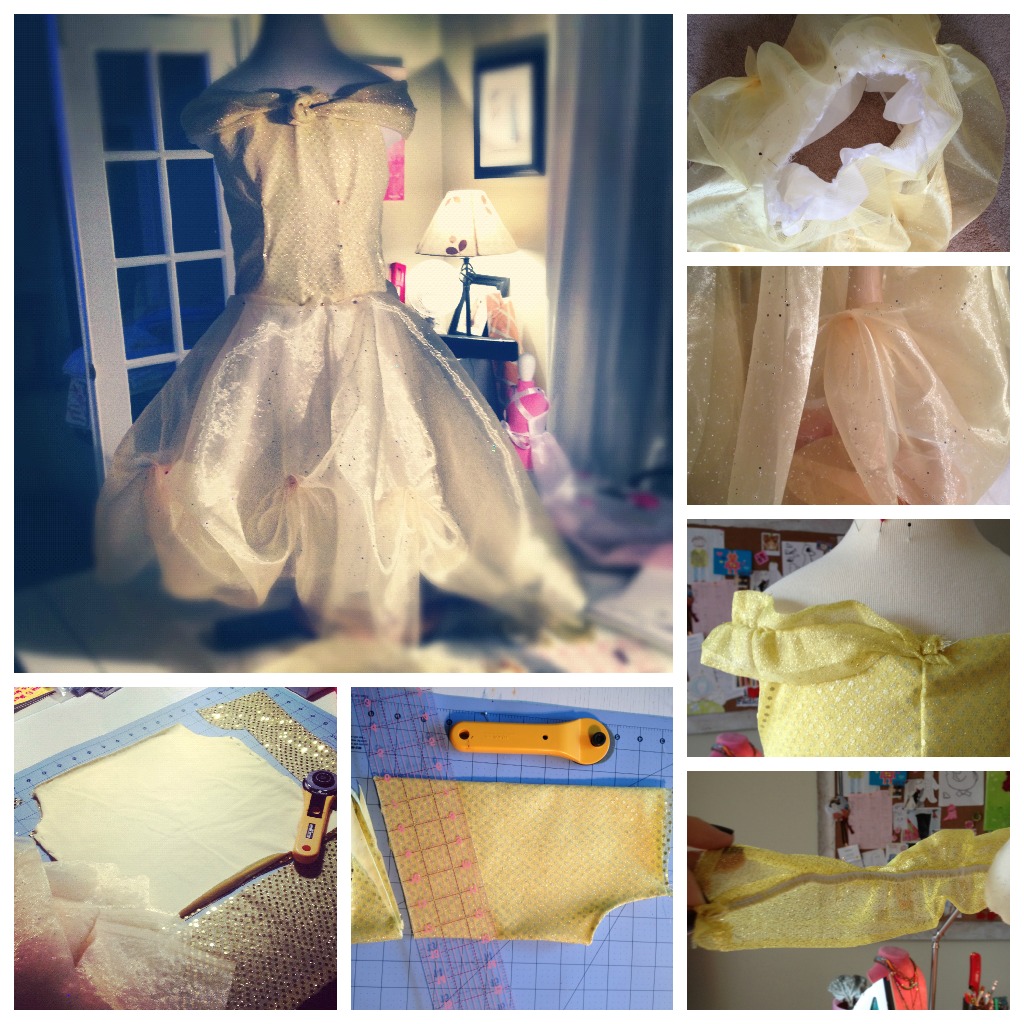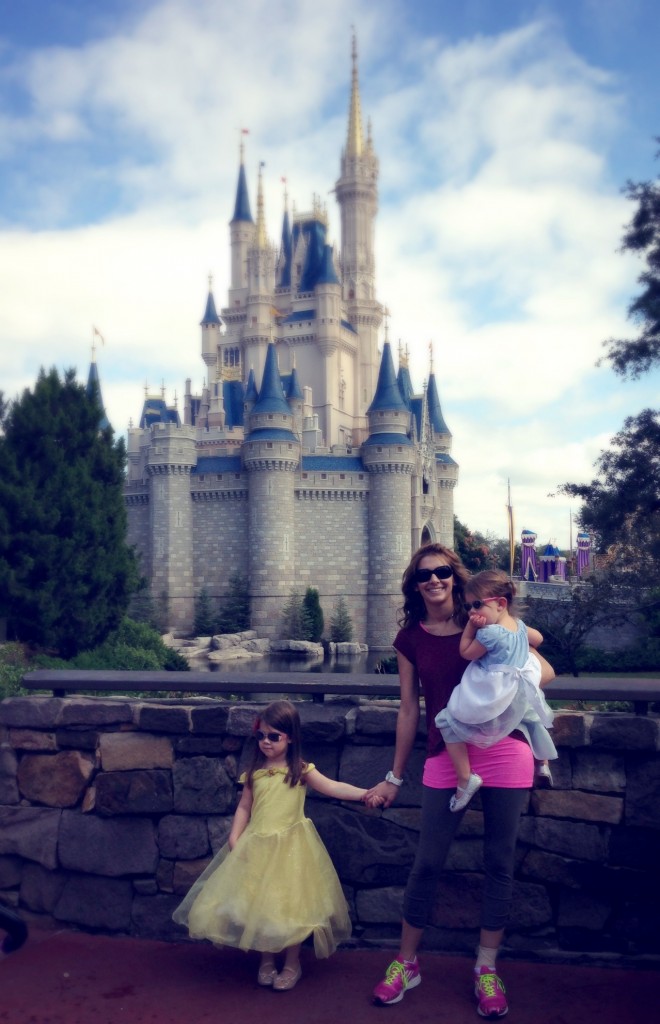 The dress served it's purpose well. Most importantly, of course, dancing lessons with Cinderella…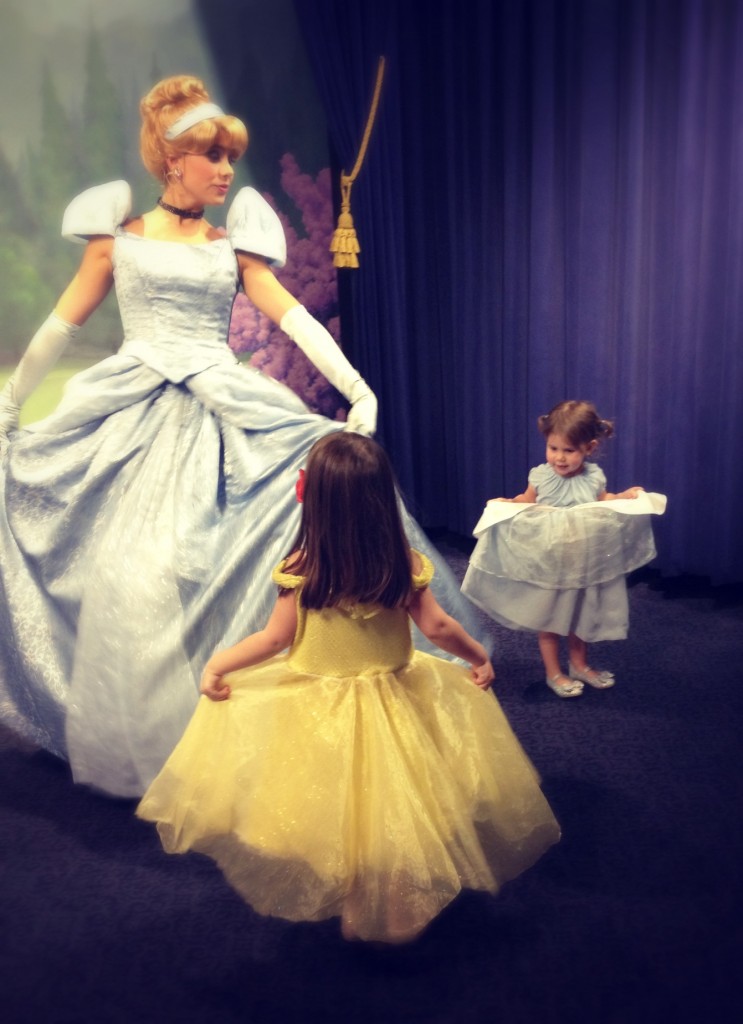 (Soph's dress is Sam's old knit DIY Cinderella dress from this post)
Also on the royal itinerary, photographs with Aurora & hugs from Rapunzel…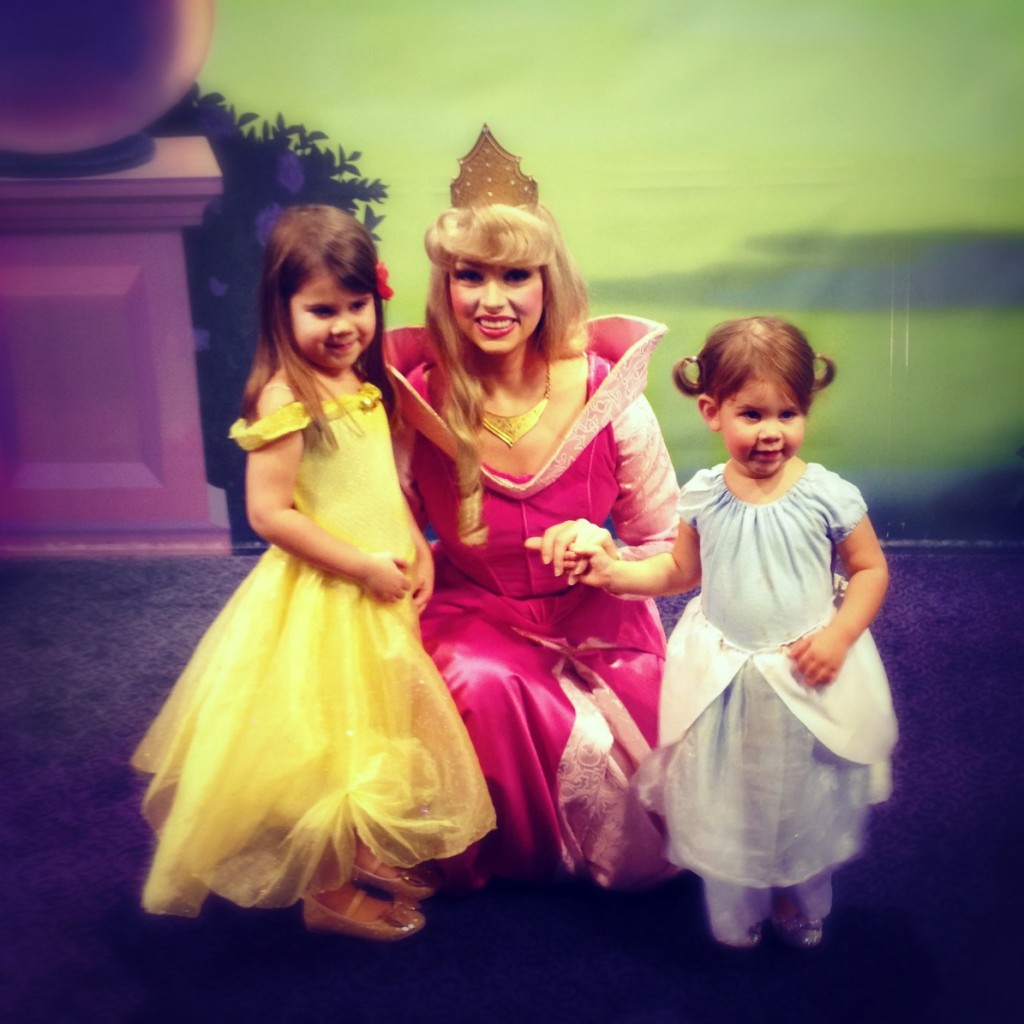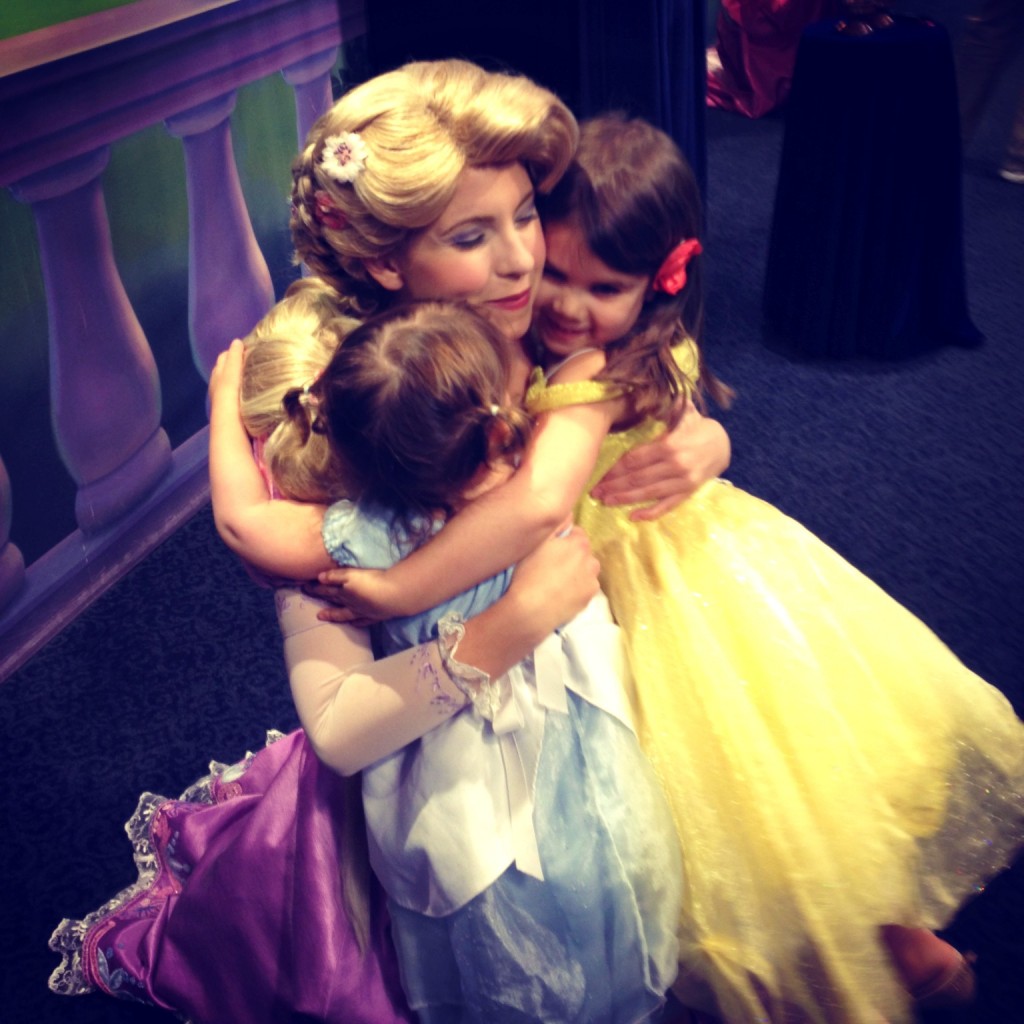 The carriages were all tied up for the day but luckily her majesty's dress was comfortable enough for Daddy shoulder rides.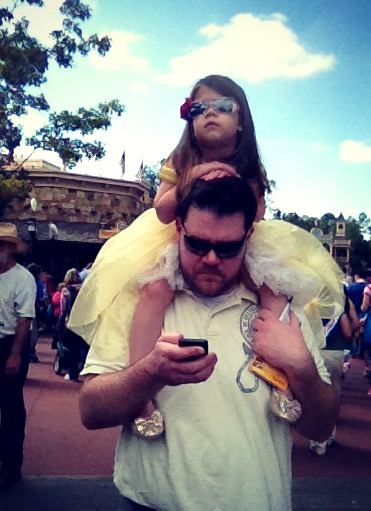 (Yes, yes, I know P is on his phone but you have to understand he has a rare condition where he has to receive life saving nutrients by being connected to his iphone constantly. It's a condition people. Don't judge.)
If you're looking for a more in depth tutorial on making your own Belle dress this all knit one from Adrianna at Crafterhours is awesome. To make it poofy like mine just substitute some frou frou fabric for the skirt and/or add a crinoline underneath.
Otherwise here are a few more photos from our trip to Magic Kingdom & Epcot with Grandma & Grandpa, they're just so sticky sweet I can't stand to not share them.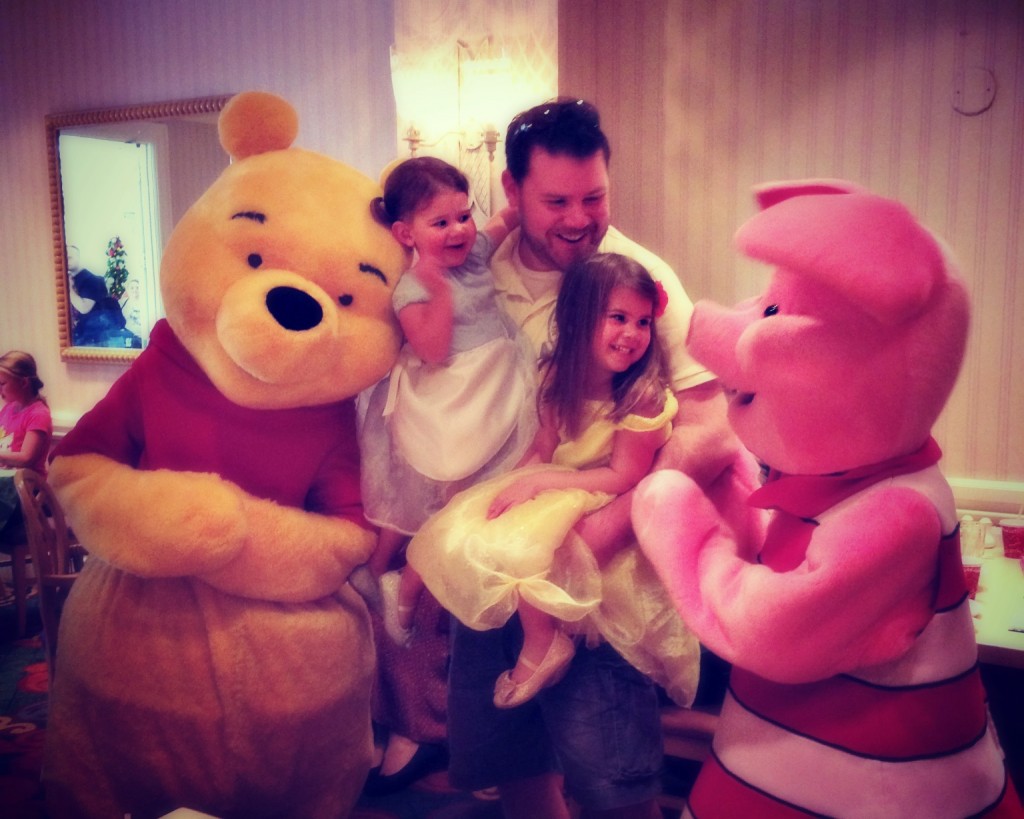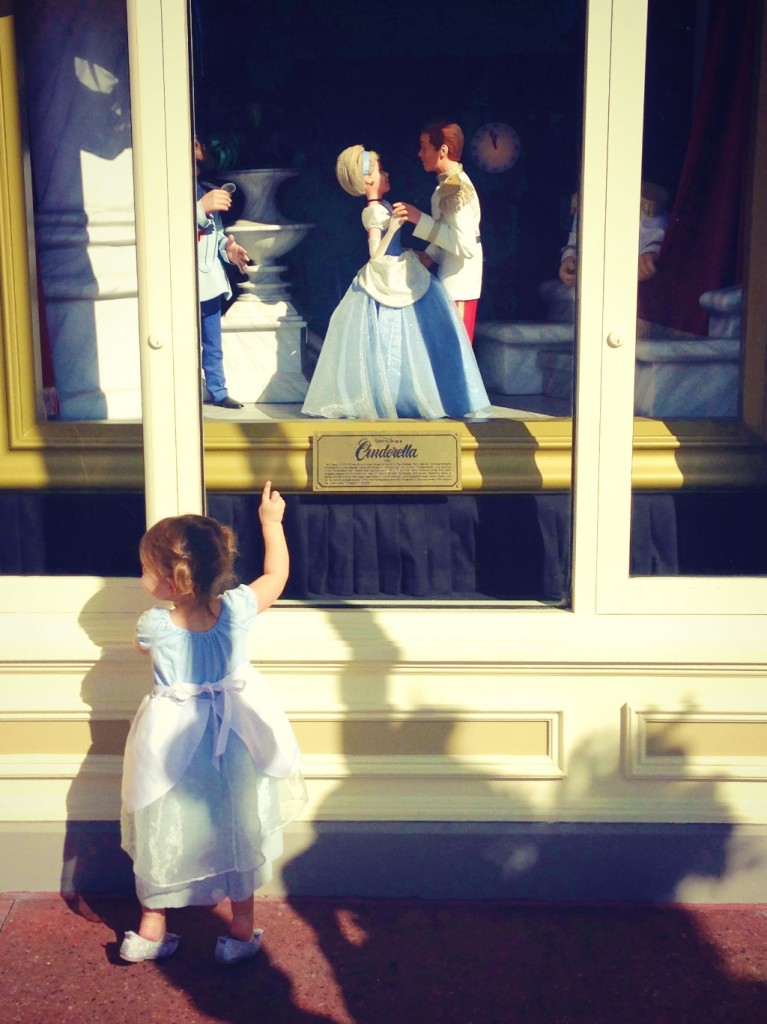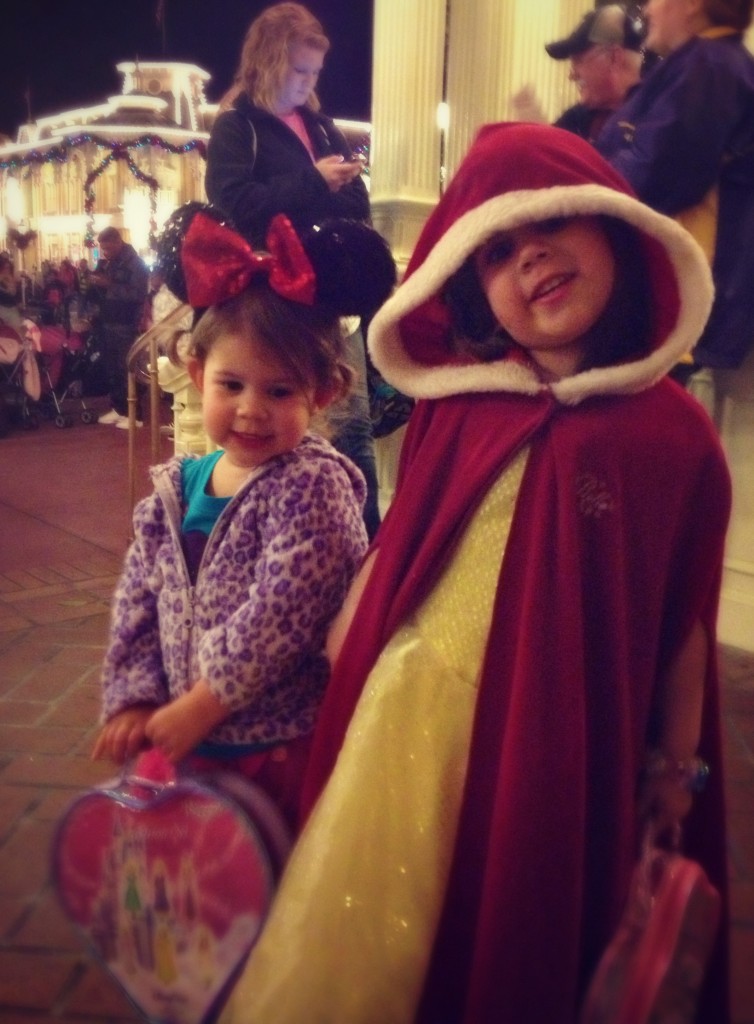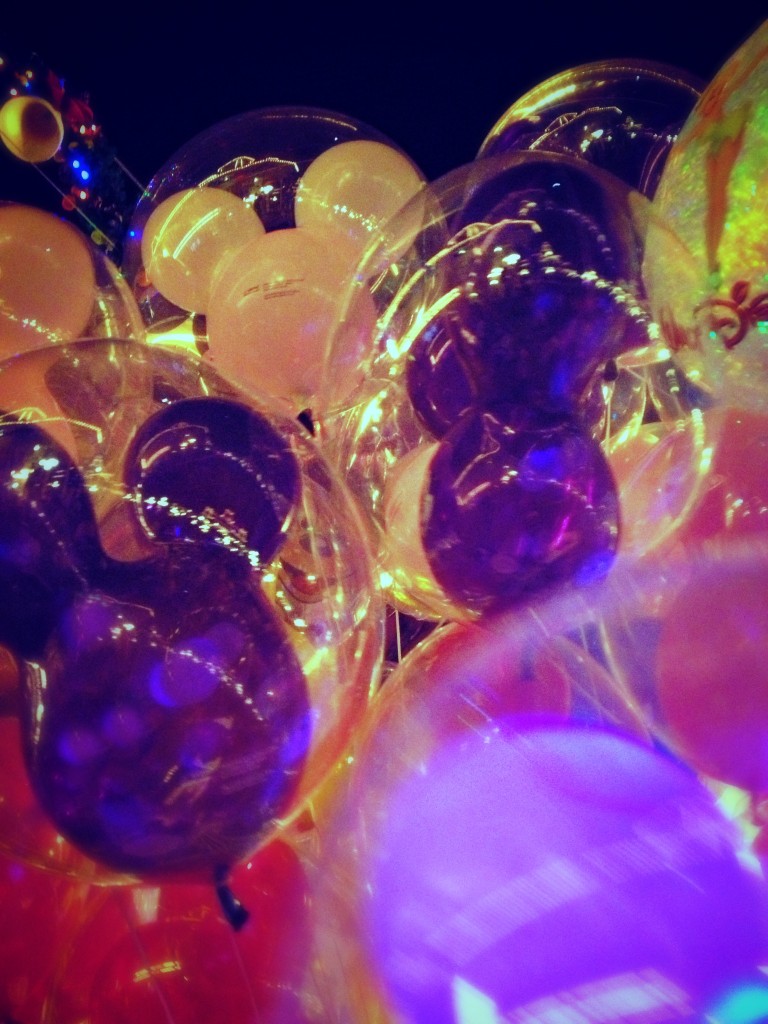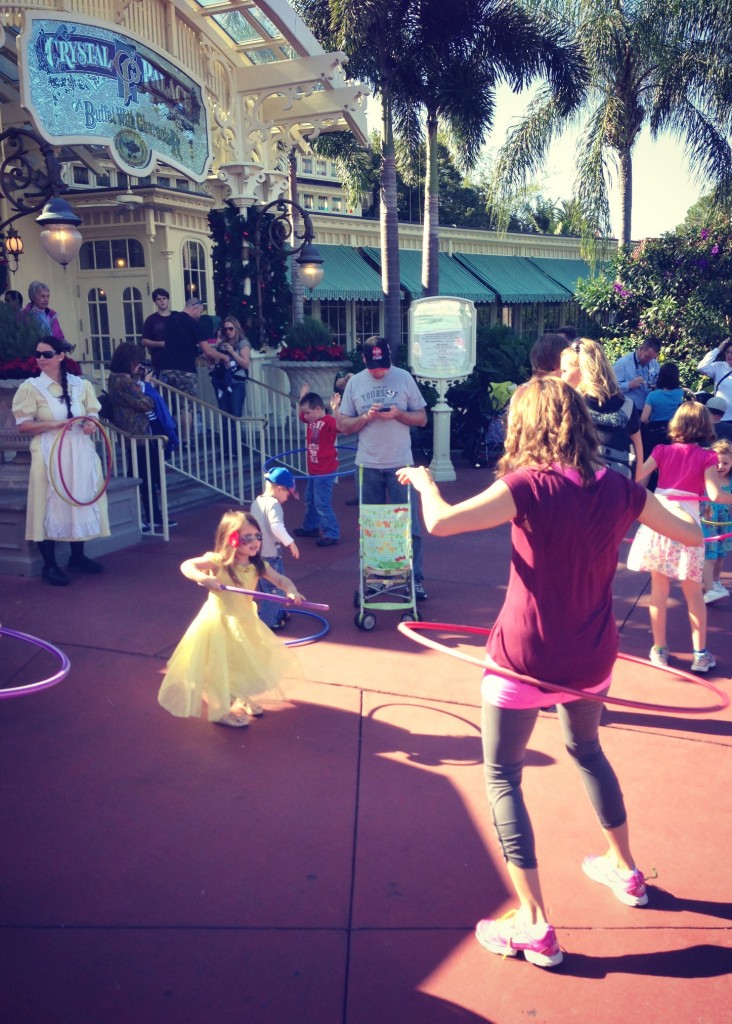 (Hula hooping is one of those things that you assume, foolishly, that you can still do because c'mon, you were so good at it when you were young, until you try it out in front of a large crowd of people…then you wish you'd stop assuming so much.)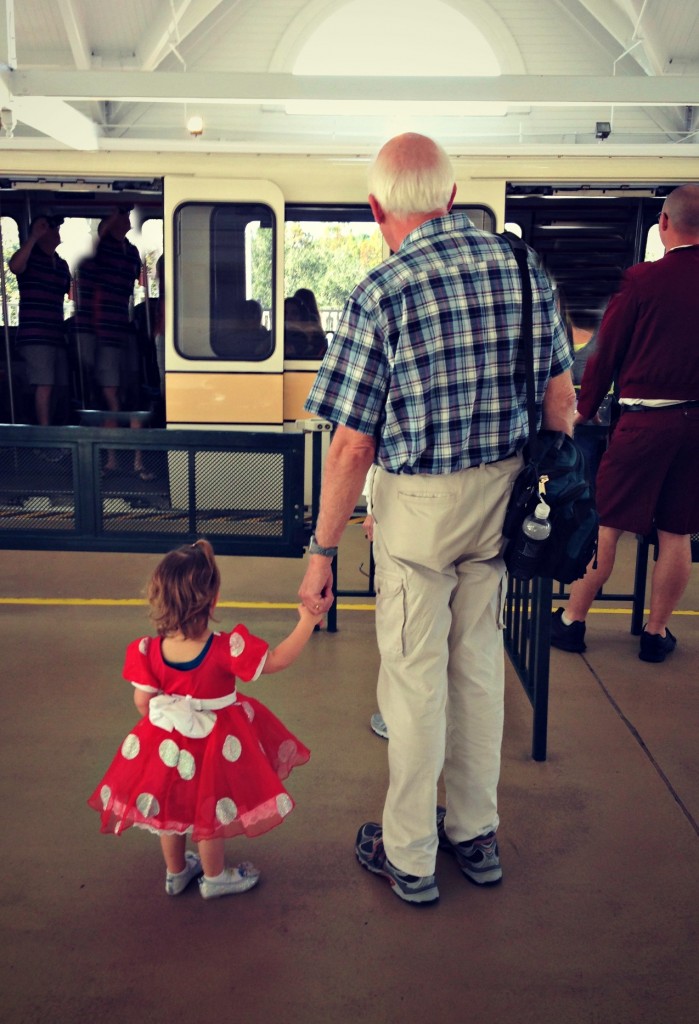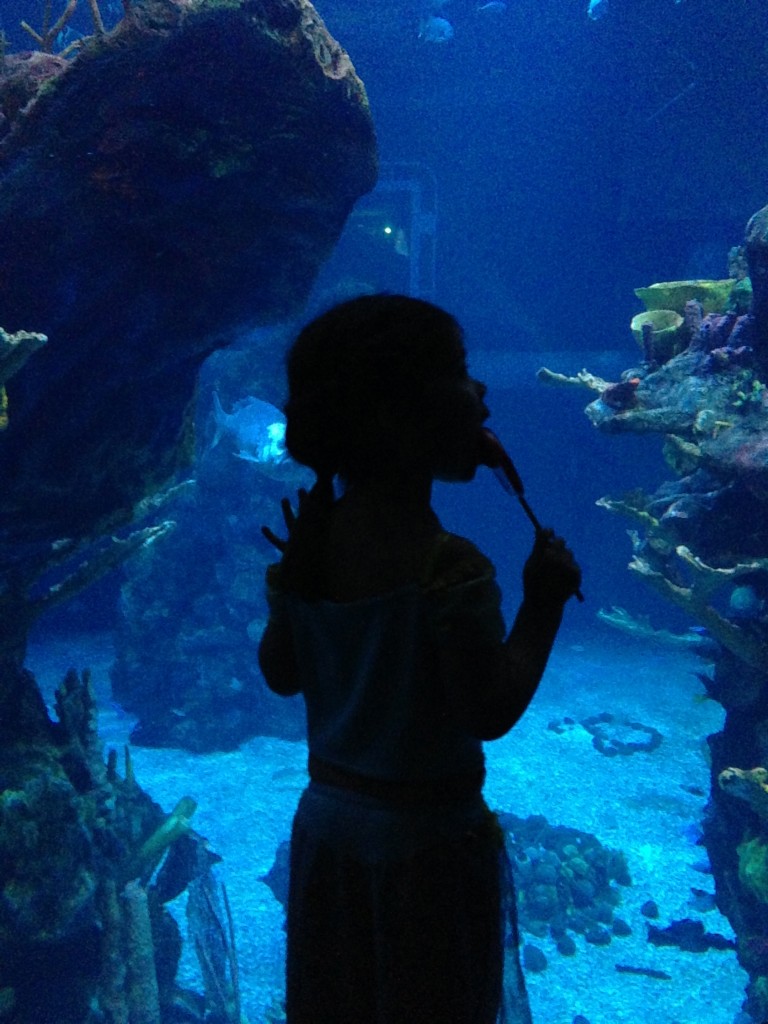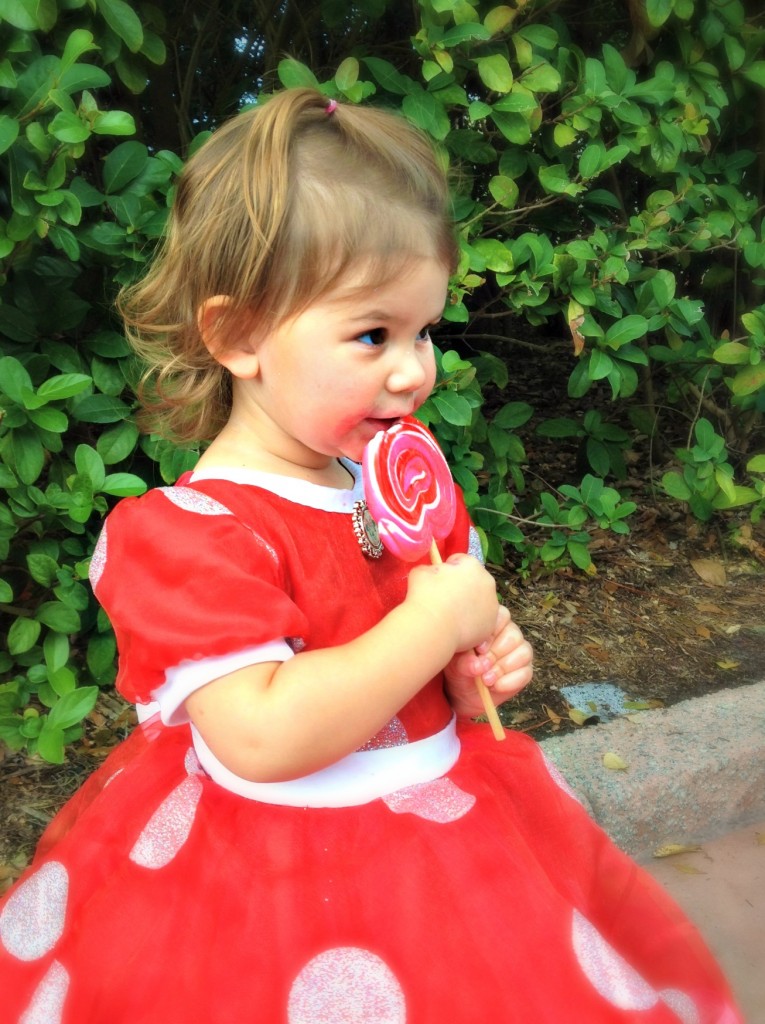 What you don't see with pictures like the lovely one above…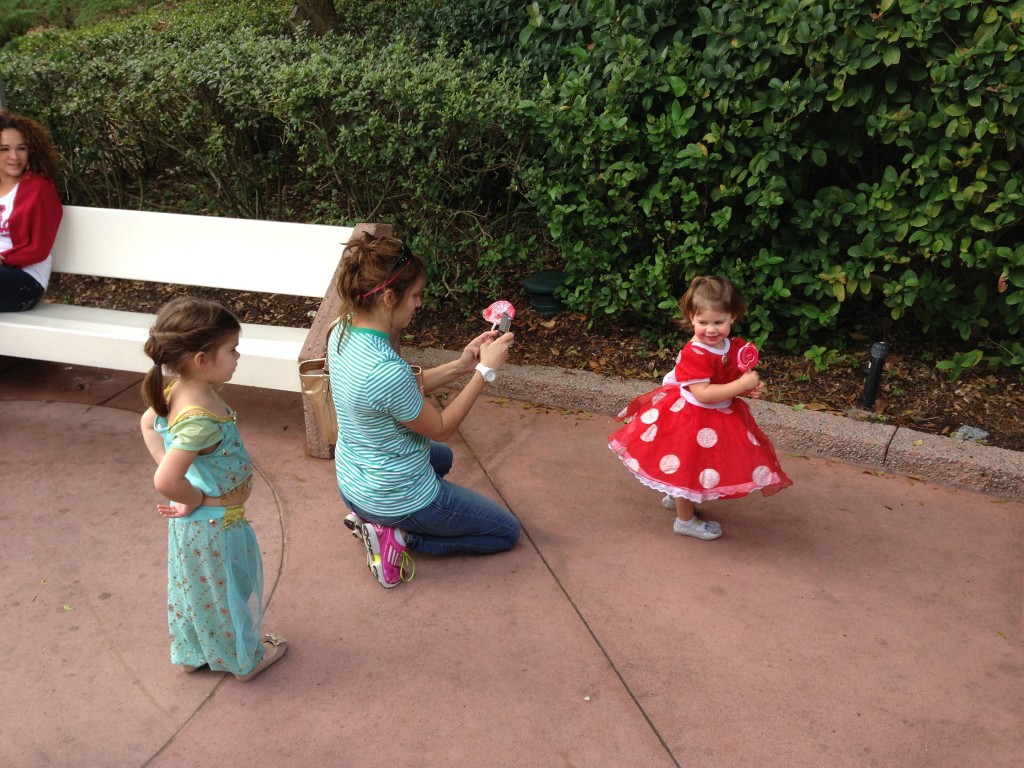 She could tell how excited I was to take a picture of her with a giant pink sucker in that frilly Minnie Mouse dress & purposely kept giving me her back. Such a gem that one is.
The castle was truly magical. I've never seen it decorated for Christmas before, they had ice lights hanging off all the edges & it was lit in the most amazing glacier blue. I seriously couldn't stop staring at it & found myself daydreaming I could live there…Disney really does bring out the little princess in all of us. Until you see how much a bottle water costs, that'll snap you back into adult reality pretty darn quick.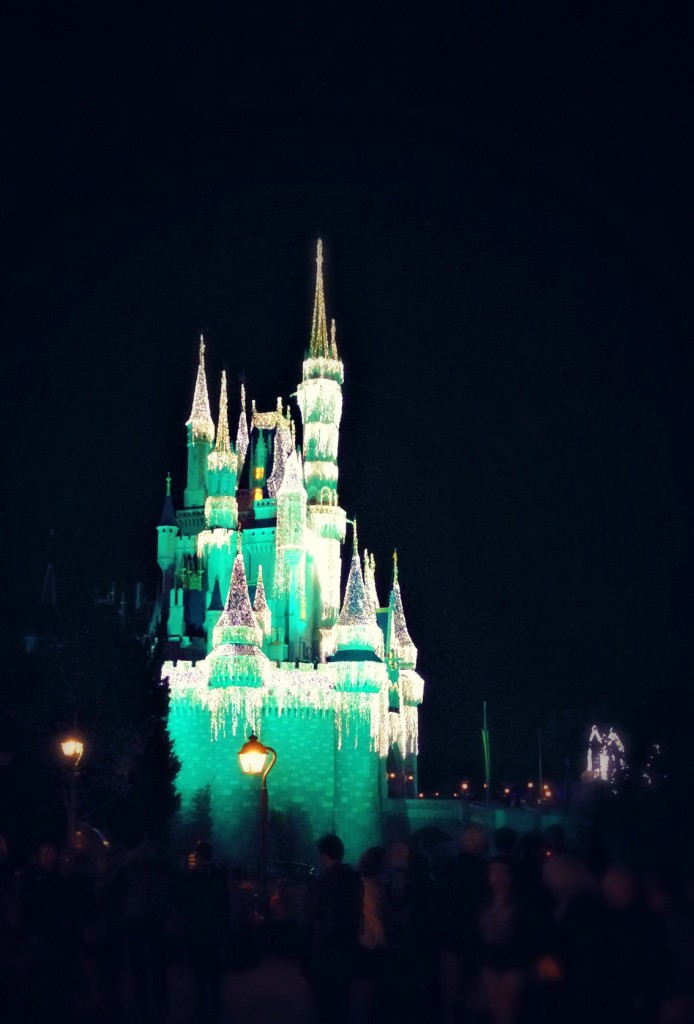 And much like any good vacation with small children every good day must end with a meltdown. I think their little brains just end up short-circuiting with joy.
We'll just choose to remember the smiles…
(in case you're curious all of our photos were taken with an iphone and edited with picmonkey.com)
Next up, I think tis' time to break out the Christmas Crafting…