Do you remember, ohh several months ago, when I posted this inspiration sketch for Sam's bedroom makeover?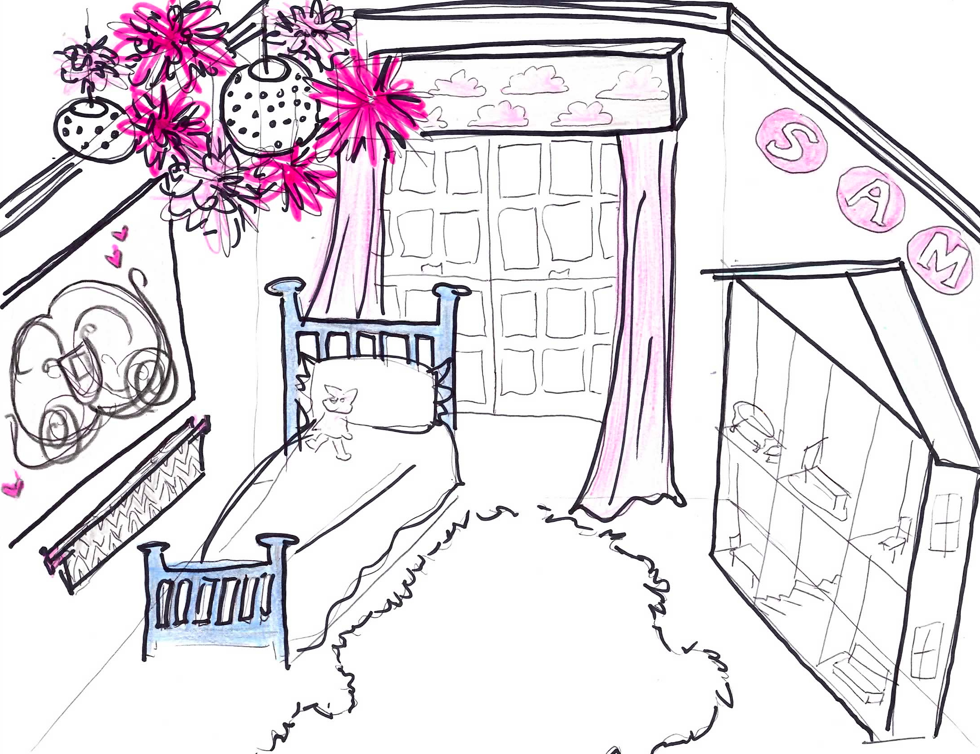 Well I can't believe it but the whole room is finally done!! It's not exactly how I started out envisioning it but over time it's gradually evolved into something even better. My main goal was to give Sam a room she would adore but "princess, glitter, pink, princesses, sparkles, light pink, dark pink & medium pink" were the words I believe she used to describe her ideal space. Ack!! Sam's room is the first thing you see when you come up the stairs & there was no way I was going to look at bubblegum pink walls, a lifesize Sleeping Beauty decal & some horribly scratchy Disney princess comforter set 10 times a day. The end result I think is a great compromise, I give you the 'Not-too-Princess Girl's Bedroom Makeover!
Here's the before, cute, but she had outgrown it…& the after!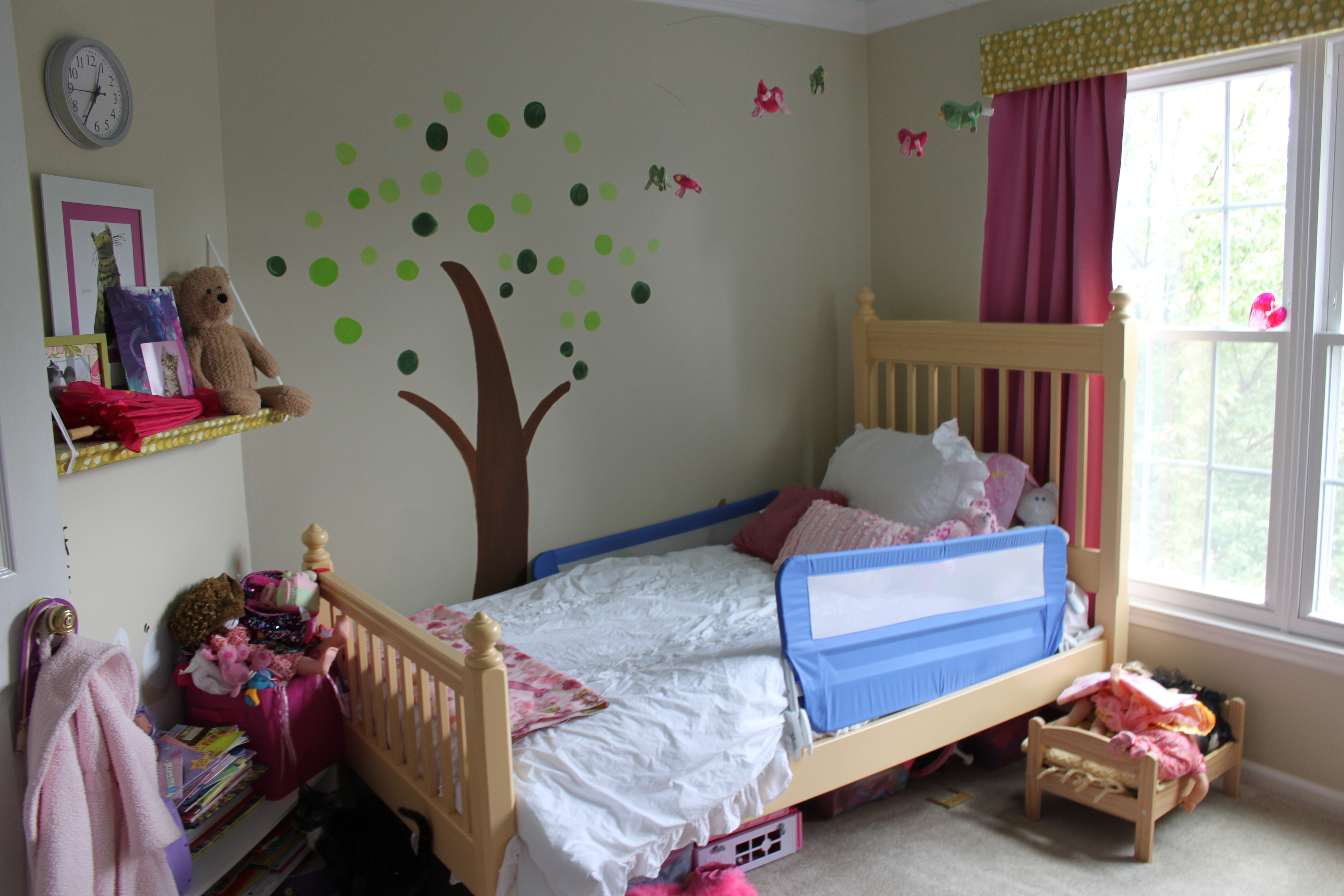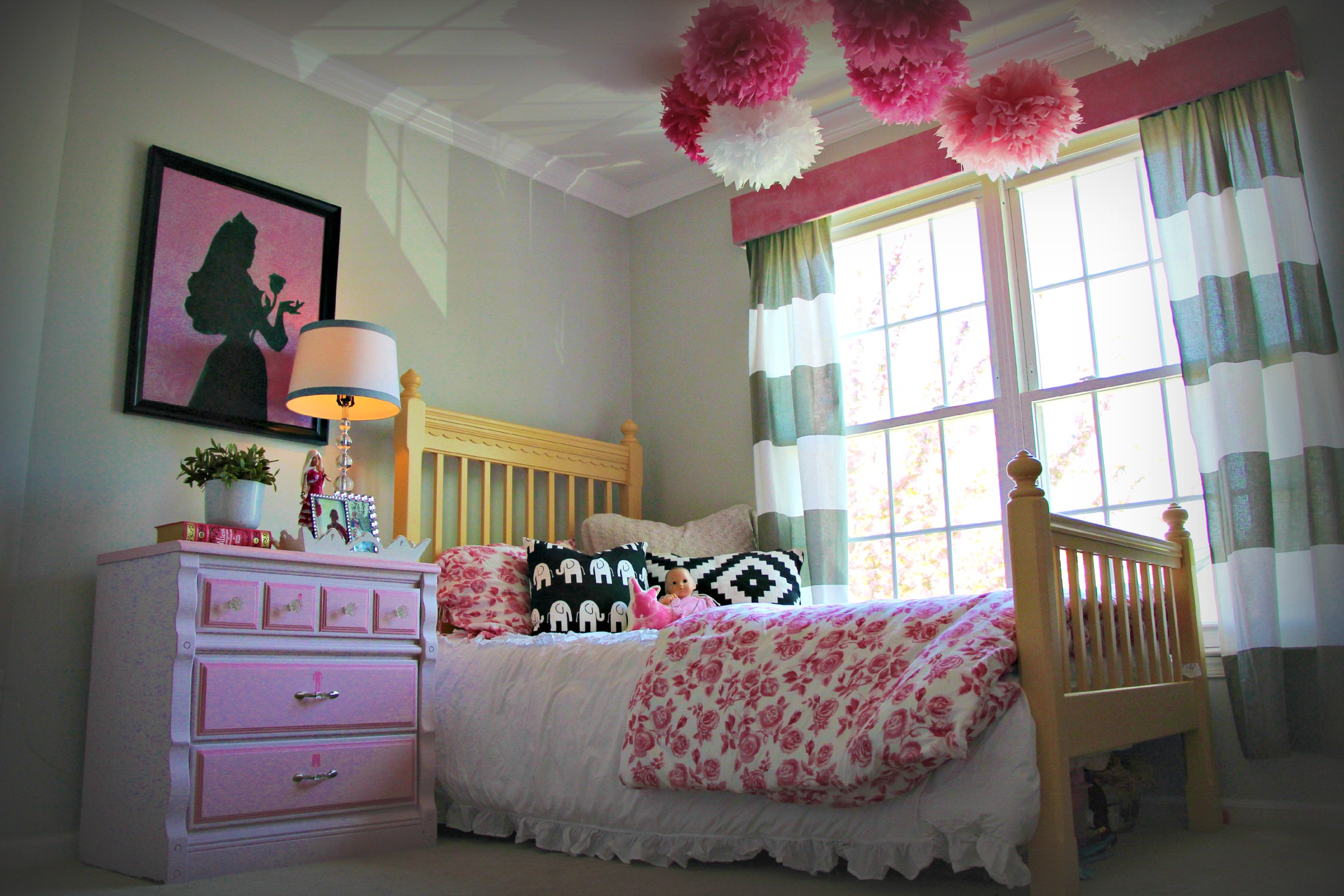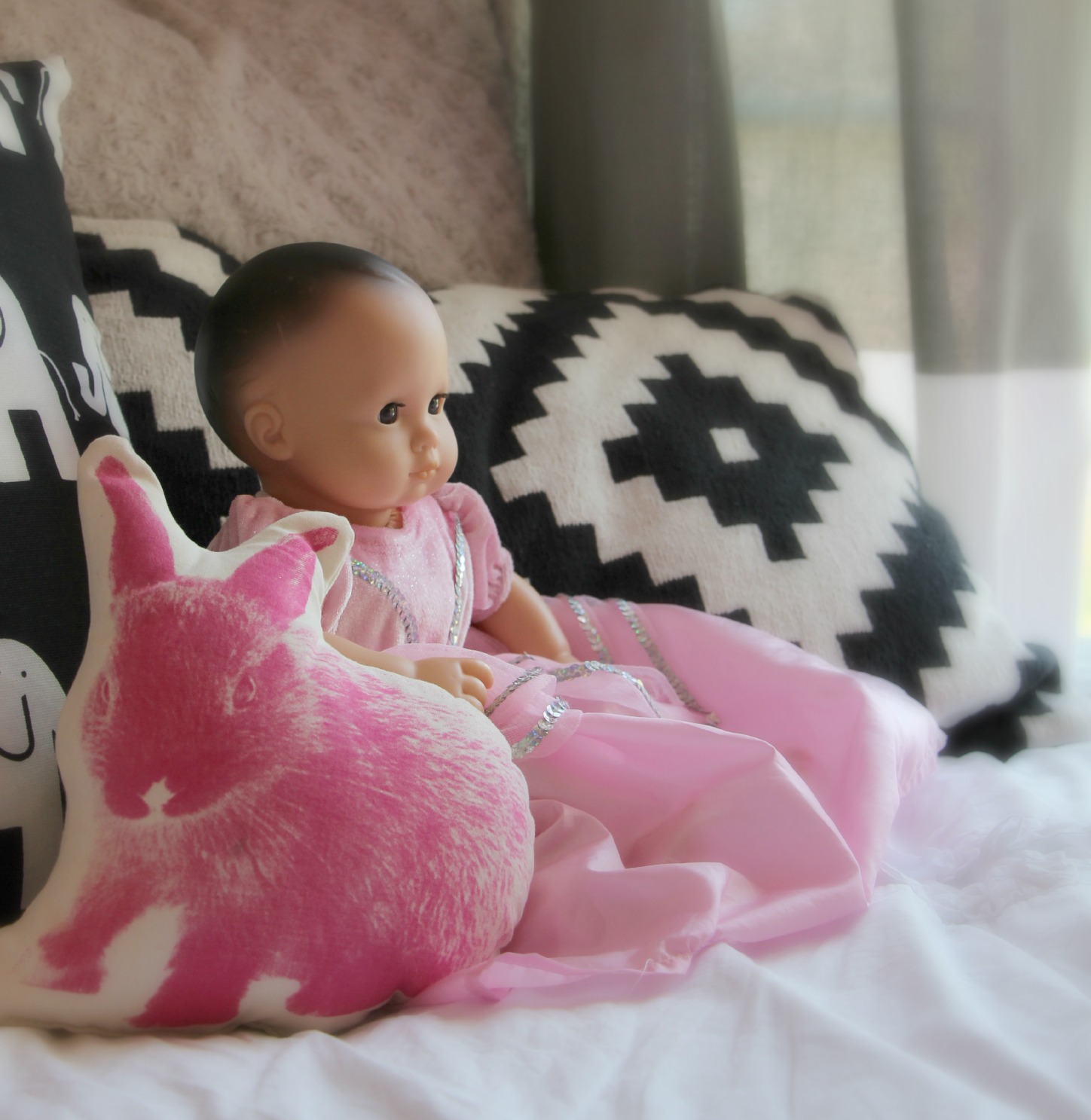 Dollhouse wall before & after…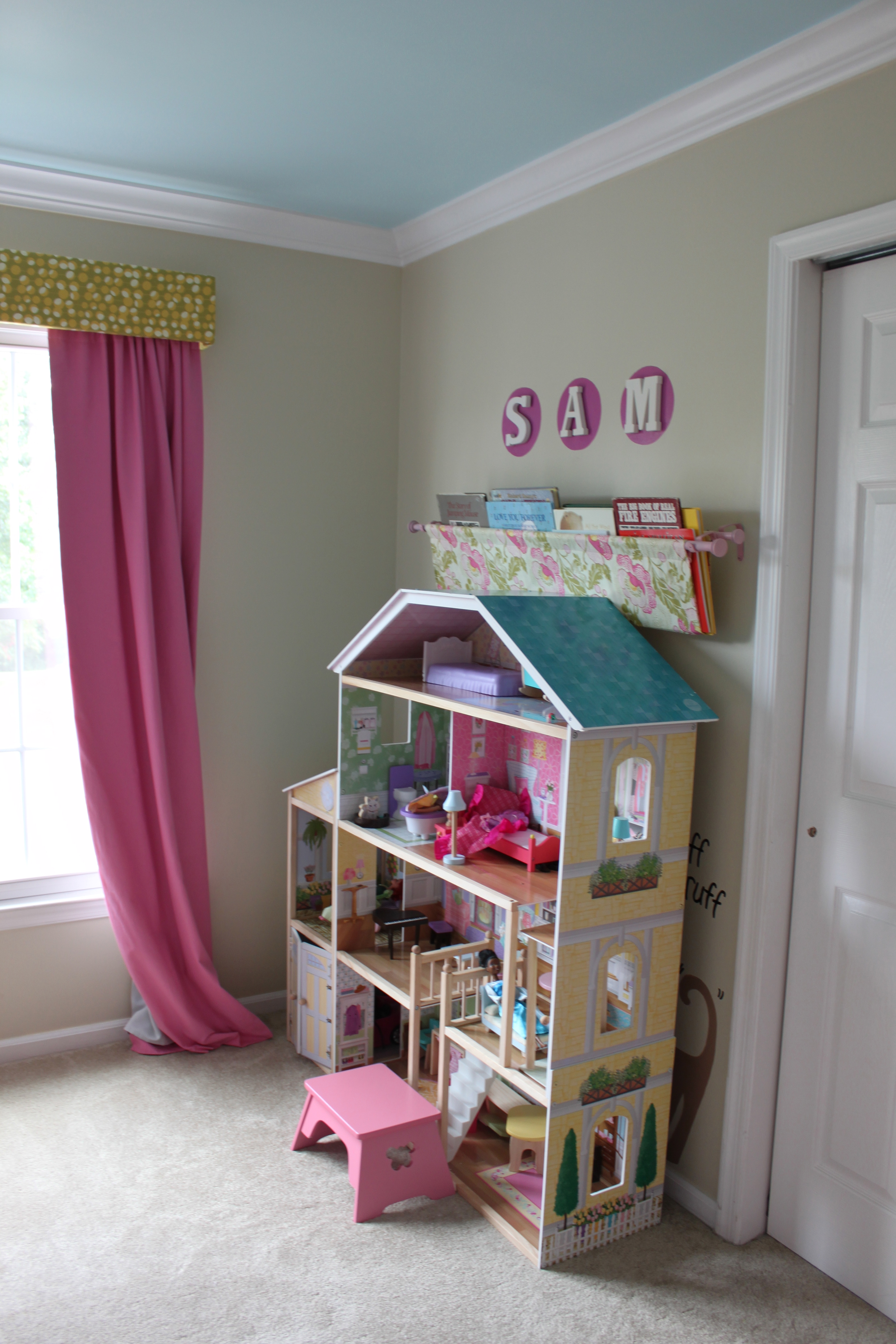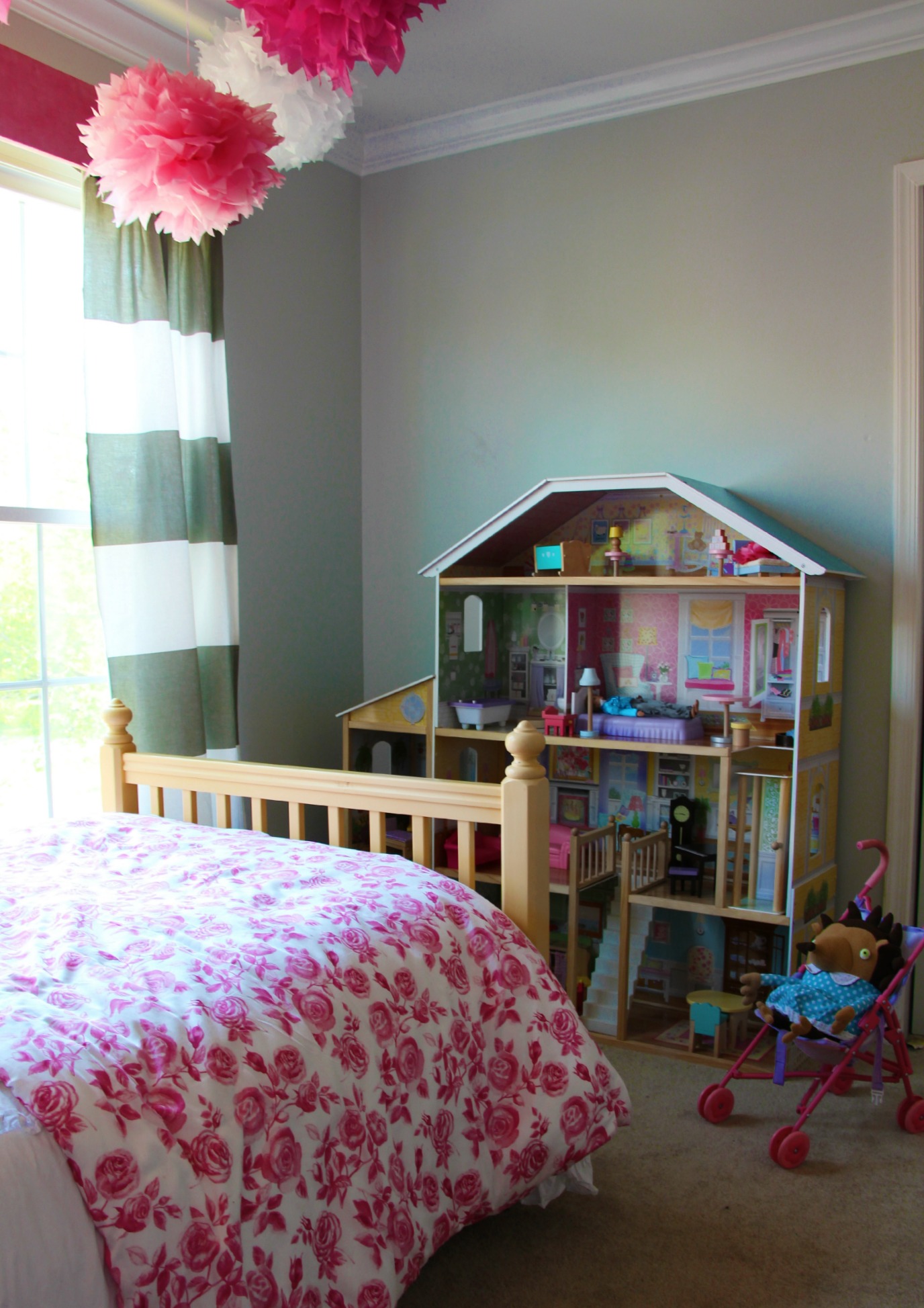 One of my favorite changes…replacing the cute but tired 'cherry blossom art' that Sam & I made with a fun yet modern kid's gallery wall!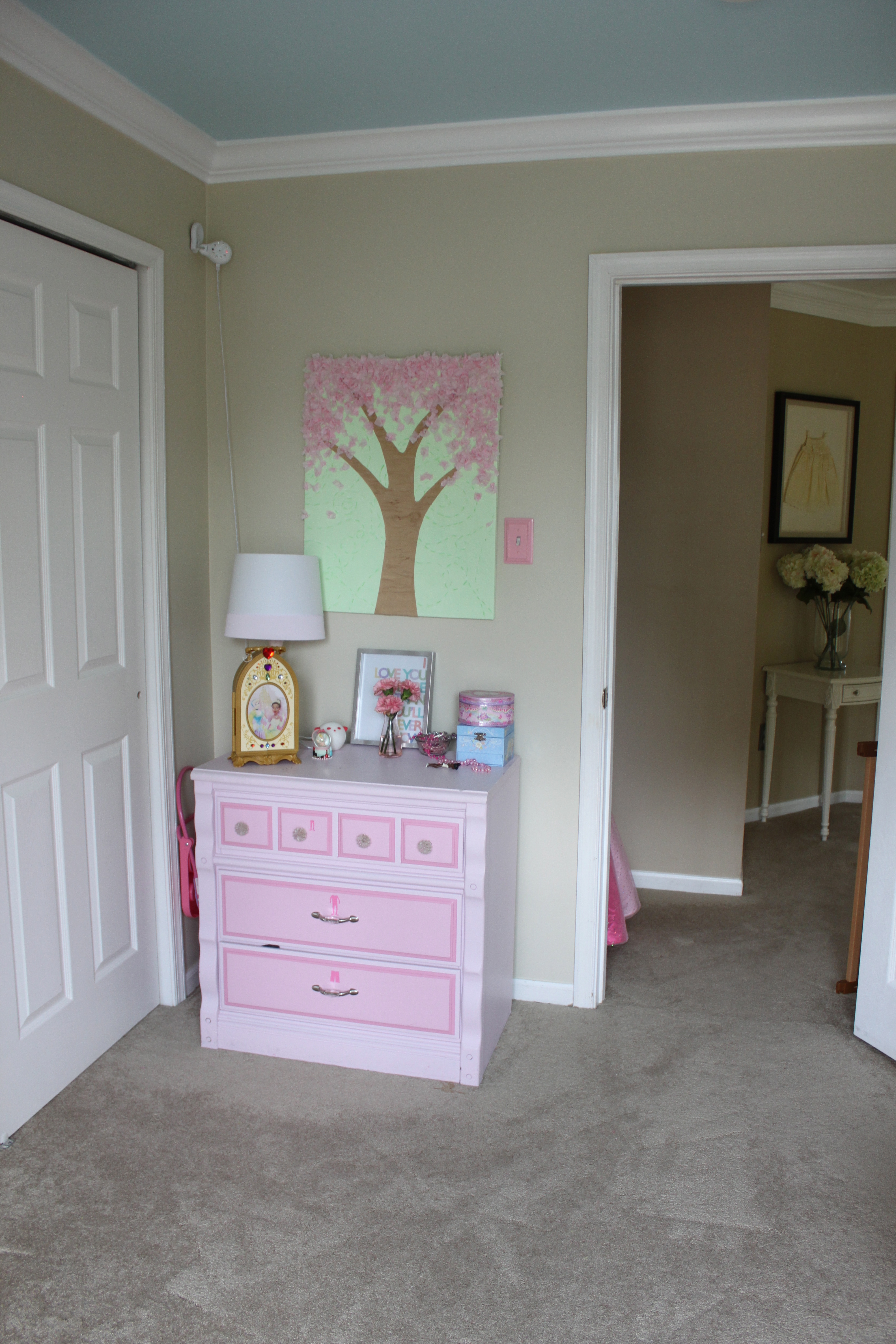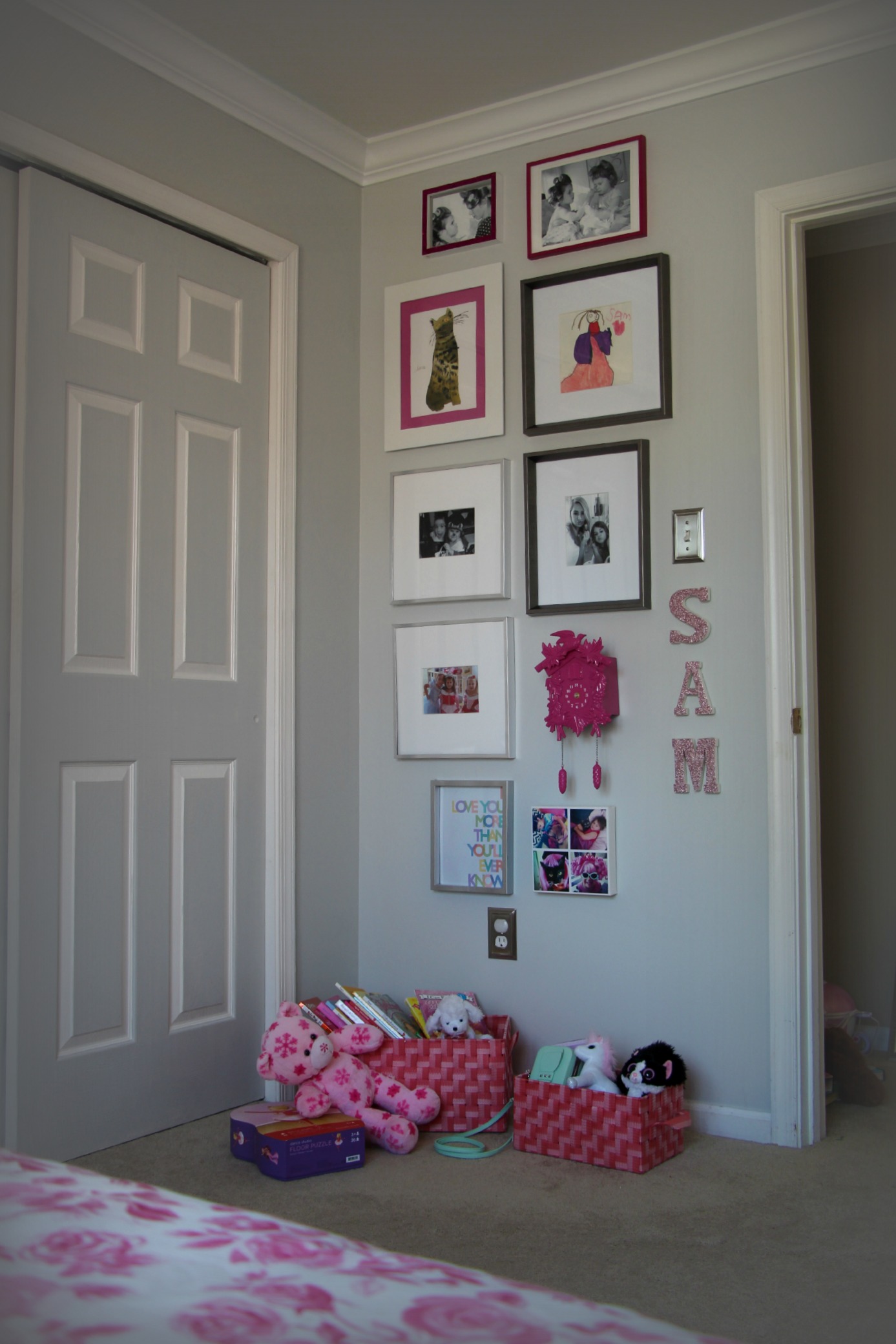 Sam loves sitting on her floor & looking up at the pictures of her with all of her little friends…I wonder if they'll stay friends & one day look back at the pictures of them as 4 year old besties & smile. Who knows…
Another tip? There really isn't a ton of blank wall space in Sam's room & what was left naked were the white sliding closet doors. It felt like their starkness really drew my eye away from the other beautiful things in the room, not to mention that big block of white really broke apart the flow of the room. So I decided to paint them! They're the same 'Heavy Goose' grey as the walls & although at first P thought I was crazy he now agrees that now they blend in to the room instead of being an eyesore. I also think leaving the trim detail white gives them a built in-ish look.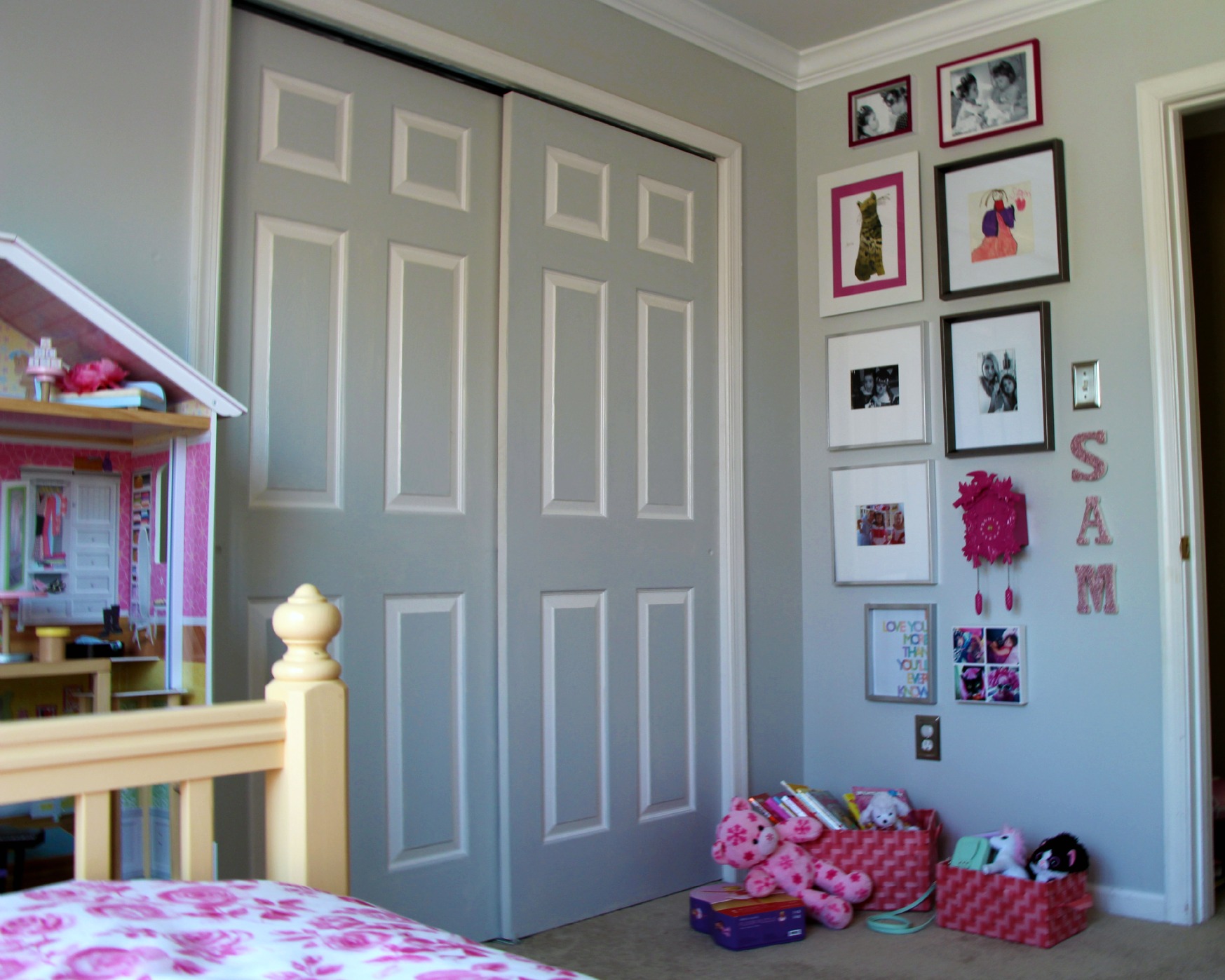 A few DIY projects in the room…
Remember those "S A M" letters from the circle wall art? They were originally plain white & were from the woodworking aisle at the craft store, but after a coat of mod podge & some Martha Stewart glitter they add a sparkly, pink, personal touch to the wall. Also, do you recognize those instagram pictures?? They're from this Prinstagram post I did, I just glued 4 of them onto a canvas.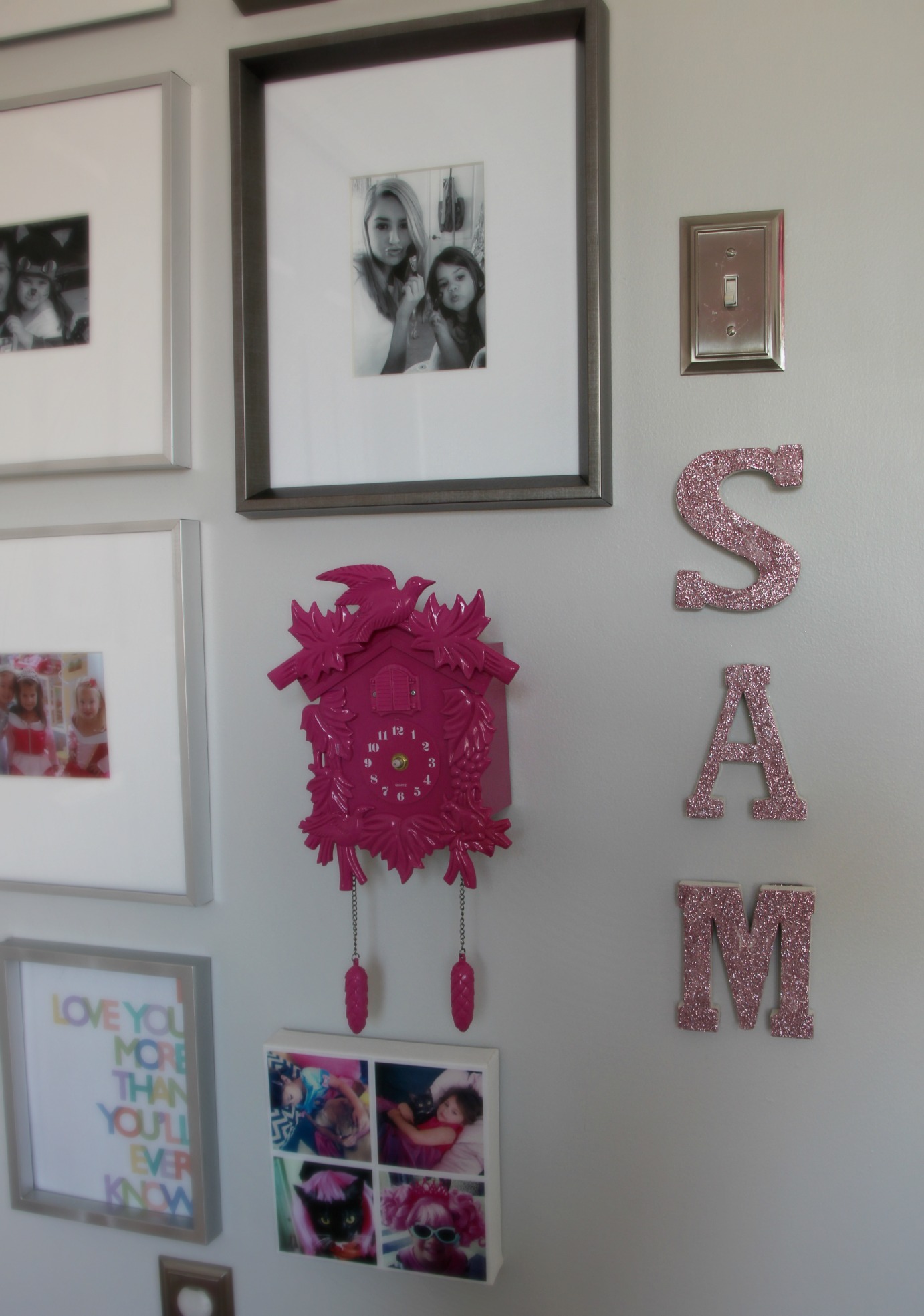 Instead of taking down the valance I had made in this post & recovering it, I just painted the entire thing while it was right up on the wall! This is one of the few times that my laziness has paid off. I rolled a sponge roller onto some globs of various pinks & white paint & then rolled it onto the polka dot fabric, the result was a completely awesome graffiti type print that gave a barely there peak at the whimsical dots beneath.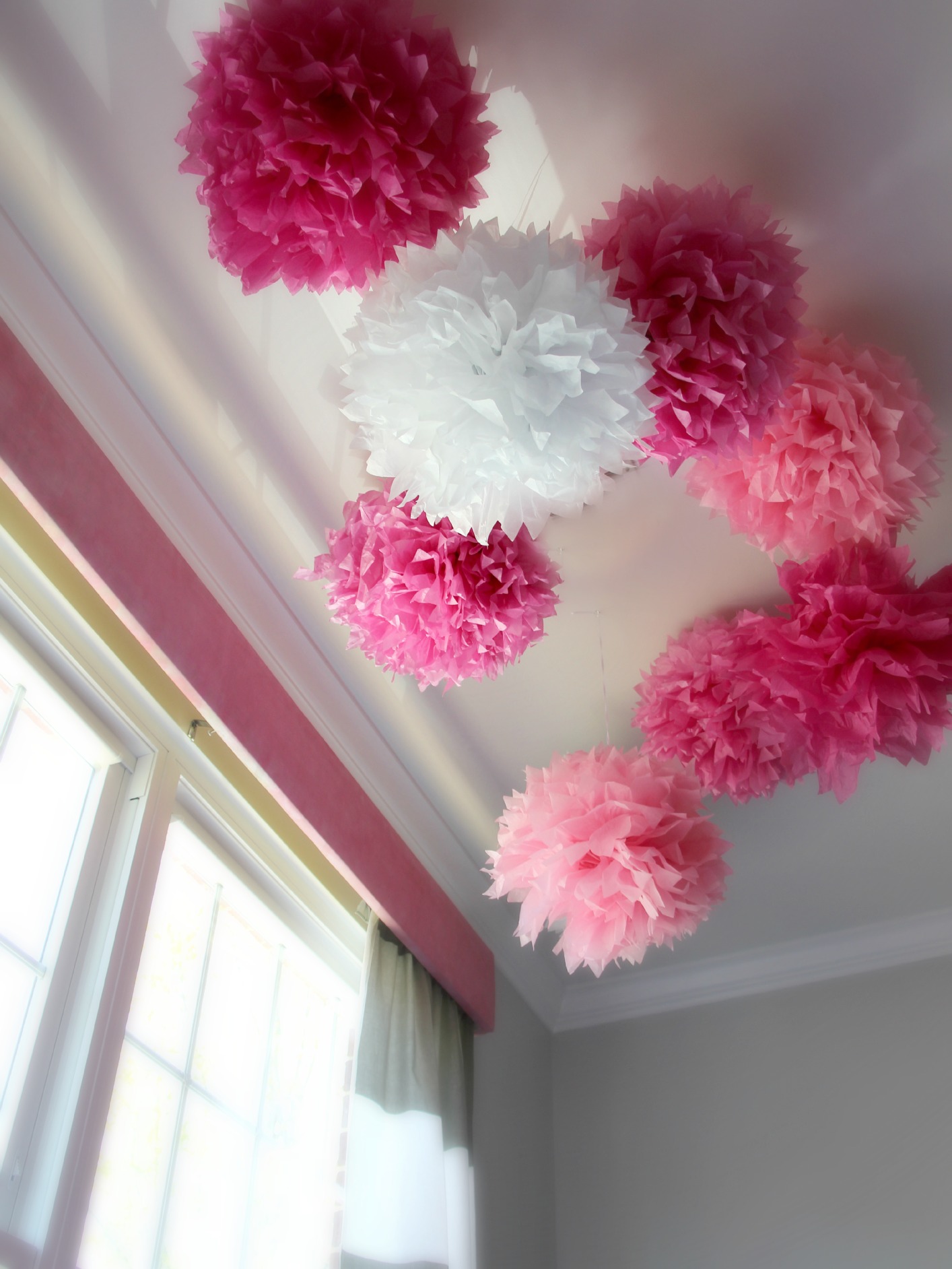 (Sam's view 1st thing in the morning…when she sleeps in her bed that is)
And those window panels you ask? Don't you love them?? They're a shower curtain! I swear! I couldn't find a nice wide graphic stripe window panel anywhere but had remembered seeing a West Elm shower curtain that was exactly what I had in mind. After a straight cut down the middle & some hem tape to seal the edges it was completely transformed into it's new life as a window covering. Love that! 
Finally, we couldn't call this a princess room, or ahem, the not-too-princess room if it didn't have some sort of princess touch…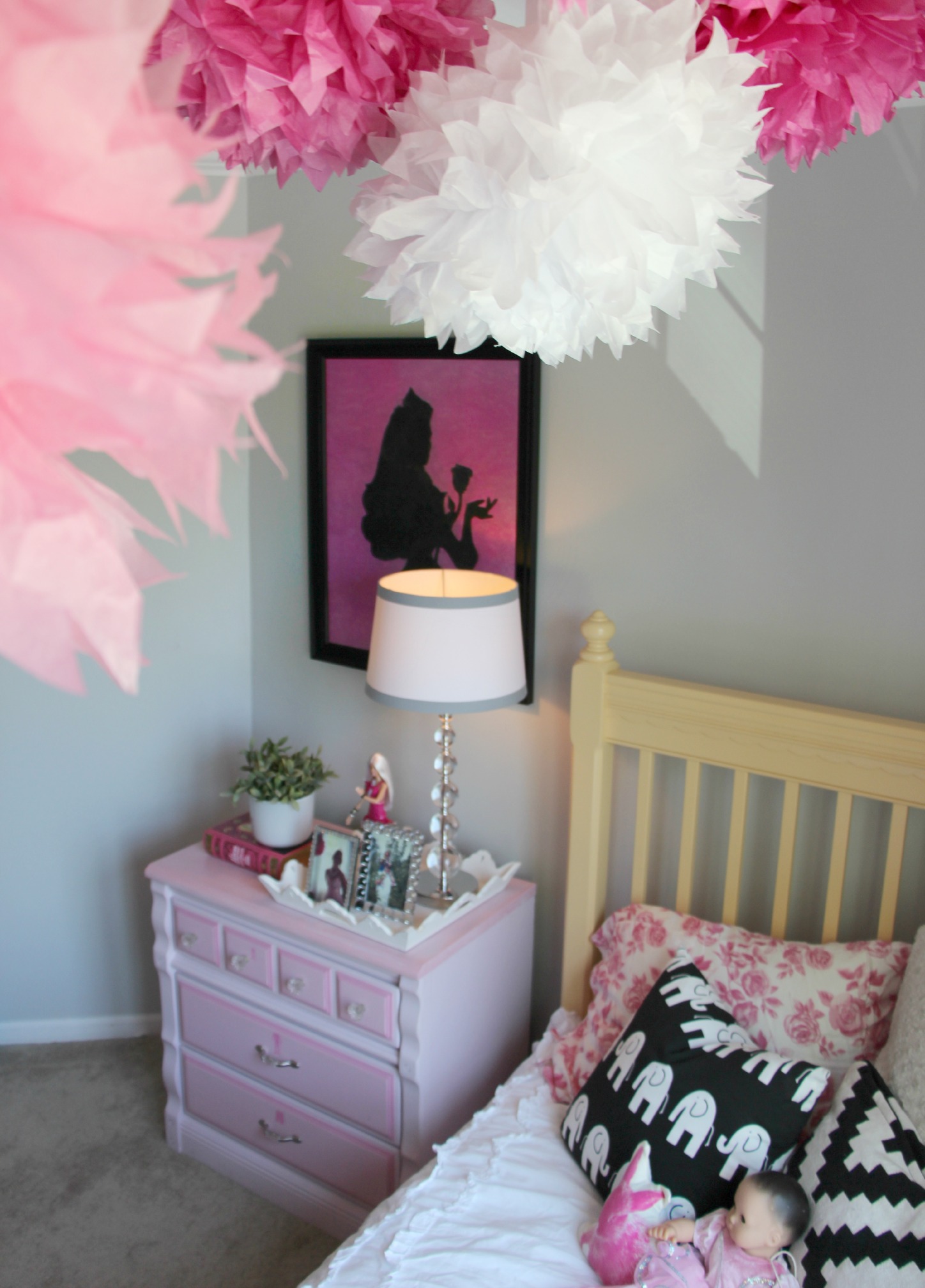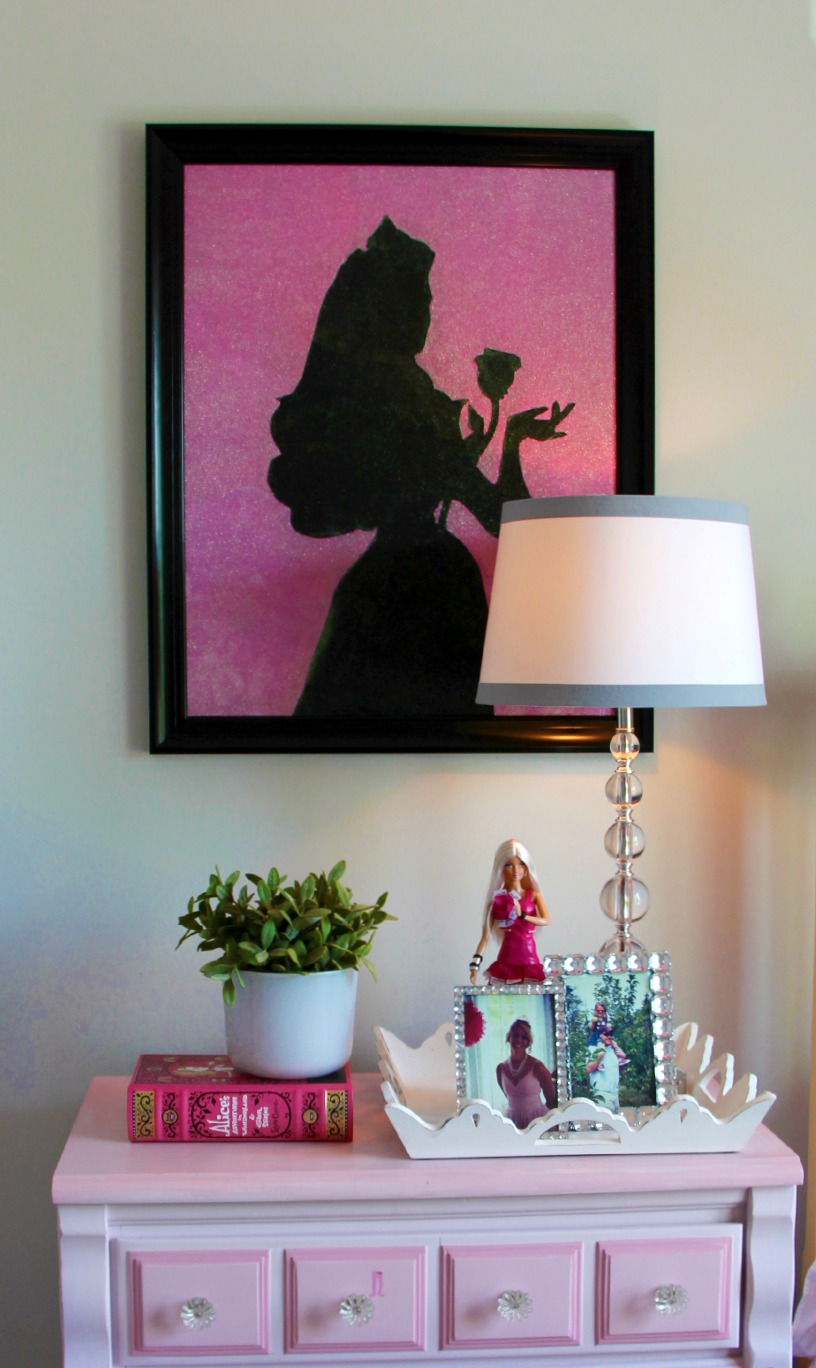 I made this over the last two nights from mod podge, an overhead projector & an obscene amount of glitter that got EVERYWHERE. I do believe there were people at P's work that assumed he spent the night in a stripclub. You can find the full Princess Silhouette Glitter Art Tutorial here!
In case you're saying to yourself, ok Natasha, this looks lovely and all but where are all the toys?? A kid's room can't just be pretty, it needs to be realistic too! I just know there's a plastic Barbie dreamhouse somewhere in there…
You know what, you're right! Except it's all hidden under the bed…a few easy to pull out under the bed storage tubs are my new BFFs.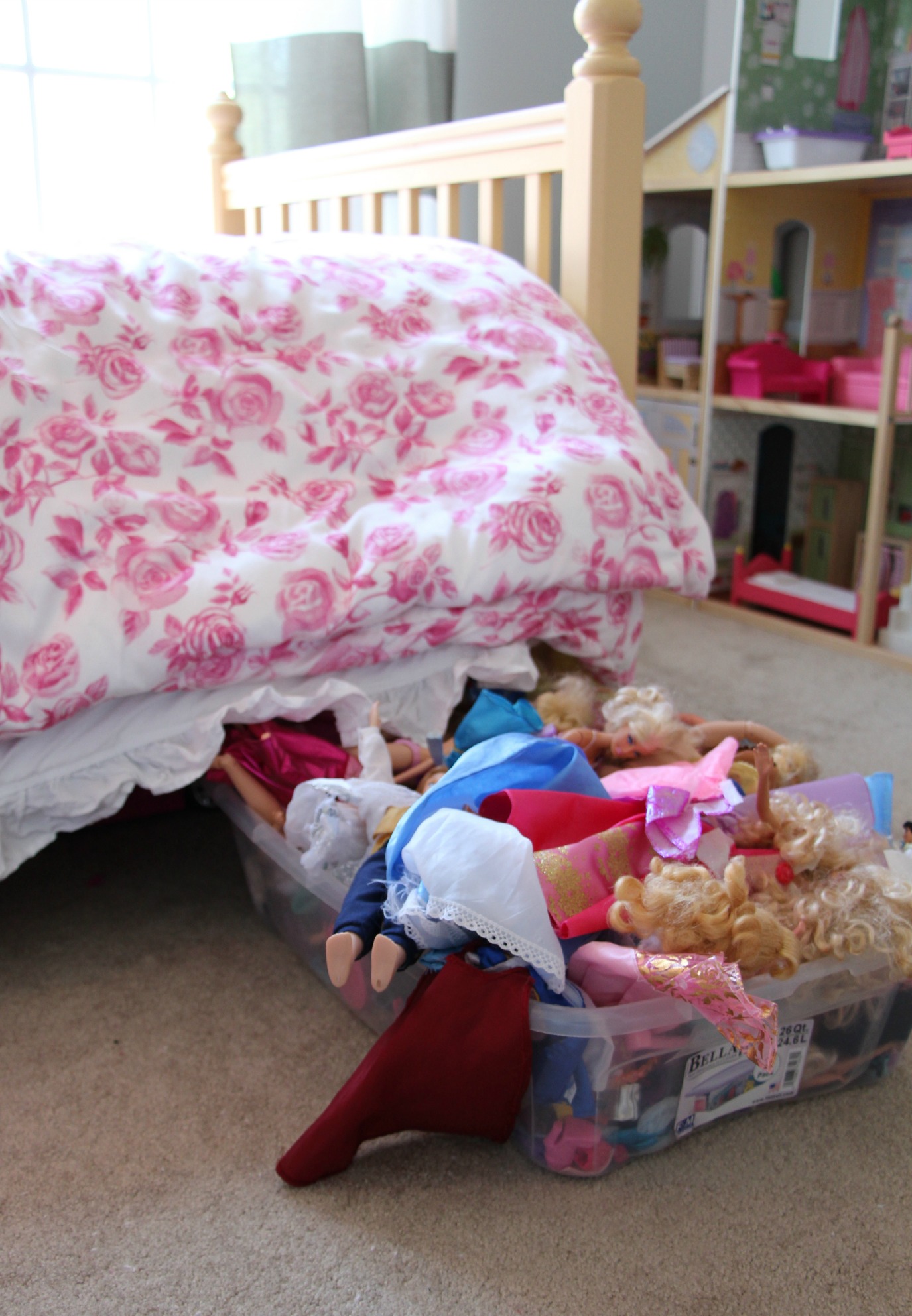 They not only keep everything from dress up clothes to dreaded Barbie shoes organized (for a little while at least) but they're also located conveniently enough for little hands to pull them in & out. Mommy like them in.
Sooo, SPILL! Do you like it??? Did I pull off making a girly girl's bedroom gray?
If you'd like to know more specifics on anything from the wall paint color to the little hot pink bunny on the bed you can check out my Houzz Ideabook here