Today was Sam's school play "The Missing Tarts". It's about a Queen who has lost her tarts and has to visit all of the different nursery rhymes to find them. Miss Samantha was cast as one of Little Bo Peep's sheep. Unfortunately for Sam she did not look over her contract to see what the costume would entail…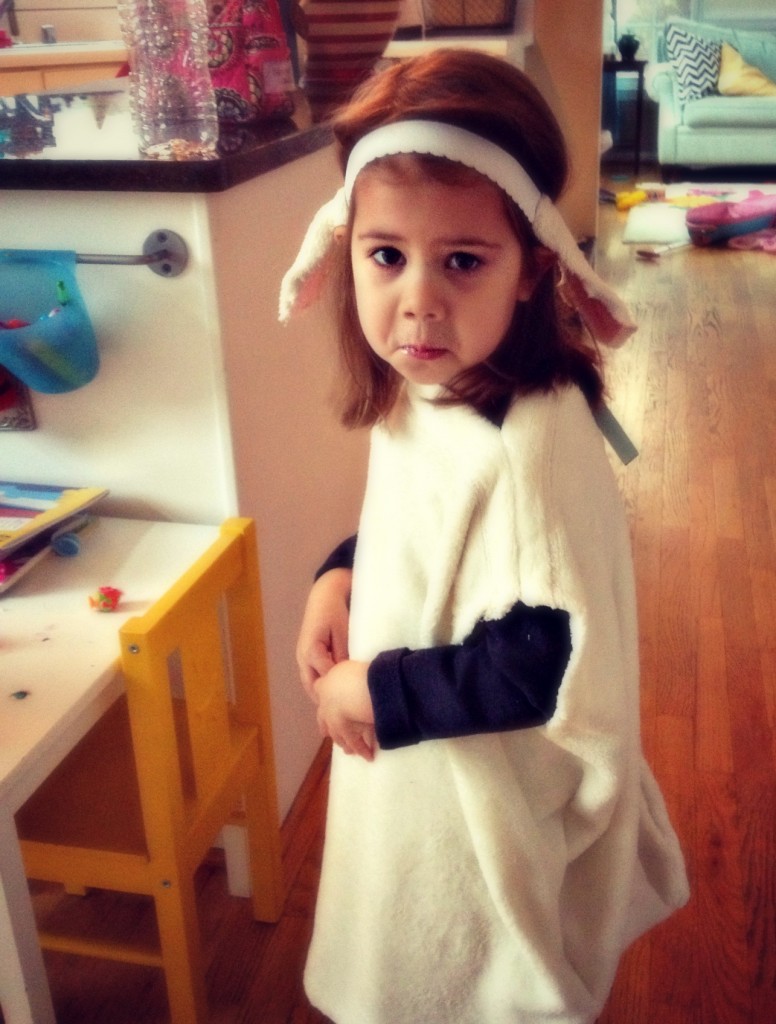 At first she was just a bit unseasy that there was no pink & no glitter, but at least she was super cute & we had made a big fuss over her. Then however she saw what her sister was wearing…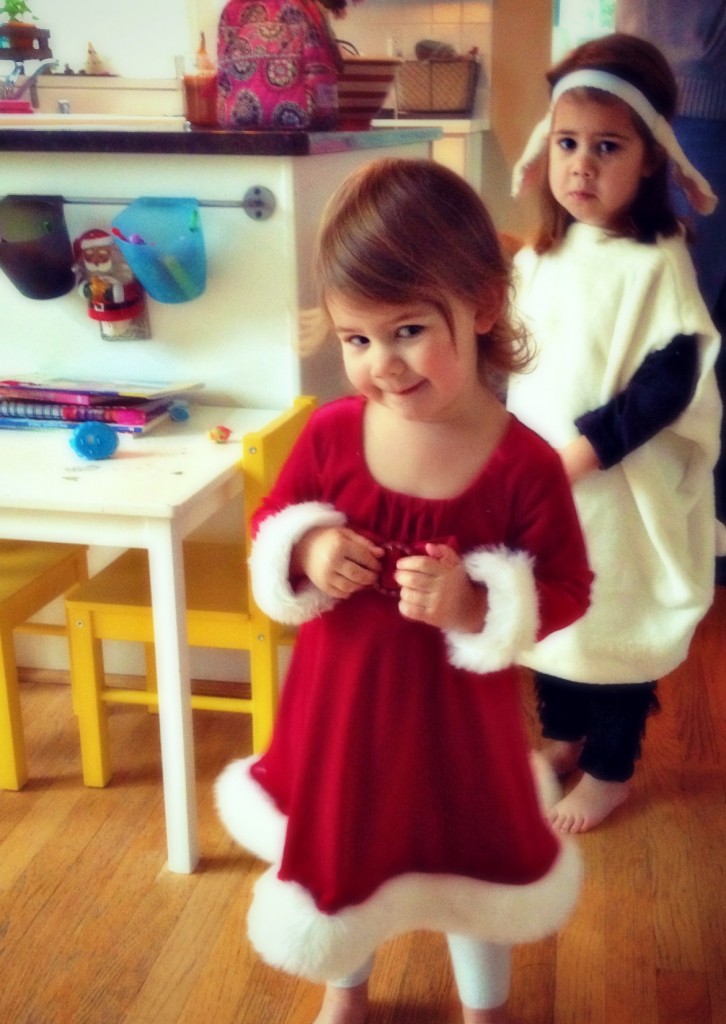 Sophie was only attending the performance so she chose to wear her sparkly, furry, twirly & overall amazingly fabulous Santa dress. With sparkly tights & glitter gold shoes mind you. Sam began to cry "Whyyy is SHE so sparkly and I'M JUST A SHEEP!"
As you can see Sophie took no joy in the situation.
Lucky for the little sheep her teacher has a soft spot for girls that love the glitter & she found a sparkly snowflake for each of the little sheep to wear. Much to the joy of all who attended the Show Went On!
Here's a little snipit of Sam's big part, and yes, I may be a bit bias but I really do think the sheep stole the show.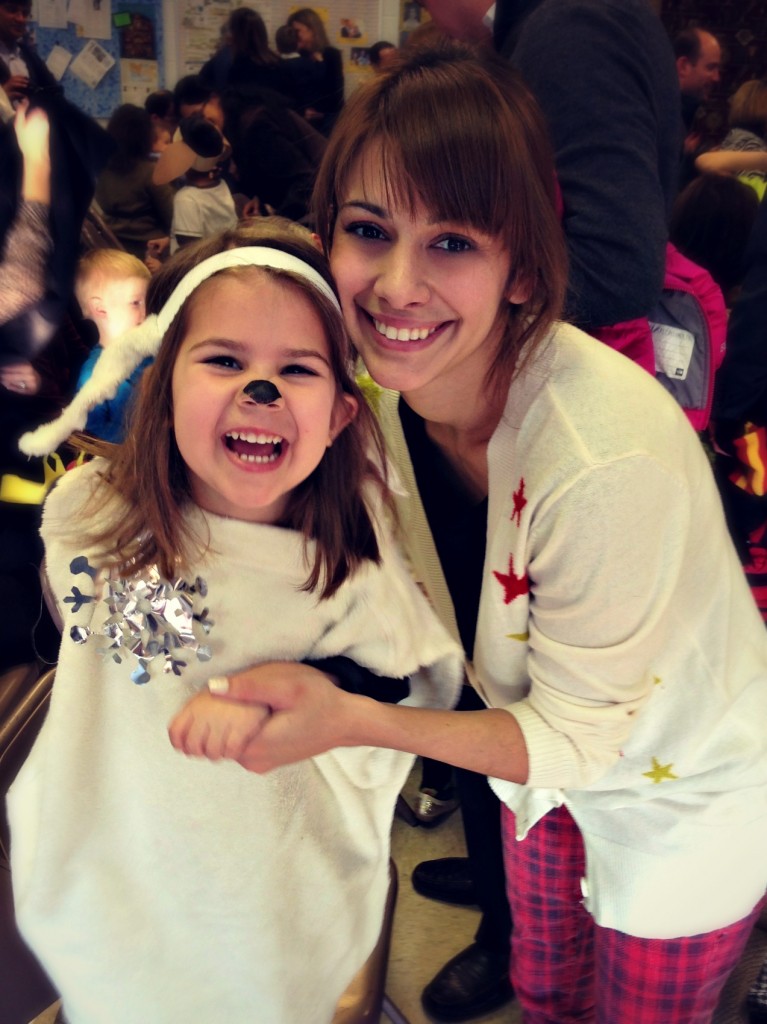 On my Instagram last night (samstermommy) I posted a picture of myself stitching sheep ears. In case you ever find yourself in a situation where you're needed to make a flock of sheep costumes & aren't able to get to a fabric store because you're hopped up on pain meds from your surgery the day before here's what to do…
Take one fuzzy blanket & cut it into 6 pear-ish pillowcase shapes (one front & back for each of the three sheep), stitch along the top leaving an opening for the head & stitch down the sides leaving openings for the arms. Also cut a 3-4″ slit down the top back so their little heads can easily pop through. Take the easy way out & use iron on hem tape to hem all unfinished edges. Stitch some cute ribbon to the back so the slit opening can be tied shut once the costume is on. For the ears I made an elastic headband & then cut out the 'ears' from leftover blanket scraps. Sheep are one of those animals that nobody really knows what their ears look like when asked. I suggest googling it for inspiration, I sure had to. A little bit of hot glue to attach the ears & wah-lah, SHEEP!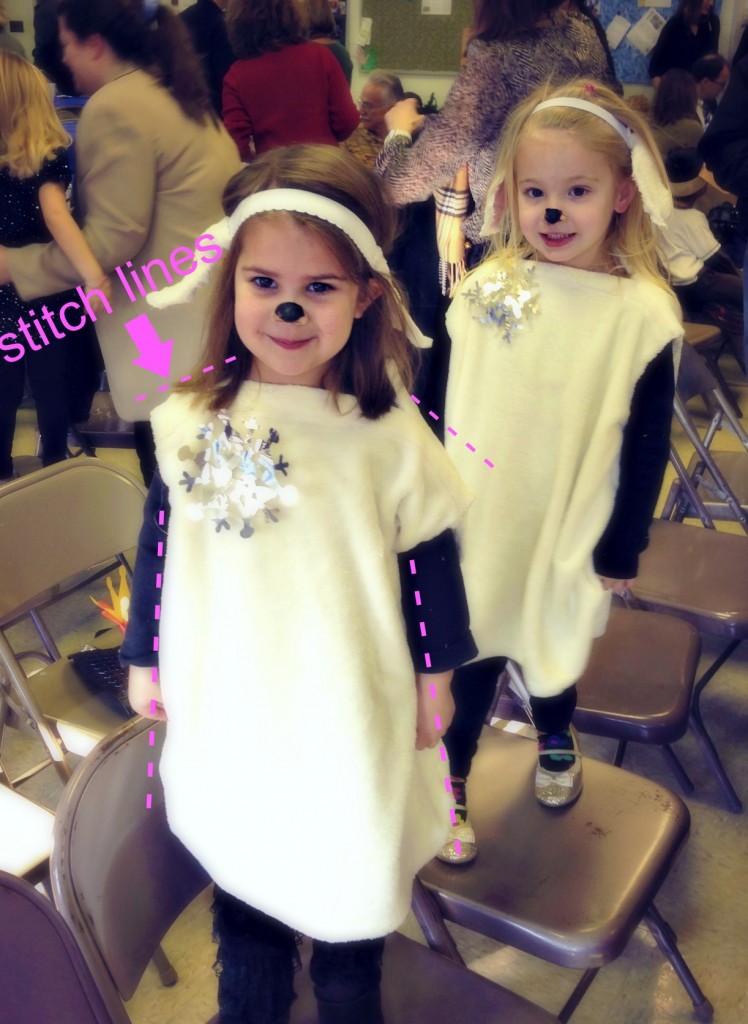 Oh, I forgot the most important part! Wagging their tails behind them… I cut out two little tail shapes (once again, google it if you can't get a sheep butt image in your head) stitched them right sides together, flipped it right side out & insert a pipe cleaner to make it stand up. I cut a small slit in the back of the costume & then stitched the end of the tail inside.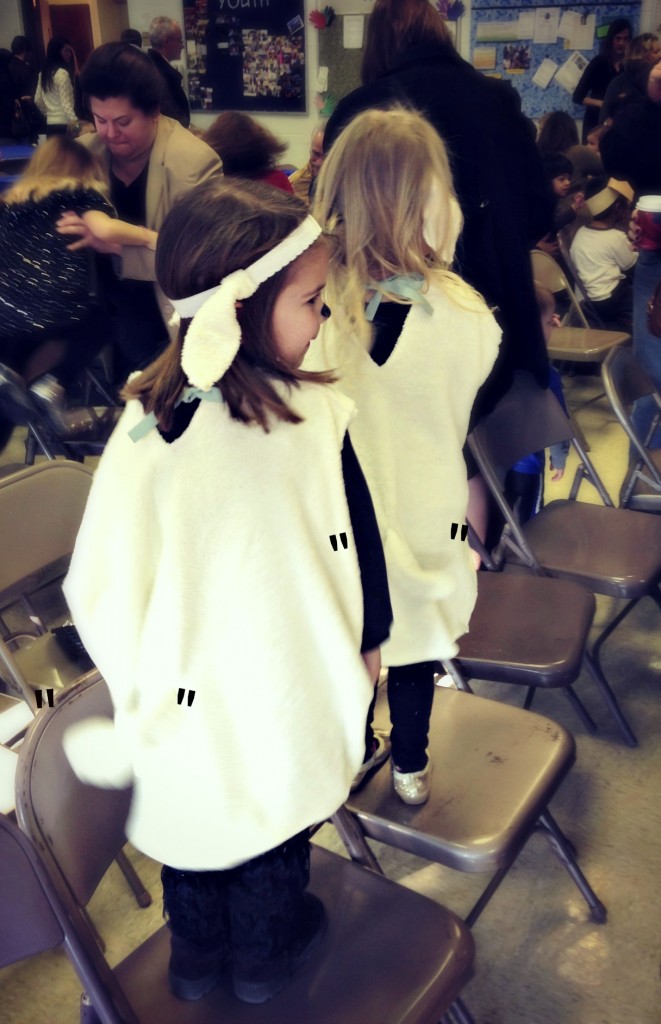 I don't know what she was such a pill about, this is hands down cuter than any Santa dress any day! Shh, don't tell Soph.