The other day I took the girls to pick their own strawberries & sweet peas. I thought it'd be lovely to spend some quality time together outside on a gorgeous day but my sneaky underlying intention was I wanted to find a way to get Sam to eat a strawberry. Yup, the kid has never had a strawberry. At least not since she was a baby. She will NOT eat fruit. Loves sweets, will tolerate vegetables but fruit…won't do it. She was intrigued however by the thought of picking her own & since strawberries are pink they seemed like an ok first fruit to try. The way those little glitter wheels of her turn… We made a deal, she would bake the strawberries with me into cupcakes & then eat them. I realize baragaining with my daughter to eat a strawberry cupcake may seem like the most ridiculous nonsense you've ever heard of but it's baby steps people, baby steps. So off to pick we went!
(I swear they demanded they wear their matching pink strawberry dresses. I'll go pretty far but even I won't go that far unless forced.)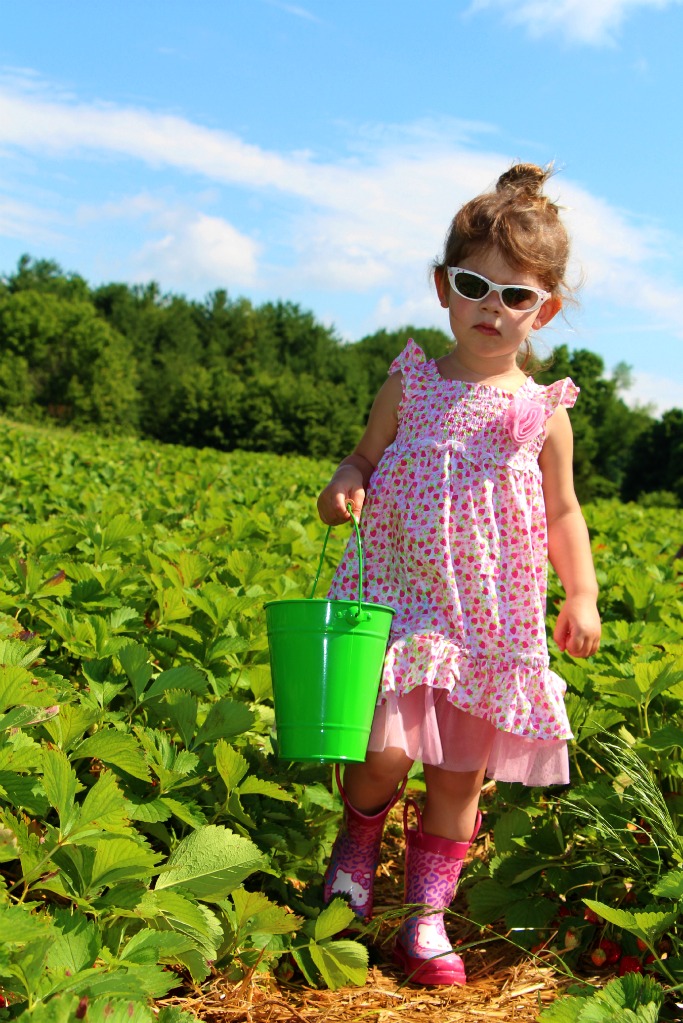 Overall, I'd say it went pretty well. Sam even played with a bug! A ladybug of course, because it has a stylish outfit on I'm sure, but it is in fact a BUG. We also brought home lots & lots of juicy berries!
So on with the plan right? Wrong.
No one told me that fresh berries are different than store bought berries. No one told me that if I leave them sitting on the counter for a day or three they'd turn into a pile of moldy mush that was on the verge of turning into moonshine. Oops.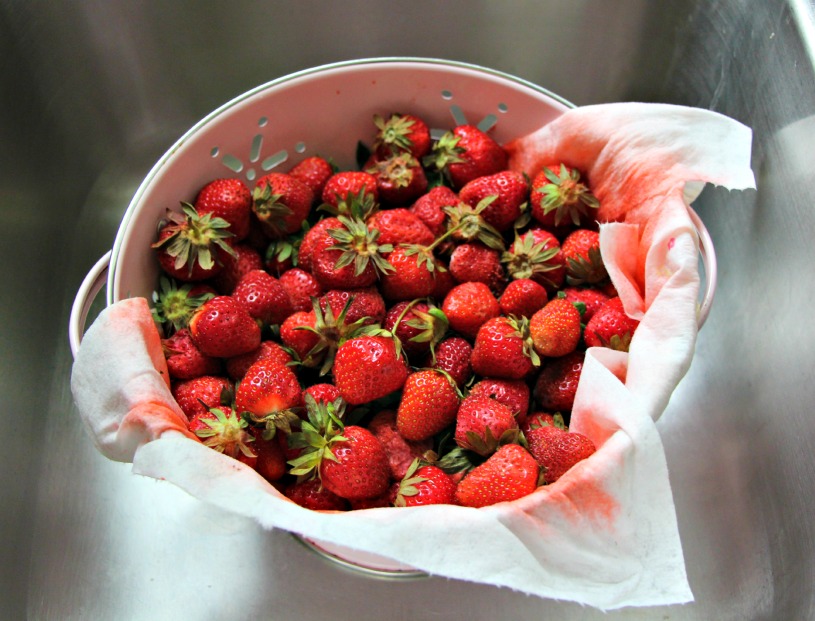 So I had a decision to make, be honest & ditch the berries along with the first opportunity to get my daughter to actually put a piece of fruit into her mouth or LIE. So I went to the grocery store while the kids were at camp today & lied. Lied & lied until this little pretty was sitting on my counter waiting for Sam to walk in the door.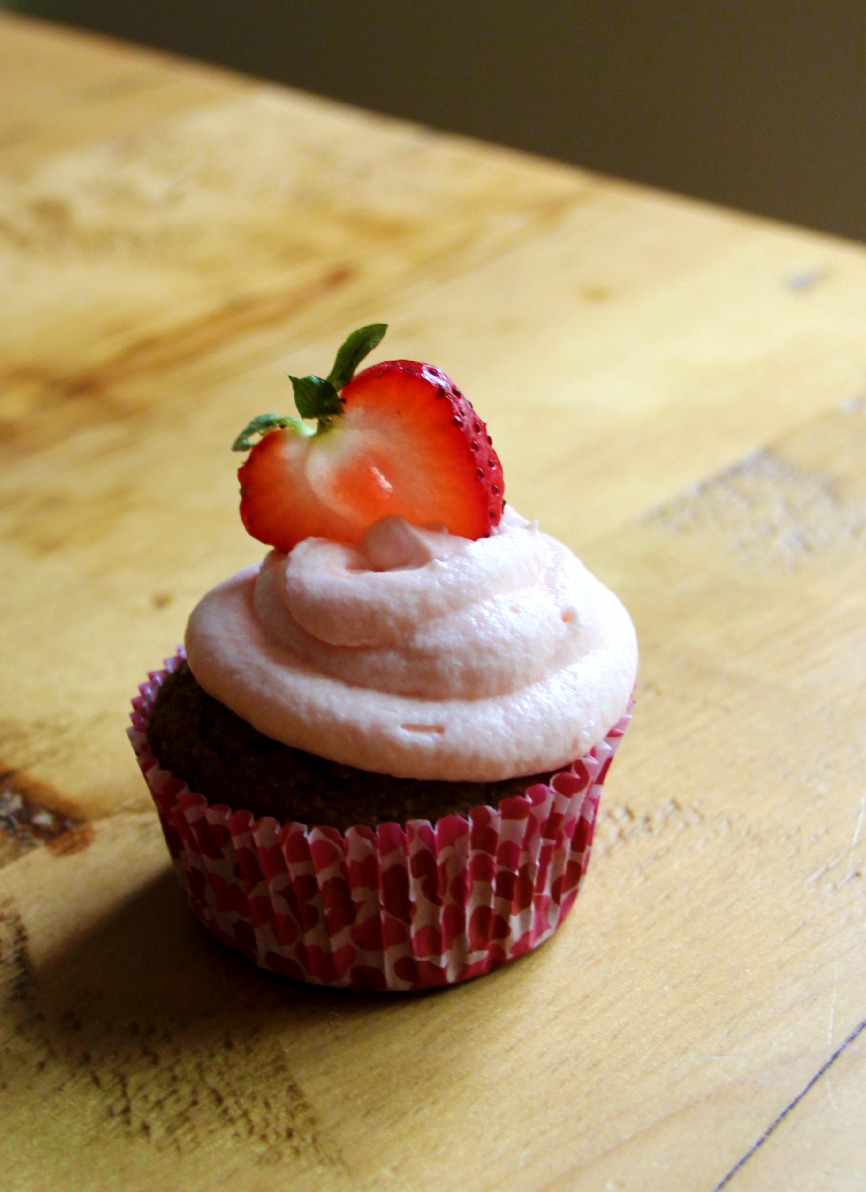 Looks like my little plan should have worked right?
Perhaps it was my guilt from using faux fresh picked berries or maybe it had more to do with the fact that I was trying so hard to get my child to consume a dessert but I decided at the last minute that I wouldn't really make these cupcakes. I would make them muffins pretending to be cupcakes! Haha! Not only would she be consuming berries but also banana, applesauce & whole wheat flour! Oh yeah, and frosting. Life is all about compromise. I mean what kid, especially a pink obsessed one like Sam, wouldn't at least try a bite of that little beauty? But as often happens when people tell a lie they go too far & eventually the lied to party smells a rat…
Even with a beautiful dollop of baby pink frosting on top Sam knew…she just knew because what I underestimated was that if you tell a kid they're getting a cupcake they're going to expect it to look & taste like…a cupcake. I don't care if it's the best 'healthy' muffin recipe in the world, it ain't no cupcake. And without even taking a bite, she knew, and she still has yet to eat a strawberry.
Luckily Sophie Badger don't care.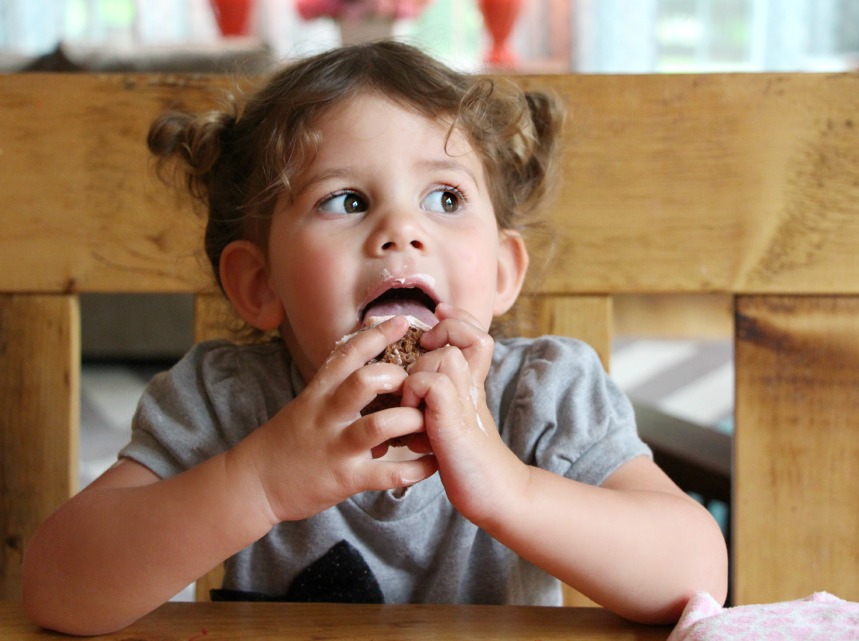 Also lucky is these aren't bad muffins, like, at all. If you scrape the frosting off they actually make a pretty darn good breakfast on the go.
So here's the recipe, make these muffins & enjoy them with your children, just don't tell them they're cupcakes. Because then you'll be a liar. JUST. LIKE. ME.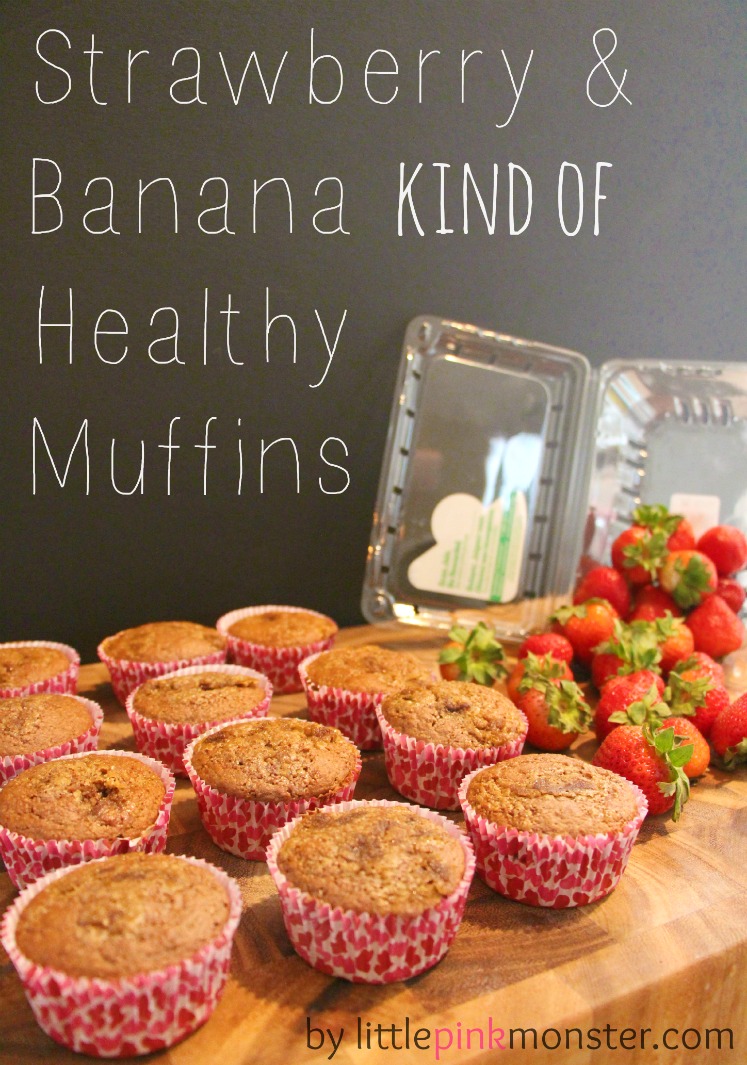 Strawberry & Banana kind of Healthy Muffins (adapted from this recipe by Sweet Treats & More) *makes 12 muffins
Shopping List
1 cup all-purpose flour
1 cup whole wheat flour
1 tsp baking soda
1 tsp cinnamon
pinch of salt
2 eggs
1 cu brown sugar
1 tsp vanilla extract
3/4 cu applesauce
Strawberry Banana Puree: 1 cu fresh or frozen ripe bananas + 1 cu fresh or frozen strawberries + optional dash watermelon or other sweet juice
Optional Liar Liar Pink Cream Cheese Frosting: 1 cu powdered sugar, 3oz cream cheese, 4 oz butter, 1 tsp vanilla extract, food color
Preheat your oven to 375 degrees, if you choose to use muffin wrappers I recommend you give them a light mist of cooking spray. For some reason this batter really stuck to the paper, otherwise grease your muffin tin well.
Using a stick blender (I've had this
immersion blender
for 2 years now & it was worth EVERY PENNY) blend your fresh or thawed puree ingredients & set them aside. Next into your stand mixer or large bowl combine both flours, baking soda, cinnamon & salt. Add eggs, brown sugar, vanilla, applesauce & puree, mix on low until well combined. Fill muffin cups 3/4 of the way & bake for 20 minutes. All to cool & if you want to be a liar top with frosting. Otherwise a good honest sprinkle of powdered sugar could be nice. (: