I'm curious if you can relate…
Everyone has 'funks' that they go through. Call it the 'ups & downs' of life, the 'baby blues', a 'rut' or just a 'bad day' that somehow seems to be lasting quite longer than 24hrs. Whatever you want to call these less than joyous periods of our lives most of the time we're able to hobble along through them until the good outweighs the bad & we move onto the next chunk of time in our lives.
Whether it's my health, arguments with my husband (let's be honest, if you're married for awhile & especially if you have young kids you're gonna have some rough patches) or a tough time with my kids I always seem to be having one of the aforementioned in chaos, the thing is usually the other ones are doing well, or at least keeping afloat so I can still manage life by leaning on the solid legs & sometimes even move forward even though one aspect of my life isn't at it's best. The problem I'm finding is when more than one start to short circuit, I get into trouble. Let's see if I can come up with an analogy to help.
When I look at myself I envision a 3 legged girl. It's me, with a tripod bottom.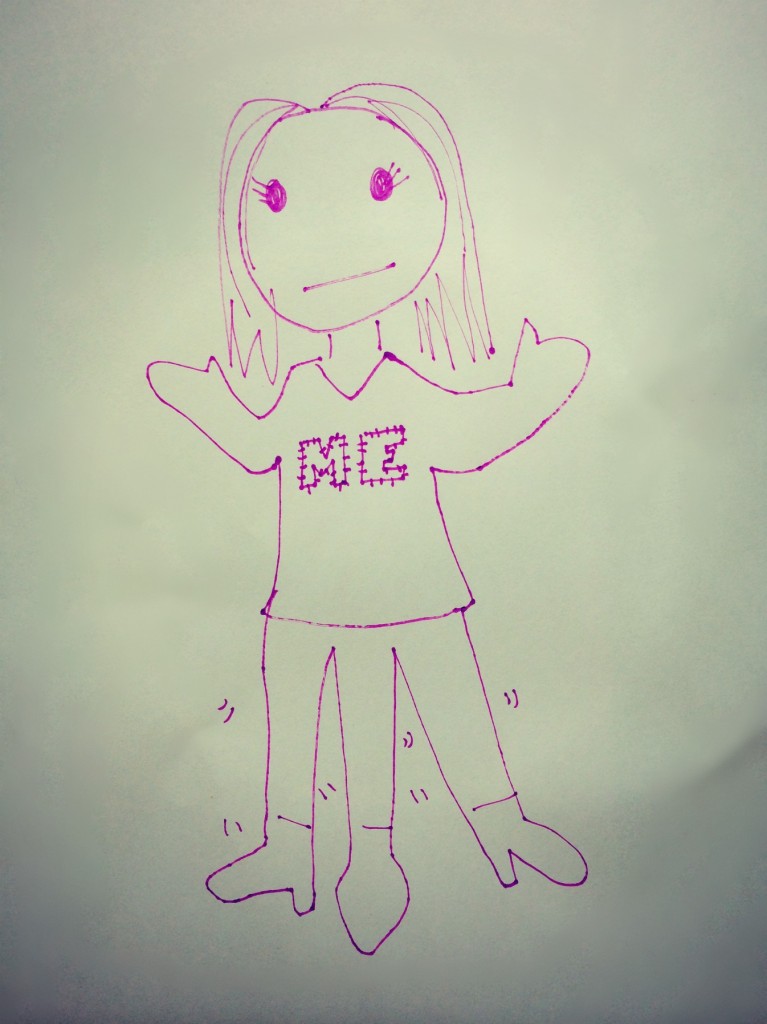 (breathtaking likeness, I know, my talent is undeniable)
If one of the things that controls my life starts to break down I can still balance on the other two to keep moving & most of the time do what's necessary to help the limp one heal. There have been a few times, one being now, where more than one of my legs has broken & I can't balance anymore, the only thing to do is fall flat on the floor & sit there, not sure how to get up again.
That's why I haven't found the strength to blog…or create…or really take care of my health. I feel like I want to do these things but without a foundation to lift me up so I can move I just stay in the same place. Immobile. And the more time that passes in this position the worse it gets. Every day you sit stationary & don't move forward is another day lost, it's more opportunities lost & those realizations for me, well, they just make things worse because I want to blog, to take my kids to the pool, to expand my career, to workout, to have an amazing romantic relationship with my husband & to put the work into being able to do 'clean eating'. (if you've done it than you know how much thought, shopping & prep is required to keep away from just going through a drive-thru multiple times a week)
But something clicked for me today that I think could help to change things…I need a new foundation.
While I love my husband more than I could ever express I can't rely on him to hold me up. It's not his job & it puts me in a vulnerable position to rely on someone else who has their own balancing act going on. That leg of my tripod is so fragile, it's there, but it's wobbly & wrapped in duct tape. (albeit pretty pink chevron duct tape I'm sure) It needs time to heal, it doesn't need to have all the weight of supporting me put on to it right now.
Getting sick has taught me a very good lesson. My own strength is unreliable. Our health can easily dissapear & it be 100% out of our control. Can you do lots of things to make the best of it or maybe even resolve a health problem completely? Of course. But losing that leg on your tripod, even if it's momentarily, isn't something you can help.
For me, the third part of my tripod is my job. Being the homemaker is not only taking care of the children & the house because I have to (hello, we need clean underwear & someone had better feed that little one before she becomes hangry) it's also something I've needed to fulfill me. I love being a stay at home mom, I would fight tooth & nail before I gave that up but it does have it's downsides. One of them being the lack of fulfillment you get. There's no one writing up an annual review on your ability to discipline, find creative outlets for your children or how many vegetables you can get them to eat. (I'm stuck at 3) There is no bonus if you finally sleep train them, (aside from the sleep of course…oh blessed sleep, how I miss thee.) & no boss pats you on the back after you pull multiple all nighters (and 'all day-ers') because one kid has strepp & the other bronchitis. While I can say I have tried very hard to not let my funk, you know what, let's call it what it is, my depression, get in the way of giving them the best life possible I'm sure I could be doing an even better job if I wasn't doing it while limping along from missing my other two legs.
There's a second half to the third leg…it's what I do here and as you can see from the cobwebs on the corners LPM has been a bit neglected lately & that really plays a part in how I feel about myself, every night that goes by that I don't take advantage of the opportunities I have to really turn LPM into a career for myself make me sad & feel like a fool for wasting something I've wanted for so long. I have so much to share but I just haven't been able to find that drive I had before to find time to edit photos, create new recipes or just to sit down & spill my heart on the page. Until today that is… (;
So we've established the problem, I'm relying on my support from the wrong place. Each of the those legs, while being wonderful, beautiful legs that I truly cherish, are not meant to support my happiness & strength. It actually needs to be vice versa…my strength should be supporting each of those legs so they can be nurtured & flourish!
So what's the answer? When you go to sit down on your chair of life what do you put all of your weight on so it doesn't break & leave you flat on your arse?
I do believe, because of my faith, that I have to rely on God to be my strength. For me, I'm starting to believe all of these trials were wake up calls to show me that I've been leaning to heavily on the love of my husband, my own health & strength, or the validity that comes from being a mother & also my work. That's why each one of those is snapping, they aren't meant to be leaned on, they are meant to be lifted up.
Whether you believe it's asking the universe, or maybe the philosophy of 'The Secret' or anything else I think we can agree, 'I am not enough.' My weakness has shown me that I haven't been relying on God's strength. To be honest, I don't think I've ever truly had to, maybe in a moment of hardship but not every single day like I'm experiencing now.
SO, this is where I share with you what I'm going to do in the hopes that maybe it will inspire or help you. I also hope not to sound like some sort of granola weirdo but whatever, here goes nothing:
For the last few mornings, after the girls are gone to camp & the house is quiet I've sat on my knees & before asking for anything I go through what I'm thankful for. Even if P & I got into a fight the night before & I'm still thinking he's a giant poopy-head I'll thank God for him. I'll thank God for his dedication to this family, I'll thank him that I have a husband who's continually willing to try & help our marriage, I'll thank him for giving me a man that truly loves me. I've found that if you sit, with your eyes closed & your hands open on your lap & you just start talking about what you're thankful for you'll surprise yourself at what you really have. Thankfulness can immediately change perspectives.
I'm also in the process of giving everything in my house to God. This is easier said than done. For example, the blog. There are the TV appearances, marketing I could be doing, I have a list a mile long of ways I could be expanding LPM but every time I try I just get stuck & mess it all up. So, while sitting with my hands open, I said, "God, I give you my blog. It is no longer under my control, I give it to you & trust that you will guide me with what you want to be done with it."
Similarly, I've had to give my marriage to God, I won't go into great detail because while I for some reason have no filter when it comes to baring my heart on the internet, others (for good reason) don't always feel the same. Just know we were in an exhausting situation that I just could not fix…so I finally realized just a few days ago that I had to give it up. "God, I give you my marriage, please guide me as to what I'm supposed to do & give me the strength to accept your direction without question or pride, I trust you. Thankyou."
Also I've really been wanting to move. (locally, but shhh, don't tell anyone) Every time I think we're making progress in that direction I end up facing another brick wall in front of me. It's so frustrating. The getting excited only to be let down the next day over & over is emotionally decapitating. So I gave it up. I handed it over & said, "I give you the house, where you lead, I & my family will follow."
That's it, and I mean it. You have to. It doesn't come easily & I certainly have repeatedly had to catch myself in the act of freaking out because on of my 'legs' is broken again & I can't handle it but then I remember…I don't have to handle it, I gave it up.
I feel great hope that this new foundation will change a lot of things. Heck, I'll say it, I hope it changes my life.
Have you ever felt the same? What did you do?