My best friend got married this weekend! Normally this would be a fairly exciting thing to share, you would assume that this beautiful bride finally found her 'soulmate' & now that she's found her one true love they can start their lives off together & live happily ever after…
Except there's more to the story…and it makes it amazing!
I asked Meg if I could share her story on my blog because I knew it could give great hope to so many women out there who are currently in the situation she found herself in a few years ago. I was with Megan on the day she found out her husband had been unfaithful. I was with her in the following weeks & watched helplessly as everything in her world crumbled around her, it was horrible to see someone I loved go through so much pain, it broke my heart, I can't even imagine what it must have been like to be her.
I met Megan 7 years ago when we bought our house, she was our real estate broker & when she showed up to take us house shopping in the exact same blouse from Express that I had I instantly knew I liked her. In fact, everyone who meets Megan likes her, she's one of those people who you just know beyond a shadow of a doubt is a genuinely good person. Her cheerfulness is contagious & being near her makes you feel happier whether you want to or not. That was one of the saddest parts of seeing her going through her divorce, that sparkle went away. In fact, since I've lived here 3 of my good friends have gone through separations from their spouses & with every single one I wondered, "WHY THEM?!" They have all been pretty, kind, intelligent women who loved their families more than life itself but somehow woke up one day & realized their husbands' wanted something else. Someone else.
So here's the thing, I remember in the months after Megan & her husband separated that she & her kids spent a lot of time at our house. She has two little girls that are almost exactly the same age as Sam & Sophie so it worked out well that the kids could run around happily distracted & Meg & I could sit at my coffee table & talk. Or not talk, it came to a point where there was nothing more to talk about & all she could do was just sit, kind of like a shell of the girl I once knew. She went through the motions but that sparkle, heck even just a little bit of the light in her eyes was all but gone. I couldn't tell you how many times P & I would tell her, "Meg, you're a young, beautiful, smart woman who has so much to give, you're going to get snatched right up as soon as you're ready!" We knew beyond a shadow of a doubt that Megan would marry again. Somehow, and I can't explain it, I just KNEW that at some point, maybe even just around the bend of the sad road she was on, was going to be a man that was not only going to adore & honor her but also would love her children as his on. I just knew it. I tried to tell Megan this but she just wasn't capable of seeing it. Not only the thought of being able to give herself, her trust, to another man seemed unlikely but she just couldn't see what kind of man would want to marry a thirty something year old woman with two kids. We could see it but it was a long time before she could.
The happy ending here is that time did go by & Megan did heal ever so slowly. During this time Meg not only found out how to move on but really found out who she was & just how strong she really was. In God's perfect time she did find that man who we knew was out there, and I have to say, he's even better than any of us expected.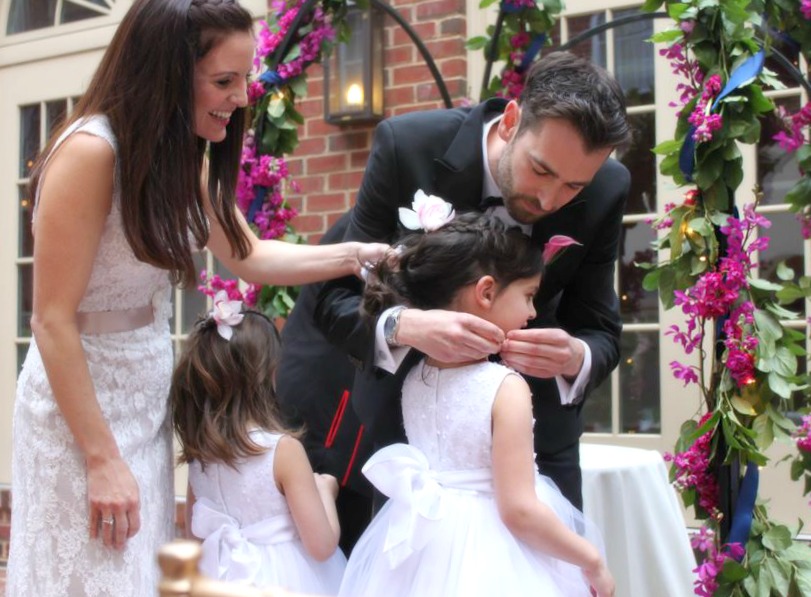 (Nate presenting both of Megan's girls with a necklace to remind them of his promise to take care of them as well)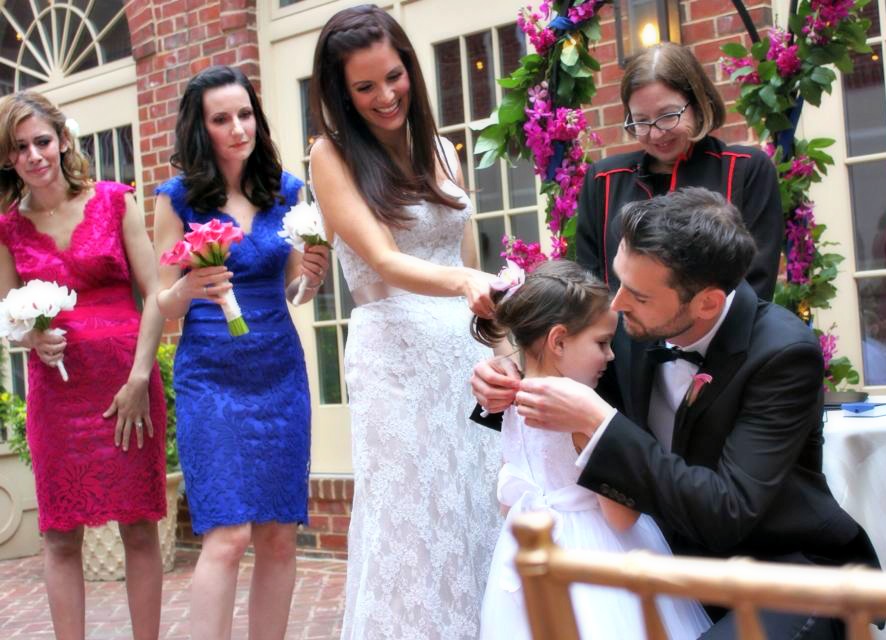 (this is right about the time I lost it…me and everyone else!)
I have no doubt that Megan has found her happily ever after. Will there be bumps in the road? Of course, as there is with any relationship but this time, these two, I know will always cherish one another till death do they part.
I don't know why God's plan was for Megan to find her 'soulmate' the second time around. I know she's struggled with mourning the loss of her old idea of her 'family', but I also know that what she has now has made her so much more grateful for this new family. I know I have friends now who could use a story of hope, a real life example of how the dark sad place they're in is actually not a dead end road, there's a bend up there somewhere & around that corner is a new way, a new life, and it is beautiful. I hope this helps them…you.