I'm SO SO SO excited about this!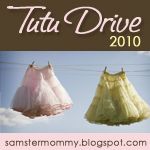 A few weeks ago my sister-in-law emailed me a link to this great charity that she thought maybe I could tie in with my blog. It's called The Princess Alexa Foundation & wait till you hear what they do…
They take dress up clothes & match them with kids who are seriously ill so they can have a bit of fun & make-believe. A little something to put a smile on their face during such a hard time. Is that not the sweetest thing you've ever heard?!
The foundation was started by a mom named Crys in honor of her daughter Alexa…
Alexa began battling cancer just before her 2nd birthday, throughout her battle with cancer Alexa loved to go everywhere in princess dresses & became known as "Princess Alexa". I'm so sad to say she passed away in June of 2008. I know many of you are mommies & when you hear a story like that it just breaks your heart. I just can't imagine… But that's what I love about this organization, there's actually something I can do to help. A direct impact I can make & help out some little girl who's going through a hard time just a little bit. You can click here to read more on their website, you'll see what organization or hospital their currently "dressing", pictures of the kids & ways to donate. So that's where we come in!
I emailed Crys & asked if they'd except dress up clothes that were handmade, she said "Absolutely!". So I got to thinking about what we could make & I thought what could be more the epitome of little girl dress up than a tutu?! There are so many ways to make them too that it's a great opportunity for some fun tutorials as well. For the next month you'll be hearing me mention the Tutu Drive quite a bit, I'm going to be posting tutu tutorials every Tuesday (say that 3x fast!) & asking you to jump in & make one as well. My goal is to donate 100 tutus to the Princess Alexa Foundation! Do you think we can do it?? Also if you don't sew (although some will be "no-sew" projects) feel free to purchase yours & donate it that way. Oh, & although it's a "tutu" drive you can donate any dress up item you like for little girls or boys. The sizes can range from 2t-10. Over the next month I'll feature pics of tutus you donate (& I'll link to your blog) as well as feature guests posts from some of my favorite bloggers who are going to participate!
So to review there's 2 things I want to ask of you…
#1 Make/Buy a tutu sometime between now & the end of July & mail it to me. It's needs to be sealed in a ziploc baggie & the baggie should be labeled with the size. I'll gather all the goods together & send them off to Crys in one big box of tutu goodness! And if you can, email me a pic of your creation so I can feature it on the blog. Also click here for tutu shops that are offering Samster Mommy Tutu Drive discounts!
Please mail all donations to:
Samster Mommy
P.O. Box 84132
Gaithersburg, MD 20883
#2 Please help spread the word! (100 tutus is a lot & if I don't get enough people involved I'm going to be spending a lot of all-nighters with my tulle stash.) You'll see there are two buttons available on my sidebar for the Tutu Drive, if you have a blog all you have to do is copy the html code below the button & paste it as either a gadget (there's a gadget for html) in your sidebar or just paste it directly into your blog post in "edit html" mode. If that doesn't make sense you can email me & I'll walk you through it.
Thank you guys so much! Oh! And if you have a tutorial you'd like to share for a tutu or similar dress up item than email me (samstermommy@gmail.com) & maybe you could share it with everyone for the Tutu Drive!
A few updates:
#1 All items must be handmade & never used. Nothing second hand or worn can be donated. If you think about it, it makes sense. These are going to sick kids, cleanliness is of the utmost importance. Also please make sure all items come from a smoke-free home & if you have pets please keep them away from your creations. No dog fur tutus. Any non-handmade items need to still have tags/packaging on them. Handmade creations should be sealed in a ziploc baggie before being mailed.
#2 A few of you have mentioned ideas for boys. Lynette has an AWESOME tutorial for little boys' capes that I'm going to try and snag her to come post about. If you have any great tutorials please email me at samstermommy@gmail.com!
#3 Here are a few of the tutorials we've had so far so you can get tutu crackin!