What a week people. Seriously, WHAT A WEEK. Sophie missed school Monday because she fell in the shower that morning, had a giant bruise right on her rump & refused to put a diaper on. Can you blame her? Then Wednesday we were supposed to have this massive snowstorm, school was canceled, & the girls & I spent the entire day indoors. I feel bad for saying this, like I should enjoy being in the house all cozy with my kids while a storm brews outside but that warm snuggly stay in your pj's bonding lasted for about 2 hours. After that, it was BRUTAL. By noon they had done a craft project, played in the snow, eaten nutella stuffed croissants I baked, watched multiple Dora episodes & were still climbing the walls. I kept thinking of the Modern Family episode where Mitchell, after a day home alone with Lily says he, "wants to fill Dora's backpack with bricks & throw her into the Candy Cane River"
All that to say I had wanted to show you this video days ago but that's the thing about having a second job/hobby as a blogger, sometimes job #1 of being a mommy calls for overtime. As much as we'd like to we just can't do it all…at least not all the time.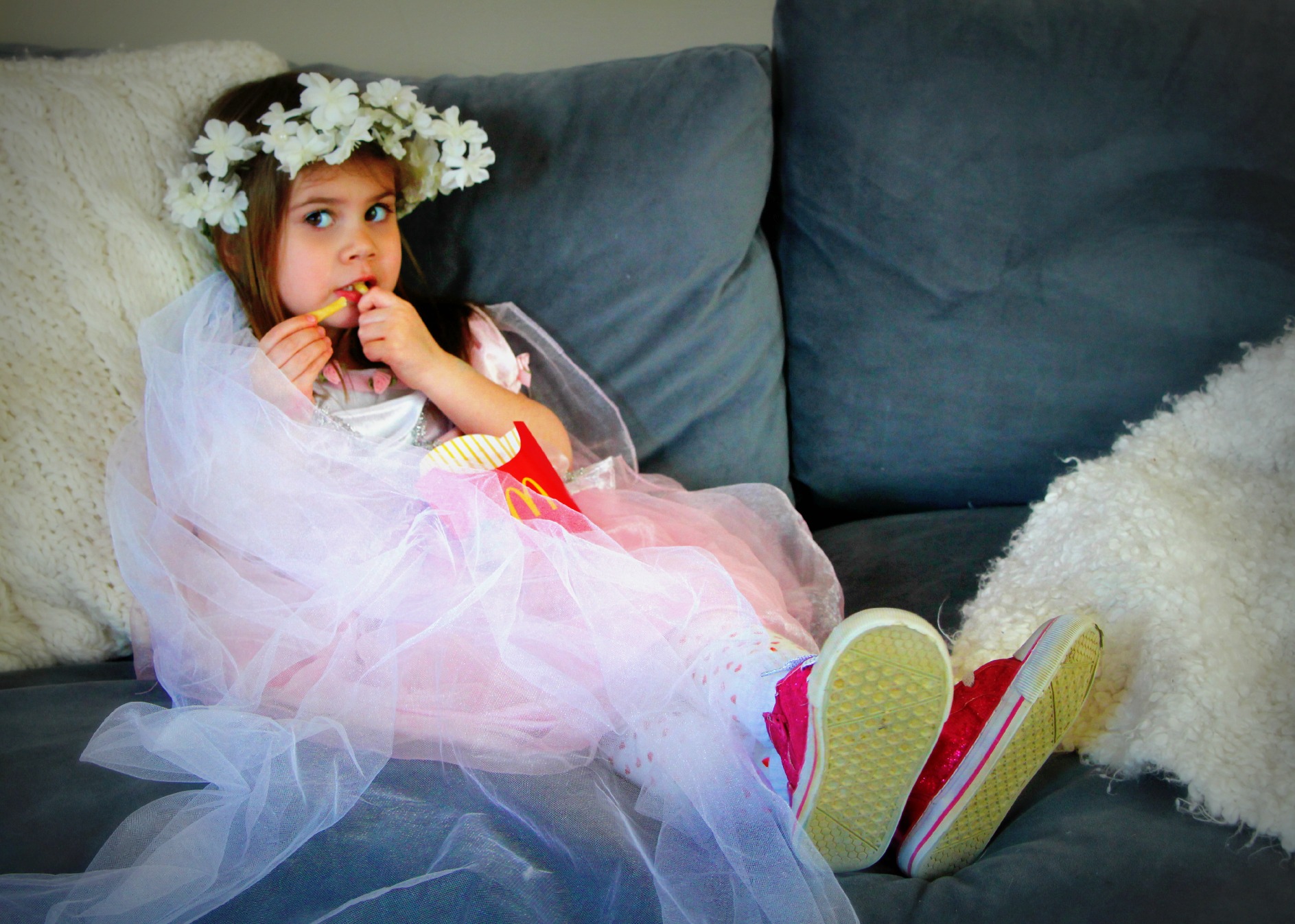 Are your kids into getting married yet? Even the boys in Sam's class talk about it. One even asked, actually he told her, to marry him. Cracks me up. Sophie & Sam are constantly playing wedding at our house, it often ends in a time out for somebody though because Sam insists Sophie be the groom & she's just not cool with that anymore. Regardless, I knew Sam would be over the moon if I made her a veil. Before this project she was putting a blanket on her head with a headband on top but now that she has a real veil, well, let's just say it's being put to good use. Also a funny note, I ate McDonald's fries at the church in my wedding dress too, I was starving & my uncle ran out to get them, never imagined I'd be seeing this 5 years later, talk about warm fuzzies.
Sam loves this veil even more because she helped make it. I put together a video of the project so you can make one with your child, it's super easy & something special you can do together…
That kid cracks. me. up.
Here are few more veil details if you need some help…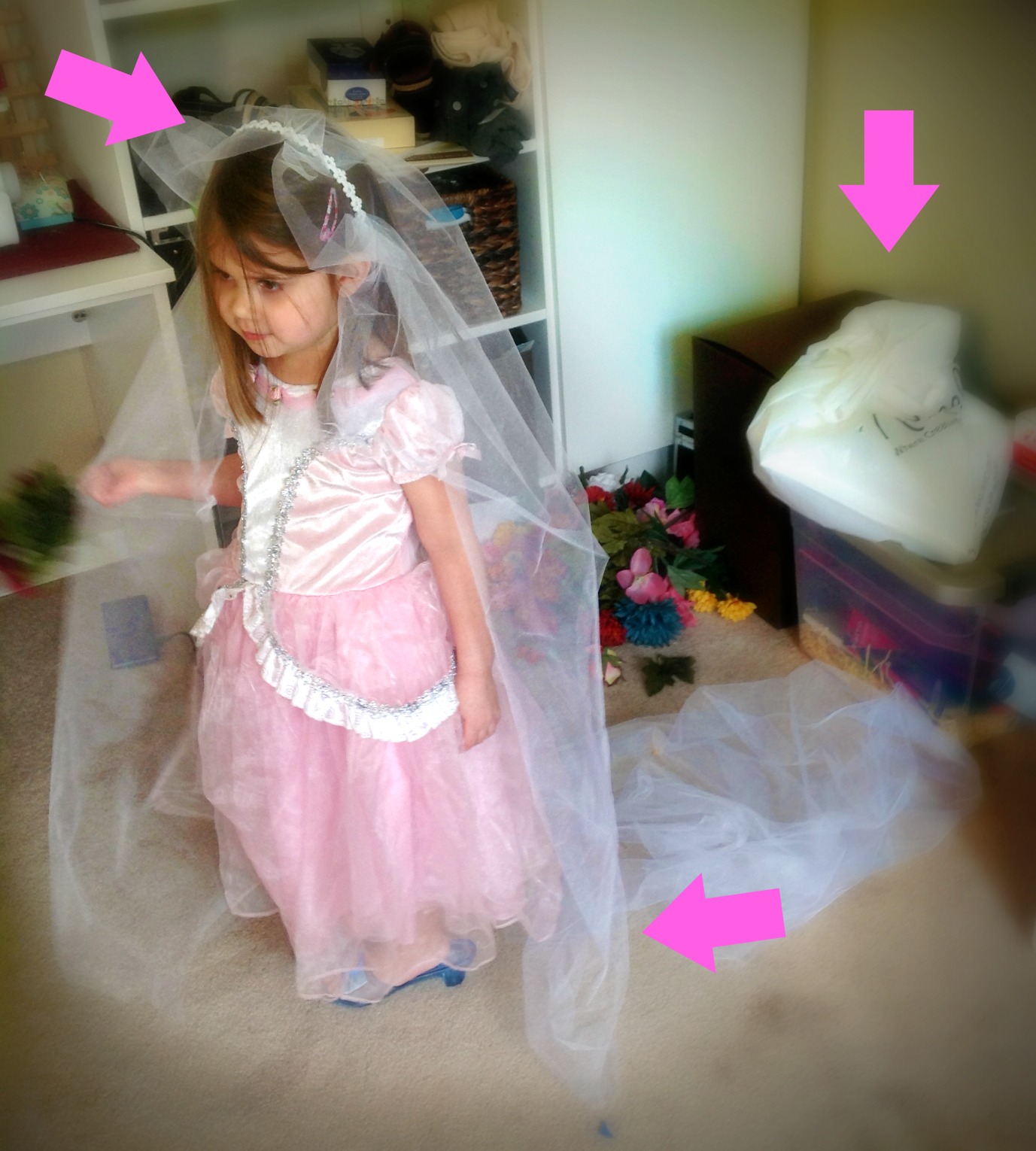 You can see three things in this picture. To help determine the length of the veil I gathered one end of the fabric & held it on top of her head with a headband. The 2nd arrow shows where I cut the fabric & the 3rd arrow shows you one of the many piles of crap crafting supplies I have in my room.
Now here's the part where I break it down for you sewing virgins. If you've ever been too intimidated by a needle & thread to even try than this is your project! Go to your fabric store (Ex: JoAnn's or Hancock) & ask them to show you the tulle. Buy 1 or 2 yards. You could probably get away with 1 yard for a shorter veil but it's so cheap you might as well buy 2 & have extra. Use the somewhat inaccurate method I've shown above to determine where to cut your fabric. If this were for YOUR wedding day then maybe we'd be more particular but this is for dress-up, in my experience 4 year olds aren't too fussy about hemlines. They'll wear something with shreds & rips as long as it has enough glitter. Thread your needle & knot one end. (Google "how to thread a needle" if you need to, ain't no shame) Run the needle in & out of the fabric all along the end that you want to attach to the headpiece. You can make nice wide stitches, all you're trying to do is gather the fabric.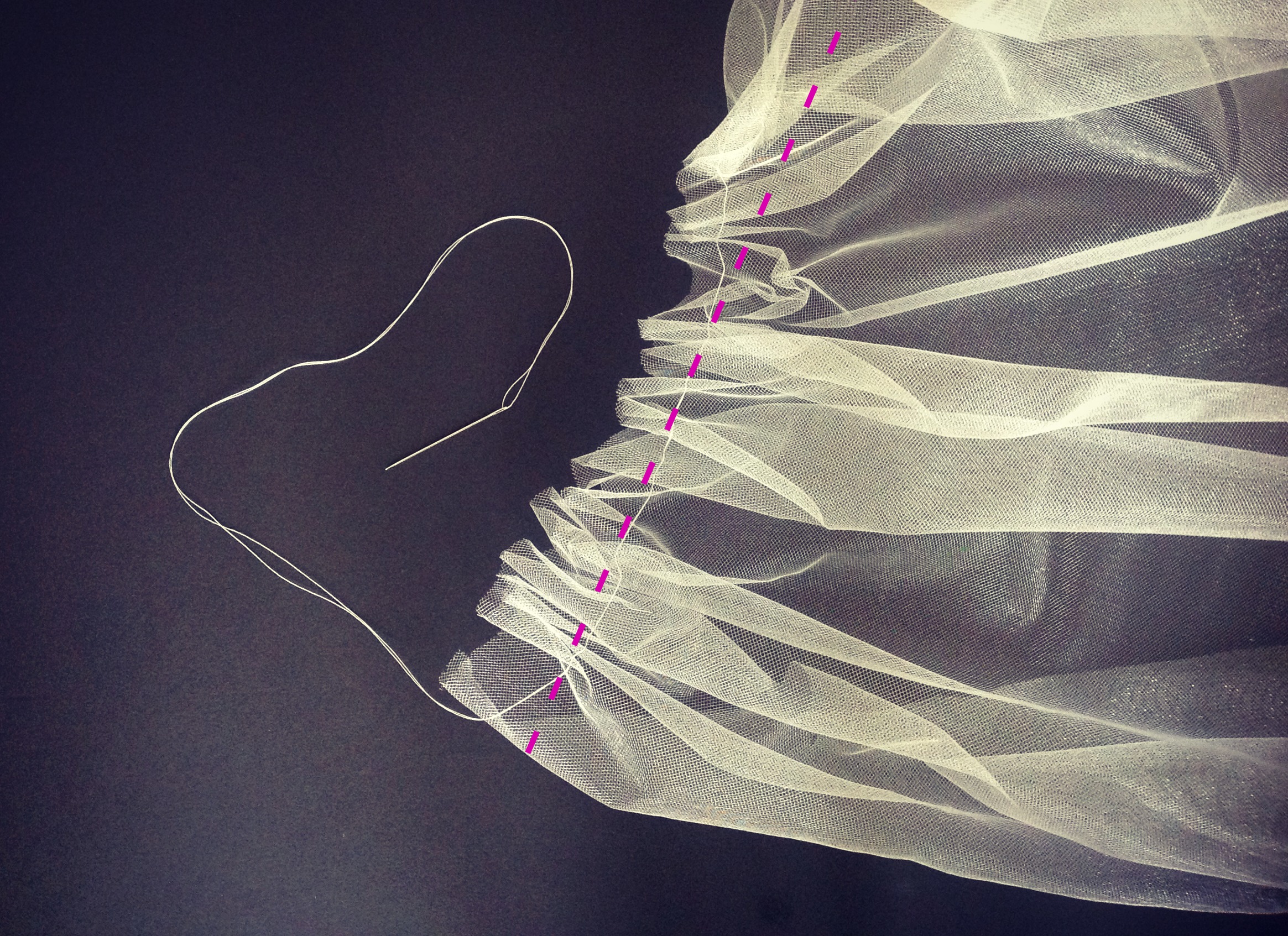 After that attach it to the halo by how I demonstrated in the video, just around & through, around & through. Tie a knot in the end & you've officially sewn something. YAY FOR YOU!!!
So is anyone going to make this?? I always wonder when I throw these tutorials out into the internet if anyone actually does them.