This was a good blogging week if I say so myself…which is kind of amazing considering I have next to no recollection of writing any of it. Hmm. Perhaps I have a writing elf. I wonder if he's hungry.
On the Kaneshow Blog…
Messy Girl: Fab messy braids to make a bad hair day cute
Fat Tuesday Creamy Bacon Horseradish Dip
How to do Craig's List without getting killed
Baby I Heart Radio Video: Yep, that's my 18 month old fully utilizing I heart radio to listen to her daddy.
For my monthly ideabook on Houzz.com I wrote about 20 different shopping finds to work the Spring pastel trend into your home. I find myself daydreaming about this pastel pink quilt almost daily…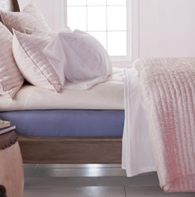 and I think that's about it. Yep, that's it.