If you're anything like me when you get a new magazine you dog-ear pages with recipes or projects that look good. In fact when I'm done my magazine won't even lay flat because of all the folds I've made. How often I actually ever go back & try one of those articles is a completely different story. This month's Better Homes & Gardens might just be different…almost every recipe towards the end looked amazing enough that I've actually already tried one & have bought the ingredients to try 3 more! Below is the one I made a few nights ago & it was pretty darn good. It's kind of a new take on last minute spaghetti you might make & was certainly a great option for when you have no idea what to cook & just need to raid your pantry. The only change I made to the original recipe was I added some sweet italian sausage for a protein.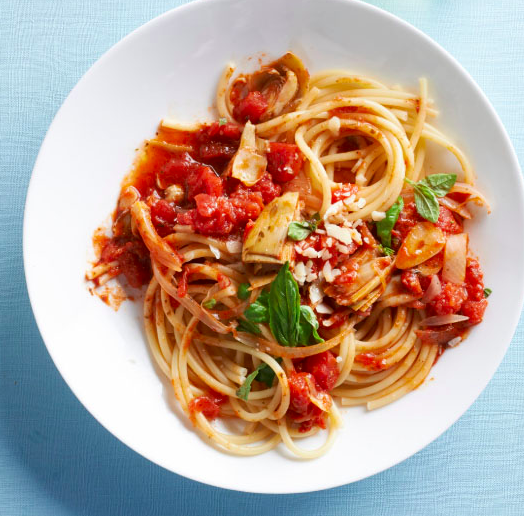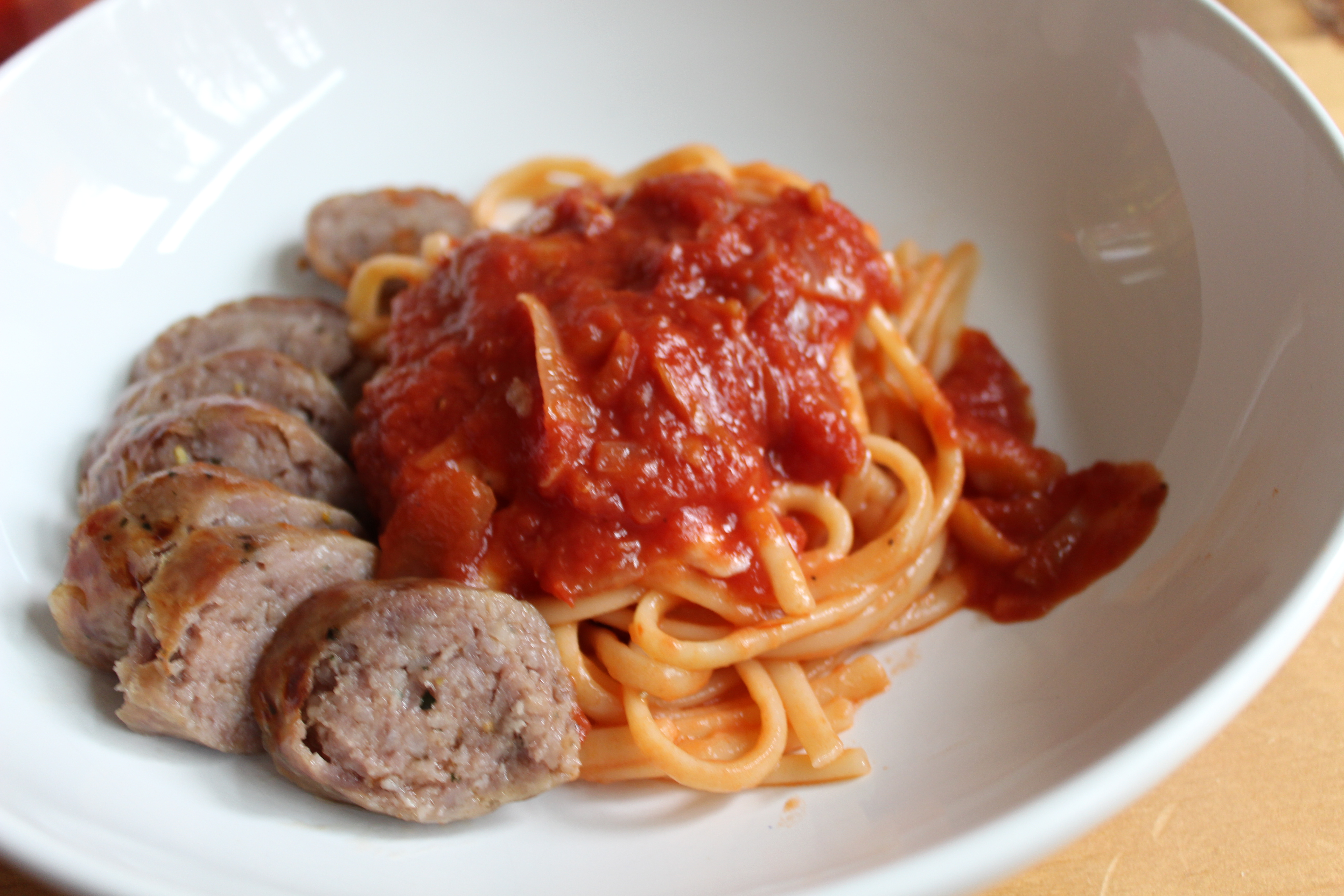 My results
BH&G Artichoke & Tomato Pasta
80z spaghetti
1/4 cu grated parmesan cheese
1/2 cu chopped sweet onion
1/4 cu olive oil
2 garlic cloves, minced
1 28oz can crushed tomatoes
1 6oz jar marinated artichoke hearts, drained & roughly chopped
1/4 tsp salt
1/4 tsp fresh ground pepper
fresh basil (optional)
1 package of sweet italian sausage
Cook sausage in oven according to package directions, slice on the diagonal after cooked & set aside.
In a large pot cook pasta according to package directions, drain, RESERVE 1/4 CU PASTA WATER. Return pasta to pot, add cheese, toss to combine, add pasta water as needed while tossing until the pasta is evenly coated with the melted cheese.
Meanwhile, in a large saucepan cook onion in oil over med heat until tender, about 5 minutes. Add garlic, cook 30 seconds more. Add undrained tomatoes, artichoke hearts, salt, and pepper. Cook and stir until slightly thickened. Mash slightly with a wooden spoon.
To serve, top pasta with tomato mixture, sausage slices & basil leaves. Sprinkle with additional Parmesan cheese if desired. Makes 4 servings.
Mmm, just writing this is making me crave it for lunch! I suggest you pick up May's issue of BH&G if you haven't already, it's a good one!
*BH&G is not paying me in any way to mention or recommend their magazine, although I certainly would be ok with it if they wanted to! I'm just a fan. (:
**Also this artichoke tomato recipe from Pioneer Woman sounds DIVINE, I might have to try her way out asap, she uses a bit of cream but hey, a little bit cream never hurt no one.