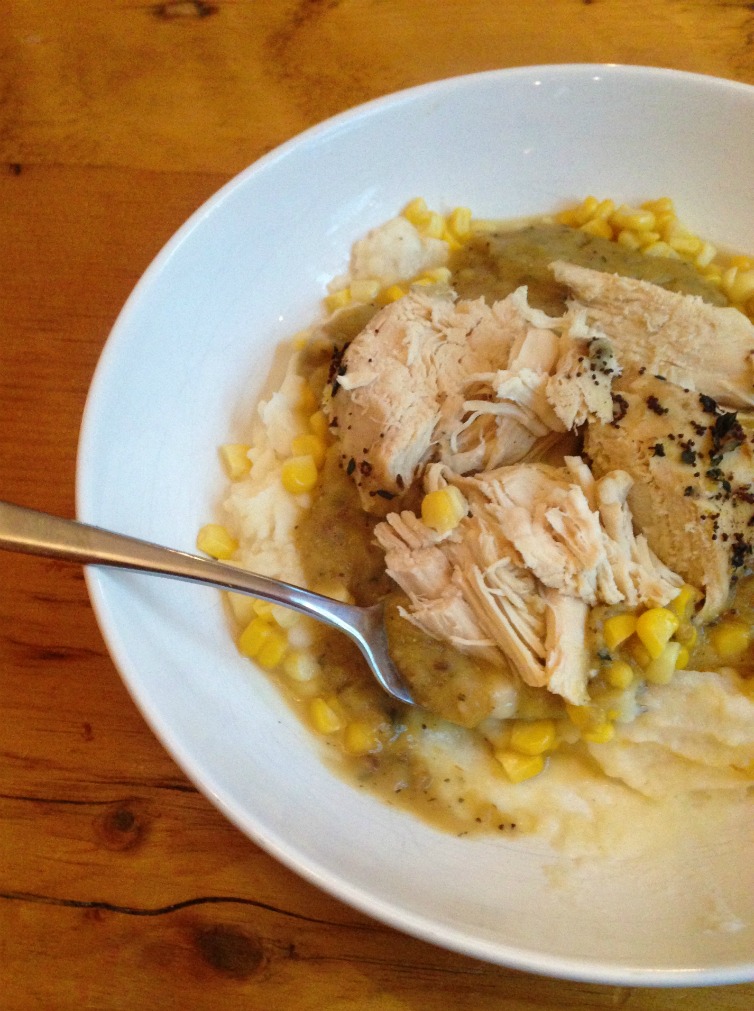 It's been raining for 4 days. FOUR.
This was pretty much exactly how we all felt…wonky eye & all.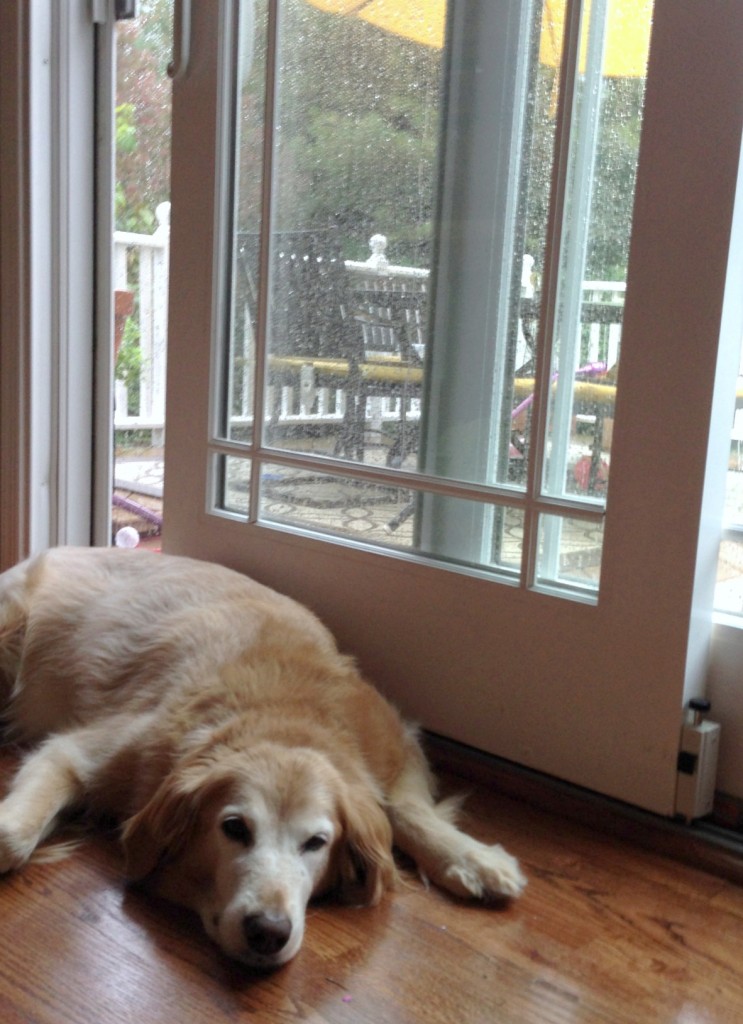 One good thing that's come of this weather, besides getting to know eachother realllllly well, is this new recipe. It came from my culinary creativity that was inspired by a deep desire to not go to the grocery store.
Sometimes it doesn't work out so well when I wing it & we end up ordering takeout but once in awhile a girl gets lucky & this time not only did I get to use up all of our about to be chucked random groceries but we also have a new #1 rainy day comfort meal. Have you ever had one of those KFC mashed potato bowls? It's a bowl of, well, mashed potatoes, that's covered in cheese, corn, & fantastically bad artificial gravy. This is my homemade version. It's also sweeter because the gravy actually isn't gravy, it's blended slow cooked acorn squash, juicy apples & a handful of fall seasoning like sage, thyme, brown sugar, poppy & caraway seeds.
Mmmm…mama got real lucky.
Here's how I did it:
Crock Pot Mashed Potato Bowl with Apple Gravy
1 acorn squash
3 chicken breasts
5 small firm apples
1 tbs fresh thyme leaves
1 tbs fresh sage leaves, roughly chopped
liberal salt & pepper
1 medium onion, chopped
1 tsp caraway seeds
1 tsp poppy seeds
1/4 cu brown sugar
mashed potatos (homemade or cheat like me and buy a big tub from the deli)
corn kernels (I'm a stickler for freshly cooked corn niblets cut off the cob because I like the crunch it adds but you could use canned if you prefer)
Take your acorn squash & pierce it two or three times, microwave it (on a paper towel to keep from making a juicy mess) for 8 minutes or until fork tender. Carefully cut it in half & scoop out the seeds. If it's tender enough you should be able to peel off the skin like in the picture below. Cut into 2″ chunks. Next, turn your crock pot on low & give it a quick spray with non-stick cooking spray. First layer the squash & onions, followed by the chicken & then the apples. Top with all of the seasonings except the sugar & cook on low for 8 hours for best results, if you're in a pinch you could probably get away with 4-6 hours on high. Turn the pot down to warm & once the chicken is fall apart tender carefully remove it from the pot, set it aside on a plate & slice on the diagonal. Add the brown sugar to the pot & using a stick blender, this one is my favorite tool in my entire kitchen, blend the crock pot contents until it becomes a thick & smooth gravy, about 5 minutes. To serve layer individual bowls with a good amount of mashed potatos, corn niblets, chicken slices & plenty of "gravy".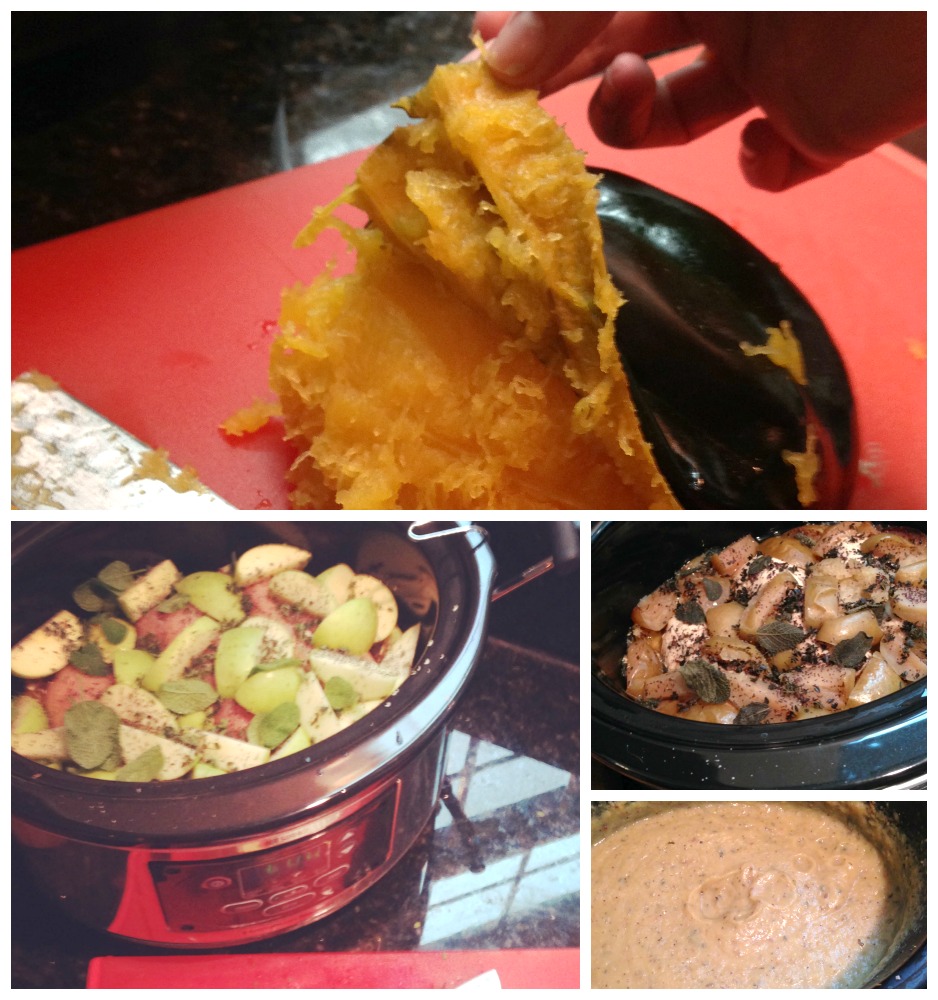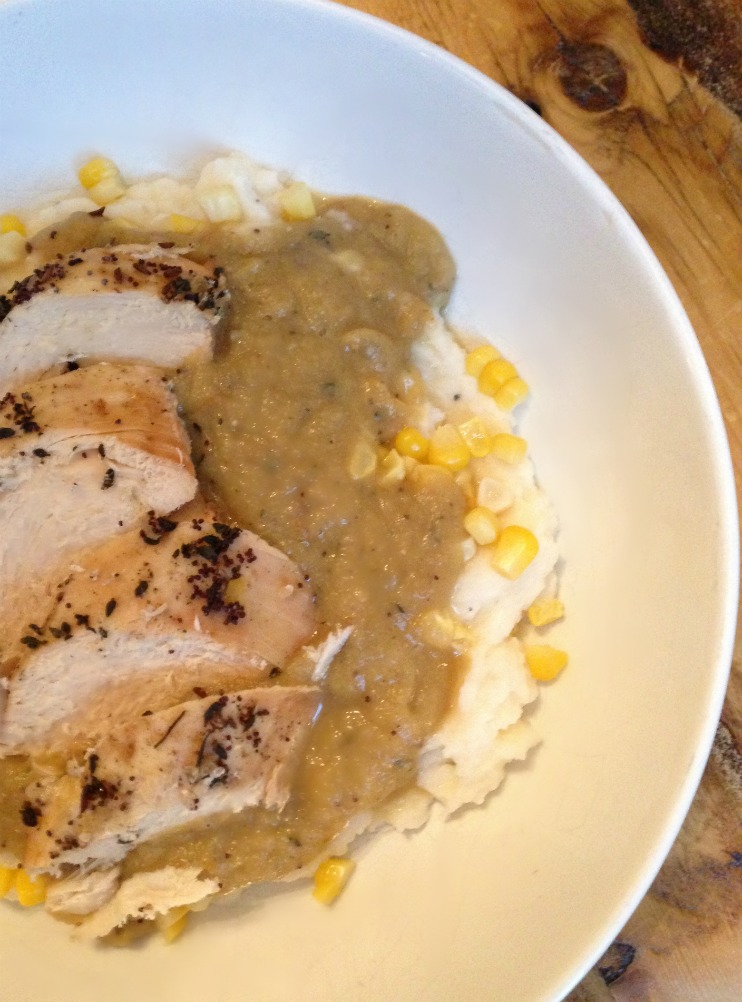 Please let me know if you make this for your next cold & rainy day! I'm dying to know if you love it as much as we did. (: