I can't believe it, my sweet little Samster is officially a big girl, on Monday she turned 6 & over the weekend all of her little ghoulish friends joined us for a 'Monster High' Birthday Party at our local pool. Who new the prissiest of all girly girls would want a goth party?! It was actually pretty darn fabulous, here's a short video P made to give you a little taste…
I know they're my kids & all but I really could watch the videos he makes for me all day, such a talented one that Mr. is! Also, in case you're wondering what the heck all this 'Monster High' nonsense is anyway, it's basically a bunch of teenagers that go to High School…
Oh yeah, and they're monsters!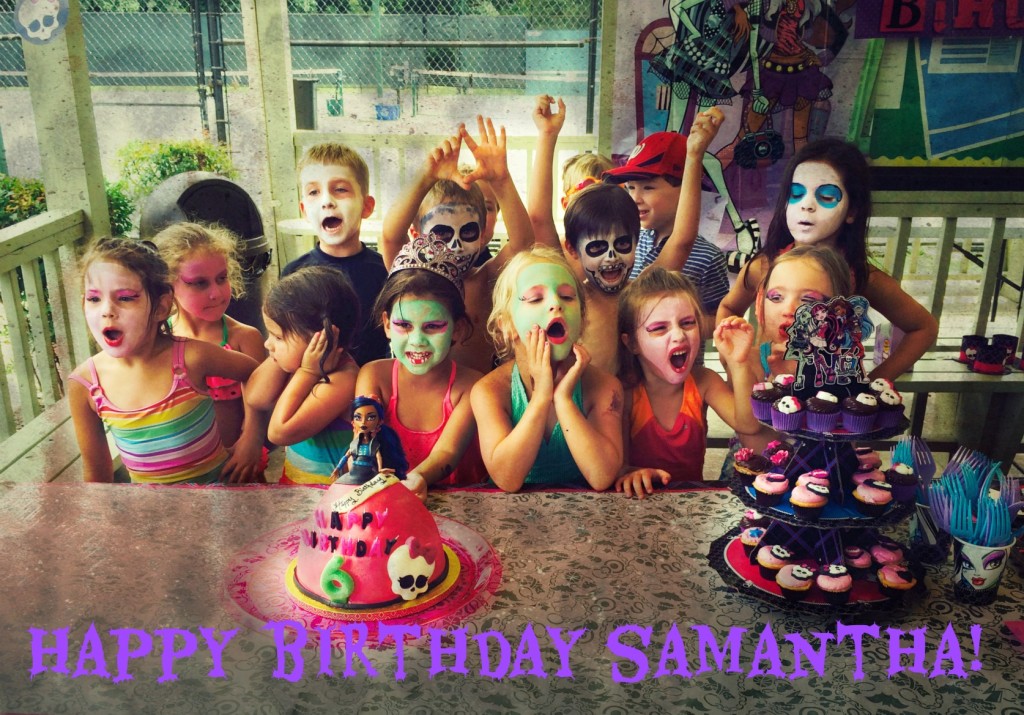 It's actually a really cute concept, Dracula's daughter is "Draculaura", Frankenstein's is "Frankie Stein"…you get the picture. The inspiration for turning all of these little girls into ghouls is a young lady who has a hit youtube channel that Sam adores, I printed out all of her transformations (I also included the standard skulls & zombies for the boy guests) & stuck them in some notebook sleeves & then let the kids decide which character they would like to be transformed into. The tough part was finding a face paint that was water-proof, this was a pool party after all. After doing my homework I decided to order the ProAiir Hybrid Airbrush Makeup
kit off of Amazon, the product has multiple demo videos & great reviews. They are a bit pricey but since aside from swimming the face painting was going to be the sole entertainment for the party I felt it was justified. After I finish this post I'm definitely going to make my way over to Amazon & give my own 5 star review because these paints ROCKED. They went on smooth, coverage was beautiful (especially once I switched from the cheap triangle cosmetic sponges to those crazy rolley polley makeup blender sponges
, those were wonderful!) & when it was time for the monsters to return to their sweet angel faces (::snort, gag!:: ahem, excuse. frog in throat) the makeup easily came off with face soap.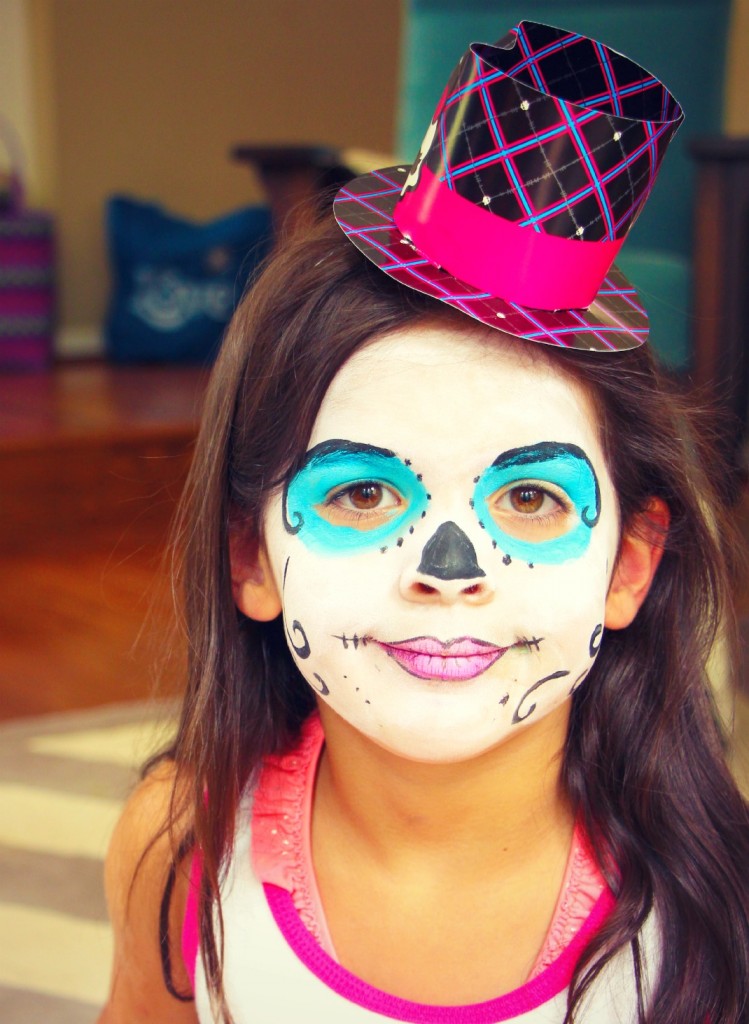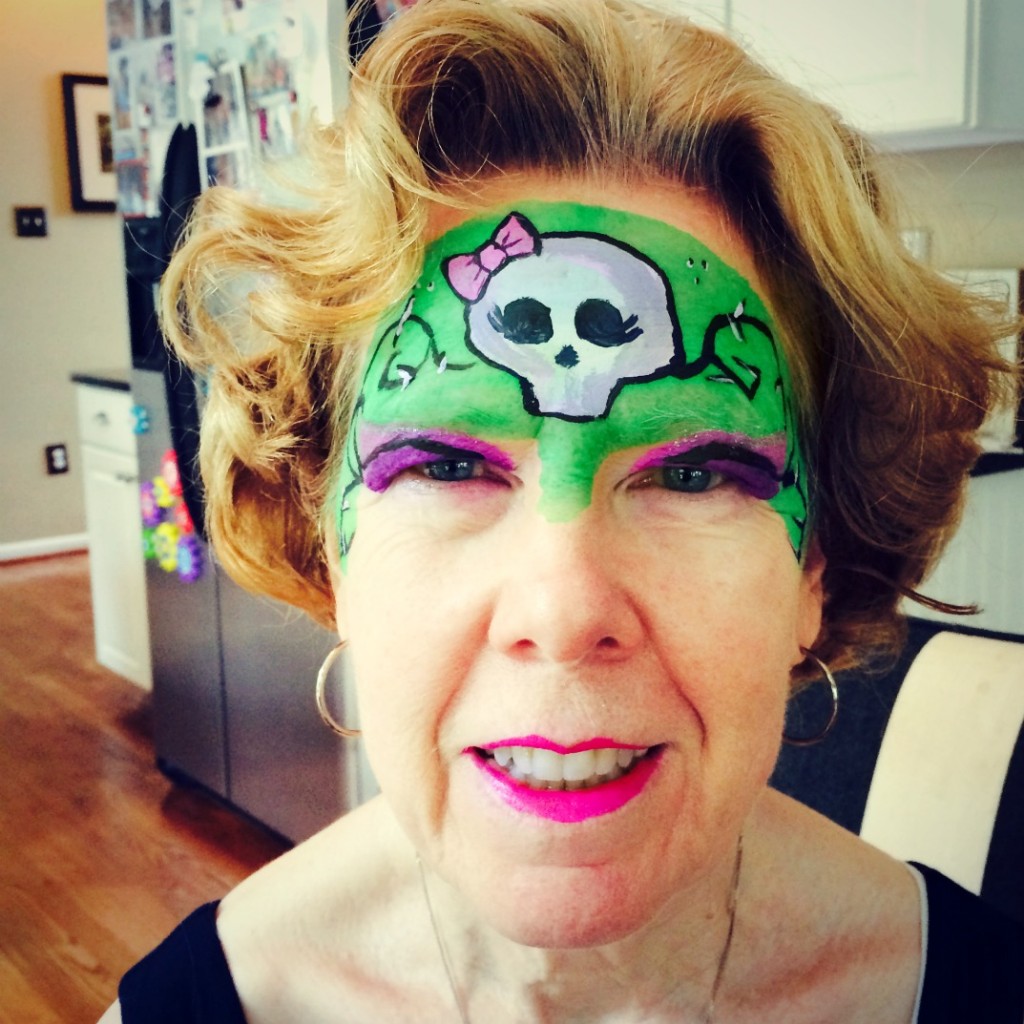 (you know you have a very kind MIL when she volunteers to be your practice monster muse!)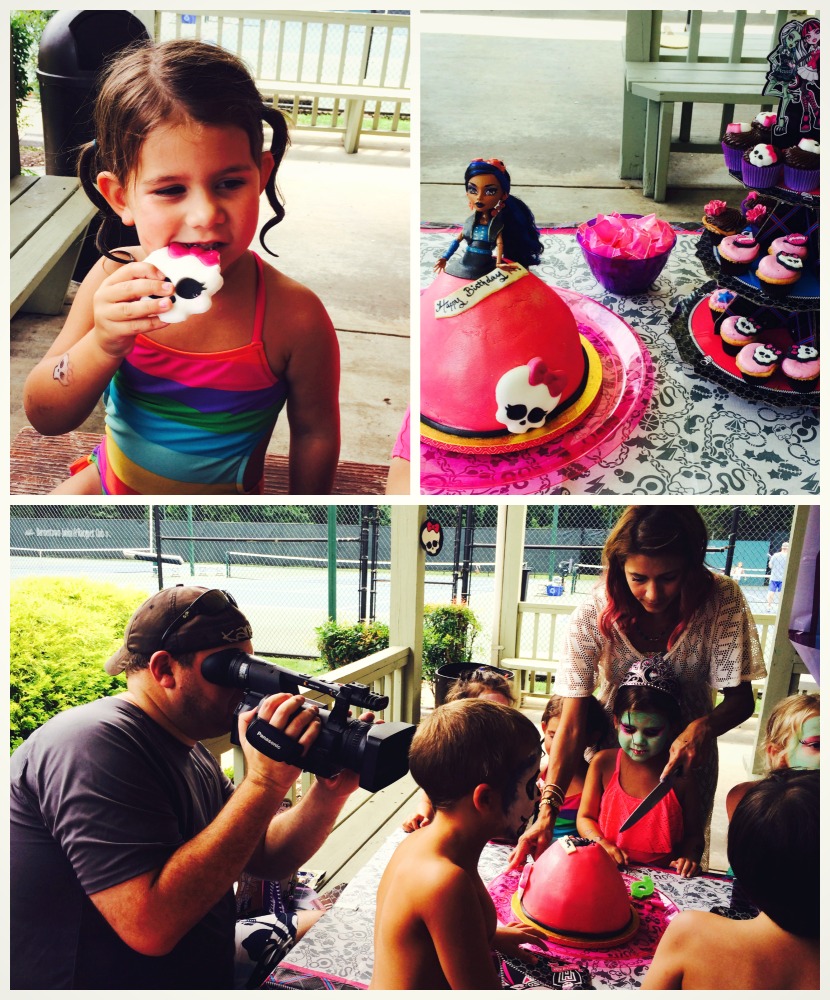 This is our 3rd year having our family friend Oby from Bim's Flavors make Sam's cake. This year was yet another hit, she used a monster high doll & baked a fantastic pink velvet cake for the skirt. She also included plenty of the signature Monster High skulls made out of fondant both on the cake & adorning the mini cupcakes. Although P sweetly disagrees I feel like I really toned it down compared to Sam's Katy Perry Party or Sophie's Messy Party. Of course there were balloons & traditional party decor but when in the past you've included a shaving cream slide or a wig bin this was downright tame.
Don't count me out yet however, I still have child #2 coming up in a few short weeks. She's requested a "Frozen" party. Probably the most popular party theme of the year & yet the hardest to find when it comes to themed party supplies. I've literally been hoarding Elsa & Anna randomness in my garage for the last 6 months. Sophie's party will have a bit of a twist that it's a "ballerina Queen Elsa party", I'm so excited I've found a ballet studio that not only is more than happy to turn their studio into a glistening ice crystal ballroom but they also might just have a personal connection with Queen Elsa herself. Now I'm not making any promises, I'm just saying…it could happen. (;