I know I usually set my crafting cross hairs on Crewcuts when I want to do a knock-off project but today I'm going for American Apparel. I just love their designs & soft knits for kids but hate putting money in their
d-bag CEO
's pocket. This was originally a post I did for
Crafterhours
Skirt Week but it was the same week as the new site launch so I'm just now getting it up on Pink Monster. Boo on me, I know, I know.
Anywho, this skirt is made from any soft knit you have on hand. From leftover t-shirts to slinky jersey they'll all produce great results that are just as comfy as they are perfect for twirling. The skirt itself is one continuous circle of fabric which gives it it's great flow. Throw in an easy foldover waistband & I'm officially in love.
First step is to write up a quick pattern. The only thing about this project that could be construed as even
slightly
difficult is figuring out the measurements. It involves a bit of math but don't worry, I'm allergic to math so I promise to keep it super slowww & simple.
(Also note that I did not add any seam allowance in my measurements, since the knit has such stretch I wanted it a smidge snug)
The idea is to draw a pattern that is a perfect 1/4 of a circle with the inner circle being 1/4 of your child's waist measurement. (eh? keep reading, it'll make sense) To find that magic number you need to figure out what the radius is of a __ circle (blank being your waist measurement, mine was 20″) That involves Pi which is already making my nose tickle so I just google it. Seriously. I typed in "what is the radius of circle who's circumference (total measurement around the circle) is 20 & guess what, some math website tells me it's 3.18!
On my pattern paper I drew two 3.18″ lines (see step 1 below), then continued to draw more 3.18″ lines so that I could easily connect the lines & have a nice curved edge. (step 2) This little arc is going to be the inner curve of our pattern. Next decide what you want the length of the skirt to be, I chose 9". Stemming out from your little arc draw several 9″ lines. Connect these edges, cut out your inner arc & congratulations, you've got yourself a pattern.

For Step 4 I took a large square of fabric (32″ square in my case) & folded it into equal quarters. I pinned my pattern on top & cut along the curved edged of my pattern. (ONLY the curved edges! You need the folds of the straight edges for this to open up to one large circle)
Now for the waistband. I usually use a foldover waistband for making baby yoga pants but lately I'm really loving it for skirts. And it's SO SO simple.
Start with a rectangle of fabric folded in half, cut to your waist size (20″) by 4″. Unfold & sew the short ends together. Fold this tube in half & you've got your waistband.
The final step is to attach the waistband to the circle. It's as simple as pinning the waistband along the inside circle of the skirt (right sides together) & stitching into place. Just be sure to catch all three layers as you stitch! (2 from the waistband, 1 from the skirt)
Fold down the waistband again (now it's a 2″ waistband) & you're set!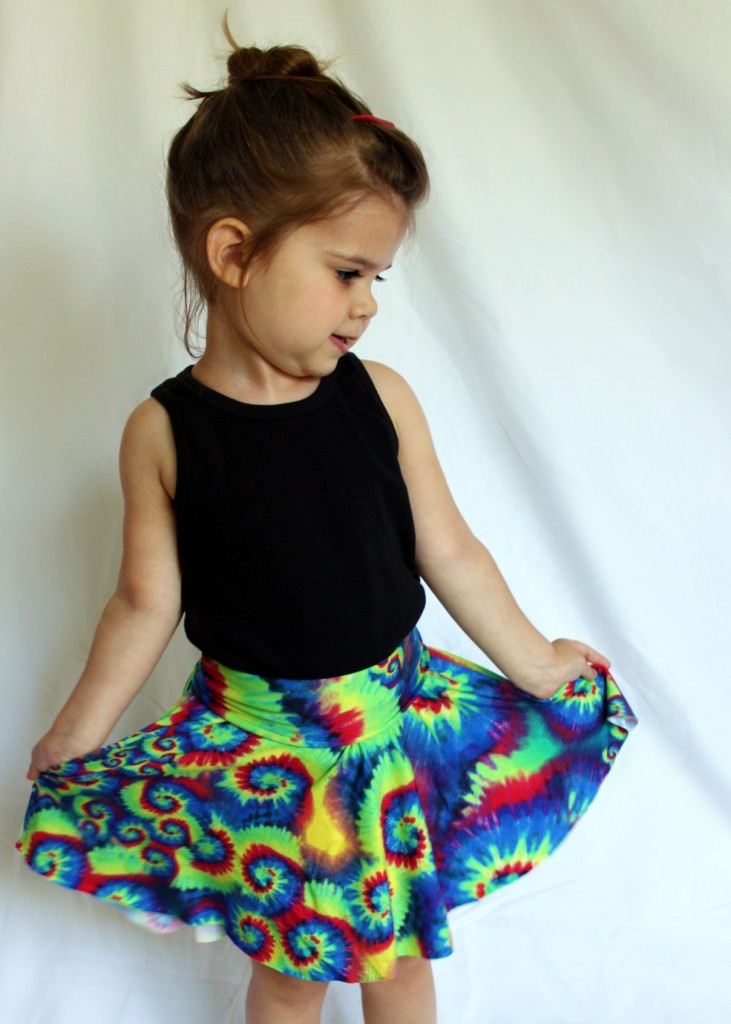 You could finish off the hemline but knit doesn't fray & I kind of feel like a hem would weigh down the twirl & therefore utter awesomeness of this skirt.
Next post I have to confess something to you. I've been lying to you & the jig is up…