Everyone knows how good fish is for you but in reality a lot of my friends don't cook it because they 'don't know how'. Come to think of it I was intimidated by the thought of cooking something that came with scales on it until I tried this salmon recipe of my mom's. It's a great way to get your feet wet. ((modest pun intended)) In fact, it's so simple I almost went with the title "Can't Screw it Up Salmon".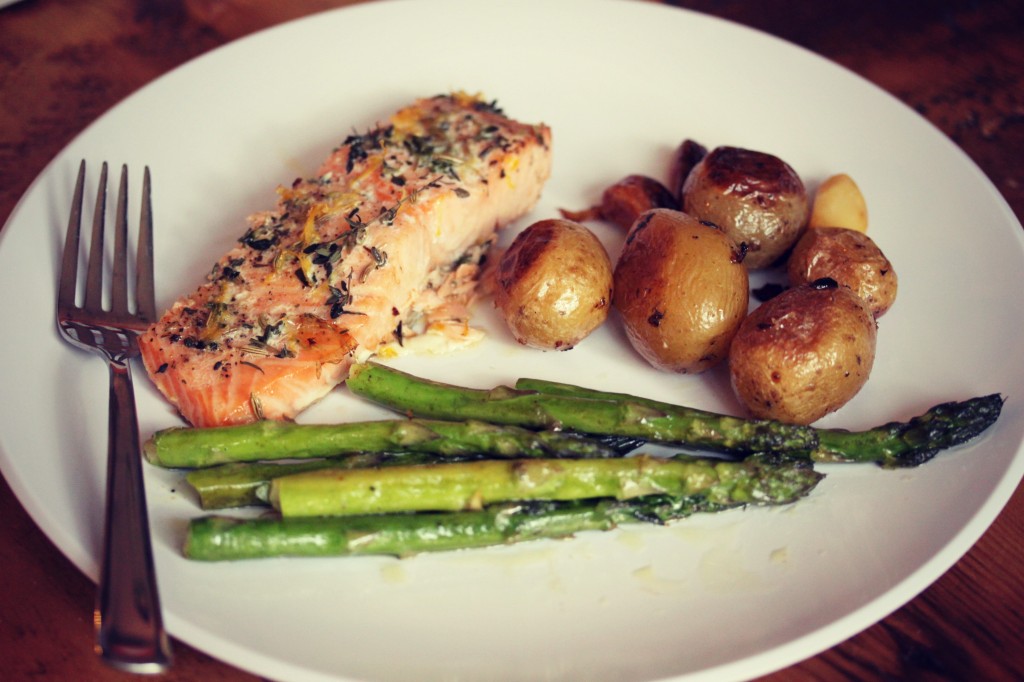 Go to your seafood counter and if you don't know how much to order just ask, they should be more than happy to help you. And if they aren't than poopoo on them, they're a jerk. The usual recommendation is 8 oz per person so for two small children & two adults I order 1.25 lbs. If scales creep you out big time no worries, just ask them to take the skin off. Here's a tip however, if you leave the skin on then after your salmon is done you should be easily able to slide your spatula right between the meat & the skin. Skin stays in the pan & nobody ever sees it. If your butcher takes it off you might lose a bit more meat than if you had removed it after cooking.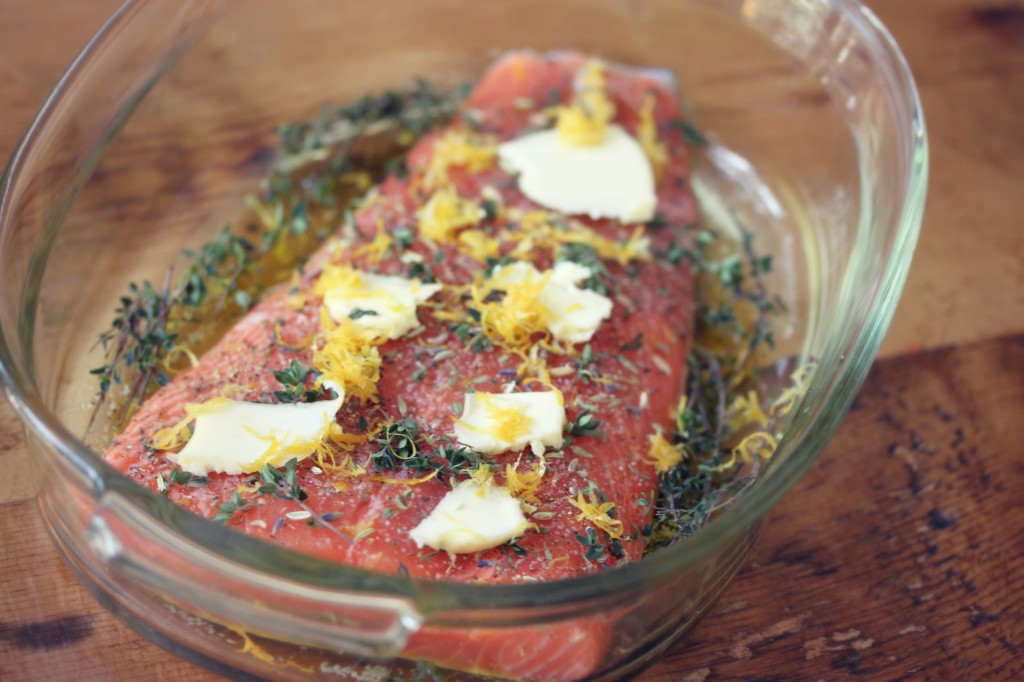 Beginner's Salmon: Lemon Butter & Thyme
1.25-1.5lb atlantic salmon
2-3tbs butter
Fresh or dried thyme
zest & juice of 1 lemon
Preheat oven to 350 degrees. Lightly coat a glass baking dish with olive oil, place salmon in center. Season well with lemon juice (I like to always add my juice first otherwise you could 'rinse' off your seasonings if you add it at the end) salt, pepper, thyme, lemon zest & several pats of butter. Bake for 20-25 minutes or until the salmon easily flakes apart when touched with a fork. Using the side of a spatula divide salmon into portions then slide the spatula between each filet & it's skin for easy removal. Spoon pan juices over salmon after plated if desired.
For me this was an all oven meal & I love love love when that happens because a.) I hate scrubbing pots & pans & b.) I hate cleaning my cooktop. Basically anything to encourage avoidance of cleaning I'm down with. HOTY. Housewife of the Year.
While the salmon was cooking I also roasted some baby potatoes in a separate glass dish with chopped onion, garlic, coarse salt & a good drizzle of extra virgin olive oil. Then on a baking sheet I did the same thing with a bundle of asparagus spears. I probably tossed the veggies once or twice throughout the process. If the potatoes are tiny enough the 25 minutes should suffice but if they're larger you might want to toss them in the oven 10 minutes before the fish. If the asparagus is on the very bottom rack it should be fine for 20 minutes but I wouldn't go much longer or you'll get some droopy spears. And nobody likes a droopy spear.
So what do you think, have I tempted any of you fish virgins to give it a whirl??